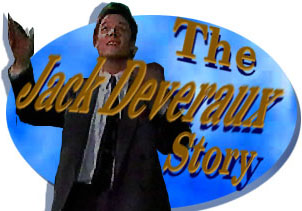 oldEpisode One-hundred-fifty-seven:
The Cruise of Deception Part IV:
"From Argentina with Love": Jack Romances
Jennifer with Tango Lessons. Later Everyone
Becomes Cast Members in Ernesto's Play.
---
[Air date 6-13-90]
SCENE ONE: IT IS THE NEXT DAY, JENNIFER IS IN THE BALLROOM PREPARING FOR HER FIRST TAPING. THE CAMERAMAN IS SETTING UP AND FOLLOWING HER AROUND. HE SEEMS TO BE FOCUSING ON HER BODY AND ZOOMS IN ON HER BACKSIDE AS SHE BENDS OVER.
---
SCENE TWO: JENNIFER HAS JUST STARTED HER PIECE WHEN JACK WALKS IN. HE IS DRESSED IN VERY LOOSE WHITE SWEAT PANTS AND AN AQUA BLUE SWEAT TOP WITH THE SLEEVES PUSHED UP; AND WEARING SNEAKERS. HE LOOKS RATHER LOST AND FORLORN, FEELING BAD ABOUT THE NIGHT BEFORE — HE ALSO LOOKS EXTREMELY CUTE.



SHE GETS NERVOUS TALKING WITH JACK THERE ESPECIALLY WHEN IT IS ABOUT THEROMANCE ON BOARD.

JACK: (Talking to the camera man, he unplugs the camera) You got a little audio problem. I'll take care of it.

THE CAMERA MAN LEAVES, LEAVING JACK AND JENNIFER ALONE.

JENNIFER: What do you want?

JACK: (Concerned) Where did you spend the night last night?

JENNIFER: I really don't want to talk about it Jack.

JACK: Neither do I.

THE TENSION BETWEEN THEM IS VERY HIGH, BUILDING ALL THE TIME.

JENNIFER: Okay.

JACK: (Sincere) I want to do something about it. I want to make it up to you. (Beat) I thought you'd be pleased.

JENNIFER: (Reluctant to believe him.) Did you?

JACK: I wouldn't say it if I didn't mean it.

JENNIFER: Jack I think you'd do anything for a bad joke as long as it was on me.

JACK: (Affected by this) Wait a minute, who said anything about jokes.

JENNIFER: I can't believe it. You're not even listening to me Jack. That was the last straw.

JACK: And you're not going anywhere, okay. You're not!

JENNIFER: Oh I'm not going to stand here and listen to you. Just forget it. There is nothing that you can do or say to make up for last night.

JACK: I can try.

JENNIFER: No.

JACK: (Pleading) Please! It's important to me.

JENNIFER: Jack I've let you try so many times and it always comes out the same way. You play games with me and I end up getting hurt and I won't do it anymore. I can't!

SHE BEGINS TO WALK AWAY; HE FOLLOWS HER.

JACK: Look you said you wanted romance and that's what you're going to get. I'll make sure you get it.

JENNIFER: Jack I've heard that before.

JACK: Look....but I mean it this time. I swear. (Beat) Look, I've got something planned. It's going to be a surprise.

JENNIFER: What kind of surprise Jack?

JACK: I guess you'll just have to find out. You just gotta go back to your room, get changed into something you can move in and be back here in twenty minutes. Are you interested?

JENNIFER: Jack if this is another one of your jokes I don't want to be a part of it.

JACK: It's....it's not. Although I can't really blame you for not trusting me.

JENNIFER: Give me a reason to.

JACK LOOKS AT HER WITH LOVE IN HIS EYES.

JACK: I can't think of a single one!

SHE SLOWLY WALKS AWAY; HIS EYES FOLLOW HER.
---
SCENE THREE: MEANWHILE BO HAS BECOME SUSPICIOUS OF THE ROUTE THE SHIP IS TAKING AND HE CALCULATES THAT IT HAS TURNED AROUND. HE CONFRONTS THE CAPTAIN WHO TELLS HIM THAT IT IS NONE OF HIS BUSINESS. BO IS STILL TRYING TO PUSH HOPE AWAY TO KEEP HER SAFE.
---
SCENE FOUR: JULIE AND VICTOR ARRANGE FOR THEM TO HAVE LUNCH TOGETHER BY TRICKING THEM.
---
SCENE FIVE: IT IS TWENTY MINUTES LATER. JENNIFER HAS RETURNED TO THE BALLROOM, IN A SHORT BLACK DRESS WITH A BRAID AROUND A RUFFLED HEM AND WEARING VERY HIGH HEELS. THERE ARE PEOPLE ALL OVER THE ROOM IN SWEATS. JENNIFER IS SURPRISED BY JACK'S SURPRISE.

JENNIFER: Well this is some surprise you whipped up Jack.

JACK: Well it's only half whipped. Believe me it gets better.

JENNIFER: Oh no I can't think of anything more exciting and romantic than a room full of strangers in sneakers and sweats. You shouldn't have really.

JACK: I know you're disappointed right now but give it some time and things will come together.

SUDDENLY THERE IS AN ANNOUNCEMENT FROM JODIE THE SHIP'S DANCE INSTRUCTOR.

JODIE: Welcome aboard ladies and gentlemen. I'm Jodie and this is the official dance class of the SS Loretta. Today's dance is one that everybody wants to learn.

JACK: The Lambada!

JODIE: No not the Lambada. This dance is even more elegant and even sexier! So grab your partners because we're going to Tango!

JENNIFER IS ABSOLUTELY THRILLED.

JENNIFER: Jack you've got to be kidding me!

JACK: You said you wanted romance. Here it is. From Argentina with Love.

JODIE TELLS EVERYBODY TO BEGIN; SHE TELLS JACK TO "TAKE HER CLOSE."

JACK: Well you heard her. Come on.

JENNIFER: Oh Jack I can't do this.

THEY BEGIN WITH THE MOVEMENTS OF THE TANGO.

JENNIFER: I don't think I can do this really.
---
SCENE SIX: THEY CONTINUE TO DANCE TOGETHER FOR A WHILE AND THEN DECIDE TO PRACTICE A FEW STEPS. JACK STEPS FORWARD ONTO HER FOOT.

JENNIFER: Oh Jack!

JACK: I'm sorry, okay. I....I....I don't know what I'm doing. I'm just....just doing the steps.

JENNIFER: Do it again.

JACK: Slow.

JENNIFER: OOOWWWEEEEE!

JACK: Just doing the steps. Are you okay? Listen I tell you what, if you're not good enough to dance I can get you back to the stateroom and....

JENNIFER: I'm okay Jack. I can walk, I just can't dance. I can't dance!

JACK: No, it's not you, it's me. I've got two left feet. I'm the one who can't dance.

JENNIFER: No it's not you Jack.

JACK: No really, no, it's me.

JODIE, HEARING THEIR CONVERSATION AND SEEING THAT THEY ARE HAVING TROUBLE, COMES OVER TO THEM.

JODIE: No really that's nonsense. You're just taking this too seriously.

SHE TAKES JACK'S SHOULDERS AND MASSAGES THEM A LITTLE. JACK IS ENJOYING THE MASSAGE. JENNIFER CANNOT HELP BUT BE AMUSED AND LAUGH.

JODIE: Just relax and have fun with it (She leaves).

JACK: Okay.

JENNIFER: Yes Jack, "have fun with it."

JACK: Okay, let's have fun with it. Ready?

BOTH ARE HAVING A GREAT TIME, AND ARE ENJOYING EACH OTHER'S COMPANY.

JENNIFER: If you break one little toe you're going to wait on me hand and foot for the rest of this trip.

JACK: Well that's a deal, that's a deal.

THEY BEGIN TO REALLY TANGO WITH JACK SWINGING HER ROUND AND ROUND.

JACK: Are we having fun yet?

JENNIFER: I'll let you know.

JACK: (Thinking of something) Wait a minute. I've had a master stroke.

JENNIFER: What?

JACK: Get ready!

JENNIFER: Jack.

HE PUSHES HIS LEFT ARM OUT WHILE HOLDING HER RIGHT ARM AND THEY CHARGE ACROSS THE FLOOR IN TIME TO THE MUSIC.

JACK: One, two, three and dip!

HE DIPS HER DOWN TO THE GROUND AND WHEN SHE COMES BACK UP SHE HAS A ROSE IN HER MOUTH.

JACK: Okay Jennifer Rose, here we go!

THEY CHARGE ACROSS THE FLOOR IN THE OTHER DIRECTION.

JACK: (Smiling) We're movin', we're groovin'. Get ready for a three point turn.

HE DIPS TO THE GROUND WITH HER, WHEN THEY COME BACK UP, HE HAS THE ROSE IN HIS MOUTH.

JENNIFER: Jack forget it.

JACK: No, come on.

JENNIFER: No we're never going to get this right. Forget it.

JACK: Yes we can.

JENNIFER: No, we're never going to.

JACK: Sure we can. No, no, no, no, no.

THE INSTRUCTOR HEARS THIS AND COMES OVER TO GIVE SOME HELP. HOWEVER, IT SEEMS THAT SHE IS ALSO ATTRACTED TO JACK.

JODIE: No, never say never. You need a little extra help that's all. Now take her in your arms again.

JACK: Okay.

JODIE: No not like that. Here let me show you.

SHE TAKES JACK IN HER ARMS AND HOLDS HIM VERY CLOSE.

JODIE: There, hold me close and let your body feel the music and move with it.

JACK AND THE TEACHER BEGIN TO DANCE. HE STOPS AND POINTS HIS TOE READY FOR HER TO DANCE AROUND.

JODIE: No watching your feet, look at me.

JACK NOTICES HER SHORT SKIRT AND GOOD LEGS.

JACK: Look at your feet!

JACK IS PREOCCUPIED WITH LOOKING AT HER LEGS, NOT *HIS* FEET. SHE WRAPS HER LEGS AROUND JACK. JENNIFER'S EYES ARE READY TO POP OUT OF HER HEAD.




SHE AND JACK CONTINUE TO DANCE VERY WELL AND HE DIPS HER VERY LOW. THE REST OF THE CROWD STOP TO WATCH. THE MUSIC FINISHES AND THEY STOP DANCING TO APPLAUSE. JACK IS ENJOYING ALL THE ATTENTION, IT SEEMS AS IF IT REALLY HAS INFLATED HIS EGO: HE IS PLEASED WITH HIMSELF.

JACK: Olé, olé. Thanks to you, and you. Till next time.

JODIE: (Flirting) And I hope you will be in the next class.

JACK: (Trying to acting macho.) Well, you know I think I'd like to but my....my schedule's pretty busy. But I'll see if I can fit it in.

JODIE: Anytime.

JENNIFER HAS BEEN GRINNING AT JACK THROUGH ALL THIS AND IS VERY MUCH ENJOYING SEEING HIM IN ACTION. THE TEACHER WALKS AWAY. JACK PUFFS OUT HIS CHEST.

JENNIFER: (Teasing him) Well that was terrific Jack.

JACK: Yeah well.

JENNIFER: I mean you promised romance and you delivered, right to the dance teacher.

JACK: What to her? To the instructor? Oh come on, that's like mouth to mouth resuscitation.

JENNIFER: What?

JACK: Lips on lips right. Technically that's a kiss but nobody falls in love with their paramedic. I mean maybe less than one per cent of the population, tops.

JENNIFER: Jack, you are so weird sometimes, really.

JACK: (Desperate) Wait....you can't leave.

JENNIFER: Oh don't tell me you have more romance planned.

JACK: Well actually no I don't.

JENNIFER IS WALKING AWAY.

JENNIFER: Jack you dragged me into this dance class to stop me from working.

JACK FOLLOWS HER. HE IS DESPERATE AND WORRIED ABOUT WHAT MIGHT HAPPEN TO THEM, ESPECIALLY HER, IF SHE PURSUES HER INVESTIGATION.

JACK: Working! Listen, your work is going to get us killed, you know that don't you.

JENNIFER: Jack, don't try and scare me. I came on this cruise as a journalist. I have an obligation to the station.

JACK: What about your obligation to yourself?

JENNIFER: What are you talking about?

JACK: I'm talking about what you were talking about a minute ago....on that....on that broadcast. The cruise, moonlight, romance. That's what you want isn't it?

JENNIFER: Wanting isn't always getting.

JACK: Oh yeah!

JENNIFER: I know you're trying to make a point here but I don't know what it is Jack.

JACK: The point....the point of all this is that if we are going to stay out of trouble and avoid suspicion, we've got to....we've got to be....romantic. We've at least got to try and act romantic.

JENNIFER: That's not what you want. You want me to stop doing my work. Well you can just forget it.

JENNIFER IS WALKING OUT. FRUSTRATED, JACK GOES OVER TO THE STEREO AND TURNS ON THE TANGO MUSIC AGAIN. HE THROWS DOWN THE ROSE LIKE A CHALLENGE. SHE STOPS. HE IS ABOUT TO PRACTICE ALONE WHEN SHE WALKS UP. SHE STOPS AND HE FINALLY SENSES HER PRESENCE. JACK PUTS JENNIFER'S HAND ON HIS SHOULDER AND HE SMILES. THE LOVE IS EVIDENT IN THEIR EYES, THEY DO NOT EVEN TRY TO HIDE IT. THEY THEN DO A PERFECT RENDITION OF THE TANGO. AS THEY MOVE THEIR FACES GET CLOSER AND CLOSER.


HE RUNS HIS HAND DOWN HER CHEEK; SHE LETS HIS HAND CUP HER CHEEK, AND NESTLES CLOSER TO HIM. ALL THE TIME JACK IS SMILING INTO HER EYES. THE DANCE IS VERY ROMANTIC, THE PASSION OF THE DANCE ENGULFS THEM, AND THEY ARE LOST IN THEIR LOVE FOR EACH OTHER.
---
SCENE SEVEN: MEANWHILE IN HIS SECRET ROOM WITH HIS HIRED MAN, THE PURSER, HANS, ERNESTO WATCHES. HE HAS SEVERAL MONITORS ON JACK AND JENNIFER. WE SEE THEM DANCING, GETTING CLOSER TOGETHER, ALMOST KISSING. ERNEST WATCHES THEM AND SAYS OUT LOUD THAT THEY SHOULD ENJOY THEMSELVES WHILE THEY CAN SOON THINGS WILL CHANGE. OTHER MONITORS SHOW OTHER PARTS OF THE SHIP. HE TELLS HANS TO GA THER EVERYONE TOGETHER HE HAS SOMETHING PLANNED FOR THEM.
---
SCENE EIGHT: HANS MAKES THE ANNOUNCEMENT. AS HE CALLS EVERYONE'S NAME WE SEE THEM, SHOCKED, CURIOUS, AND WORRIED WHAT IT ALL MEANS. ROMAN IS WITH ISABELLA; BO IS WITH HOPE SHARING THEIR ROMANTIC MOMENT; AND VICTOR AND JULIE ARE SKEET SHOOTING ON THE DECK.

HANS: (On the ship's intercom) Ladies and gentlemen, your attention please. Will the following passengers report to the grand ballroom immediately. Isabella Toscano, Roman Brady, Bo Brady, Hope Brady, Victor Kiriakis, Julie Williams, Jennifer Horton, Jack Deveraux. Again if your name was called please report to the grand ballroom at once.
---
SCENE NINE: JACK AND JENNIFER'S NAMES ARE THE LAST TO BE CALLED. BECAUSE OF THE DIARY PAGES, THEY ARE PUZZLED.

JENNIFER: What's that supposed to mean?

JACK: I don't know but I guess the game plan is for us to stay here and find out.

JACK BEGINS TO GET RESTLESS WAITING FOR THE OTHER TO ARRIVE ND HE STARTS BANGING HIS FIST AND TAPPING HIS FEET.

JENNIFER: Jack, stop, you're making me nervous.

JACK: Good! I want to make you nervous. I want to keep you from doing something stupid.

JENNIFER: I want to know what's going on. I want to know who planned this. Maybe it's about the diary. Maybe it's about the secret.

JACK: No! Listen, we said we'd never talk about that.

JENNIFER: I know Jack but....

JACK: Never means never! If we talk about it now, we'll talk about it any old time in front of who knows. Maybe the wrong person.

JENNIFER: Alright, alright.

JACK: Just.....

ISABELLA AND ROMAN ARRIVE IN THE BALLROOM.

ROMAN: Alright Deveraux, what have you gotten us into this time?

JACK: Nothing, nothing. Really.

ISABELLA: Don't mind him, he's very into his badge these days even if he is supposed to be having a good time.

ROMAN: I don't think we were called here to have a good time.

ISABELLA TELLS HIM NOT TO BE SO SUSPICIOUS BUT JACK AND JENNIFER ARE VERY WARY AND EXCHANGE KNOWING LOOKS. BO AND HOPE ARE NEXT TO ARRIVE, FOLLOWED BY JULIE AND VICTOR. HANS ARRIVES AND TELLS THEM ALL THAT THEY HAVE BEEN CHOSEN TO TAKE PART IN SOMETHING SPECIAL THAT WILL CHANGE THEIR LIVES FOREVER. HE GOES ON TO TELL THEM THAT THEY HAVE ALL BEEN CHOSEN TO PLAY PARTS IN A SPECIAL PLAY WRITTEN BY ERNESTO TOSCANO. THE PLAY IS ON FRIDAY AND HE HANDS OUT THE SCRIPTS TO EACH PLAYER AND TELLS THEM THAT THEY ARE THE ONLY PEOPLE WHO CAN DO JUSTICE TO THE PLAY.

HANS: Mr. Deveraux.

JACK: Yes!

HANS: Miss Horton. You'll be our narrators.

HE HANDS THEM EACH A SCRIPT.

JACK: Huh, uh.

HANS: Since the theme of the play is about love you will each portray a different aspect of that emotion. (To Jennifer) You'll be the innocent side of love and (To Jack, not know how to say it) you'll....well you'll be the tainted side.

JACK GIVES A CYNICAL SMILE AND JENNIFER ROLES HER EYES AND SMILES.
---
SCENE TEN: BO AND HOPE ARE THE BRIDE AND GROOM, VERY MUCH IN LOVE BUT TORN APART BY THE GROOMS LOYALTY TO HIS EVIL FATHER. VICTOR PLAYS THE EVIL FATHER. ISABELLA AND ROMAN PLAY A MARRIED COUPLE ONCE DEEPLY IN LOVE BUT CURSED BY FATE. IN THE END ISABELLA IS LOST TO THE EVIL FATHER. JULIE THEN WONDERS WHAT PART SHE HAS. HE TELLS HER THAT SHE IS THE DIRECTOR BECAUSE SHE HAS A FORCEFUL PERSONALITY AND SOMEBODY HAS TO BE IN CHARGE. ROMAN THINKS THEY SHOULD ALL CO-OPERATE IN THIS PLAY BECAUSE WILL BE THE ONLY WAY THEY WILL FIND OUT WHAT ERNESTO HAD IN MIND. THE PLAY IS CALLED FATAL PASSION. THEY ALL PROTEST BUT ROMAN INSISTS.
JACK: That's easy for you to say. You've got a good part.
ROMAN ASSURES THEM THAT THIS IS THE ONLY WAY THEY WILL GET OUT OF THIS ALIVE.
---
[Air date 6-14-90]
SCENE ONE: JACK AND JENNIFER ARE RUNNING THEIR LINES FOR THE PLAY. THEY ARE ON DECK. SHE IS WEARING A BRIGHT PINK BIKINI AND HE IS IN A MATCHING RED T-SHIRT. JACK IS LEANING BACKWARDS AGAINST THE RAIL AND SHE IS LEANING WITH HER ELBOWS ON THE RAIL BUT WATCHING HIM.

JENNIFER: True love is joy.

JACK: True love is pain. Some lose love.

JENNIFER: While others gain. When lovers love true they must answer the call. True love can give courage and love conquers all.

SHE LEANS OVER AND KISSES HIM TENDERLY. HE RESPONDS FOR A FEW SECONDS THEN STOPS.

JACK: Hey, wait a minute, what's going on here? Come on now. There's no kiss in that. That's totally wrong.

JENNIFER: Jack I was improvising. Did you ever hear of that? And I think there is a very strong case to be made about a kiss at that moment.

JACK: Not for narrators. And that's what we are, we're narrators. Stop trying to make romance out of this thing. This is a a gothic melodrama. Look at the ending.

JENNIFER: Well the end of the play, it doesn't fit. I mean it doesn't make any sense.

JACK: I'm not arguing with you there but look at the whole picture. It will make sense. It's kind of like a roman à clef.

JENNIFER: A who?

JACK: Roman à clef. It's French for "the names have been changed to protect the innocent," namely Ernesto and Loretta.

JENNIFER: And Victor and the pages.

JACK PUTS HIS HAND OVER HER MOUTH.

JACK: Just...just listen. Miss Streep, stop trying to get into your part and don't forget that...don't forget about the people that we're working with okay.

JENNIFER: (Muffled by Jack's hand) Where are the pages?

JACK: The what?

JENNIFER: I said, where are the pages?

JACK: Listen, the pages are on me. They're safe, right.

JENNIFER: Alright so you're telling me by the end of this play we're going to find out who wants these pages, right.

JACK: Just....yes. Stop using the P word!

JENNIFER: The P word!

JACK: Yes!

JENNIFER: The P word!

JACK: Yes, the P word.

JENNIFER: What's wrong with the P word?

JACK HAS SEEN VICTOR WALK UP BEHIND JENNIFER.
---
SCENE TWO: JACK AND JENNIFER ARE ON THE DECK OF THE SHIP. JACK HAS NOTICED VICTOR, JENNIFER HAS NOT. HE IS TRYING TO SUBTLY GET JENNIFER TO STOP TALKING ABOUT THE DIARY PAGES, AND LET HER KNOW THAT VICTOR IS LISTENING TO THEIR CONVERSATION.

JACK: Jennifer!

JENNIFER: The P word. Stop blabbing on about the P word. Every five seconds it's the P word. It's the pages. Where are the pages?

JACK: Jennifer, Jennifer!

JENNIFER: What happened to the pages?

VICTOR: What exactly are we talking about here? (Beat) Jack! What pages were you talking about Jack?

JACK: Pages? I don't know what....pages.

VICTOR: Missing pages.

JENNIFER *FINALLY* DISCOVERS THAT VICTOR IS THERE. JACK AND JENNIFER THEN ATTEMPT TO BE SUBTLE AND CONVINCE VICTOR THAT THEY DO NOT KNOW WHAT IS GOING ON. THEY ARE NOT AT ALL CONVINCING.

JENNIFER: Oh Jack, he means the missing pages.

JACK: Thank you, thank you. I heard him the first time. (Trying to think up a convincing an logical response. )Ah....pages, well I....pages....well to our scripts of course, to the play. I mean we're missing pages 15, 16 and 17. You haven't seen them blowing around have you?

VICTOR: Now isn't that a coincidence. We're missing pages from Loretta Toscano's diary as well.

JACK: Really!

VICTOR: Really! Now if you know anything about their disappearance, I strongly suggest that you turn those pages over to me, quickly, for health reasons. You know I've been wondering why you two were included in this little excursion.

JACK: Heheh. You know Victor if I had something that belonged to you, do you honestly think that I would lie to your face and tell you that I didn't have them?

VICTOR: Yes. (Beat) I'll keep an eye out for your script pages.

VICTOR LEAVES.

JACK: That's 15, 16 and 17. Anything else you can hold onto yourself.

JENNIFER: Jack!

JACK: Just....just don't say the P word.

JENNIFER: He knows.

JACK: He....he thinks he knows.

JENNIFER: No, he knows.

JACK: Listen that's enough. No more theat....no more theatrics, so to speak, okay. Now I'm going to keep an eye out for the pages and I'm going to keep an eye out for you too, okay.

THERE IS THEN AN ANNOUNCEMENT CALLING ALL CAST MEMBERS TO REHEARSAL.

JACK: (With a somewhat ironic smile) Sorry this is not exactly the romantic cruise you were looking forward to.
DESPITE THE DANGERS JENNIFER IS ENJOYING THEIR CLOSENESS, AND DOES NOT CARE ABOUT ANY POSSIBLE DANGER.
JENNIFER: You know come to think of it, I'm not really that sorry. I wouldn't have it any other way.
JACK LOOKS AT HER SURPRISED, BUT ALSO CONTENT AT THEIR GROWING CLOSENESS.
---
SCENE THREE: ROMAN AND ISABELLA ARRIVE FOR REHEARSAL FOLLOWED BY JACK AND JENNIFER.

JENNIFER: Hi everybody.

JACK: Alright, the narrators are here, ready to win kudos and Tony Awards.

ROMAN: A little anxious to do this thing aren't you?

JACK: Yeah.

ISABELLA: I'm not surprised. With the ego Jack's got he's ready, right Jack?

JACK: That's Mr. Narrator to you.

ISABELLA: (Laughing at Jack's egotism) Mr. Narrator.

ROMAN IS DUBIOUS ABOUT JACK AND JENNIFER.

ROMAN: You seem a little too anxious to do this. Any particular reason why.

JACK TRIES TO THINK UP AN EXCUSE.

JACK: Well....well of course, I'm....well....

JENNIFER SAVES HIM. SHE GRABS JACK'S HAND, LOOKS AT HIM AND WINKS.

JENNIFER: I guess it shows, eh?

JACK: (Oblivious to what she means.) What shows?

JENNIFER: You'll have to forgive us. We've really gotten carried away by all this.

ROMAN: Carried away by all of what?

JENNIFER: Well you know, the cruise and the play and the romance. Isn't that right Snuggle Bunny?


SHE CUDDLES UP TO JACK.

JACK: Snuggle Bunny! Right, excuse us while we go rub noses over here.

JENNIFER: Right.

HE DRAGS JENNIFER OVER TO THE CORNER OF THE STAGE. JACK SITS DOWN, JENNIFER SITS IN HIS LAP.

JENNIFER: Come on Jack, play the part.

JACK: You're really getting into this aren't you?

JENNIFER: Oh yes, Snuggle Bunny.

SHE GRINS AT HIM AND PINCHES HIS CHEEKS. HE GRINS BACK. JACK PRETENDS TO BE SLIGHTLY ANNOYED BY THIS, BUT HE IS ENJOYING IT AS MUCH AS SHE IS. VICTOR, BO AND HOPE DO NOT TURN UP SO JULIE TELLS THE OTHERS TO KEEP WORKING UNTIL SHE GETS BACK. JENNIFER TELLS HER TO TAKE HER TIME, SHE IS ENJOYING SITTING ON JACK'S LAP; AND JACK IS HAVING FUN AS WELL.
---
SCENE FOUR: ROMAN GOES WANDERING AROUND THE SET AND FINDS A GUN. HE THINKS IT LOOKS REAL BUT THE OTHERS DISAGREE.

JACK: Yeah, it's a prop.

ROMAN: It looks real enough to me. It's even loaded Jack.

ROMAN POINTS THE GUN STRAIGHT AT JACK WHO DUCKS BEHIND JENNIFER.

JENNIFER: Roman!

ROMAN: Relax, blanks.

JACK: Heheheh, Vaudeville lives! You and Harpo.

ROMAN TELLS THEM TO KEEP THEIR EARS AND EYES OPEN BECAUSE HE THINKS THAT MAKE BELIEVE COULD TURN INTO REALITY AT ANY TIME. BO AND HOPE ARRIVE AND ROMAN AND BO GET INTO AN ARGUMENT ABOUT VICTOR AND HOW HE IS THE TROUBLE MAKER. VICTOR ARRIVES AND BO CONVINCES HIM TO TAKE PART IN THE PLAY SO THAT THEY CAN ALL GET TO THE BOTTOM OF WHAT IS GOING ON. HE EVENTUALLY AGREES AND JULIE CALLS THEM TO THEIR POSITIONS ON STAGE.

JULIE: Jack and Jennifer, I want you to cross to those two marks you see down center front, in front of the desk. Curtain up and....go!

JACK AND JENNIFER APPROACH FROM EACH SIDE OF THE STAGE TO THEIR MARKS.

JENNIFER: Give ear to us,

JACK: And hear the tale,

JENNIFER: A tale of love,

JACK: A tale of woe.
---
SCENE FIVE: REHEARSAL CONTINUES WITH ROMAN AND ISABELLA WHO ARE HAVING TROUBLE GETTING THE RIGHT MOTIVATION. JULIE DECIDES TO LET ROMAN PLAY THE SCENE IN HIS OWN WORDS AND THEN THEY WILL GO BACK TO THE SCRIPT. ROMAN BEGINS TO TELL ISABELLA HOW HE FEELS ABOUT HER. AS THE WORDS BECOME DEEPER AND DEEPER WITH FEELING, JACK GETS UPSET AND WALKS OUT. JENNIFER FOLLOWS HIM TO THE DECK, REALIZING THAT THE TOPIC OF THE PLAY IS DISTURBING JACK, BECAUSE IT MIRRORS HIS LIFE.

JENNIFER: Jack, look I know it can't be easy being in play about a son who finds out that his father isn't always who he thought he was.

JACK: Ah....I've done this play before. I've played that role. Only in real life it's much more smashing.

JENNIFER: I know.

JACK IS IN PAIN, AND HE OPENS UP TO JENNIFER. SHE IS SUFFERING ALONG WITH HIM, DESPERATELY WANTING TO BE THERE FOR HIM, AND TO COMFORT HIM.

JACK: The big difference is that I really cared about Harper. I loved him and I wanted to be like him when I grew up. And when I found out he was acting, that's when I realized I didn't know what to believe in or what to be.

JENNIFER: Believe in yourself. Be yourself Jack.

SHE RUNS HER HAND OVER HIS.

JENNIFER: Don't be afraid.

JENNIFER IS IN FRONT OF JACK LEANING AGAINST HIM. SHE DOES NOT SPEAK. JACK LEANS CLOSE UP NEXT TO HER, GAINING COMFORT FROM HER SUPPORT AND THE FEEL OF HER BODY NEXT TO HIS.
[Transcribed by Carol Vaughan
added material by Sally A. Wilson]
---