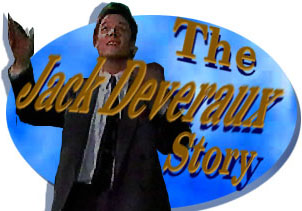 oldEpisode One-hundred-sixty-five:
The Cruise of Deception Part XII:
Jennifer and Hope Go out in the Raft,
it Overturns, and Jack and Bo Swim out
to Save Them; Jennifer Has to Rescue Jack.
---
[Air date 7-4-90]
SCENE ONE: IT IS THE NEXT MORNING AND EVERYBODY IS ASLEEP AROUND THE CAMPFIRE. HOPE WAKES UP FIRST AND FINDS THAT ROMAN IS GONE. THE OTHERS WAKE UP AND DISCUSS HIS DISAPPEARANCE.

JACK: You know, I don't know maybe Roman took a....you know, maybe he's communing with nature. I mean you haven't seen the morning paper around anywhere.

JENNIFER: Yeah but he would be back by now. This is taking too long. Hey Bo did you find him?

JACK: Hey Bo.

BO: No, no, not a sign of him.

BO DECIDES THAT IF ROMAN DID NOT WANT TO BE FOUND THEN THEY WOULD NOT BE ABLE TO FIND HIM. THEY ALL HATE HIM BEING OUT THERE ALONE AND BO DECIDES TO CHECK THE AREA AGAIN.

BO: Yeah well I just checked the immediate area. I'm going to go a little bit further in to see what I can find.

HE LOOKS ACROSS AT JACK WHO IS TRYING TO PRETEND HE DOES NOT KNOW WHAT BO WANTS.

JACK: Well I don't see anybody else volunteering. I guess I'll....

JENNIFER: Look we'll all go. I'll go with you.

JACK: No! No! Excuse us for a second. Come over here.

HE TAKES JENNIFER ASIDE.

JACK: You're not going, okay.

JENNIFER: Jack I want to help find Roman.

JACK: Listen, it's bad enough that I have to go. Don't be....don't be obstinate and....and....and bull headed and...and....thick headed and...um....bull headed.

JENNIFER IS SMILING, ENJOYING JACK'S CONCERN.

JENNIFER: Anything else?

JACK: Yeah, yeah! I don't want to lose you out there in the jungle so just stay put, alright.

JENNIFER: You're not going to lose me Jack.

JACK: Please, please just say it, please.

BO: Jack and I go. Victor, you stay here with the ladies.

HOPE: Bo I'm going with you.

BO INSISTS THAT HOPE STAY WITH JENNIFER.

BO: Come on let's go.

JACK: I'm going.

VICTOR THEN INSISTS THAT HE GO TOO BUT BO REFUSES. VICTOR GIVES THEM ONE HOUR AND THEN HE WILL FOLLOW.

BO: Are you ready.

JACK: Oh yes, let's go run after maniacs with rifles who want to blow us up.

BO: Shut up Jack!

HOPE: Go Jack and help him!

JACK: Alright. Keep a light on for us, okay.

JACK TRAMPS OFF AFTER BO.
---
SCENE TWO: BACK IN SALEM, CARLY HAS MOVED TO SALEM AND HAS TAKEN A POSITION AT UNIVERSITY HOSPITAL. THERE IS DEFINITELY SOMETHING STRANGE ABOUT HER, SHE IS DEFINITELY HIDING SOMETHING.
---
SCENE THREE: ON THE ISLAND, BO AND JACK ARE SEARCHING FOR ROMAN AND VICTOR AND JULIE DECIDE TO LOOK THEMSELVES. JENNIFER AND HOPE ARE LEFT ALONE AND DECIDE TO TAKE SOME ACTION. THEY HEAD FOR THE BEACH WITH THE BINOCULARS.

JACK: Bo, whoa, whoa! Slow down. Ouch! I mean look he's not here so he's obviously hiding someplace else.

BO: Yeah he's not here alright.

JACK: You're really worried about him aren't you?

BO GIVES JACK A PUZZLED LOOK.

JACK: Just asking. I mean, you know, I got a brother too. Steve's my brother. Of course we don't see eye to eye but....

BO: Well Roman and I, we've never seen eye to eye.

JACK: (Insightful) Still worrying about him though aren't you? Yeah I guess once a brother, always a brother.

BO: This doesn't sound like the Jack Deveraux I heard about.

JACK: It doesn't?

BO: No, it doesn't. Why the change?

JACK: Well I don't know. I guess it's that old story, beware of those headstrong women.

BO: Yeah, headstrong women do it to you every time. I've heard that story....Julie, Victor what are you doing here?

JULIE: Any sign of Roman or Isabella?

JACK: Well no, what about Hope and Jennifer. What....

VICTOR: They're back at the campsite.

BO: What do you mean....you left them there alone. We better get going.

JACK: Something's bound to happen. Headstrong women!

JACK AND BO HEAD BACK TO FIND JENNIFER AND HOPE.
---
SCENE FOUR: JENNIFER AND HOPE HAVE BEEN USING THE BINOCULAR TO SEARCH THE SEA LOOKING FOR SHIPS. THEY SIGHT ONE AND DESPITE YELLING AND SCREAMING IT DOESN'T NOTICE THEM. THEY DECIDE TO LAUNCH THE RAFT AND PADDLE OUT TO THE SHIP.
---
SCENE FIVE: MEANWHILE JACK AND BO CANNOT FIND THEM.

BO: Oh dammit.

JACK: Oh ouch, oh!

BO: Why the hell doesn't Hope ever listen to me.

JACK: I guess I can say the same thing about Miss Horton.

BO: Maybe there's some king of clue as to where they went.

JACK: Yeah?

JACK BENDS DOWN RIGHT NEXT TO BO.

JACK: Oh sorry, I was just trying to see what you were looking at.

BO: It's what I'm not looking at. There were a pair of binocular here.

JACK: Well you think....you think....you think that they took them with them.

BO: Yeah, they took 'em. They're off on their own. Geez, why the hell didn't Victor stay with them?

JACK: Oh come on, go easy on the guy.

BO: Go easy on him! He said he'd stay here with the women.

JACK: He's thinking about Isabella.

BO: Isabella! Aaaaargh!

JACK: Look all he can think about right now is getting his family back together.

BO: I don't care what he's thinking about. Right now let's go find our two headstrong women.

JACK: Let's go to the beach. I think it makes a lot more sense. I don't think they'd be going inland.

BO: Why are you assuming that they are doing something that makes sense.

JACK AND BO HEAD DOWN TO THE BEACH.
---
SCENE SIX: JACK AND BO ARRIVE AND THE BEACH, BUT OF COURSE JENNIFER AND HOPE ARE NOT THERE.

JACK: Well they're not here.

BO: Where did they go?

JACK: Where did the raft go?

BO: They didn't!

JACK: I think they did.
---
SCENE SEVEN: THE WOMEN ARE ON THE RAFT BUT THEY CANNOT PADDLE AGAINST THE WIND AND TIDE. THEY TRY TO PADDLE BACK TO SHORE BUT THEY ARE GETTING NOWHERE. THEN THE RAFT BEGINS TO FALL APART. THEY START SCREAMING FOR BO AND JACK.
---
SCENE EIGHT: MEANWHILE JACK HAS GONE TO GET TWO LIFE JACKETS WHILE BO CONTINUES ALONG THE BEACH.

JACK: Bo!

BO: Come on Jack.

JACK: Slow down for a minute. I was just trying to get....ouch.....ouch. Just....

BO: Listen, listen. Can you hear anything.....no.

JACK: Nah, I don't here anything. Listen you go out in the water. I'm going to stay here and make sure that....

BO: No, we're both going out in the water.

JACK: I'm not going.....

BO: Be quiet, listen. (Beat) That's them. Come on Jack.

JACK: Alright, alright. Okay. Just a minute, alright I'm coming.

BO AND JACK PUT ON THEIR LIFE JACKETS AND GO SWIMMING OUT TO RESCUE JENNIFER AND HOPE WHO ARE NOW IN THE WATER.
---
[Air date 7-9-90]
SCENE ONE: JENNIFER AND HOPE ARE STILL STRUGGLING TO STAY AFLOAT ON THE RAFT. THEY ARE SCREAMING FOR HELP.
---
SCENE TWO: JACK AND BO ARE TRYING TO SWIM OUT TO THEM. BO RESCUES HOPE AND JACK TRIES TO FIND JENNIFER.

JACK: Where did she go?

JACK LETS GO OF THE LIFEJACKET AND BEGINS TO SINK. JENNIFER SEES HIM AND SWIMS OVER AND RESCUES HIM.

JENNIFER: Jack, come here. Hold on, breathe, just breathe.
---
SCENE THREE: THEY ALL REACH SHORE SAFELY AND JENNIFER DRAGS JACK ASHORE BY HOLDING UP ONE LEG WITH HIM HOPPING ALONG.


JENNIFER: Alright, just go slow Jack. I got you. It's fine, just go slow, you're okay, you're okay. There you go.

JACK COLLAPSES ON THE SAND.

JENNIFER: Jack, sit up and look at me. I hope you didn't swallow too much water.

JACK: Well it depends....it depends on what you call too much.

JENNIFER: Jack you're going to be fine. Just relax for a while.

JACK: I know I'm going to be fine. You're the one who's trouble. It's a good thing I was there in the first place.

JACK COLLAPSES BACK ON THE SAND AGAIN.

JENNIFER: Yeah it was a good thing Jack.

JACK: Ooooh!

JENNIFER: Are you okay?

JACK: Yeah. Well, it looks like it was Jack to the rescue again.

JENNIFER: Oh yeah, oh yeah. I would have been a goner if it weren't for you. You saved me with such finesse too. I mean you did it with your eyes closed the whole time. Of course you were unconscious.

JACK: I was resting my eyes, thank you.

JENNIFER: And losing the life vest was an interesting choice too.

JACK: Thank you.

JENNIFER: (Teasing Jack) But what you really did really good, was that you didn't drag me under when I was pulling you ashore. That was good.

JACK: Alright, alright. Don't be so subtle alright. You're telling me I'm full of it.

JENNIFER: (Joking) No you're full of seawater. You probably swallowed a gallon of it.

JACK: Okay, okay, you got me. This time you got me. This time you saved me alright. Happy?

JENNIFER: Yeah I'm glad I had a chance to even the score.

JACK IS SURPRISED WITH HIMSELF, HE MAKES A CONFESSION ABOUT WHY HE LOST THE LIFEJACKET.

JACK: Yeah. You know....ah....there's a reason I lost....the life raft. I mean, you know, I didn't hold onto it really well but I....ah....but ah I mean I knew you were out there and I was just trying to get out there and do anything I could to get there as soon as I could.

JENNIFER: You really thought that?

JACK: Yeah. I put your welfare before mine. How about that?

JENNIFER: How about that?

HE BENDS DOWN AND KISSES HER AND PUTS HIS ARM AROUND HER.

BO: Excuse us.

JENNIFER: Hi Bo.

BO: Yeah, well I think it's about time we headed back and see if the others found Roman, alright.

HOPE: Sorry.

JENNIFER: It's okay.

HOPE AND BO LEAVE.

JACK: Come on.
---
SCENE FOUR: THEY ALL HEAD BACK TO CAMP WHERE JULIE AND VICTOR ARE ARGUING ABOUT THE FACT THAT THEY LEFT ROMAN DEALING WITH ERNESTO.

JULIE: So there's nothing for us to do now but wait.

JACK: We're all sitting here like dead ducks because we have no idea what Toscano's next move might be.

AT THAT MOMENT ROMAN RETURNS AND TELLS THEM THAT ERNESTO IS READY TO MAKE TRADE WITH VICTOR FOR ISABELLA. ERNESTO IS POISONING ISABELLA THE SAME WAY HER POISONED HER MOTHER. ROMAN COMES UP WITH A PLAN TO GIVE VICTOR TO ERNESTO AND WHILE HE'S DEALING WITH VICTOR, ROMAN WILL BREAK INTO THE COMPOUND AND RESCUE ISABELLA AND RADIO FOR HELP. THEY ARE ALL UNSURE BUT THERE IS NOTHING ELSE THEY CAN DO. THEY ALL SETTLE DOWN FOR THE NIGHT WHILE ROMAN KEEPS FIRST WATCH.

JACK: Alright.

JACK AND JENNIFER SETTLE DOWN NEXT TO EACH OTHER.

JENNIFER: I can't believe that Victor is willing to risk his life for Isabella.

JACK: Well, it is his daughter.

JENNIFER: (Kidding) Yeah but that is an heroic thing for him to do. Sort of like what you tried to do for me earlier.

JACK: Oh you mean....letting you....letting you rescue me. Yeah that was real heroic, yeah. I like that.

JENNIFER: But Jack your heart was in the right place.

JACK: (Laughing and giggling) Yeah, in my mouth along with a gallon of seawater. Actually I'm the lucky one that you got your merit badge in lifesaving.

JENNIFER: Yeah but I really didn't get to demonstrate all my techniques.

JACK: Well what else is there?

JENNIFER: This.

SHE LEANS DOWN AND KISSES HIM BUT ROMAN COMES PAST AND INTERRUPTS.

ROMAN: You better get some sleep Jack.

JACK: Yeah, right.

JENNIFER: Well I have a confession to make.

JACK: Oh I know, you were really a Brownie and you're just taking advantage of my weakened condition, right.

JENNIFER: No that's not what I was going to say. I was going to say that I wish we could spend the night in the cave again tonight. You know just so that we could be alone.

JACK: Well considering our crowded campsite I think that would be nice, yeah. But don't worry, I think we'll be alone again, in the future.

JENNIFER: Is that a promise?

JACK: That's a promise.

SHE LAYS HER HEAD ON HIS CHEST AND THEY BOTH SLEEP.
[Transcribed by Carol Vaughan
added material by Sally A. Wilson]
---