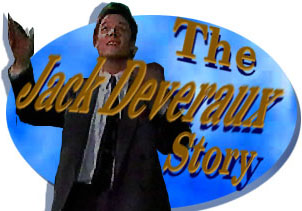 oldEpisode One-hundred-sixty-eight:
Back in Salem, Jennifer Returns
Emilio's Ring. Jack and Jennifer Visit Jo.
---
[Air date late July 1990]
SCENE ONE: JACK AND JENNIFER ARE BACK IN SALEM. JENNIFER RUNS DOWN THE STEPS TO THE PIER WITH JACK HOT ON HER HEELS.

JACK: Where's the fire? We're not going to be late.

JENNIFER: Jack the sooner we find Emilio, the sooner we can get this over with.


JACK SEEMS APPREHENSIVE ABOUT GOING WITH HER.

JACK: Emilio. Wha....what is this, we?

JENNIFER: You and me.

JENNIFER LEANS UP AND KISSES JACK.

JACK: What was that for?

JENNIFER: For being with me. I don't think I could do this without you.

JACK: Ah....ah, Jennifer, look I hope that....I hope that what happened on the island doesn't in anyway influence your decision to break up with Emilio.

JENNIFER: Jack that's now why I'm doing this.

JACK: Well that's good, that's good. I mean you should do things for the right reason.

JENNIFER: Jack I am not in love with Emilio and it's not fair to let him keep thinking that.

JACK: Well on top of that, he's still a dead beat. But I mean that's good, that's a good reason.

JENNIFER: You know I learned something very important on the island. After what happened to Hope, I realized how precious life was and how short. And with so little time don't you think it's foolish not be completely honest about your feelings?

JACK: Ab....absolutely, yes.

JENNIFER: Great. So I think we should find Emilio as soon as possible.

JACK: And you're....going to talk to him right away?

JENNIFER: Yes, just as soon as I figure out how.

JACK: So....you're worried about talking to Emilio?

JENNIFER: Yes, of course I'm worried. Look Jack you don't have to go if you don't want to. I know it's a lot to ask. I shouldn't have.

JACK: Ah....no, no, no. I'll go.

JENNIFER: Thanks. I'm really glad that you'll go with me because for some reason I feel that whenever you're with me I can get through anything.

BY JACK'S EXPRESSION, IT SEEMS AS IF HE STILL FINDS IT UNBELIEVABLE THAT JENNIFER COULD HAVE SUCH FAITH IN HIM, AND LOVE HIM SO MUCH.
---
SCENE TWO: DURING JACK AND JENNIFER'S TIME WAY EMILIO AND MELISSA HAVE GROWN CLOSER, AND HAVE ADMITTED THEIR FEELINGS FOR EACH OTHER. THEY ARE AT WINGS TALKING ABOUT HOW TO GO ABOUT TELLING JENNIFER.
---
SCENE THREE: AT WINGS, JACK AND JENNIFER WALK IN SLOWLY, LOOKING AROUND WITH CAUTION. EMILIO AND MELISSA ARE AT THE BAR.

MELISSA: Jennifer!

THEY HUG.

MELISSA: Are you okay?

JENNIFER: Yeah. I'm fine.

EMILIO: It's good to have you home.

JENNIFER: Yeah it's really good to be home.

EMILIO: What's up Jack?

JACK: Ah, nothing much but....ah....Jennifer you had something you were going to say, weren't you?

JENNIFER: Yes, Jack! Um Emilio I have to talk to you.

EMILIO: Yeah well I have to talk to you too.

JACK: That's my exit line.

MELISSA: Bye.

MELISSA AND JACK WALK OUT INTO THE WINGS ENTRANCE WAY, LEAVING JENNIFER AND EMILIO TO SIT DOWN AT A TABLE. THEY BOTH START WITH LINES ABOUT HOW THEY THINK THE OTHER IS A GREAT PERSON BUT THEY HAVE SOMETHING IMPORTANT TO SAY.
---
SCENE FOUR: JACK AND MELISSA HAVE BEEN TALKING.

MELISSA: Wait a minute. If you think it's your fault that Jennifer and Emilio are breaking up....

JACK: Well do you think you're responsible? You mean that's Emilio's idea?

MELISSA: And Jennifer must think it's her idea?

JACK: I think it's time to put this dog out of it's misery.

JACK AND MELISSA WALK OVER TO THE TABLE.

JACK: Ah....kids. I hate to break this up but (Getting cold feet) ....ah....Melissa go ahead.

MELISSA: This conversation that you're having. It's come to our attention that you both want the same thing here.

JENNIFER LOOKS UP AT JACK.

JACK: Out of it! As in....out of it!

JENNIFER: You don't want to marry me?

EMILIO: No, and you don't want to marry me?

JENNIFER: No.

EMILIO: This is the greatest news I've ever heard.

JENNIFER: Yes it's great. I mean no offense but....ah....I guess I should give this back to you.

JENNIFER HANDS EMILIO THE ENGAGEMENT RING. ON HER ENGAGEMENT FINGER SHE IS WEARING THE SHELL RING THAT JACK GAVE HER. JACK WALKS AROUND TO STAND BEHIND JENNIFER, WATCHING INTENTLY AS SHE FINALLY BREAKS IT OFF WITH EMILIO. MELISSA IS EQUALLY ANXIOUS.

EMILIO: Yeah, I guess this makes it official, eh.

JENNIFER TURNS TO FACE JACK.

JENNIFER: Yeah, I guess so.

EMILIO: Who says breaking up is hard to do?

JACK: Neil Simon. Neil Simon I think.

JENNIFER, EMILIO AND MELISSA ALL CORRECT JACK TOGETHER.

ALL: Neil Sedaka.

JACK: Oh.

MELISSA THINKS IT IS TIME TO CELEBRATE BUT JENNIFER THEN TELLS HER ABOUT HOPE. MELISSA DECIDES TO GO OVER TO SEE ALICE AND ASKS JENNIFER TO COME ALONG AND JENNIFER SAYS SHE WILL BE THERE LATER. EMILIO AND MELISSA LEAVE.

JENNIFER: Oh will you come with me to your grandparents?

JACK IS SURPRISED THAT SHE WANTS HIM TO BE WITH HER FAMILY.

JACK: Well are you sure that....ah....that....

JENNIFER: Yes, I'm sure.

JACK STOPS TO THINK.

JACK: Well sure, but....ah first there's something that I need to do. I think there's somebody I need to check on.

JACK WALKS OUT AND JENNIFER FOLLOWS HIM.
---
SCENE FIVE: MEANWHILE OVER AT NEIL'S HOUSE, VICTOR HAS DROPPED BY. JO ASKS IF JACK IS BACK TOO AND VICTOR IS SURPRISED HE HAS NOT CALLED JO. JO MAKES EXCUSES FOR JACK BUT IS SAD THAT HE HAS NOT BOTHERED.
---
SCENE SIX: JACK AND JENNIFER ARRIVE AT NEIL'S DOOR. JO ANSWERS THE KNOCK, SEEING THAT IT IS JACK SHE IS OVERJOYED.

JO: Oh....Jack!....And Jennifer.

JENNIFER: Hi Mrs. Johnson.

JO: (Slightly flustered with emotionalism) Oh my God. Don't just stand there, come in.

JACK: Yes.

JO: Come in this house. Oh! I'm so glad to see you. I was worried. I was really worried about both of you.

JACK: Well, no need to worry now. We're all here. Well most of us are here.

JENNIFER: I guess you heard about Hope already.

JO: Yes, I'm so sorry.

JACK: Well Steve stayed behind to help Bo look.

JO: I know, he called me earlier and told me.

JACK: (Feeling bad and guilty) You're wondering why I didn't call.

JO: No! Oh I'd rather have a visit from you any old day than a phone call.

JACK: Right, right.

JO: Well I guess you have to go. I'm sure you have plans this evening, right?

JACK: Well actually, ye....

JENNIFER SIGNALS JACK THAT THEY CAN STAY.

JACK: Ah....ah actually we don't....we don't have any other plans.

JO: (Even more thrilled) Really?

JENNIFER: Really.

JO: Really?

JENNIFER: Really.

JO: You can stay! Oh you know I was just going to make a sandwich and eat it in the kitchen because Dr. Curtis has gone out for the evening. But you know what, I'll make sandwiches for all of us. I know you like iced tea and (To Jack) coffee and I'll make some dessert. Don't go away okay. I'll be right back.

JO LEAVES TO MAKE DINNER.

JACK: She kind of gets carried away, you know.

JENNIFER: Of course she does. She's your mother. She loves you Jack.

JACK SEEMS TO ENJOY JO BEING "CARRIED WAY." JENNIFER GIVES HIM A BIG HUG, HAPPY THAT HE IS GETTING CLOSER TO HIS FAMILY, AND BECAUSE SHE TOO LOVES HIM.

JACK: Yeah, I know.

JACK BREAKS AWAY FROM THE HUG.

JACK: Ah....look you don't need to stick around here just to humor Jo. I think you should be with your family.

JENNIFER: I will be Jack later on. Right now I want to be with you and yours.

JACK: Maybe you just want to keep me from bailing on the sandwiches and coffee.

JENNIFER: No, that's a stunt that the old Jack would pull, not the Jack that's here with me now. This Jack is a totally different person.

HE TAKES JENNIFER'S HAND AND BRINGS IT TO HIS LIPS; HE KISSES IT TENDERLY. AND KISSES IT AGAIN JUST AS JO RETURNS.


SEEING THIS, SHE SMILES, KNOWING THAT JACK AND JENNIFER ARE FINALLY TOGETHER, AND THAT JACK HAS FOUND THE LOVE HE DESERVES.

JO: I was going to tell you that the coffee's almost ready but it seems you two have more important things in mind.

JACK: Look I don't think there is anything more important than coffee. After going all without it that time on the island, I think Juan Valdez should be a national hero.

JO: (With a knowing smile) Something is different between the two of you since your trip. What is it, what's going on?

JENNIFER: Mrs. Johnson....

JACK: Well actually Jennifer has decided not to....ah, you know, jump on my case so much and I agreed. I mean vice versa.

JO KNOWS THERE IS MORE TO IT THAN THAT AND SHE SMILES, HAPPY FOR JACK. SHE DOES NOT PRESS THE ISSUE.

JO: (With a wise, knowing look) A little progress has been made.

JENNIFER: Yes.

JO: Call for a celebration!

JACK: Well supper would be celebration enough.

JO: Well it's in the kitchen but before we go in, I'd like to say a little prayer for Steve and the others who haven't come home yet. Would that be alright?

JENNIFER: Yeah. Yeah I think that's a great idea.

JENNIFER TAKES JO'S HAND AND THEN SHE TAKES JACK'S. JO EXTENDS HER OTHER HAND TO JACK TO FORM A CIRCLE.

JO: Bring them home Lord, Bo and Hope and Steve. And help us to remember that through good and bad you'll always be there for us. All we have to do is just look for you. Knowing that we'll never give up.
[Transcribed by Carol Vaughan
added material by Sally A. Wilson]
---