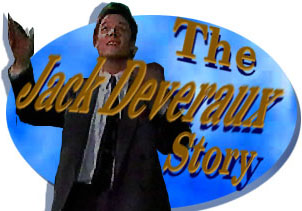 oldEpisode One-hundred-seventy-four: Steve
Asks Jack to Be His Best Man; Jennifer
Once Impersonated Katerina, She Is Now
Terrified That the Alamains Think She Is
Katerina, and Her Happiness with Jack Is in Jeopardy.
---
[Air date mid-August 1990]
SCENE ONE: JENNIFER DOES NOT ANSWER JACK BUT INSTEAD BEGINS TO GET DRESSED. HE IS NOW WEARING HIS ROBE AND SHE IS SITTING ON THE END OF THE BED PUTTING ON HER SHOES.

JACK: So why don't you answer my question? I mean not that it hasn't been highly interesting watching you get dressed but I didn't think I'd have to wait until you got finished before I got an answer.

JENNIFER: Ah I'm sorry. What was the question again?

JACK: Read my lips! Who is this girl Katerina, "A," and "B," why is this story so interesting to you?

JENNIFER: Now what makes you think it's so interesting to me Jack?

JACK: Ooooh I don't know. I guess ever since the tape showed up you've been ditching me, dogging me or generally doing a tap dance around the truth which

leads me to believe one thing.

JENNIFER: What?

JACK: You're holding out on me.

JENNIFER: You're right, I am.

JACK: So you've been holding out on me and....

JENNIFER: Yes.

JACK: Yes?

JENNIFER: Yes, I've been keeping the story from you from the very beginning because I thought that it was a real find.

JACK: Huh, uh.

JENNIFER: And I know that I you it wasn't but I still thought that it might be something. And to be honest with you I didn't want you to scoop me.

JACK: Oh of course. Ye olde professional rivalry.

JENNIFER: Yes exactly. But now that I know the whole story and I've seen the whole tape, which I forgot to thank you for fixing it....

JACK: Oh don't mention it really.

JENNIFER: I've come to the conclusion that the bottom line of this whole thing Jack, is who really cares.

JACK KNOWS THAT SHE IS LYING BUT HE GOES ALONG WITH HER.

JACK: You know I feel the same way. I really....

I saw the tape, I was very unimpressed. It was dull.

JENNIFER: Ah, it's flat.

JACK: Tiring.

JENNIFER: Banal.

JACK: It's been done.

JENNIFER: Exactly. So since neither one of us is going to use it, I'll just take it back to the video library.

JENNIFER CRAWLS ACROSS THE BED AND LEANS OVER THE TOP OF JACK TO REACH THE TAPE WHICH IS NOW ON HIS SIDE OF THE BED. HE TRIES TO TAKE IT FROM HER.

JACK: Oh, oh, you know something. I was the one who checked it out. I think it's my responsibility to check it back in.

JENNIFER: No Jack. You don't have any responsibility since you repaired it. No don't be silly. I can return it.

JACK: No you can't.

JENNIFER: How are you going to stop me?

JACK: With my weight!

JENNIFER: JACK, THERE'S A SPIDER ON THE WALL! AAARRRGGGHHH!

JACK: Mommy, mommy, mommy. JENNIFER SCREAMS AND JUMPS OFF THE BED AND JACK ROLLS AWAY FROM THE WALL IN FEAR.

JACK: What?

JENNIFER: Well you maybe be bigger but who's quicker.

SHE HOLDS THE TAPE UP IN TRIUMPH.

JACK: I certainly know who's slicker.

JENNIFER: Now come on Jack, it's only fair. I'm the one who originally got this tape so I'll just hold onto it.

JACK: Alright, alright, I've got no problem with that because it's a boring tape. I don't care.

JENNIFER: I know. It is. So you know what, there's no reason for us to talk about it anymore.

JENNIFER TURNS TO LEAVE.

JACK: (Smiling) Where are you going?

JENNIFER: I just have a few things I have to take care of. I'll be back later. JACK: Great.

JENNIFER LEAVES. JACK IMMEDIATELY LEANS OVER AND PICKS UP THE PHONE.

JACK: Hi Vern, it's me, Jack. (Beat) Deveraux! Listen I want you to be down at the office in half an hour, right. I'm going to meet you there and we are going to have a little discussion about a certain story and a certain video tape. Good.

JACK HANGS UP AND THEN NOTICES A SPIDER ON THE BED. HE LEAPS AWAY.


JACK: AAARRRGGGHHHH, YA, WHOA! Well there really was a spider. I hate 'em!
SCENE THREE: MEANWHILE, JACK HAS GONE TO HIS OFFICE.

JACK: Right Vern, do you have that information that I asked for?

VERN: I don't know how you get me roped into these stupid schemes. You know sometimes I feel like I've got the moral integrity of a turnip.

JACK: What are you fighting me for? You know this is useless. Now come on give me the information.

VERN: Ah, I'm still working on it. I'll have it on your desk before I leave, however late that might be.

JACK: Oh come on, cut it with the sarcasm. This is what you get paid the big bucks for.

VERN: Oh yeah, right, right.

STEVE COMES TO THE DOOR AS VERN IS LEAVING.

VERN: Hello Steve.

STEVE: Hi Vern, how's it going?

VERN: Oh slow, slow.

VERN LEAVES AND STEVE TURNS TO JACK.

JACK: You don't want to know. Have a seat.

STEVE: No I can't stick around. I gotta go, I'm busy. Look, Kayla and I are getting married again on Friday, you know.

STEVE IS ACTING NONCHALANT ABOUT THE WHOLE THING. JACK IS ALSO TRYING TO REMAIN UNEMOTIONAL HOWEVER, IT IS OBVIOUS THAT THIS MEANS A GREAT DEAL TO THEM.

JACK: No I didn't know that.

STEVE: Oh you didn't? Well it's good thing I'm here. I want you to be my best man again.

JACK IS SURPRISED AND PLEASED.

JACK: Well.... ah.... are you sure that you still want that?

STEVE: I think you started the job. You should finish it.

JACK: If you say so.

STEVE: I do.

JACK: You probably should save that for Friday.... I do.

STEVE: (Laughing) Oh, that's funny Jack. You a comedian now?

JACK: Well.... you know.

STEVE: I tell you what, take this ring. Don't do anything funny with this. We're going to need it for the wedding (He hands Jack the ring.).

JACK: Oh sure, I'll just.... I'll just.... oh.

JACK TRIES TO SLIP IT ON THE LITTLE FINGER OF HIS LEFT HAND BUT IT DOES NOT FIT.

STEVE: So you're thinkin' about taking a little trip down the aisle yourself?

JACK: What me? Oh no, no, no.

STEVE: Why not?

JACK: No.

STEVE: No, don't tell me. It's Smilely over there on the wall.

STEVE POINTS TO THE PORTRAIT OF HARPER THAT JACK HAS HANGING IN HIS OFFICE.

STEVE: He's got you shaking doesn't he? You think because he's raised you, you're just like him and you won't commit to anything. I'm right about this commitment business, aren't I? You're afraid.

JACK: Oh maybe.... a little.

STEVE: It's because of Smilely Senior over there on wall too isn't it?

JACK: Yeah a maybe a little.

STEVE: No maybe a lot.

JACK: Look we all have ghosts in our closest. So he's one of mine.

STEVE: So does Jennifer know about this ghost that's been haunting you all this time?

JACK: No.

STEVE: Why not? I thought things were going along real well for you two.

JACK: They are. They're going great. I mean we're getting closer and closer and....

STEVE: But not close enough to tell her why you're afraid to get too close.

JACK: Steve, she's not going to understand.

STEVE:

You want to talk about ghosts? You remember Duke Johnson? Not exactly Casper the Friendly, huh. I told him to go straight to hell and he stayed there. Now I'm with Kayla and we're alright and that's because I was honest with her. It wasn't easy but I did it. If I can do it, so can you. You've got to tell Jennifer the truth.
SCENE FOUR: JACK IS BACK IN HIS BEDROOM AND HE IS ON THE PHONE TO VERN WHEN JENNIFER ENTERS.

JACK: So have you got everything taken care of? Listen you're going to have pride in a job well done if you....

JENNIFER PUTS HER ARMS TIGHT AROUND JACK'S WAIST AND HOLDS ON. JACK CANNOT HELP BUT SENSE SOMETHING IS WRONG.

JACK: ....ah Vern, listen we can talk about this later okay. Thanks.

HE PUTS THE PHONE DOWN AND RESTS HIS CHIN ON THE TOP OF HER HEAD.

JACK: Ah, Jennifer, is something the matter?

JENNIFER: Jack tonight nothing matters except me and you.

JACK KNOWS SOMETHING IS WRONG.

JACK: Okay....

JENNIFER: You know we never take the time to appreciate what we really have. You know we never do that. We're always running around and we're working and we're meeting our deadlines. We eat and we sleep, we say hello and we say goodbye. But we never really stop and enjoy the moment you know. You know, the here and now.

JACK: Well I.... I guess we can do something about that right now.

JENNIFER: You mean that?

JACK: Sure.

JENNIFER HOLDS JACK EXTRA TIGHT.

JACK: Sure. Why don't we concentrate on the here and the now.

JACK CLOSES HIS EYES AND HOLDS HER VERY CLOSE. HOWEVER HE HAS OBVIOUS CONCERN FOR WHAT IS WORRYING HER.

JACK: Look.... I know that you're upset about something. You don't have to tell me about it. I guess that's the way it is when.... when you've got a relationship going. But I just want you to know that if there is something that you want to say, I'm here. Then again then if there's.... nothing to say, I'm still here.

JENNIFER: I need to know that Jack because everything that we have together could suddenly disappear. It could all be taken away.

JACK IS NOW VERY WORRIED.