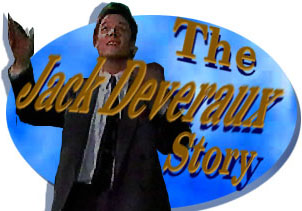 oldEpisode One-hundred-seventy-six:
Steve and Kayla's Wedding: Jack and Jennifer
Take a "Recreational" Shower; Later Someone
from Jack's Past Returns Causing Repercussions
That Will Bring His Life Crashing down upon Him.
---
[Air date mid-August 1990]
SCENE ONE: IT IS STEVE AND KAYLA'S WEDDING DAY. JENNIFER DROPS BY TO SEE CARLY AND SHOWS HER THE DUMMY TAPE SHE IS HAD MADE UP TO PUT JACK OFF THE TRACK OF THE MISSING HEIRESS. WHILE SHE'S THERE, CARLY SHOWS HER A COIN THAT IS THE TOKEN FOR THE MARRIAGE PACT. THE HEIRESS MUST PRODUCE IT TO PROVE WHO SHE IS.
---
SCENE TWO: BACK AT HIS HOUSE, JACK IS IN HIS ROBE AND ON THE PHONE TO A BUSINESS ASSOCIATE.

JACK: Just give me everything you've got on a Katerina von Leushner and a Lawrence Alamain.

MAN: (On phone) If this fans out the way you think it will you'll probably wind up with a nice hefty raise.

JACK: Don't worry about that. Just get me everything you've got as soon as possible by special courier.

MAN: Just who's going to foot the bill for this little project of yours?

JACK: Oh Clay, I'll cover this whole thing. I mean, your embassy's not going to incur any expense in this little war.

MAN: This what?

JACK: Ah, not that kind of war. Just know that I'm going to be the winner.

JACK HANGS UP BUT SEEMS A BIT UNSURE OF THIS WHOLE PROJECT.
---
SCENE THREE: OUTSIDE OF TOWN, HARPER HAS MANAGED TO GET OUT OF PRISON. HE GOES TO A PUBLIC PHONE AND CALLS FOR A CAR TO PICK HIM UP BECAUSE HE HAS A WEDDING TO GO TO. HOWEVER HE SAYS HE HAS ONE CALL TO MAKE FIRST. THE LIMO ARRIVES AND THE DRIVER GIVES HARPER A RIFLE AND A DISGUISE.
---
SCENE FOUR: BACK IN SALEM AT JACK'S HOUSE, HE IS IN THE SHOWER, GARGLING AND SINGING. JENNIFER ARRIVES AND CALLS OUT TO HIM. HE CANNOT HEAR HER. SHE IS CARRYING A LARGE ENVELOPE. THE PHONE RINGS AND SHE ANSWERS IT. JENNIFER TELLS THE MAN ON THE PHONE THAT JACK CANNOT COME TO THE PHONE. HE TELLS HER THAT JACK ASKED FOR INFORMATION ON KATERINA VON LEUSHNER AND LAWRENCE ALAMAIN. SHE IMMEDIATELY DECIDES TO PRETEND SHE IS JACK'S SECRETARY AND TELLS THE GUY THAT JACK LEFT HER A MESSAGE THAT HE DOES NOT NEED THE INFORMATION ANYMORE.

CALYTON: Oh well, so much for that. Listen, do me a favor. Tell your boss that next time he's up in this neck of the woods, he owes me lunch.

JENNIFER: Oh great, well don't hold your breath on that one.

CLAYTON: I see you know Jack very well.

JENNIFER: Oh I do, yeah, I know Jack very very well. Goodbye.

JENNIFER HANGS UP. SHE DECIDES TO GIVE JACK THE TAPE SHE BROUGHT AND PRETEND IT IS FROM CLAYTON FRASER THE GUY ON THE PHONE. SHE WRITES CLAYTON'S NAME ON THE ENVELOPE AND IS JUST SEALING IT WHEN JACK COMES OUT OF THE SHOWER IN HIS ROBE.

JACK: Hello there.

JENNIFER: Hi.

JACK: Are you going through my things?

JENNIFER: Oh no, no. I was holding this to hand to you. It came by special messenger.

JACK: Huh, uh. Oh yes.

JENNIFER: Would you care to tell me who Clayton Fraser is? I just happened to see a tiny glance at the name in the corner there.

JACK: No I would not. So what brings you here Jennifer?

JACK OPENS THE ENVELOPE AND TAKES OUT THE TAPE.

JENNIFER: Well actually Jack we don't get to spend that much private time together these days Jack and I thought I would bring my things over and we could get ready for the wedding together.

JACK: You know something, that's a wonderful idea. That's a great idea. It really is.

JENNIFER: Okay, well I'll just go down to the car and get my stuff.

JACK HAS NOW PUT THE TAPE IN THE VCR. JENNIFER GOES TO THE DOOR AND PAUSES. JACK LOOKS ACROSS AT HER.

JACK: Good. Take your time. Is something wrong?

JENNIFER: No, no. I just like looking at you, that's all.

JACK: Well we'll have plenty of time for that when you get back up here. Hurry back.

JENNIFER: Okay.

JACK IS RELIEVED WHEN JENNIFER SHUTS THE DOOR. HE SITS ON THE BED AND PRESSES PLAY.

JACK: Alright Clayton, what have you got for me?
---
SCENE FIVE: MEANWHILE, STEVE AND KAYLA ARE HAPPILY GETTING READY FOR THEIR WEDDING; AFTER ALL THE PROBLEMS OF THE PAST FEW MONTHS THEY FINALLY WILL BE MAKING THEIR MARRIAGE OFFICIAL. THERE IS SOMEONE AT THE DOOR. STEVE ANSWERS IT; IT IS ROMAN. HE TELLS STEVE THAT HARPER HAS ESCAPED AND THEY A CERTAIN HE PLANS TO CAUSE PROBLEMS AT THE WEDDING. HE ASSURES STEVE THAT HE WILL HAVE THE CHURCH GROUNDS SURROUNDED WITH UNDERCOVER OFFICERS. THEY BOTH AGREE NOT TO TELL KAYLA; THEY DO NOT WANT TO RUIN HER WEDDING DAY.
---
SCENE SIX: JACK IS SITTING INTRIGUED AT THE TAPE WHICH SHOWS THAT KATERINA IS NO LONGER MISSING AND HAS TURNED UP AT HOME ALL BY HERSELF AND IS PREPARING FOR THE WEDDING ON HER TWENTY-FIFTH BIRTHDAY. JENNIFER COMES BACK JUST AT THAT MOMENT. SHE TRIES TO SEE IF HE HAS FALLEN FOR HER ROUSE. JACK QUICKLY PRESSES STOP ON THE VCR.

JENNIFER: Oh what was that?

JACK: Oh, just a little blurb from ITNS.

JENNIFER: Oh International Television News Service. It must have been the special delivery from your friend at the embassy.

JACK: Wait a minute. I never said he was from the embassy.

JENNIFER: Yes you did Jack. What's wrong with you. Of course you did.

JACK: No, no I swear I never said anything.

JENNIFER: It wasn't about the missing heiress was it?

JACK: Heheheh, Jennifer I knew before you told me not to, to follow up on that story. What I didn't tell you at that time was that I'd already killed the story. I'd already told Vern to kill the whole series.

JENNIFER: What about the phone call. You obviously made that to get that footage.

JACK: Well obviously even though I killed the story doesn't mean I'm not going to follow up on it.

JENNIFER: But doesn't me asking mean anything to you Jack?

JACK: Sure, it means a lot but remember I'm a news man. A story's a story.

JENNIFER: Well what did you find out? Is there anything interesting?

JACK: Well I just found out that I wasted a lot of time. I think it's a story about a girl who just wanted to take a little R & R. She went away, she came back and the whole thing fizzled out.

JENNIFER: Well you see that, you see. There's no mystery, there's no nothing, no heiress missing.

JACK TAKES THE TAPE OUT OF THE VCR AND LOOKS AT IT.

JACK: Maybe.

JENNIFER: What?

JACK: There's something funny about this tape Jennifer.

JENNIFER: Funny? Well I didn't hear you laughing before about it.

JACK: No, no, it's funny and odd, strange.

JENNIFER: Alright Jack, that is it. That is enough. I've had enough of this alright.

JACK: What do you mean, that's enough? I was just saying that....

JENNIFER: I mean haven't you had enough of this, it's over. Just.... it's a dead end, okay. Just take this.... I know I want to make a truce with you Jack, okay. Let's forget the competition, let's forget the story, okay. Let's forget everything. Why don't we just concentrate on us?

JACK: Well that.... that sounds great. But.... I want to do it but let me take a look at the tape first, alright. Just one quick look at this tape. Just to satisfy.... yeah.

JENNIFER IS TRYING HARD TO DISTRACT JACK.

JENNIFER: Jack, Jack!

SHE LEAPS ONTO THE BED NEXT TO HIM.

JACK: Yeah.

JENNIFER: I want to take a shower.

JACK: Alright, great, the shower's wide open.

JACK IS BUSY WATCHING THE TAPE AND NOT CONCENTRATING ON HER, SO SHE DECIDES TO TAKE MORE DRASTIC ACTION.


JENNIFER: No, I need someone to scrub my back.

JACK: Well there's a scrub brush in there too.

JENNIFER: I need someone to lather up the soap for me.

JACK: Wa...wait a minute. I've just....

JENNIFER: Come on Jack!

JACK: I've just taken a shower.

JENNIFER: No worries, we'll take another shower. Come on.

JACK: I.... look.... I'm clean, honest.

JENNIFER DRAGS JACK TO THE BATHROOM.

JENNIFER: Come on Jack, this is not a get clean shower. This is a recreational shower.

JACK: But.... be careful, the water's.... you're still dressed.

JENNIFER: So I am. What are you going to do about it?

JACK: Well I'm going to turn the water off.

JENNIFER: No you're not. Try again.

JACK: Well....

JACK KISSES JENNIFER AND SHE KISSES HIM BACK. THE CAMERA DROPS TO THEIR FEET WHERE JENNIFER KICKS OFF HER HIGH HEELS. STANDING ON HER TOES SO THAT SHE CAN KEEPING KISSING JACK, SHE BACKS INTO THE SHOWER WITH HIM FOLLOWING, STILL IN HIS ROBE. HE PULLS THE SHOWER DOOR SHUT AND HOLDS IT WITH HIS HAND AS SHE STARTS TO GIGGLE.

JACK: Like I said before. Jennifer you're still dressed.

JENNIFER: Hopefully.... not for long.

JACK STARTS TO LAUGH. HE BENDS DOWN AND KISSES HER.
---
SCENE SEVEN: IT IS SOME TIME LATER AND JACK IS FINISHING GETTING DRESSED IN THE BEDROOM. JENNIFER COMES OUT OF THE BATHROOM IN JACK'S ROBE BRUSHING HER WET HAIR. SHE TEASES JACK AND POKES HIM WITH HER BRUSH.

JENNIFER: I feel so much better now.

JACK: Yeah, I feel a little.... cleaner myself.

JENNIFER: I don't mean that Jack.

JACK: Yeah.

JENNIFER: I mean't about us in general.

JACK: Jennifer, you know I have a little trouble talking about us in general. I.... er.... I can't seem to do that.

JENNIFER: Yeah, but Jack you did the other day and you were wonderful.

JACK: Yeah.

JENNIFER: Come on just.... you can do it. Just tell me how you feel. Tell me one thing that you feel.

JACK: One thing that I feel.

JENNIFER: Huh, uh.

JACK: I feel.... ah.... relieved.

JENNIFER IS SOMEWHAT DISAPPOINTED.

JENNIFER: Oh! (Beat) Relieved is good. What do you feel relieved about?

JACK: I feel relieved that I don't have to worry about you snooping behind my back anymore.

JENNIFER: (Teasing) Hey you snoop too.

JACK: (Jack is trying to open one to Jennifer, it is ery difficult for him.) Well be that as it may, I'm glad that it's over. I.... um.... I just think that we have something.... we have something here.... and I don't want to take any chances with it.... if you know what I mean.

JENNIFER: Yeah I know what you mean.

JACK: I don't want to have to worry that you've got anything on me and you don't have to worry that I'm going to find out that you've got something.

JENNIFER FEELS GUILTY FOR DECEIVING JACK.

JACK: I'm just going to keep everything on the up and up, you know. Just kind of wide open. Relaxed. Relieved.

JENNIFER: Oh and you say you can't express emotions.

JACK: I've just got this feeling we actually might make it.

JENNIFER: Well I'm really glad that you're starting to see it that way Jack.

JACK: Yeah. Listen I have got some work that I have to do at the office, very quickly. So we can't ride to the church together if that's okay with you.

JACK PUTS ON THE COAT OF HIS TUX AND JENNIFER ARRANGES HIS COLLAR.

JENNIFER: Sure.

JACK: Okay.

HE GIVES HER A TENDER KISS.

JACK: Good. Then I'll see you at the wedding.

JENNIFER: Okay.

JACK LEAVES THE ROOM AND JENNIFER PICKS UP HER MAKEUP BAG AND WALKS BACK TO THE BATHROOM. ON THE WAY SHE PATS THE VCR.

JENNIFER: You did work like a charm.

SHE GOES INTO THE BATHROOM AND JACK COMES BACK INTO THE BEDROOM AND PICKS UP THE TAPE.

JACK: There's something about this tape.

HE LEAVES FOR THE OFFICE.
---
SCENE EIGHT: JACK IS IN HIS OFFICE, DRESSED IN A TUX FOR THE WEDDING. HE IS ON THE PHONE.

JACK: The problem is.... look I don't know what the problem is Vern. There is something wrong with this video tape. You need to check it out. That's why it's on your desk. Alright? Good, you take care of that.

JACK SITS DOWN AT HIS COMPUTER WITH HIS BACK TO THE DOOR. A MAN OPENS THE DOOR AND COMES IN. IT IS HARPER WEARING A MOUSTACHE AND SUNGLASSES AS A DISGUISE.

JACK: Excuse me, I'm not seeing anybody this afternoon. You have to see my secretary and get another appointment. In the mean time you should have knocked.

HARPER REMOVES THE SUNGLASSES AND PULLS OFF THE MOUSTACHE.

HARPER: Hello son!

JACK FREEZES AT HIS COMPUTER.

HE SLOWLY TURNS TO FACE HARPER. HE GETS UP AND WALKS AROUND THE OPPOSITE SIDE OF THE DESK TO AVOID HARPER.

HARPER: Aren't you glad to see me?

JACK: How could.... how could you just.... how could....

HARPER: You mean why am I no longer enjoying the hospitality of the state? I left!

JACK: No you can't leave. People can't just leave prison.

HARPER: I did. I broke out.

JACK: No, you can't just break out of prison, you....

HARPER: Ordinary people can't just break out of prison. I am no ordinary person. I never was.

JACK: I guess serial killers never are.

HARPER: You don't believe those lies they told about me.

JACK: No, not at all. I tell you what, we're going to get you back in the same way you got out. They're never even going to miss you. They won't. I promise you.

JACK IS ABOUT TO OPEN THE DOOR.

HARPER: You don't mean that.

JACK: Yeah you're right. I tell you what, I tell you what. We're going to talk to the people in charge. We're going to tell them you had to talk to me, you talked to me and now can you get a ride back.

HARPER LAUGHS.

HARPER: I love your sense of humor son. No, no, actually I have something to do today. An appointment.

JACK: What.... what kind of appointment would you have?

HARPER: Come on Jack, smarten up. It's the big do, the special event, the social occasion of the year. Steve and Kayla's wedding. Now I might have a little trouble getting in but you'll help me with that, won't you son?

JACK: You were talking before about smartening up. Maybe you should take your own advice and turn yourself in.

HARPER: I can't do that. I'd miss the ceremony. Come on pal, time's awasting.

JACK: Look this is a joke right.

HARPER: I don't want to be late.

JACK: You've got to remember, you're not the tops on Steve and Kayla's hit parade.

HARPER: Neither were you and you're invited. We may not be related by blood but we're father and son where it counts, in spirit. You know that. You say it everyday. There, there's my father, my dad.

HARPER POINTS OUT HIS PORTRAIT HANGING BY JACK'S OFFICE DOOR.


JACK: Alright, tell me. Why are you so anxious to go to this wedding?

HARPER: To apologize, what else?

JACK: You want to apologize.

HARPER: Yes, for trying to kill Kayla. Believe it or not, I do have a conscience. I know when I owe someone an apology. I'll just go right up to them and say Steve, Kayla, what I did was wrong. I'm sorry. I apologize. Now will you help me?

JACK: Yeah, I'm going to help you. I'm going to find the people who can really help you.

JACK GOES QUICKLY TO THE PHONE.

HARPER: You just don't understand do you?

HARPER WALKS AROUND BEHIND JACK AND HITS HIM HARD ON THE RIGHT SIDE OF THE HEAD, KNOCKING JACK OUT. HE COLLAPSES ON THE FLOOR.

HARPER: I'm sorry son but I'm going to that wedding!
[Transcribed by Carol Vaughan
added material by Sally A. Wilson]
---