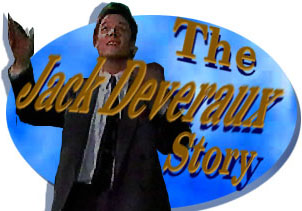 oldEpisode One-hundred-seventy-eight: Despite
Being in Great Pain after "Murdering"
Harper, Jack Fulfills His Role as Steve's
Best Man; Jennifer Follows him to
the Paper and Tries to Comfort Him.
---
SCENE ONE: ROMAN AND STEVE FIND HARPER LYING AT THE BASE OF THE BELL TOWER. ROMAN EXAMINES HIM AND FINDS HIM DEAD. THEY FIGURE HE FELL ALL THE WAY DOWN FROM THE TOP OF TOWER.

ROMAN: It looks like our instincts were right. He was coming after you.

STEVE: How did he end up dead?

AT THAT MOMENT JACK APPEARS FROM THE BACK OF THE TOWER. HE IS SWEATING AND DISTRESSED. HE STARES AT HARPER'S BODY.

JACK: I killed him!

STEVE: What are you talking about, you killed him?

JACK: I killed him. I stopped him.

ROMAN: From what?

JACK: He was going to shoot Steve. But I grabbed the gun, I pushed him and.... and he fell. I killed him.

JACK LOWERS HIS HEAD IN SADNESS AND WALKS TOWARDS HARPER.

ROMAN: Look I'm not going to press any charges. I'm going to go over this case a little bit here. Right now it smells of self defense to me Jack.

JACK: It doesn't make any difference. It's not going to bring him back. One way or the other, whatever way you call it.

ROMAN: I'm going to work this thing out. We'll go over the formalities later.

ROMAN LEAVES TO ORGANIZE THINGS.

STEVE: Come on, get away from here man, come on. Try to stay calm.

STEVE LEADS JACK A LITTLE BIT AWAY FROM HARPER'S BODY.

JACK: I ruined your wedding.

STEVE: Oh come on, you didn't ruin anything. You saved it man. You saved me, huh.

JACK: I just killed the man that I loved my whole life. That's all I did.

STEVE: Jack you did what you had to do.

JACK: Yeah, well I, you know, you should be running along to your wedding.

STEVE: I'm going to hang around here with you for a while.

JACK: No!

STEVE: You don't want to be alone right now do you?

JACK: I'd rather not make you miss your own wedding. Kayla's waiting. I don't want people to say that I kept you from getting married again.

STEVE: Well why don't you come back with me?

JACK: No.

STEVE: Okay. Well you let me know if you change your mind.

JACK: Alright.

STEVE PUTS HIS HAND ON JACK'S SHOULDER.

STEVE: Let me know if you need anything.

STEVE RELUCTANTLY LEAVES JACK ALONE. JACK BENDS DOWN NEXT TO HARPER'S BODY. HE IS VERY SAD AND DEPRESSED.
---
SCENE TWO: BACK AT THE WEDDING TOM TELLS JENNIFER THAT JACK APPARENTLY ARRIVED WITH DAVE BUT NO ONE KNOWS WHERE HE IS NOW.
---
SCENE THREE: STEVE CALLS EVERYBODY BACK TO THE WEDDING AND THE CEREMONY CONTINUES.
---
SCENE FOUR: MEANWHILE HARPER'S BODY IS PREPARED TO GO TO THE CORONER.

ROMAN: Jack?

JACK: Yeah.

ROMAN: We're taking the body downtown.

JACK: I know.

ROMAN: I need to know. Do you want to go with it or do you want to go back to the wedding?

JACK JUST STARES INTO SPACE THINKING OF ALL THE GOOD TIMES THAT HARPER GAVE HIM AND ALL THE BAD TIMES THAT ENDED WITH HIS DEATH AND THE DESTRUCTION OF JACK'S LIFE.
---
SCENE FIVE: THE WEDDING CEREMONY IS UNDERWAY AND IT IS TIME TO EXCHANGE RINGS. MARCUS REALIZES THAT JACK STILL HAS THE RINGS. STEVE AND KAYLA DO NOT KNOW WHAT TO DO.

SUDDENLY THERE IS VOICE FROM THE BACK OF THE GUESTS.

JACK: Excuse me.

STEVE AND KAYLA TURN WITH ALL THE GUESTS TO SEE JACK STANDING AT THE BACK HOLDING UP THE RINGS.

JACK: Miss something?
---
SCENE SIX: JACK SLOWLY WALKS THE LENGTH OF THE AISLE....


.... GIVING JENNIFER A SHORT GLANCE AS HE PASSES. SHE SMILES WITH DELIGHT AT SEEING HIM. STEVE LOOKS AT JACK WITH THANKS BECAUSE HE IS THE ONLY ONE WHO KNOWS HOW HARD THIS IS FOR JACK TO DO AT THIS TIME. JACK HANDS STEVE THE RINGS.

STEVE: You saved me again brother.

JACK JUST LOWERS HIS EYES BUT HE APPRECIATES STEVE'S WORDS. JACK MOVES OVER BESIDE STEVE AND DURING THE REST OF THE CEREMONY HE STANDS WITH HIS HANDS CROSSED IN FRONT OF HIM STARING AT JENNIFER.

HE IS COMPLETELY SAD AND DISTRACTED. AT THE END OF THE CEREMONY JACK PUTS HIS ARM OUT FOR KIMBERLY TO WALK HER BACK DOWN THE AISLE AFTER STEVE AND KAYLA. THEY GATHER OUTSIDE AND AS STEVE AND KAYLA LEAVE, JENNIFER FINDS JACK IN THE CROWD. SHE OVERHEARS ROMAN TALKING TO HIM.

ROMAN: Jack, I know this isn't the time but I'm going to have to get your statement. What do you say about tomorrow morning. I'll get somebody to give you a call and tell you what time.

JACK: Yeah, yeah. Yeah sure.

ROMAN LEAVES. JENNIFER COMES OVER.

JENNIFER: Jack, Jack?

JACK: Yeah.

JENNIFER NOTICES THE BLOOD ON THE LEFT SIDE OF JACK'S FACE. SHE TOUCHES IT GENTLY.

JENNIFER: What is it? Is everything alright?

JACK: Yeah, yeah, everything's fine. They're married, everything's great.

JENNIFER: No, no, I'm talking about you. What was Roman saying? Why does he want you to go to the police station?

JACK SIGHS AND CASUALLY LEANS TOWARDS HER.

JACK: I killed Harper!

HE WALKS AWAY LEAVING JENNIFER COMPLETELY STUNNED AND SHOCKED.
---
SCENE SEVEN: JACK IS IN HIS OFFICE ALONE THINKING BACK OVER HIS LIFE WITH HARPER. HE KEEPS LOOKING AT THE PORTRAIT AND THINKING OF HIS CHILDHOOD.

HARPER: I'm so proud of you son. You've done the Deveraux name well and you always will.

YOUNG JACK: Dad, someday I'm going to be just like you.... just like you.... just like you.... just like you.... just like.... just like.... just like.... just like....

THE WORDS ECHO THROUGH JACK'S HEAD AS HE CLOSES HIS EYES AND SITS ON THE DESK. JENNIFER APPEARS AT THE DOOR. SHE SLOWLY WALKS TOWARDS HIM AND TOUCHES HIS FACE GENTLY.

JENNIFER: Jack.

SHE WRAPS HER ARMS TIGHTLY AROUND HIM AND HE DOES THE SAME TO HER. HE RESTS HIS HEAD ON HER SHOULDER AND CLOSES HIS EYES TO SHUT OUT THE PAIN.

JACK: Hmmm.

SHE HOLDS HIM CLOSE FOR A FEW MINUTES AND SLOWLY RUBS HIS BACK. HER HEART IS BREAKING FOR HIM.

JENNIFER: Do you want to talk about it?

JACK'S HEAD IS LOWERED AND HE REALLY CANNOT LOOK AT HER. HE SHAKES HIS HEAD IN SADNESS.

JACK: No.... I think I just need to be with you tonight.

HE STILL CANNOT LOOK AT HER.

JENNIFER: Okay.

SHE TAKES HIS HAND IN HERS. HE SLOWLY STANDS.

JACK: Let's go.

JENNIFER: Okay.

THEY WALK TO THE DOOR AND AS THEY GET THERE, JACK PAUSES AND REMEMBERS SOMETHING. HE WALKS OVER TO THE PORTRAIT AND REMOVES IT FROM THE WALL.

HE KISSES IT AND THEN WALKS PAST JENNIFER AND PUTS IT IN WITH THE TRASH OUTSIDE HIS OFFICE AMONGST THE REST OF THE TRASH.

JACK: Alright, let's go.
HIS EYES ARE FULL OF TEARS. JENNIFER DOES NOT REALLY KNOW WHAT TO SAY OR DO. THEY LEAVE.
[Transcribed by Carol Vaughan
added material by Sally A. Wilson]
---
---