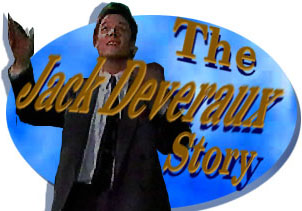 oldEpisode One-hundred-seventy-nine:
Jack Tries to Deal with "Murdering"
Harper; Kayla Has a Johnson Family
Dinner to Thank Jack for Saving Their Lives.
---
[Air date late August 1990]
SCENE ONE: IT IS THE NEXT MORNING. JACK HAS STAYED THE NIGHT AT THE LOFT WITH JENNIFER. SHE IS TIDYING UP AND LISTENING TO THE RADIO ABOUT HARPER'S DEATH. WHEN JACK COMES DOWNSTAIRS SHE IMMEDIATELY SWITCHES THE RADIO OFF SO HE WILL NOT HEAR WHAT THEY ARE SAYING.

JACK: There's no need to turn it off. That won't change anything.

JACK IS IN A SELF DEPRECATING MOOD. HE SEES NO GOOD IN HIMSELF AT ALL AND THINKS HE IS JUST LIKE HARPER.

JENNIFER: Well there's nothing to change. I mean you did what you had to.

JACK: In other words, I killed him.

JENNIFER: No you saved Steve's life and Kayla's. Jack, everybody understands.

JACK: That's good. I'm glad somebody understands because I don't. What I don't understand is the fact that I was able to push him over that railing and kill him so easily.

JENNIFER: No Jack!

JACK: It was so easy, it's scary. You should be scared. It scares me, it should scare you.

JENNIFER: I'm not scared. Why should I be?

JACK: I don't know.

THE PHONE RINGS AND JENNIFER GOES TO ANSWER IT.

JENNIFER: Hello.... yes he is. Hang on. Jack.

JACK TAKES THE PHONE BUT MAKES A SMART COMMENT FIRST.

JACK: Patricides 'R Us?.... Oh.

JENNIFER WALKS AWAY IN DISGUST AND JACK SHRUGS HIS SHOULDERS AS IF HE EXPECTS NOTHING MORE OF HIMSELF.

JACK: Hello, yes. Yeah, yeah, I understand, yeah, sure.

HE HANGS UP THE PHONE.

JACK: It's Roman. He wants me to get down to the office right away and start answering....

JENNIFER: I'm going with you.

JACK: YOU ARE NOT GOING WITH ME.

JENNIFER: Jack, look, I am going to let you go through this alone, alright. Do you understand me? Now when we were on the ship and on the island we handled our problems together and that's how it's going to be. It's just better that way.

JACK: For who?

JENNIFER: (Teasing him trying to make him feel better.) For whom.... and I'm driving. Ready.

JACK: Alright, alright, I'm going to be downstairs. Hurry up.

JACK GOES TO THE DOOR WHILE JENNIFER GETS HER THINGS.

JENNIFER: The sooner we do it, the sooner it's done and forgotten.

JACK STOPS OUTSIDE AS HE HEARS HER WORDS. HE THINKS OVER THE SITUATION TO HIMSELF. HE IS NOT AS SURE ABOUT THAT AS JENNIFER IS.

JACK: Forgotten.... hmmm.
---
SCENE TWO: AT STEVE AND KAYLA'S HOUSE, STEVE IS PLANNING TO GO DOWN TO THE POLICE STATION TO BE WITH JACK. KAYLA AGREES THAT HE SHOULD GO AND SHE SAYS THAT SHE THOUGHT THEY SHOULD HAVE A DINNER WITH ALL THE FAMILY INCLUDING JACK TO THANK HIM. STEVE SAYS HE WILL ASK JACK.
---
SCENE THREE: JO IS AT NEIL'S, IN HER MAID'S UNIFORM. SHE IS UPSET, AND IN PAIN THINKING ABOUT ALL THE PAIN THAT JACK IS SUFFERING. NEIL COMES INTO THE ROOM. THEY TALK ABOUT TRYING TO DO THEIR BEST FOR THEIR CHILDREN, AND NOT WANTING THEM TO BE HURT.
---
SCENE FOUR: JACK AND JENNIFER ARRIVE AT THE POLICE STATION WHICH IS FILLED WITH JOURNALISTS AND CAMERAS TRYING TO CATCH A GLIMPSE OF JACK.

JACK: I don't know anything. That's why I read the papers alright. Excuse me, I've got to get in here.

JACK PUSHES HIS WAY PAST THE REPORTERS BUT JENNIFER IS CAUGHT AMONGST THEM. THEY WANT TO ASK HER QUESTIONS ABOUT JACK. SHE CALLS OUT TO JACK.

JENNIFER: JACK.

JACK: Excuse me, excuse me, excuse me. Let's go. Come on, don't waste time, come on.

JACK GRABS JENNIFER BY THE ARMS AND DRAGS HER THROUGH THE REPORTERS TO ROMAN'S DOOR....


.... THEY GET INSIDE ROMAN'S OFFICE AND ROMAN SHUTS THE REPORTERS OUT AND PULLS DOWN THE BLIND.

JACK: Alright, you had some questions to ask.

ROMAN: Yep I want to know everything Jack. I know this isn't going to be easy.

JACK: Compared to out there, maybe it is an understatement. I don't know.

ROMAN: Okay, take your time. Start from the top and whatever you do don't leave anything out. I need to know exactly what happened up there in that bell tower, start to finish. I want it all.

JACK SITS DOWN OPPOSITE ROMAN.

JACK: I.... ah.... I came to my office a couple of hours before the wedding. I was by myself, Harper came in, in disguise. I was talking to him about turning himself back in and he said he had other plans.

THE PICTURES OF THIS ARE FLASHING THROUGH JACK'S MIND.

ROMAN: That's what he said, he had a plan?

JACK: No, no! He said that.... ah.... he said he had to go to Steve and Kayla's wedding.

ROMAN: So that's what he broke out to do, specifically.

JENNIFER WALKS OVER AND PUTS HER HAND ON JACK'S SHOULDER. HE LOOKS UP AT HER.

ROMAN: Alright, go on Jack.

JACK: Ah.... he said.... ah.... well I.... I tr.... I was going to call you. I was picking up the phone to do it and that's when he hit me over the head and knocked me out.

ROMAN: Huh, uh. What happened when you came to?

JACK: Well the phones were dead and I guess he cut all the power lines because there was no electricity.

JACK IS RESTLESS AND HE STANDS UP AND PACES.

JACK: And.... er....

JENNIFER: Right, that's when Vern and I came looking for you because there was no electricity.

ROMAN: Jen, Jen, I want to hear what Jack has to say.

JENNIFER: Okay.

JACK: Ah.... I tried to get my car but.... ah.... it was gone. I guess he got the keys out of my pocket.

JACK IS VERY HURT AS HE THINKS BACK OVER WHAT HARPER DID TO HIM.

ROMAN: So how did you get to the church?

JACK: I got a ride from Dave, the maitre' d at Wings.

ROMAN: Alright, fine, now you're at the church. What happened?

JACK: Well I was at the church and the ceremony was already in progress but I knew that he was there somewhere and I looked around and I looked up in the tower and.... there he was. So I was running up the stairs....

ROMAN: Okay finish it, go on. There's the tower, you were running up the stairs. What happened?

JACK: And.... ah.... and.... ah.... I opened the trapdoor and... I threw this pail of water on him, you see, and he melted into a big puddle.

ROMAN: Oh come on Jack.

JACK: Look he had.... he was standing there. He had a rifle in his hand, I pushed him out the window and killed him. Is it soup yet?

ROMAN: Almost. I need details. Now how did you get the gun away from him. Obviously you had a fight. What, did you push him out the window, did he fall out the window? How exactly did he fall out that window?

JACK: I was going up the stairs, I pushed open the trap door and there he was. He was standing there. Harper!

THE PICTURES ARE FLASHING THROUGH JACK'S MIND AGAIN.

ROMAN: Standing there by the window, ten feet from it, what?

JACK: HE HAD A RIFLE IN HIS HAND.

ROMAN: I need details Jack, details.

JACK: LOOK I WAS PROTECTING MY BROTHER! HE WAS GOING TO KILL HIM.

AT THAT MOMENT STEVE COMES INTO THE OFFICE AND HEARS WHAT JACK JUST SAID. JACK TURNS TO FACE HIM.

JACK: Enough people have gotten hurt.

ROMAN: That's all for now Jack. I'll be back in a little while.

ROMAN LEAVES.

JACK: Well I guess you missed the first part of the story. I can begin again if you like. It's very entertaining.

JENNIFER: Jack I'm going to go back to the loft. I'll be there for you if you need me. Okay?

SHE GENTLY RUBS HIS SHOULDER BEFORE SHE LEAVES.

JACK: Isn't it funny that in times of great stress, people kind of touch your shoulder. I mean it must be a genetic thing. A reflex action or something.

STEVE: You can cut the act Jack. I didn't come here for the entertainment.

JACK: What did you come here for?

STEVE: We wanted to make sure you were alright.

JACK: We?

STEVE: Yeah, Kayla and I.

JACK IS MOVED BY THIS.

JACK: You can tell Kayla that I'm fine.... thank you.

STEVE: Okay. But we're having a little get together tonight at the house. Justin, Jo, Adrienne. It's a dinner, like a family thing if you want to come.

JACK: Well I mean this is kind of late notice. I mean, I don't know.

STEVE: Well Kayla wanted me to ask you. It's her invitation.

JACK SMILES TO HIMSELF.

JACK: Tell Kayla, thank you for thinking of me. But I don't know. I mean my schedule's very busy.

STEVE: Sure. Well maybe I'll see you later.

JACK: Yeah.

STEVE LEAVES AND IS ACCOSTED BY THE REPORTERS; HE TELLS THEM TO GET OUT OF HIS WAY. JACK CAN HEAR THIS AND HE GETS BIG SMILE ON HIS FACE.

JACK: Yeah maybe.
---
SCENE FIVE: BACK AT THE LOFT, JENNIFER GETS A VISIT FROM CARLY. CARLY IS WORRIED THAT JACK IS NO LONGER PURSUING THE STORY. IF HE DOES IT COULD BE DANGEROUS. JENNIFER TELLS HER THAT JACK PROMISED TO STOP THE SERIES. SHE SAYS DOES NOT LIKE TO KEEP THINGS FROM HIM. CARLY WONDERS IF SHE IS SURE THAT JACK STOPPEDHIS RESEARCH. REPLIES SHE BELIEVES SO, BUT HE HAS BEEN PREOCCUPIED THE PAST FEW DAYS, AFTER WHAT HAPPENED WITH HARPER. THE IMPORTANT THING NOW, SHE TELLS CARLY, IS FOR HER TO BE THERE FOR HIM; HE NEEDS HER, AND SHE DOES NOT WANT ANYTHING TO COME BETWEEN THEM AND WHAT THEY HAVE. WHILE THEY ARE TALKING JACK COMES BACK.

JACK: Jennifer, you.... sorry, sorry.

JENNIFER: No, it's alright.

JACK: You know you really should keep this door locked. There's killers walking the streets out here.

JENNIFER: Jack it's okay. Come on in.

JACK COMES IN BUT WAITS NEAR THE OPEN DOOR WITH HIS HANDS IN HIS POCKETS.

JACK: Why you're ente.... it's Dr. Carly Manning.

IT IS OBVIOUS THAT JACK DOES *NOT* LIKE CARLY.

JENNIFER: What happened after I left?

JACK: Oh it was great. It was great. You really should do it sometime. I mean you know it was laugh-o-rama, really.

JACK IS STARING AT CARLY WHO GETS THE HINT THAT HE WANTS HER TO LEAVE.

CARLY: Look I really should be going.

JACK: You really have to go, scheduling, yes.

CARLY: Yeah I have a late shift at the hospital actually. Jennifer I'll call you tomorrow or whenever.

JENNIFER: Alright, great , great.

CARLY: Jack I really want to tell you....

JACK: I think you should stop while you're still on safe ground. I'll fill in the blanks, really.

CARLY: Well do when you get the chance and please make it heartfelt. I would have. Bye.

JENNIFER: Bye.

JENNIFER SHUTS THE DOOR.

JENNIFER: Well?

JACK: Ah.... coffee?

JENNIFER: Yeah, yeah, there's plenty of coffee. What did Steve have to say?

JACK: What did Steve have to say. Steve invited myself and yourself to his house for dinner. You know, it.... there's something about tragedy. You know it brings out the niceness in people. It makes them nice.

JENNIFER: No, no Jack, I think there's more to it than that.

JACK: You're right, pity.

JENNIFER: No, I think he's making an effort just like you did. I think he's trying to put your family back together.

JACK: Huh, uh.

JENNIFER: You're brothers, you know.

JACK: I know that.... this coffee's bitter even for me.

JENNIFER: So what did he say?

JACK SITS ON THE SOFA AND JENNIFER RUNS OVER AND CURLS UP RIGHT NEXT TO HIM.


JACK: What did he say? He said that.... ah.... I don't know what he said but I tell you one thing. If he thinks that we're going to turn into the Waltons between salad and dessert he better guess again.

JENNIFER: Jack, wait, just....

JACK: And you know something else? At this moment, Jo's probably whipping up that nasty little green casserole thinking she is going to chuck it down my throat. And if she puts enough down my throat, Shazam, I'll turn into a Johnson. It's not gonna happen. It's not.

JENNIFER: What time do we have to be there?

JACK: We're not going to be there.

JENNIFER: Why? Why Jack?

JACK: Because I'm a Deveraux, that's why. I was born a Deveraux, raised a Deveraux, brought up a Deveraux. Now it's come full circle.

JENNIFER: Oh stop it.

JACK: IT'S IN THE BLOOD JACK! AND NOW I KILLED LIKE A DEVERAUX!

JENNIFER: Just stop it. Do you hear me, just stop it. You risked your life to save your brother and his wife and that's a Johnson, not a Deveraux and that's who you are. Now I know it might not be easy for you right now and I know that it might not be the easiest thing to do either, to be in front of people and face your family but you wouldn't have to be alone tonight. I would be right there with you if you wanted me to be. I know how much it would mean to them for you to be there and I know what it would mean to you too. But it's your decision.

JACK: Yes it is.

JENNIFER: So just let me know, alright. You know whatever you want to do is fine with me.

JENNIFER PUTS HER HAND ON HIS ARM; HE TURNS TO FACE HER.

JENNIFER: What do you want to do Jack?
---
SCENE SIX: IT IS LATER THAT EVENING AT STEVE'S HOUSE. THERE IS A KNOCK AT THE DOOR AND JO, ADRIENNE AND STEVE ARGUE OVER WHO IS TO ANSWER IT. STEVE SAYS HE WILL GET IT.

STEVE: It's alright, I'll get it. Don't just stand there like. Go on, do something.

JO AND ADRIENNE HURRY INTO THE LIVING ROOM AND STEVE OPENS THE DOOR. JACK AND JENNIFER ARE STANDING THERE AND JENNIFER IS FIXING JACK'S TIE.

STEVE: Hey, it's Jackson and Jennifer, come on in.

JENNIFER: I'm sorry we're late.

STEVE: Oh you're not late, come on. Get in here. Glad you could find some time from your busy schedule.

JACK SMILES.

JACK: Well, you.... thank you for inviting us.

THEY SHAKE HANDS AND STEVE PATS THE BACK OF JACK'S HAND AT THE SAME TIME.

STEVE: Alright.

STEVE WALKS INTO THE LIVING ROOM AND JENNIFER GIVES JACK A BIG SMILE. HE GRINS BACK.

STEVE: Now don't everybody have a Jack attack at once, but look who's here. Jack and Jennifer.

JACK: Now don't all stare, you know.

JO: Oh we're glad you're alright Jack. That's all. That's all we have to say.

ADRIENNE: That's not exactly all.

AT THAT POINT KAYLA WALKS STRAIGHT PAST JACK INTO THE FOYER. JACK NOTICES BUT TRIES TO IGNORE IT.

JACK: So what's to eat?

STEVE GOES OUT TO TALK TO KAYLA; SHE SAYS SHE IS FINE, SHE JUST NEEDS A COUPLE OF MINUTES TO GET USED TO SEEING JACK IN THEIR HOUSE.
---
SCENE SEVEN: BACK IN THE LIVING ROOM, JO WANTS TO TALK TO JACK.

JO: Jack.

JACK: Yeah, that's me.

ADRIENNE TAKES JUSTIN TO THE KITCHEN.

JO: I made your favorite casserole, tuna with green noodles.

JACK HALF GRINS AS HE TURNS TO LOOK AT JENNIFER. JENNIFER SMILES BACK REMEMBERING WHAT HE SAID AT THE LOFT.

JO: Well that is your favorite, isn't it?

JACK: Oh yes, yes. Especially the way that you make it.

JO: Oh thank you. Well listen if there's anything you need or anything that I can do for you....

JACK: Like what?

JO: Ah... I don't know, anything you might need Jack.

JACK: What? Come on, say something, what? What, you were going to say, what can you do. What can you do? Say those three little words, those magic words.

JO: I'm sorry.

JACK: That's it. Now why do you say that? Why are you sorry? You have nothing to be sorry for. You didn't do anything. I'm the one who did something. You didn't do anything. So why are you sorry? Why are you sorry, huh?

JACK GRABS JO'S ARMS AND LEANS CLOSE IN FRONT OF HER FACE. JACK IS VERY EMOTIONAL, AND IS OVERCOME BY HER CONCERN, AND HIS OWN NEED TO COMFORTED BY HIS MOTHER; YET HE IS ALSO STILL THE VERY RESERVED JACK,HE DOES NOT KNOW EXACTLY HOW TO REACT. JO IS ALSO CONFUSED AND DOES NOT KNOW HOW TO HANDLE HIS MOOD.

JACK: You sil.... you silly little.... you wonderful woman.

HE WRAPS HIS ARMS AROUND JO AND HOLDS HER CLOSE.

JACK: I'm the one who's sorry, you know that. I'm the one who killed him, not you. I'm the one who's sorry.

JO: Oh Billy....

JACK: Thank you....

THEY ARE STILL HUGGING WHEN ADRIENNE COMES BACK INTO THE ROOM.

ADRIENNE: Oh sorry.

JACK: That's alright. All done here. Look I smouched up your collar there. Yo got a little dry cleaning. You send me the bill, alright.

JO: (Laughing at his joke) Oh Billy, sure.

JACK: Okay.

ADRIENNE COMES INTO THE ROOM. SHE OBVIOUSLY WANTS TO TALK WITH JACK ALONE, AND COMFORT HIM.

ADRIENNE: Oh mama, your casserole.

JO: Oh I almost forgot. Jennifer would you give me a hand?

JENNIFER: Oh yes, sure.

JENNIFER IS UNSURE ABOUT LEAVING JACK AND HE LOOKS PANICKY AS SHE GOES.

ADRIENNE: Hi.

JACK: I guess.... you're supposed to talk to me now too.

ADRIENNE: Jack I'm not going to say that I understand what you're feeling.

JACK: Okay, good.

ADRIENNE: But I think I can come a lot closer than a lot of other people. You know I had to come to terms with what I did too. That I was the one who killed Duke. But I did come to terms with it and I did put it behind me and that's the way it should be. I didn't have choice Jack and neither did you. We both did exactly what we had to do. You don't have to apologize for anything.

JACK HAS TEARS IN HIS EYES AND HIS HEAD LOWERED AS SHE SPEAKS.

ADRIENNE: Jack, did you hear what I said?

JACK: Yes I heard what you said. You said that you had to come to terms with it. I think I'm going to need some time to.... come to terms, too.

ADRIENNE: I understand. As much as you need and whatever you need.

ADRIENNE PUTS HER ARMS AROUND HIM AND GIVES HIM A BIG HUG.

JACK: Thank you.

ADRIENNE: I love you.

STEVE COMES IN AS THEY ARE HUGGING.

STEVE: Ah, there's something green in a casserole dish in the dining room if you're interested.

ADRIENNE: Shall we?

JACK: Ah, yes we shall.

ADRIENNE LEADS JACK BY THE HAND INTO THE DINING ROOM.

JACK: So what is this, assigned seating?

STEVE: No, no, no assigned seats in the Johnson house. You sit where you want.

AT THAT MOMENT JO COMES IN FROM THE KITCHEN AND STARTS TELLING EVERYBODY WHERE TO SIT.

JO: Jack you sit there on the end and Jennifer you sit next to Jack.

STEVE: Well I blew that, didn't I mama?

JO: What?

STEVE: Go ahead. Do your thing baby, it's alright.

JO: Well Kayla, Kayla?

KAYLA: Well I guess I'll sit right here.

SHE SITS DOWN NEXT TO JACK.

KAYLA: If that's alright.

JACK: Well yes it's alright with me. It's your house.

KAYLA: Good.

STEVE SITS DOWN OPPOSITE WITH ADRIENNE AND JUSTIN.

JO: Steve?

STEVE: Yes.

JO: After everything that has happened to all of us here, this is first time we have sat down as a family. It seems a little strange. Actually it seems wonderful. Words can't say what's in my heart. Before we begin I thought maybe we could join hands and have a silent prayer, each on his own. Steve.

JO EXTENDS HER HAND TO STEVE WHO EXTENDS IT TO ADRIENNE, THEN JUSTIN AND JENNIFER. THEN JACK TAKES JENNIFER'S HAND. JACK IS RELUCTANT TO TAKE KAYLA'S HAND; JENNIFER PROMPTS JACK TO TAKE IT. HE EXTENDS HIS HAND AND AFTER A MOMENT SHE PUTS HER HAND IN HIS. IT IS OBVIOUS THAT JACK IS MOVED BY THIS. KAYLA THEN JOINS HER OTHER HAND WITH JO. THEY FORM A PERFECT FAMILY CIRCLE. JO SMILES, BEHIND SOME TEARS OF JOY, SEEING HER FAMILY TOGETHER AFTER SO MUCH TIME, WITH THE POSSIBILITY OF BETTER TIMES. JENNIFER IS HAPPY FOR JACK. STEVE IS ALSO GLAD THAT THE PAIN AND THE UGLINESS BETWEEN HIM AND JACK SEEMS TO BE OVER.

[Transcribed by Carol Vaughan
added material by Sally A. Wilson]
---