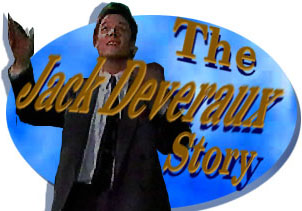 oldEpisode One-hundred-eighty: Jack Is
Hurt by a Negative Article in The
Chronicle and Getting Fired from WATB;
his Self Doubts Resurface, as well as His
Fears That He Is no Different Than Harper.
---
[Air date late August 1990]
SCENE ONE: JACK IS ON THE PHONE IN HIS BEDROOM, AND GETTING READY FOR WORK, WHEN JENNIFER COMES INTO HIS BEDROOM.

JACK: Get with it Vern. I want to find out what's going on with that video tape about that missing heiress. Alright, the non-missing heiress, whatever you want to call her. I just want.... just let me know when you've got something.

JENNIFER: Hi.

JACK: Hi.

JENNIFER: Good morning.

JACK: Good morning. To what do I owe this honor?

JENNIFER: Oh I just came by to see what you are up to.

JACK: What am I up to? I'm up to what I'm up to every Thursday morning. Shower, shave, coffee, bran muffin, work, which I'm about to be overdue for.

JENNIFER: You know it's amazing how easy it is to fall back into your old routine.

IT IS OBVIOUS JENNIFER IS THERE BECAUSE SHE IS CONCERNED. JACK HUFFS ON HIS SHOES AND RUBS THEM ON HIS SLEEVE TO POLISH THEM, TRYING TO HIDE THE PAIN HE IS FEELING.

JENNIFER: You know do you find yourself doing things the same way you did them before we went on that cruise?

JACK: Yeah, sure.

JENNIFER: You know like first thing in the morning you get the paper and you look at it and....

JACK: Jennifer, are you wondering if I've seen what I've seen this morning? Because the answer is a big fat yes.

JACK HOLDS UP THE CHRONICLE WHICH SHOW A PICTURE OF JACK DRAGGING JENNIFER THROUGH THE REPORTERS INTO ROMAN'S OFFICE. THE HEADLINE SAYS: "RUNS IN THE FAMILY: JACK DEVERAUX, SON OF SERIAL KILLER, MANHANDLES WOMAN REPORTER."

JACK: Isn't this something? I mean this is really great. They usually save this kind of type for things like world wars.

JENNIFER: Jack.

JACK: You know the thing I really hate is selling papers for the competition. Hate that!

JENNIFER: You don't have to do that you know. You don't have to hide how you feel.

JACK: How I feel. You know right now I feel like having one of those egg and bacon sandwiches that they sell in that little cart right by the office. You know those bran muffins just.... they just don't stay with you.

JENNIFER: Jack, anybody would feel terrible about that.

JACK: I know and I do. I feel like switching to donuts right now.

JENNIFER: Stop it Jack. You know what I'm talking about. Look at that. They make you sound like some kind of violent maniac.

JACK IMMEDIATELY BURSTS INTO SONG HE IS IN PAIN, BUT TRIES TO MASK IT IN TYPICAL JACK FASHION THROUGH JOKES.

JACK: He's a maniac, maniac on the floor, hey! Aaah!

HE FLOPS BACK ON THE BED IN A POSE, IMITATING THE SCENE FROM THE MOVIE FLASHDANCE. JENNIFER REALIZES WHY HE ACTING THE WAY HE IS, AND WANTS TO HELP COMFORT HIM AND EASE HIS PAIN.

JENNIFER: Jack.

JACK: What?

JENNIFER: Are you finished?

JACK: I guess so.

JENNIFER: You know not everybody believes what they read.

JACK: Oh no. I'm telling you that nine out of ten consumers believe that Jack Deveraux is a dangerous man.

JENNIFER: Well anybody that believes that, doesn't know you. You're a good person.

JACK: Don't be so sure about that.

JENNIFER: I am sure.

JACK: How can you be so sure about that?

JENNIFER LEANS UP AND KISSES HIM AND HE KISSES HER BACK.

JENNIFER: What does that tell you?

JACK: (Putting his fingers over his mouth) It tells me that.... I forgot to brush my teeth this morning. Very sorry. I'll go give them a workout.

JENNIFER: Jack I am not going to let you run away from this.

JACK: Okay, let's read a little tidbit from this article, if you're really that interested. Okay, let's see. "In a macabre twist," macabre, "Harper Deveraux, convicted mass murderer, met his fate at the hands of his own son, himself convicted of assault." It has a nice ring don't you think? What is it....

THE PHONE RINGS.

JACK (CONT.): ....speaking of rings. Hello Jack the Ripper here. Can I hurt you, I mean help you?

DAN: Jack, my boy.

JACK: Well Dan, my man.

DAN: Long time no see. In person I mean. Nice shot of you in the paper this morning.

JACK: Heheheh, well that is my better side.

DAN: Yeah, well, ah, I'd like to see that pretty face of yours down here.

JACK: Oh yeah, when?

DAN: What's wrong with now?

JACK: Oh I don't know. I guess I'll stop by see you on the way to work. See you in a little bit.

HE HANGS UP.

JACK: Well I guess my egg and bacon sandwich will have to wait. I have to go and see your boss down at the TV studio.

JENNIFER: Alright, I'm on my way over there. I'll give you a lift.

JACK: No, I'll give you a lift. That way I can manhandle you into the car.

JENNIFER GIVES HIM A FIERCE LOOK.

JACK: It was a joke.

THEY BOTH LEAVE.
---
THE STUDIO WHERE EVERYBODY SEEMS TO BE BUS; THOUGH THEY OBVIOUSLY ARE TRYING TO AVOID JACK.

JACK: (Imitating Robin Williams in Good Morning Vietnam.) GOOD MORNING WATB. Madeline, good morning, good morning.

MADELINE: Good morning.

SHE BRUSHES PAST HIM.

JENNIFER: She's probably having a bad day.

JACK: Yeah. Yeah, probably a coincidence like everybody else here. They ignore me because they are all having a bad day.

JENNIFER: Exactly.

JACK: Try to sound a little bit more convincing when you say that, okay.

DAN: Jack.

DAN SIGNALS JACK TO COME OVER TO SEE HIM.

DAN (CONT.): Jen, how are you doing?

JENNIFER: Hi, I'm fine.

JACK: I think I'm going to go over and talk to him.

JENNIFER: Oh he must want to talk to you about your next show.

JACK: Hmmm I wouldn't bet the farm on that.

JENNIFER: Oh come on Jack, look at him. Maybe he wants to give you a raise. Go, go see.

JACK: Sure. Let's go see.

JACK GOES OVER. JENNIFER WATCHES HE AND DAN TALK FOR A FEW MINUTES. JENNIFER SMILES BELIEVING THAT DAN WANTS TO GIVE JACK A RAISE. JACK COMES BACK OVER TO HER. HE IS HURT, BUT TRIES TO HIDE HIS FEELINGS.

JENNIFER: See I was right, wasn't I? How much more a week are you getting?

JACK: Ah.... more like how much less.

JENNIFER: What, Dan didn't give you a raise?

JACK: No, on the contrary, he let me go. He fired me.



JACK LAUGHS, TRYING TO HIDE HIS REAL FEELINGS, AS HE WALKS AWAY BUT JENNIFER GOES AFTER HIM.

JENNIFER: I don't believe this. Jack, what do you mean, he fired you?

JACK: He fired me. He doesn't require my services anymore.

JENNIFER: Well he can't get away with that. He can't just fire someone with no reason at all Jack.

SHE HEADS BACK TO DAN BUT JACK GRABS HER.

JACK: Jennifer, no, no, no. I'm temp work. That's all I am here. The guy who regularly does the Crossfire piece is back.

JENNIFER: Oh, then I was still right. I mean it doesn't have anything to do with....

JACK: (Knowing why he was fired, but pretending that it does not bother him, which it does.) Of course, yes. I mean it's just a total coincidence. I'm sure they are more than happy to have people read about their political commentators over their breakfast every morning. I mean they want to find out what that sick son of the sick senator have to say about the reuniting of Europe. I'm sure they all want to know that. It's just a coincidence.

JENNIFER: Well okay Jack, because if I thought for one minute that it was true, I would quit.

JACK: You'd what?

JENNIFER: I'd quit.

JACK: Wait a minute.

DAN: Jennifer, Jennifer, let's get that beautiful tush in gear, huh.

JENNIFER GIVES JACK A LOOK OF DISGUST AT WHAT DAN JUST SAID.

DAN: I've got a great story for you. Three minutes, count em. Three minutes. Your face on camera. Now I could have given this to Brett but I said no, this is a Horton story. Don't ever say I never give you anything.

JENNIFER: Okay well I'd really like to talk to you about this but I just have to talk to Jack about something.

JACK: No, no, no. I.... we'll catch up later. Goodbye.

JENNIFER: Jack.

JACK LEAVES.
---
SCENE THREE: GOES DOWN TO THE PIER WHERE KAYLA IS WITH BO. A REPORTER COMES ALONG AND SEES KAYLA. HEASKS HER FOR AN INTERVIEW SEEING AS SHE WAS ONCE MARRIED TO JACK. BO GETS RID OF THE REPORTER. JACK HIDES AND LISTENS TO WHAT SHE HAS TO SAY TO BO.

KAYLA: You know it's funny. You think that the past is behind you and then you realize it isn't. I don't know if I'm ever going to get over it.

JACK THINKS THAT HE WILL NEVER GET PAST WHAT HAS HAPPENED IN HIS LIFE, AND THAT VIOLENCE WILL ALWAYS BE PART OF HIS NATURE.
---
SCENE FOUR: BACK AT THE STUDIO, DAN HANDS JENNIFER HER STORY ON CUE CARDS. SHE BEGINS TO READ THEM AND REALIZES THAT THE STORY IS ABOUT JACK AND HARPER'S DEATH. SHE TELLS DAN THAT SHE *CANNOT* READ IT. HE TELLS HER THAT SHE READS IT OR SHE IS *FIRED* SO SHE HAS NO CHOICE.
---
SCENE FIVE: JACK GOES BACK TO HIS BEDROOM AND KICKS OFF HIS SHOES. HE FLOPS BACK ON THE BED AND THEN HEARS THE SHOWER RUNNING. HE SITS UP.

JACK: Jennifer!

HE BEGINS TO THINK OF HIS SUBCONSCIOUS. HE GOES INTO THE BATHROOM WHERE HARPER IS COMBING HIS HAIR.

HARPER: Sorry, room's occupied.

JACK: No.

HARPER: Slick as a whistle. I could have been a candidate.

JACK: Wait a minute Harper. You're not here. You're dead. You're....

HARPER: Hahahahahaha.

AT THAT POINT DUKE STEPS OUT OF THE SHOWER HOLDING A SOAP ON A ROPE.

DUKE: So what, so am I. And what's with this soap on a rope, huh? This is for sissies. Where's the real stuff?

JACK: I drop.... wait a minute. Duke what are you doing here? You're dead too.

HARPER: He doesn't get it.

DUKE: Yeah and you keep saying to me that this kid's smart but I'm telling you he's been a turkey right from the beginning.

HARPER: Son, we live here.

DUKE: Yeah, yeah. I hope you got some clean sheets for the guest room.

HARPER: Hey Jack, son, a little thing like death can't keep us apart.

DUKE: That's right. We're here for life or for eternity, whichever comes first.

HARPER: We are three of a kind. You keep proving it over and over again. You know when you threw me out of that bell tower, you're fine until that violent temper comes out.

JACK: Okay that's it. You guys shut up! You go right now. Shut up! Just shut up!

HARPER AND DUKE CONTINUE TO LAUGH AT JACK AS HE SHOUTS AT HIS SUBCONSCIOUS FOR THEM TO GO AWAY.

JACK: JUST SHUT UP!

JACK BEGINS TO LAUGH HIMSELF AND REALIZES THAT HE IS STANDING IN THE BATHROOM WITH THE TAP DRIPPING IN THE SHOWER. HE PICKS UP THE SOAP ON A ROPE AND FROWN, NOT COMPLETELY SURE IF HE IMAGINED IT OR IF IT REALLY HAPPENED.
---
SCENE SIX: BACK INTO THE BEDROOM AND TURNS ON THE TV WHERE JENNIFER IS ABOUT TO GIVE HER REPORT.

JENNIFER: "This story began almost thirty years ago when Harper Deveraux....

JACK IS TRYING TO WILL HER TO GO ON. JENNIFER IS IN PAIN, UNABLE TO GO ON WITH THE REPORT, KNOWING THAT IT WOULD CAUSE JACK SO MUCH PAIN: THAT DAN IS EXPLOITING AND DISTORTING WHAT HAPPENED FOR THE SAKE OF RATINGS. JACK'S.

JENNIFER: ....then a promising figure on the Washington political scene, together with his wife adopted a little baby boy. And three days ago, that boy, now grown to man....to manhood.... pushed.... he pushed his...." I'm sorry I can't read this.

BRETT THE MAIN ANCHOR TAKES OVER.

BRETT: Jack Deveraux pushed his father out the window....

JACK: "....of the church bell tower".

JACK THROWS THE REMOTE AT THE TV IN FRUSTRATION.

JACK: Dammit Jennifer!
---
SCENE SEVEN: AT THE STUDIO, JENNIFER RIPS OFF HER MICROPHONE AND TELLS DAN THAT THE STORY WAS ONE SIDED AND BIASED. SINCE SHE WOULD NOT DO AS SHE WAS TOLD, DAN FIRES HER.
---
[Air date late August 1990]
SCENE ONE: IT IS THE NEXT DAY AND JACK IS IN HIS OFFICE SURROUNDED BY PILES OF OLD FILES AND NEWSPAPERS; DESPITE WHAT HE TOLD JENNIFER,HE IS STILL INVESTIGATING THE VON LEUSCHNER STORY, BECAUSE HE IS MORE BECAUSE HE IS CONCERNED FOR JENNIFER THAN FOR A STORY. VERN COMES IN. HE CONTINUES TO LOOK THROUGH THE FILES AS HE TALKS TO VERN.

VERN: You wanted to see me Jack.

JACK: Vern I wanted to see you an hour ago. Where the hell have you been?

VERN: Where do you think I've been. I've been up to my ears in video tapes. I'm trying to get the lowdown on that lost and found heiress.

JACK: What have you got?

VERN: Ah, nothing.

JACK: Vern I could have found nothing. There's something wrong with that tape.

JACK IS ANGRY AND HURT AT THE NEGATIVE PRESS, AND SACRED THAT HE IS JUST LIKE HARPER.

VERN: Look so far I have not been able to uncover anything that suggests the story isn't legit.

JACK: Then you haven't been digging deep enough.

VERN: Oh that's not fair Jack. Listen I've been working night and day digging on this thing ever since you found it.

JACK: Then you better keep your arms oiled Vern because I'm not letting you off this assignment until I'm satisfied.

VERN: Can you tell me why in the hell it's so important. JACK BEGINS TO SHOUT.

JACK: DAMMIT VERN, NO. I CAN'T TELL YOU ANYTHING. FOR ONCE CAN'T YOU DO WHAT I ASK WITHOUT TRYING TO SECOND GUESS ME? THAT'S ALL I HOPE FOR.

VERN: Hey, I....I withdraw the question.

JACK: Good!

VERN BACKS OUT OF THE OFFICE AS JENNIFER ENTERS.

JENNIFER: Hi Vern.

VERN: Hi Jennifer.

SHE CAN TELL THAT SOMETHING IS WRONG. JACK SITS AT HIS DESK WITHOUT LOOKING AT HER.

JACK: If you want to schmooze, I'm busy.

JENNIFER: Um, I don't. I'm here on business.

JACK LOOKS UP AT HER.

JENNIFER: That's right I'm here on business. I lost my job at WATB and I want to work for you again.

JACK BEGINS TO LOOK THROUGH HIS FILES AGAIN AND DOES NOT LOOK AT HER.

JACK: So you were fired from your job. Why?

JENNIFER: Because I refused to do a piece. A piece about you.

JACK: Well, I can't blame them for giving you the axe. You were anything but professional.

JENNIFER: What?

JACK: It was your job to do the story. You should have done it.

JENNIFER: Jack, be reasonable. I mean how could I have reported on what happened and been objective at the same time?

JACK: Heh, it's your job to be objective about everything.

JENNIFER: Not when it comes to the people that I care about. That's where I draw the line. You know that.

JACK: Well, then I can't use you. I need people who can separate themselves from their subject. People who don't let their emotions get in the way of a clear and concise delivery of the news.

JENNIFER: What do you want, a rubber stamp Jack?

HE GIVES HER AN ANGRY LOOK AND TURNS AWAY. HE IS SLIPPING BACK TO HIS OLD SELF, TRYING TO PUSH HER AWAY, WORRIED THAT IF SHE STAYS WITH HIM HE WILL EVENTUALLY HURT HER.

JENNIFER: Look whether you admit it or not, you need me here with you.... because what we had together professionally was really special. And I miss that. I know you do too.

JACK: That was in the past.

JENNIFER: Right, but it doesn't have to be. We were a great team. We could be a great team again. I mean we've wasted so much time competing with each other, look how much we could accomplish together. What do you think?

JACK: I think it's a bad idea.

HE TURNS BACK TO HIS WORK.

JENNIFER: Alright, look Jack. Look I know that you're upset about this alright and I understand that. And that's fine. But don't you see, together we could fight this kind of thing Jack.

HE STOPS TO THINK ABOUT WHAT SHE IS SAYING AND DESPERATELY WANTS TO ACCEPT HER HELP BUT HE KNOWS THAT HE CANNOT.

JENNIFER: I want to help you, if you'll let me. Please Jack, will you?

SHE PUTS HER HAND ON HIS SHOULDER BUT HE DOES NOT RESPOND.

JENNIFER: Jack, don't shut me out.

JACK GETS UP AND WALKS AROUND THE DESK.

JACK: You know something. You really do belong in broadcast news. I mean you're everything they want. You're telegenic, you're cute, perky. I'm sure the first words out of your mouth are "Film at eleven." I mean you're really.... you're.... perfect.

JENNIFER: I am not perfect. No one is.

JACK: That's right. And you really botched up Harper's story.

JENNIFER IS EMBARRASSED.

JACK: Then again you can work on that. I'm sure that you'll work on your professionalism and get yourself another job at another station.

JENNIFER: Don't patronize me Jack, alright. I know your routine when I see it. Ever since your....

JENNIFER STOPS TALKING BEFORE SHE MENTIONS HARPER AS HIS FATHER. JACK IS AWARE OF HER MISTAKE.

JENNIFER (CONT.): ....Ever since Harper died, nothing seems to be the same. But then nothing's really changed either, has it. I still love you and I know that deep down inside you still love me too.

SHE MOVES UP AGAINST HIM AND PUTS HER ARMS AROUND HIM.

JENNIFER: And we need each other right now so why are you pushing me away?

JACK WEAKENS A LITTLE AS SHE HOLDS HIM. HE PUTS HIS HEAD AGAINST HERS.

JACK: The only person pushing anything right here, is you.

JENNIFER: You know Jack, you're doing the same thing that you always accuse me of doing. You're letting your emotions get in the way of your better judgement.

JACK: This is business. This is business pure and simple. Now I don't want you working here. It's not good for me or my organisation and it's not good for your career. Now in the words of the great Vernon Scofield, "I've got a paper to put out!"

JACK LEAVES THE OFFICE IN AN EFFORT TO ESCAPE HIS EMOTIONS.
---
SCENE TWO: JENNIFER IS AT THE LOFT. SHE IS LOOKING AT HER SHELL RING WHEN SHE HEARS A LOUD KNOCK AT THE DOOR. SHE THINKS IT IS JACK.

JENNIFER: Jack.

SHE RUNS TO THE DOOR AND IT IS MELISSA. MELISSA HAS COME TO SEE HER BECAUSE SHE IS WORRIED ABOUT THE HARD TIME SHE AND JACK ARE HAVING SINCE HARPER'S DEATH.

JENNIFER: Yeah well Jack's been having a hard time. You know I can see how much Jack's opinion of himself is based on what others think of him.

MELISSA: Or what he thinks, others think of him.

JENNIFER: That's right. Especially the people that he cares about. I mean in Jack's heart I think he believes that violence is a Deveraux legacy and he's never going to be able to be free of that while the world still considers him a Deveraux. I don't know what I can do for him, Melissa.

MELISSA: Well maybe this will help.

MELISSA HANDS JENNIFER A COPY OF THE CHRONICLE NEWSPAPER.
---
SCENE THREE: MEANWHILE BACK AT THE SPECTATOR, ISABELLA DROPS BY TO SEE JACK, WHO IS STILL ENGROSSED IN HIS FILES.

ISABELLA: Jack.

JACK: Oh look who's here.

ISABELLA: Hi. How are you doing? I just thought I'd come by and.... I hope you don't mind.

SHE PUTS HER HAND ON HIS SHOULDER AND HE RUNS HIS FINGERS OVER IT.

JACK: No, I don't mind but I'm really busy though.

ISABELLA: Yeah, too busy to tell me what's going on?

JACK: What's going on? I'll tell you what's going on. I'm working on a story right now, trying to figure out if I have a news story in it or not.

ISABELLA: Nice try Jack. I think you and I are going to have a talk.

JACK: I think that's what we're doing, talking.

ISABELLA: I mean about what happened with Harper.

JACK: You know as a subject matter that's really been driven into the ground. I mean it's been overworked really.

ISABELLA: Heheheh yeah wait a second have you forgotten about the great Bayview escape? I thought you and I were friends.

JACK: Well after that I guess we had to be, yeah.

ISABELLA: Yeah we did. So you helped me. I want to help you.

JACK: You don't know what you're talking about.

ISABELLA: I know exactly what I'm talking about. Jack, look at me. I understand exactly what you're going through. Look I grew up believing Ernesto Toscano was my father. I loved him completely, unconditionally. I didn't see all the bad things inside of him. You know when I found out I wanted to run away but I couldn't. I had to stay. He used me to hurt other people so I helped them hurt him. I didn't like it but I didn't have a choice. You know eventually after all is said and done, you've just got let go of the pain and move on with your life. The same is true for you Jack.

JACK: No, it's not the same. It's not the same at all. No we're very different you and me. You've got this thing about helping people. It's kind of in your nature.

ISABELLA: It's in your nature too.

JACK: Let me say two words: "Diary pages." Alright, I knew that I could help you by keeping those pages away from you. But in the end you ended up getting hurt and a lot of people were put into danger.

ISABELLA: It's over now Jack. It doesn't matter. Look, look at me. I'm fine. I don't blame you for holding the pages back from me. You were doing what you thought was right because you care.

JACK: Look if I care a little bit less, a lot of people may be helped a lot more. Now if you'll excuse me, I've got to go.

ISABELLA: You are wrong about yourself, Jack. You are wrong. And just for the record, you know you never hurt me and I don't think you hurt Jennifer either.

JACK: We'll see about that..... Bayview.

JACK WALKS OUT OF THE OFFICE. ISABELLA IS WORRIED.
---
SCENE FOUR: BACK AT THE LOFT, JENNIFER IS READING THE NEWSPAPER THAT MELISSA HAS GIVEN HER.

JENNIFER: (Reading) "....And although Jack Deveraux may have hurt many people in the past, I sincerely believe that he has changed for the better. I feel certain that whatever happened in that church belltower to cause Harper Deveraux's death, it was not Jack's fault. I am also certain that the Jack Deveraux I know today is not the same man I left at the altar. Neither is he anything like his adoptive father Harper Deveraux was and it would be grossly unfair to portray him that way. Sincerely Melissa Anderson." Thank you Melissa, thank you for that.

MELISSA: I meant every word of it.

JENNIFER: You know Jack should see this. I think this is going to help a lot.

MELISSA: Probably not as much as the letter below mine. Take a look.

JENNIFER LOOKS AT THE PAPER AND IS VERY SURPRISED.

JENNIFER: You're right. I've got to find Jack right away. Will you lock up?

MELISSA: Yeah sure.

JENNIFER: Thanks Melissa. Bye, bye.

JENNIFER GOES TO THE SPECTATOR TO FIND JACK.
---
SCENE FIVE: JENNIFER RUSHES INTO JACK'S OFFICE, LOOKING FOR HIM.

JENNIFER: Jack.

VERN: I'm sorry Jenny girl, it's only me. Jack just walked out.

JENNIFER: He walked out, well where did he go?

VERN: I have no idea. I asked him but he had no answer. Truthfully, he's been acting rather strange.

JENNIFER: Well think Vern, did he say anything or give you any clue where he might be headed?

VERN: Ah nothing, nothing coherent anyway. Oh he mumbled some psycho-babble about he had to face once and for all who he is and what he had to do and all that. Any of that make sense to you?

JENNIFER: Yes it makes perfect sense. Thanks Vern.

JENNIFER RUNS OUT OF THE OFFICE.
---
SCENE SIX: MEANWHILE JACK HAS DRIVEN TO THE BELLTOWER. HE CLIMBS THE STEPS AND OPENS THE TRAPDOOR AND CLIMBS UP TO THE LEVEL FROM WHICH HARPER FELL . HE LOOKS OUT THE SPOT WHERE HARPER TRIED TO SHOOT STEVE AND SEES THE SEATS AND CARPET STILL FROM STEVE AND KAYLA'S WEDDING.



HE STARTS TO THINK OF WHAT IT WOULD BE LIKE TO MARRY JENNIFER. SYMBOLICALLY, ACCORDING TO THE WAY HE SEES HIMSELF, HE IS WEARING A BLACK TUX; JENNIFER IN A WEDDING GOWN, HOLDING A LARGE BOUQUET OF WHITE ROSES.

MINISTER: Do you Jennifer Rose, take Jack to be your lawfully wedded husband?

JACK LOOKS AT HER WITH LOVE IN HIS EYES BUT SHE HESITATES.

JENNIFER: I can't do it. You'd only hurt me if I married you. You hurt everybody who loves you. And I thought that you'd changed. I thought that you really loved me. But then I realized that the only emotion you understand is violence.

JACK NOW HAS TEARS IN HIS EYES AS SHE TELLS HIM WHAT SHE THINKS OF HIM.

JENNIFER: You were right about yourself all along Jack. You're no good for me and thank God I realized that in time.

SHE THROWS THE ROSES TO JACK AND RUNS DOWN THE AISLE. HE STANDS WATCHING HER AND SLOWLY CRUSHES THE ROSES IN HIS HANDS THE WAY SHE HAS CRUSHED HIS HEART.


UP IN THE BELLTOWER, JACK THINKS THIS IS EXACTLY HOW IT WOULD TURN OUT.
---
SCENE SEVEN: JENNIFER ARRIVES TO FIND JACK AND WALKS UP THE AISLE IMAGINING WHAT IT WOULD BE LIKE TO MARRY JACK.



SYMBOLICALLY, ACCORDING TO THE WAY SHE SEES JACK, HE IS WEARING A WHITE TUX; SHE SHE IS DRESSED IN A DIFFERENT WEDDING GOWN WITH THE VEIL OVER HER FACE, CARRYING A BOUQUET OF WHITE ROSES.

JENNIFER: Jack I know that you thought that someday you'd hurt me but after all we've been through together, I hope you finally see how wrong you were.

JACK: You're right. I admit it, you're right and I'm wrong. I know I could never hurt you cause I love you very much. And I'm going to make you very very happy.


HE GRINS AND FOLDS BACK HER VEIL. HE GENTLY HOLDS HER FACE AND KISSES HER.

BACK IN THE PARK, JENNIFER SMILES TO HERSELF. SHE LOOKS UP AT THE BELLTOWER AND SEES JACK.
---
SCENE EIGHT: UP IN THE BELLTOWER, JACK DOES NOT SEE HER. HE WALKS OVER TO THE WINDOW THAT HARPER FELL OUT OF. IT MAKES HIM DIZZY TO LOOK DOWN FROM SUCH A HEIGHT. HE SITS ON THE LEDGE AND LOOKS DOWN AND SEES PART OF HARPER'S CLOTHING CAUGHT ON THE BRICKS. HE LEANS DOWN TO GET IT JUST AS JENNIFER OPENS THE TRAPDOOR AND CALLS HIM. SHE IS TERRIFIED, OBVIOUSLY BELIEVING THAT HE IS THERE TO COMMITT SUICIDE.

JACK: Wait a minute. What's that? Harper, Harper.

JENNIFER: Jack, Jack, JACK WHAT ARE YOU DOING, JACK!

JACK: Jennifer!

JACK GETS SUCH A FRIGHT WHEN SHE YELLS AT HIM THAT HE ALMOST FALLS OUT OF THE WINDOW AND IS CAUGHT BY HIS LEGS OVER THE LEDGE. JENNIFER GRABS HOLD OF HIM.
[Transcribed by Carol Vaughan
added material by Sally A. Wilson]
---
---