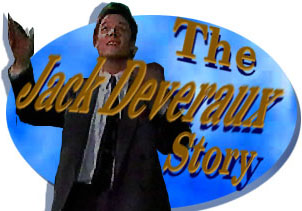 oldEpisode One-hundred-eighty-one:
Worried That He Will Hurt Jennifer, Jack
Tells Her That He Does not Believe in Shell
Rings, and That She Has Been Living a Fantasy
Believing That They Could Have a Life Together.
---
[Air date late August 1990]
SCENE ONE: JACK IS HANGING BY HIS LEGS OUT OF THE WINDOW OF THE BELLTOWER. JENNIFER IS HOLDING ON TIGHT AROUND HIS FEET.

JENNIFER: Jack, thank god you're alright.

JACK: Ah, I wouldn't go that far.

JENNIFER: Why, what's the matter? Are you hurt?

JACK: Not yet. But because of my once a year trip to the gym I don't know if my abdominals are ready for what I'm about to do. Wish me luck.

JENNIFER: Wait, Jack! What are you doing?

JACK! JACK DOUBLES UP TO TRY AND REACH THE LEDGE.

JACK: Give my your arm.

JENNIFER: Let me help you.

JACK: No, let go. Let go of my arm. Jennifer, LET GOOOOOOO!

JACK NEARLY PULLS JENNIFER OUT THE WINDOW.

JENNIFER: AAAARRRRGGGGGHHHHH!

NOW JACK IS HANGING BY HIS HANDS AND JENNIFER GRABS HIS SHIRT SLEEVES.

JENNIFER: Oh Jack.

JACK: Thanks for the help!

JENNIFER: Don't mention it.

JACK: Are you alright?

JENNIFER: Yeah I'm fine now that I'm back on the ground.

JACK: I wish that I could say the same.

JENNIFER: You do?

JACK: Yes I do!

JENNIFER: Jack, I'm so glad to hear you say that. When I saw you up here I was so scared. I mean I thought why would you want to do something like that?

JACK: Do something like what?

JENNIFER: Jump!

JACK: I wasn't going to jump.

JENNIFER: You weren't?

JACK: No. I saw.... I saw that piece of Harper's clothes.... right there.... (He reaches across and grabs it..) ....and I leaned over to get it and you were screaming and yelling behind me. You know that does startle a person.

JENNIFER: I'm sorry. You mean you weren't going to ki....

JACK: No! No!

JENNIFER: Oh Jack, I'm so glad. I'm sorry. I should have known better. I'm sorry, will you forgive me?

JACK: Yes, on the other side. If I don't up off here soon there's going to be double amounts of Deveraux dumped all over this church yard.

JENNIFER: Don't say that. Don't say that. I'm going to help you. Come on. I'm going to help you, come on.

JACK HEAVES HIMSELF UP WITH HIS ARMS.

JACK: Aaaah!

JENNIFER: I'm going to help you. I'm not going to lose you.

JACK GETS HALF WAY UP AND JENNIFER GRABS THE BELT OF HIS PANTS.

JACK: Don't.... don't give me a wedge! AAARRRGGGHHH.... OOOOHH.... OOOOHHHH.... OOOOHHH!
---
SCENE TWO: JACK IS DOUBLED OVER THE WINDOW LEDGE IN PAIN WHILE JENNIFER IS STILL TRYING TO PULL HIM UP BY HIS BELT. HE FLIPS OVER ONTO THE FLOOR AND IS EXHAUSTED.

JENNIFER: There you go. See Jack, there you go. What did I tell you?

SHE STRAIGHTENS HIS TIE AND PATS HIS SHOULDER.

JACK: I think it would have been safer if I'd jumped.

JENNIFER IS SITTING BEHIND HIM AND SHE GIVES HIM A BIG HUG.

JENNIFER: I'm so glad you're okay Jack. I was so scared something awful was going to happen.

JACK: Nothing happened, nothing happened.

JENNIFER: I don't know what I would have done if anything did.

JACK: Look, don't worry about it, alright. You just be glad that you saved my life because that cancels out the fact that you almost killed me.

JENNIFER: Alright Jack, I'm sorry. I saw you up here and I panicked.

JACK: It's alright. No harm was done.

JACK STANDS UP.

JENNIFER: Are you sure you're okay?

JACK: Yeah I'm fine, how about you?

JENNIFER: I'm fine too.

JACK: At the risk of being academic, what the hell are you doing up here? I know you're not joining the church choir.

JENNIFER: I saw your car parked out front.

JACK: Why were you looking for me or my car?

JENNIFER: Because I see yourself slipping back to the way you used to be. You're pushing me away again Jack.

JACK: Oh.

JENNIFER: Don't avoid my eyes.

JACK: I'm not avoiding your eyes.

SHE GRABS HIS FACE IN HER HAND AND SPINS IT TOWARDS HER.


JENNIFER: You are avoiding my eyes. Look at me. Look, I know you're in a lot of pain about Harper, alright, and all the stupid things that all the stupid people are saying, okay. I 'm sorry, it's making you mad and now you're mad at the whole world.

JACK IS LASHING OUT BECAUSE OF THE HURT HE IS FEELING FROM ALL THE NEGATIVE PRESS; AND PART OF HIM BELIEVES THAT IT IS TRUE, THAT HE IS LIKE HARPER.

JACK: No, no, no. I'm not mad at the world. The world is mad at me. You see Harper and I, we have PR problem. It's a father/son thing.

JENNIFER: That's why you're here? You think that the people think you're the same as Harper Jack?

JACK: No, no, no, just the people that can read above the fourth grade level, that's all.

JENNIFER: So you're talking about newspapers again.

JACK: That's right. That's right. The voice of the people. And the people who write those newspapers have decided to prove that Jack Deveraux is a real crud and they're going to put it on page one of every paper in this town.

JENNIFER: If that's what you think, you obviously haven't read all the newspapers then Jack, especially the editorial pages.

JACK: Oh yeah.

JENNIFER: Yeah. You know The Chronicle got a lot of stories about you Jack. But there's one that I think is particularly good. Do you want me to read it to you?

JACK: No.

JENNIFER: Too bad.

JACK GOES OVER AND SITS ON THE WINDOW LEDGE WHERE HARPER FELL. JENNIFER READS THE ARTICLE TO HIM.

JENNIFER: (Reading) "I'm writing in response to your recent coverage of the death of Harper Deveraux. In my opinion your readers were given a number of inaccurate impressions especially about Harper's son Jack Deveraux. But the time has come to set the record straight. I know The Chronicle's not the only newspaper in town that's been giving Jack a hard time about what happened. But Jack isn't to blame for Harper's death...."

JACK: Hold it! Question.... why did you do this?

JENNIFER: Do what?

JACK: Why did you write this?

JENNIFER: I didn't write this.

JACK: You didn't write this.

JENNIFER: No I didn't. So why don't you just be quite and listen. (Reading) "Harper Deveraux was a very sick and disturbed person. For some he enjoyed hurting people. Jack isn't like that. Yes he's made mistakes and yes he's done some things that nobody will ever forget but I knew him when he was young and sensitive and full of ideas to make the world a better place. That seems a long time ago now but I believe that Jack's capable of being that person again. He's finally learned to take responsibility for his actions. He knows what he did was wrong and he's trying to change his life. Not just for his own sake but for the sake of the people who love him. That's why Harper Deveraux died, because he wanted to hurt the people Jack cares about. Jack had to stop him. He should not be judged for that. He does not deserve it. And if I can say that, then all you people who don't know Jack can do the same. I never expected to feel this way and I'm sure some people will find it hard to believe that I do because if there's anybody who has a right to hold a grudge against Jack Deveraux, it's me. But it's time to let go. Maybe we can't forget what he did but we can forgive him. And I do. It's signed Kayla Brady Johnson."

JACK IS DEFINITELY PLEASED WITH WHAT KAYLA WROTE BUT HE IS ALSO DETERMINED TO THINK THAT HE IS STILL A BAD PERSON.

JACK: Give that to me please.

JENNIFER: I know it's hard to believe but Kayla wrote that letter.

JACK: Give it to me.

HE TAKES THE PAPER.

JACK: Well, one little editorial's not going to do much.

JENNIFER: Jack, it has nothing to do with an editorial. It has to do with your friends and your family, the people who really know you. We know that you are a good person and you're not violent. Kayla would never have forgiven you if you were.

JACK: Kayla's the good person. It doesn't change anything for me.

JENNIFER: Jack you're just saying that because you don't think she can let the past go. But I saw her take your hand the other night at dinner. She was trying to reach out to you the way everybody else has been trying to do. But everytime somebody reaches out to you, you push them away. And I don't understand that. I'm trying to understand that and....

JACK: Why don't you just try to stop for a minute? Stop trying so hard and just understand one thing. I've got Harper on one side and Duke on the other. All the time, morning, noon and night. Even in the shower sometimes. Day and night I've always got those guys with me and they're never going to go away.

JENNIFER: You're wrong Jack. How many times do I have to tell you, you're not the same. You are a good man! And the sooner you realize that, the sooner you....

JACK: Okay drop it, drop it.

JENNIFER: I'm not going to drop it. I'm not going to stand here and let you put yourself down.

JACK: I said forget it. I said forget it.

JENNIFER: Because I know you. You are kind and caring and you are generous and....



JACK: I said forget it. I SAID STOP IT. YOU JUST KEEP TALKING. YOU NEVER STOP TALKING. WHEN I TELL YOU TO STOP IT. YOU NEVER....

HE GRABS JENNIFER BY THE ARMS AND SHAKES HER AGAIN AND AGAIN.


JENNIFER: Jack you're hurting me.

JACK IMMEDIATELY STOPS AND LETS GO OF HER. HE GIVES HER A LOOK THAT MEANS HE KNOWS THAT HE JUST PROVED WHAT HE WAS TRYING TO SAY. HE STARTS BABBLING AND WANDERING AROUND.


JACK: Don't know my own strength. (Imitating Bullwinkle, he is babbling, terrified over what he just did.) Hey Rocky, watch me pull a rabbit out of my hat.

JENNIFER: If that's supposed to be funny, you're losing your touch.

JACK: Oh no, it's not funny. I think we just proved something here and I think we both know what we're talking about.

JENNIFER: Oh no I don't think so Jack. I'm not going to let you do this, alright. Getting angry doesn't mean you're crazy, that you're going to go out and beat people up. Normal people get angry and that's what's this is all about. You're angry because I won't give in to you. And don't waste your time thinking that I'm going to because I'm not because I know I'm right.

JACK: Oh you're right about one thing. I am angry.

JENNIFER: With me.

THIS HAS COMPLETELY TERRIFIED JACK, HE BELIEVES THIS PROVES WHAT PEOPLE ARE SAYING ABOUT HIM AND WHAT HE ALWAYS FELT ABOUT HIMSELF THAT HE WAS VIOLENT, AND A BAD PERSON, AND THAT HE WOULD HURT JENNIFER. TO PREVENT THIS HE REVERTS BACK TO HIS OLD SELF, AND TRIES TO ANGER JENNIFER INTO LEAVING HIM. THOUGH IT IS CAUSING HIM GREAT PAIN TO SAY THIS TO HER, AND PART OF HIM DOES NOT BELIEVE AND WANTS TO BELIEVE THAT HE IS A GOOD PERSON AND THEY WILL HAVE A LIFE TOGETHER.

JACK: No, no, not with you. With both of us. You and me. Because I knew that this day was coming. I knew it. And I just let us just go along with this romantic little dream, the good girl and the bad little boy. And fortified by her love, he knew that somehow he would become a great individual and the flowers and trees and all things great and small. It does go on something like that, doesn't it?

JENNIFER: Why are doing this? Why are you trying to make a joke out of what we have?


JENNIFER'S ARGUMENTS ARE AFFECTING HIM, HE WANTS TO BELIEVE THEM; BUT HIS FEARS AND SELF DOUBTS ARE TOO STRONG.

JACK: BECAUSE IT'S A JOKE! IT'S A BIG JOKE, THE WHOLE THING. I don't think about the future, maybe you do but I don't. And I don't believe in little shell rings either. I mean that was just something I thought of just for a minute on island. It was temporary because I thought we were never going to get back. But we did get back. We got back home to reality and it's never going to be the same again.

JENNIFER: (Jennifer is hurt and near tears) What happened on that island has nothing to do with not being home and being in danger. It was real. The bad, the good and this.... (Pointing to the ring, which she is wearing) this shell ring that you gave me. You went through so much trouble because you care and don't tell me that you don't because I know you.

JACK: OH, YOU KNOW, YOU KNOW. YOU KNOW THIS! YOU KNOW THIS AND HERE'S THE TRUTH THAT YOU WANT TO HEAR. THE FACT IS.... I'M A RAPIST! I'm a rapist.


JENNIFER: Jack.

JACK: I just said it. You know I've never said that before and I just said it. I have trouble dealing with it and so do you. And no little shell ring and no.... no wonderful promises and no island is ever going to change that. Not even the love of a pure chaste virgin. It's never going to change that.

JENNIFER: Well if you really believe that then you're not the person I thought you were. If you believe it Jack. And I don't think so. In your heart I really don't think you do.

JENNIFER IS NOW CRYING. SHE TURNS AND CLIMBS DOWN THE STAIRS. JACK SITS BACK ON THE WINDOW LEDGE AND LOOKS DOWN.
---
SCENE THREE: A SHORT TIME LATER VICTOR IS SITTING AT THE BAR AT WINGS WHEN JACK COMES IN AND SITS BESIDE HIM.

JACK: Move ov.... (Realizing who it is.) Oh Victor. Excuse me. Do you mind if I sit down here?

VICTOR: Not at all.

JACK: Well that's a first. First person who hasn't minded me sitting next to them in a long time.

VICTOR: Buy you a drink?

JACK: You can buy me several.

VICTOR: What will you have?

JACK: Ah.... I don't know. Anything with an umbrella and some olives. I don't know, anything.

VICTOR: Dave, why don't you surprise Mr. Deveraux. (Beat) Had a bad week, huh, Jack?

JACK: Heheheh.

VICTOR: Oh I know how that is. It's not easy to change people's minds when they've got you filed away under V for villain, huh.

JACK: I don't see anybody kicking you off the hospital board yet.

VICTOR: Oh they couldn't very well throw me out without getting rid of all those large donations that come along with me.

JACK: Heheheh.

VICTOR: The same holds true for all the reputable charities in town. All that money though won't stop people from judging you. Say a casual word against you, misinterpret every move you make, you can't even baby-sit a child without them trying into make it into some kind of evil deed.

JACK: It's a good thing neither of us is.... feeling too.... ah bitter about this.

VICTOR: Is that the way I sound? I don't mean to.

JACK: No, no, no, no. If that's the way you feel, you're entitled to it. I don't mind people saying bad things or believing bad things about me. It's when they start believing good things about me. I mean they start talking about it and they talk and talk and talk and talk and talk until I start believing it myself. And then the newspapers come out and it's Jack Deveraux Son of Satan all over again.

VICTOR: You of all people should know better than to believe everything you read. The truth is, none of us is all good or all bad.

JACK: Alright, which one do you believe in Victor? Which one are you, the good or the bad?

VICTOR: I'm afraid we're both a little bit of both, whether we like it or not.


JACK: Right.

JACK PICKS UP HIS DRINK AND SIPS IT KNOWING THAT WHAT VICTOR SAID WAS THE TRUTH.
---
SCENE FOUR: MEANWHILE JENNIFER HAS GONE TO THE PIER TO THINK ABOUT THE FIGHT SHE AND JACK HAD. WHILE SHE IS THERE JO COMES ALONG.

JO: Jennifer, hi, how are you?

JENNIFER: Oh Mrs. Johnson. Fine, how are you?

JO: Oh you know me. I'm happy when my family's happy. I would worry about Jack but I know that he's got you to help him through this mess with Harper. It sure does ease my mind. He's so lucky to have a girl like you. Somebody he can work side by side with and yet you understand his thoughts and his feelings. You have something very special Jennifer.

JENNIFER: No it's not Mrs. Johnson. It's not special or rare. It's not anything.

JO: Jennifer what are you saying?

JENNIFER: It's over Mrs. Johnson. There is nothing between Jack and me. Not anymore.

JO: I can't believe this. I just saw you two a few days ago and you looked so happy.

JENNIFER: It wasn't my idea Mrs. Johnson.

JO: Oh it was Jack's.

JENNIFER: He's shutting me out again. He's convinced that he is no different than Harper is.

JO: Well that's absolutely not true. He's nothing like Harper.

JENNIFER: I know that but he won't listen to me. He won't listen to anybody. You know how he is.

JO: Yes I'm afraid I do Jennifer.

JENNIFER: Well there is nothing more I can do for him. I've tried talking, I've tried fighting, nothing works.

JO: Now don't say that. I mean after everything that the two of you have been through together, don't give up on him, not yet.

JENNIFER: What other choice do I have? When somebody keeps shoving you away, how many times are you supposed to go back for more?

JO: I don't know. All I know is that you are the only person that can get through to Jack. He needs you and he loves you and I know you love him. Don't give up on him, please.

JO WALKS AWAY AND LEAVES JENNIFER TO THINK FOR A WHILE. AS SHE IS STANDING THERE, JACK COMES DOWN THE PIER STEPS. HE IS ABOUT TO CHECK THE PHONE FOR SPARE COINS WHEN HE SEES JENNIFER. HE WATCHES AND THINKS AS SHE WALKS AWAY WITHOUT SEEING HIM: REGRETTING WHAT HE TOLD HER IN THE BELLTOWER, AND SAD OVER LOSING HER; YET BELIEVING THAT IT IS THE BEST, SINCE HE FEELS THAT HE IS NO GOOD, AND THAT HE WOULD ONLY HURT HER AND CAUSE HER PAIN.
[Transcribed by Carol Vaughan
added material by Sally A. Wilson]
---
---