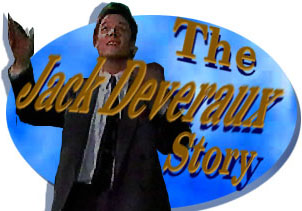 Episode One-hundred-eighty-three:
Jack Tries to Deal with What He
Did and Life Without Jennifer.
---
[Air date early September 1990]
SCENE ONE: STEVE IS ALONE AT HOME WHEN HE HEARS A LOUD KNOCK AT THE DOOR IT IS JACK.

STEVE: Why didn't you use the bell man instead of banging on the door?

JACK: I couldn't hear it. I'm sorry. Listen doorbells don't work for me. I'm a knocker.

STEVE: More like a pounder.

JACK: Look I just want to know about my magical mystery tape.

STEVE: Yeah well come on in.

JACK: Good.

JACK IS JUMPY.

STEVE: Is everything alright?

JACK: Oh everything's great. Couldn't be better.

STEVE: You're kind of jumpy. What's the matter?

JACK: Nothing. Nothing's wrong, everything's right.

STEVE: Oh yeah?

JACK: Yeah. In fact I finally got what I wanted.

STEVE: What's that?

JACK: Peace and quiet. Jennifer's left town to seek a whole new life and forget about me.

STEVE: That explains it.

STEVE WALKS INTO THE LIVING ROOM SMILING.

STEVE: So Jennifer left town and you're happy about it, huh.

JACK: Oh look I'm happy as a clam. I've been talking to her until I've been blue in the face saying that this relationship just isn't working out. But she wouldn't listen to me. Women just won't listen, you know. But I guess she finally took her ear plugs out.

STEVE: So you're a free man.

JACK: No, no. We're both free. We're both free. It was a dirty job but you know somebody had to do it.

STEVE: So how far did she go and for how long?

JACK: To New York, for good.

STEVE: For good? Did she say that?

JACK: No, no, she didn't say anything. She just left.

STEVE: Oooh, sounds like she was in a big hurry. Too much of a hurry.

JACK: Well she had to get out while the getting was good. Before it was too late.

STEVE: Too late for you or for her?

JACK: No, too late for Jennifer. I'm fine. I can take care of myself just fine.

STEVE: So it's over then, huh?

JACK: Over, finished, finito, kaput, el fine.

STEVE: Yeah all that stuff, is that what you tell yourself when you're alone?

JACK: Heheheh. I came to talk to you about the tape. Got anything?

STEVE: Yeah I got something on the tape.

JACK: Yeah well come on. Is she in trouble? She's in trouble, isn't she?

STEVE: No, no, no. I don't know if she's in trouble or not but she's definitely connected to that tape.

JACK: How? How is she connected?

STEVE: She's the one that's behind it.

JACK: She's.... she's behind this. You're kidding.

STEVE: No I'm not kidding. The dude who you know announced the broadcast, he was an actor.

JACK: An actor !

STEVE: Yeah. He's an phony as this tape right here dude.

JACK: I hate actors. I mean they'll.... they'll do anything for a buck. Now you tell me, how do you know she's behind this?

STEVE: Well she's the one who rented the studio where they made the tape.

JACK: I thought I was teaching her the ropes.

STEVE: Jennifer's a smart girl. For whatever reason she put one over on you.

JACK: Yeah but she's in trouble now isn't she? And she's expecting me to bail her out. She wants me to bail her out.

STEVE: Listen to yourself man. You do everything you can to make her sick of you, leave town. Then when she's gone, you do nothing but worry about her.

JACK: No, no, no. I'm just making sure she doesn't get hurt, that's all.

STEVE: Hey, hey. You lose her, you lost the best thing you ever had.

JACK: Well that's....that's par for the course.

STEVE: Hey you keep thinking like that and you're going to be alone for a long time.

JACK: Thank you for the warning.

STEVE: You're welcome.

JACK: And thank you for the scoop on the tape.

STEVE: No problem.

JACK TAKES THE TAPE FROM STEVE.

JACK: You could always wish me luck.

STEVE: Good luck. You're going to need it.

JACK: Thank you.

JACK SMILES AND RUSHES TO THE DOOR BUT AS HE GETS THERE HIS FACE TURNS TO ANGER AS HE LOOKS AT THE TAPE.
---
SCENE TWO: AT THE HOSPITAL, CARLY IS NOW WORKING WITH MARCUS AND HE IS SUSPICIOUS OF THE WAY SHE BEHAVES. SHE TELLS MARCUS THAT THERE ARE PEOPLE LOOKING FOR HER. JUST AS HE IS ABOUT TO ASK MORE, JACK COMES INTO THE LOUNGE.

JACK: Ah, is this a staff meeting or can anyone horn in?

CARLY: Jack, hi.

MARCUS: Jack what can we do for you?

JACK: Well actually I was hoping that your esteemed colleague here could spare a minute or two.

CARLY: Sure, sure I can. Marcus do you mind?

MARCUS: No, no problem. I'll talk to you later okay. Jack.

JACK: Homey.

MARCUS LEAVES THEM ALONE.

CARLY: Well what is it? Anything wrong?

JACK: I think we have a mutual friend who's in big trouble.

CARLY: Jennifer?

JACK: Did she say anything to you about a missing heiress story that she's been working on?

CARLY: Missing heiress? No, no, but I read your articles in the paper. It was fascinating, wonderful human interest stuff.

JACK: Yeah, yeah, yeah. Right, right. Anyway, there's more to it than a human interest story. Jennifer is interested and she's holding back.

CARLY: Well if you talked to her, I mean maybe if you did....

JACK: Yeah, I've talked to her, threatened, cajoled, pleaded, done everything in my power. But I don't think anything is going to get the secret out of Jennifer.

CARLY: Well I still don't see how I fit into all this.

JACK: You, my dear doctor, are going to get the secret out of Jennifer. So what do you think? Are you up for it?

CARLY: Jack I'd really like to help you. I just don't know what I can do.

JACK: Talk to Jennifer. Ask her what's going on.

CARLY: Well do you think she would be anymore open with me than with you. I mean considering how she feels about you, you would be the first person she would confide in, when she's ready to, you know.

JACK: For arguments sake, why don't we just give it the old boarding school try?

CARLY: Sure, sure I'll try but I can't make any promises.

JACK: Hmmm. Think it's going to be a big waste of time, huh. Well I'll thank you in advance.

CARLY: Look Jack, I'm really very sorry if this heiress story has caused the two of you problems.

JACK: Oh no, no. I can't think of anything that doesn't cause us problems.

CARLY: Look I've got to go to a meeting but I hate leaving you like this.

JACK: Like this? Like what? Like this, I'm fine.

CARLY: When you're in love with someone and you're worried about them, you're anything but fine.

CARLY LEAVES AND JACK IS LEFT WONDERING JUST HOW HE FEELS.
---
SCENE THREE: A BIT LATER JACK AND TOM COME WANDERING OUT OF THE HOSPITAL BOARD MEETING.

TOM: Calling Dr. Nagle a whiney brat was out of place in that meeting.

JACK: No, Dr. Nagle was out of place in that meeting. I just had the guts to tell him that.

TOM: Jack, come in here. Let's have a talk.

TOM OPENS THE DOOR OF THE STAFF LOUNGE.

JACK: Oh, oh. After you doctor.

TOM: Jack, sit down.

JACK: Huh, uh.

TOM: I'd like to talk to you as a friend. This nasty business over Harper's death has touched you a lot more than you care to admit, right.

JACK: Look if you want me to apologize to Dr. Nagle and maybe even send him flowers, I'll do whatever you say.

TOM: Look what happened in that meeting is not the problem. It's a symptom. You've been through a terrible ordeal.

JACK: Can we talk about something else?

TOM: Fine. We'll talk about Jennifer. As long as you're involved with my granddaughter, I'm very responsible for her.

JACK: I think that involved is.... that word.... actually....

TOM: Jack, Jack, you need help. Now look I've been carrying this around waiting for the proper time to give it to you.

TOM HANDS JACK A BUSINESS CARD. JACK READS IT.

JACK: A shrink? No, no, no, no, no, no. A headshrinker is the last thing I need.

TOM: Dr. Baker is an excellent therapist with an office right here in this hospital.

TOM STANDS UP TO LEAVE.

TOM: Don't get up. Stay here. The meeting will resume in a few minutes. Just think about what I said. Everybody needs help at some time in their life. Don't be ashamed about this.

TOM LEAVES AND JACK LOOKS CLOSELY AT THE CARD. HE DECIDES TO GIVE IT A TRY AND PICKS UP THE PHONE. HE DIALS THE NUMBER ON THE CARD AND THE PHONE RINGS. HE HOLDS FOR A SECOND OR TWO THEN CHANGES HIS MIND.

JACK: No, no, no, no, no. I'd have to have my head examined before I'd go see a psychiatrist.

HE LOOKS AT THE CARD AGAIN AND THINKS ABOUT WHAT HE JUST SAID.

JACK: Yeah.
---
[Air date early September 1990]
SCENE ONE: AJ CONSTRUCTIONS HAVE BEGUN CONSRUCTION ON A NEW BUILDING IN SALEM. THEY HAVE LOCKED GATES BUT WHILE SHAWN DOUGLAS AND ANDREW DONOVAN WERE AT THE PARK WITH SHAWN, THEY RAN AWAY AND GOT THROUGH THE GATES. SHAWN DOUGLAS FELL DOWN A SHAFT. HE IS CAUGHT DOWN THERE AND THE WHOLE OF SALEM IS FRANTIC TO GET HIM OUT.
---
SCENE TWO: JACK IS AT THE HOSPITAL TALKING TO TOM.

JACK: I've got to check on my office to make sure that everybody's on their way out to the site. You got a ride?

TOM: I've got a car. I've got to find Alice. I'm not even sure she knows.

JACK: Okay.

TOM LEAVES AND JACK WALKS OVER TO TALK TO KAYLA.

JACK: Kayla, you got any news?

KAYLA: News about what?

JACK: The accident.

KAYLA: Jack what are you talking about, what accident?

JACK: The accident, you know Bo's kid, he fell down the shaft at the refinery site. They think he's going to be okay but....

KAYLA: What?

JACK: Wait a minute, you didn't know about this?

KAYLA: No.

JACK: Kayla, I'm sorry. I'm sorry. I didn't know that I was going to be the one to tell you this. I....

KAYLA STARTS TO CRY AND RESTS HER HEAD ON JACK'S SHOULDER. HE IS VERY NERVOUS AND NOT SURE WHAT TO DO.

KAYLA: First Hope and now Shawn Douglas.

SHE STAYS THERE FOR A FEW SECONDS THEN MOVES BACK.

JACK: Ah look Kayla, you don't have a thing to worry about. They're already working on this and I'm sure the little kid's going to be fine. What?

KAYLA: I should be there for Bo. He needs his family.

JACK: Well I have some things I need to do. You better just go.

KAYLA: I can't. Steve just dropped me off. I don't have a car.

JACK: Well.... ah.... see Dr. Horton hasn't left yet. I.... I can run after him and catch him. Or maybe.... you can go with me.

KAYLA: Please could you do that?

JACK: Sure.

KAYLA: Thank you.

KAYLA WALKS OFF TO GET HER THINGS AND JACK IS LEFT STUNNED THAT SHE IS ACTUALLY COMMUNICATING WITH HIM.
---
SCENE THREE: JACK AND KAYLA ARRIVE AT THE SITE A SHORT TIME LATER. THE PRESS IS ALREADY THERE AND IS PESTERING CAROLINE AND THE OTHERS FOR INTERVIEWS IN THE PARK BESIDE THE SITE. CARLY IS ON THE SITE ASSISTING WITH THE RESCUE. SHE CALLS CAROLINE OVER TO TELL HER THE LATEST AND THE PRESS FOLLOWS AND THEY MAKE IT IMPOSSIBLE FOR CARLY TO TALK. JACK COMES TO THE RESCUE.

JACK: Ah folks! Gentlemen and ladies of the press, ah.... wait a minute, we got.... excuse us Carly.... we gotta get a couple of ground rules going here, alright.

PRESS: Who put you in charge?

JACK: Wa.... wa.... wa.... wait a minute, okay, okay. I have been assigned as the spokesperson for the Brady family and any questions, any interviews need to go through me, alright. Right, okay. Oh the Governor's here. Look right over this way. There's plenty of time. Don't worry, we're all going to get our stories. Don't worry.

JACK HERDS THE PRESS TO THE OTHER SIDE OF THE PARK AWAY FROM THE SITE AND THE FAMILY. THE FAMILY IS FINDING IT HARD TO STAND BY WITH NOTHING TO DO. JACK COMES OVER TO SEE DR. HORTON.

JACK: Ah...excuse me, Dr. Horton.

TOM: Yes.

JACK: Ah, there's a couple of medical questions over here I'm going to start fudging on in a minute unless I get your help.

ALICE: Tom you go ahead dear.

TOM: Alright.

JACK: Thanks, after you.

JACK TAKES TOM OVER TO TALK TO THE PRESS. JACK CONTINUES TO DO HIS BEST TO KEEP THE PRESS OCCUPIED BUT THEY START TO TURN ON HIM.

PRESS: Give us a break. We've been waiting round here. You've got to let us talk to somebody.

JACK: I'm sorry, I'm sorry.

PRESS: We can start concentrating on you since this is the first time you've been in public since killing your father.

JACK: Oh, alright, alright, if you guys want to interview me that's fine. We'll do that later. Right now we should be focussing our pads and our pencils on that little kid getting rescued.

OVER THE OTHER SIDE OF THE PARK, TOM AND KAYLA ARE WATCHING.

TOM: He's doing quite a job, isn't he?

KAYLA: Yeah he is. And the more I am around him, I see how much he's changed.

TOM: Too bad that Jack doesn't see that himself.

BACK WITH THE PRESS.

JACK: Alright, alright already. Alright, alright!

JACK RUSHES OVER TO THE FAMILY.

JACK: Alright, ah.... the natives are getting a little restless over there. I think we have to throw them a bone, you know, or I won't be able to hold them back.

VICTOR: What do you suggest?

JACK: Well.... ah, how about an interview with a couple of the grandfathers? Mr. Brady, Victor, why don't you answer a couple of questions?

CAROLINE: You mean together?

JACK: Yeah.

VICTOR: I have no objections.

SHAWN: Whatever it takes. I mean if this is what's got to be done so the other people can do their work, then let's get it done.

JACK: Great, they'll love it.

JACK TAKES THEM OVER TO BE INTERVIEWED THEN WAITS AROUND ON HIS OWN FOR SOME NEWS. HE SPENDS THE TIME DRINKING COFFEE AND TAKING NOTES.

KAYLA: Jack.

JACK: Hmmm, yeah, hi.

KAYLA: I just talked to Steve. He's on his way.

JACK: Oh that's good. Steve always seems to know what to do.

HE FINISHES HIS NOTES.

JACK: Ah.... since the rest of the reporters have all taken off to make the late edition, I think I'll do the same. So goodnight.

KAYLA: Ah wait Jack. I just wanted to thank you for everything you did today for my family.

JACK: Ah, don't mention it.

KAYLA: Thanks for the ride.

JACK: Sure, sure, it's no problem at all. You're very welcome.

JACK AND KAYLA ARE STILL VERY AWKWARD WITH EACH OTHER. HE WALKS AWAY BUT PAUSES TO LOOK BACK AT HER AND THINK ABOUT THEIR RELATIONSHIP. MEANWHILE SHE IS WONDERING TOO IF THEY CAN EVER BE FRIENDS.
---
[Air date early September 1990]
SCENE ONE: IT IS THE NEXT DAY, JACK IS FEELING LONELY WITH JENNIFER AWAY. HE DECIDES TO VISIT THE LOFT. AS HE DOES NOT HAVE A KEY, HE USES HIS CREDIT CARD TO BREAK IN. HE SLIDES OPEN THE DOOR.

JACK: Hello. Ah Isabella, anybody here. (Beat) No I guess I'm just talking to myself.

HE WALKS IN AND SEES THE SHELL RING ON THE KITCHEN BENCH. HE SLOWLY PICKS IT UP AND LOOKS CLOSELY AT IT. THEN HE THINKS BACK OVER THE TERRIBLE ARGUMENT THEY HAD IN THE BELL TOWER AND HOW HE TOLD HER THE RING MEANT NOTHING. HE IS STILL STARING AT IT WHEN MELISSA ENTERS.

MELISSA: Jack.

HE DOES NOT HEAR HER.

MELISSA (CONT.): Jack, hello Jack.

JACK: Yes, yes. What? Yes.

MELISSA: You miss her don't you? You do miss her Jack.

KNOWING WHO SHE MEANS, AND THAT SHE IS RIGHT, BUT NOT WANTING TO ADMIT IT.

JACK: Who, Isabella?

MELISSA: Try again.

JACK: What, Jennifer?

MELISSA: Jack.

JACK: What, she's gone, right. Yes, she's in New Mexico, New.... Orleans, New Jersey, New York. That's it. She's in New York. Of course she is.

MELISSA: And you don't miss here at all.

JACK: Didn't even know she was gone.

MELISSA: Then what are you doing here?

JACK: What am I doing here? Ah....with everything that's going on, you know, down at the construction site, I thought I'd do Jennifer, the, you know.... the professional courtesy to let her know about her pet peeve project. I knew her number was here so I came over here to do a good deed.... for a friend. A trifle impersonal, but a good deed none the less.

MELISSA: So it's just an impersonal good deed, just for a friend?

JACK: Yes, that's about all that it is.

MELISSA: That's all that it is. Now why do I find that so hard to believe?

SHE TAKES HIS HAND AND POINTS OUT THE SHELL RING HE IS HOLDING.

MELISSA: You're trying to convince yourself of something that just isn't true Jack. And I think that that ring in your hand proves it.

JACK: This is a ring? You think this is a ring?

MELISSA: Jennifer told me about it Jack. The island, the ring, it meant a lot to her. And I think it means a lot to you too.

JACK: You know something, you swear you're never going to bring these souvenirs back. You really do but in the end you come back with a suitcase full.

MELISSA: You try to deny your feelings for Jennifer but you're not fooling anybody but yourself. And truthfully, I don't think you're doing that good a job. You know why you're here as well as I do Jack. You miss Jennifer and you want to feel close to her.

JACK: You know something, you.... you make it sound like you want Jennifer and myself together.

MELISSA: I do. I think that she's good for you and I've finally come to understand that it works both ways.

JACK: Wait a minute, at this moment Jennifer is in New York, starting, hopefully, a new job, a new life, new prospects....

MELISSA: Jack, Jack, look I believe with all my heart that you and Jennifer belong together as much as Emilio and I do. And everything that's happened up to now, it's only been to get us where we are, ready for the real thing.

JACK: You really amaze me, you do.

MELISSA: Why?

JACK: Because I thought that after all that time in Europe you would have learned something. I mean at least the ways of the world.

MELISSA: What are you talking about?

JACK: After everything that we have been through together, especially you and me, you're ready to throw your little cousin on me. And you say that you know me.

MELISSA: I do know you Jack. The trouble here is, you don't know yourself.

JACK: I know me. What are you saying? I know who I am. I mean I'm a couple of the best people you've ever met. I mean we're twins or even triplets. We're like this! (He holds his fingers up together) We're close. How close you ask? I'll tell you how close....

EMILIO: Hey anybody up for some good news?

MELISSA: Shawn Douglas?

EMILIO: He's out and he's safe. I just heard it on the radio.

MELISSA IS EXCITED AND GIVES EMILIO A HUG.

JACK: I think I better go by my office and make sure my paper's got this little bit of news.

EMILIO: Okay. Alright do that.

JACK LEAVES.

EMILIO: What was Deveraux doing here?

MELISSA: Missing Jennifer.

EMILIO: Oh.

MELISSA: I feel so sorry for him. He's so close to having something incredible with her and he just won't let himself do it.

EMILIO: That's too bad.

MELISSA: Wait a minute. I thought you hated Jack.

EMILIO: I did one time but I have so many good things happening to me know I couldn't hate anyone, even Deveraux.
---
SCENE TWO: JACK GOES TO THE SPECTATOR AND BEGINS TO THINK OF JENNIFER. CHRIS ISAAC'S WICKED GAME BEGINS TO PLAY.

The world was on fire
Nobody could save me but you.

JACK THINKS OF THEIR FIRST PROPER KISS WHEN THEY FOUND THE KEY.

Strange what desire
Makes foolish people do.

JACK THINKS OF WHEN HE RAPED KAYLA THEN FLASHES BACK TO KISSING JENNIFER.

I never dreamed that I'd need somebody like you.
And I never dreamed that I'd lose somebody like you.

JACK'S MIND FLASHES BETWEEN TENDER MOMENTS WITH JENNIFER AND THE RAPEw HE REMEMBERS THE ISLAND, MAKING LOVE THE FIRST TIME, KILLING HARPER AND MORE MOMENTS WITH JENNIFER.

No I don't want to fall in love
No I don't want to fall in love
With you.
With you.

What a wicked game you play to make me feel this way,
What a wicked thing to do to let me dream of you, W
hat a wicked thing to say, you never felt this way,
What a wicked thing to do, to make me dream of you.
And I don't want to fall in love
No I don't want to fall in love....

JACK PICKS UP THE CARD TOM GAVE HIM.

JACK: Ah what the hell can it hurt?

HE PICKS UP THE PHONE AND DIALS.

JACK: Hello, yes, yes. I'd like to make an appointment with Dr. Baker. (Beat) No, no, this is my first time. I guess it makes me a virgin. Hahah. Oh, yes, tomorrow would be fine. Well not exactly fine but I'll accept that. Okay the name is Deveraux. D-E-V-E.... oh you've heard of me huh. Well I own a newspaper.... (Obviously by his expression the secretary on the other end knows Jack not from The Spectator, but because of the negative press about him) oh. Okay, great, well I'll see you.... that is I'll see the doctor tomorrow. Goodbye.

JACK SLOWLY AND DELIBERATELY PUTS THE PHONE BACK DOWN.
[Transcribed by Carol Vaughan
added material by Sally A. Wilson]
---
---