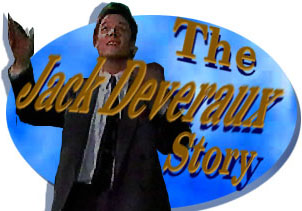 oldEpisode One-hundred-eighty-four: Jack
Takes Tom's Advice and Visits Dr. Baker, He
Says It Is to Get over Jennifer, but Is That
the Real Reason; Jennifer Returns, and Wants
Jack to Give her a Referral for her New Job.
---
[Air date early September 1990]
SCENE ONE: IT IS THE NEXT DAY AND JACK ARRIVES AT THE HOSPITAL FOR HIS APPOINTMENT WITH DR. BAKER, THE PSYCHIATRIST THAT TOM RECOMMENDED. HE WALKS UP TO THE NURSE'S STATION AND THEN IS ABOUT TO CHANGE HIS MIND.

JACK: Do you.... yeah I remember.

TOM: Jack what are you doing here? Is there a board meeting I didn't know about?

JACK: Ah.... actually I'm.... I have a.... (Cough, cough)) doctor's appointment.

TOM: Did you say doctor's appointment?

JACK: (Speaking as if he has a sore throat). Yes. A doctor's appointment for my throat. It's a sore throat but.... hmmm.... hmmm..... it's feeling so much better. In fact I'm heading home now to get another dose of chicken soup.

TOM: You don't have to act with me you know.

JACK: Hmmm I'm telling you, aaaaah, ooooh, it's feeling so much better.

TOM: You're going to see Dr. Baker, aren't you?

JACK: Ar.... aren't, I aren't.... I am. Alright I am. Look this is the toughest decision I've ever had to make.

TOM: I'm glad you took my suggestion.

JACK: Yes, well perhaps you could do me a little favor. I mean not that you should but if you would.

TOM: I would.

JACK: Don't tell anyone about.... you know.

TOM: Well, it'll be our secret.

JACK: Especially Jennifer.

TOM: Jack this isn't anything you have to be ashamed about.

JACK: No, well that's easy for you to say. Now tell me where is doctor.... you know.... office?

TOM: Oh, right down the hall. Turn to your right.

JACK: Oh you mean right next to the (Whispering) head....

TOM: Yeah.

JACK: Yeah. You don't get a finder's fee for this do you?

TOM GIVES JACK A DISGUSTED LOOK.

JACK: I'm sorry, I didn't even ask it, didn't even ask it.

JACK WALKS DOWN TO THE DOCTOR'S OFFICE AND JUST AS HE LEAVES JENNIFER WALKS UP TO TOM.

JENNIFER: Grandpa, hi.

TOM: Jennifer.

JENNIFER: Have you seen Jack?

TOM: (Flustered by the question, since Jack promised him not to tell Jennifer.) Jack?

JENNIFER: Yeah, Jack. You know, tall guy, relatively good looking, usually walks around with his foot in his mouth. Have you seen him anywhere?

TOM: Ooooh. Why were you looking for Jack.

JENNIFER: Well my interview in New York went great but they said they needed a reference so I gave Jack's name. And now I need to warn him because the station might be calling him.

TOM: Oh I see.

JENNIFER: And I went to the newspaper and they said that he was here.

TOM: Well, as you can see, he isn't.

JENNIFER: Oh, well I really need to talk to him about this job reference.

TOM: Are you sure that's the only reason you're looking for him?

IT IS OBVIOUS THAT DESPITE WHAT SHE SAYS, SHE MISSES JACK, AND HER REASONS FOR SEEING JACK ARE MORE PERSONAL.

JENNIFER: Grandpa, Jack has made it perfectly clear that things are over between us. From now on our relationship is strictly professional.
---
SCENE TWO: DOWN THE CORRIDOR JACK FINDS DR. BAKER'S OFFICE AND IS ABOUT TO KNOCK ON THE DOOR WHEN HE NOTICES A BLONDE WOMAN SITTING WAITING OUTSIDE.

JACK: Excuse me, do you mind if I make an observation?

WOMAN: Go ahead.

JACK: You don't strike me as the type to go see the shrink.

WOMAN: I wasn't aware there was a type.

JACK: Oh, yes of course. You know your basic neurotic manic depressive type. Minimum two personalities, easy on the mother complex.

THE WOMAN LAUGHS WITH JACK. THEN A MAN COMES AROUND AND UNLOCKS THE OFFICE DOOR.

MAN: Here you go Dr. Baker. I'm sorry I didn't get you new keys when I changed the lock.

WOMAN: No problem.

JACK THEN REALIZES THAT THE WOMAN IS DR. BAKER.

JACK: You're the doctor.

WOMAN: Whitney Baker. You must be Jack Deveraux, my first appointment. Why don't we step into my office?

JACK SHAKES HER HAND AND IS VERY NERVOUS.

JACK: Sure, sure. Why me.... I mean.... why not. It's a Freudian slip.

JACK NERVOUSLY GOES INTO HER OFFICE BUT CHECKS THAT THE DOOR IS NOT LOCKED BEHIND HIM. HE PACES THE ROOM THEN PATS THE CUSHIONS ON THE SOFA WHERE HE FINDS A LONG STUFFED GREEN SNAKE. HE IS JITTERY, HE BABBLING AND NERVOUSLY PACING AROUND THE ROOM.

JACK: You know something, I love this office. I really do.

WHITNEY: I'm glad you like it.

JACK: No, no, I mean it's a little bit of everything. I mean it's feminine but not too feminine. It's.... ah.... it's professional but not too.... not too clinical.

HE THROWS THE SNAKE ACROSS THE ROOM.

JACK: And I love the painting. Look neoclassical. I love it.

WHITNEY: Early garage sale.

JACK: I especially love the psychiatric couch. I mean it's soft but not too soft. You know it has a nice feel to it if you want to let it all hang out.

JACK MAKES HIMSELF COMFORTABLE LYING BACK ON THE COUCH.

JACK: You know when I was born I was very young, I was. You know, funny thing, I had a dream last night.

WHITNEY: Did you?

JACK: Yeah, yeah. I dreamed about this train going into this tunnel, you see. It was this great big long train going into this little bitty tunnel. You see what I think.... I think that the train was my....

WHITNEY: Are you ready to move to one of the chairs now?

JACK: The chairs?

WHITNEY: Well you can stay on the couch if you'd like but I usually do my work over here.

JACK: Oh of course, why not? I must be out of my mind. I'm not, I'm not, I'm really not. It's just a figure of speech.

HE GETS UP AND MOVES TO A CHAIR.

WHITNEY: I'm glad you started seeing me.

JACK: Well it certainly sounds pretty serious doesn't it? I mean don't get your hopes up. This is not a long term therapy relationship. This is just one little problem and one little fix-it.

WHITNEY: One little problem.

JACK: Yes, well I mean that's what you folks do, you solve little problems.

WHITNEY: Is that another joke or are you serious?

JACK: I guess I'm serious.

WHITNEY: You guess?

JACK: I'm.... I'm.... yes.... no I'm not. Look this is the point. I'm not.... I'm not really sure if I'm the therapy type.

WHITNEY: Well why is that?

JACK: Well I'm not really sure if my insurance covers this. Hah!

WHITNEY GIVES HIM A TIRED AND BORED LOOK, KNOWING WHY HE IS MAKING JOKES, KNOWING THAT HE IS DOING IT TO AVOID HIS FEELINGS.

JACK: Heh, oh.

WHITNEY: More jokes.

JACK: I figured you could use a little humor.

WHITNEY: Some people use humor to cover their real feelings. I just thought maybe you were one of them.

JACK: No.

WHITNEY: Okay let's move on. Would you like to tell me why you're here?

JACK: Actually I'd much rather tell you how much.... I admire your post garage sale painting on the wall.

SHE SMILES. JACK'S EXPRESSION, AND TONE OF VOICE IMMEDIATELY CHANGE. HE BECOMES SERIOUS, FOR AN INSTANT DROPPING HIS MASK, ADMITTING HIS TRUE FEELINGS.

JACK: I love this girl and.... she's.... she's not quite right for me.... or I'm not quite right for her and I want to get her out of my system.

WHITNEY: Why don't you think you're right for this girl?

JACK: Do you know who you're talking to? I mean do you know who I am? Do you read the papers? In these parts I'm famous or rather infamous considering the perverse exploits of myself and my family. I mean it's all public knowledge. You could read about it.

WHITNEY: I know who you are. I know who your family is. But when you're a patient of mine I make no preconceptions. And until I get to know the real Jack Deveraux, I can't help you.

JACK: Well if that's the case I don't know if I can help you because that sounds expensive telling my whole life story. That will take way too much time.

WHITNEY: Jack it's up to you. I'd like to help. The question is what do you want?
---
SCENE THREE: THE SPECTATOR, JENNIFER HAS COME BACK TO LOOK FOR JACK.

JENNIFER: Jack! Vern, where's Jack?

VERN: Well he's probably still at the hospital. How's New York?

JENNIFER: New York was great. He's not at the hospital. I was just there.

AT THIS POINT JO ENTERS. VERN GETS SLIGHTLY FLUSTERED, IT APPEARS HE HAS A CRUSH ON JO.

JO: Jennifer, well I didn't expect to see you. How was New York?

JENNIFER: New York was great.

JO: Good.

JENNIFER: I'm looking for Jack.

VERN: I suppose you're looking for him too.

JO: Yes, I'm here to see my son. But I'm very glad I ran into Jennifer.

VERN: Well I'll just get out of your way. I wouldn't want to hold up this girl talk. Oh before I go, I would like to say you're looking especially fine today Jo.

JO: Well thank you Merv.

VERN IS DISAPPOINTED THAT SHE DOES NOT EVEN KNOW HIS NAME AND LEAVES.

JO: I'm glad to see you took my advice.

JENNIFER: Which advice?

JO: Coming back and working things out with Jack.

JENNIFER: I'm here on business.

JO: Huh, uh.

JENNIFER: Yeah, I need a reference for a job in New York and that's why I came to see Jack.

JO: Jennifer you're fooling yourself if you think strictly business is ever going to happen between you and Jack again.

JENNIFER: Mrs. Johnson I appreciate that you've always pulled for Jack and me and you deserve a lot of credit for all the changes he's made in his life.

JO: Oh Jennifer you've done much more for him than I ever could.

JENNIFER: Whether he admits it or not, Jack loves you. And being able to finally love his mother has helped him to love me. At least for a little while.

JO: He still loves you. You can't turn love on and off and Jack's no different than anybody else.

JENNIFER: Look I took your advice and I tried to reach out to him and I ended up getting hurt worse than ever.

JO: I'm so sorry but give him another chance.

JENNIFER: You know, I used to believe like you did that love itself could make Jack happy but it's not enough.

JO: But what more could he want?

JENNIFER: He needs to heal and I think it's time that you and I let him do that.

JO: Well, I'll admit that my son's had his share of pain. But who's to say that you two can't be together and you can help him work through that pain.

JENNIFER: We have to face it Mrs. Johnson, Jack might never want me back in his life.

JO: No! No, no, that's not true. Jack loves you and you belong together just like Justin and Adrienne belong together. I believe that more than anything and I am not giving up on you and Jack.
---
SCENE FOUR: BACK AT WHITNEY BAKER'S OFFICE, JACK IS STILL JITTERY AND STILL PULLING ANTICS. HE IS SITTING AT WHITNEY'S DESK PLAYING WITH A CHILD'S TOY.

JACK: Anyway, sorry. (He shakes the toy so the bell inside rings; then he puts it down on the desk) Stay. There was another time I just remembered. Jennifer came into my office with this strap-on.... baby carrier. She had this strap-on baby carrier and I almost threw her and the baby carrier right out on the street. I mean I'm always doing this sort of thing. Then there was this other time, there was this other time, I was.... I was.... I was....

WHITNEY: Jack, so far you've told me about how you've kept Steve and Kayla apart, how you used Melissa during your engagement, and how hurtful you've been to Jennifer. Why do I get the impression that you want me to think of you as a.... bad person?

JACK: Well I'm just.... I'm just telling you who I am.

JACK IS FEELING CLAUSTROPHOBIC AND HE LOOSENS HIS TIE AND STARTS TO SCRATCH HIS EAR.

WHITNEY: You're sure?

JACK: Well I'm sure that I'm just not quite the right type for Jennifer Horton.

WHITNEY: Why?

JACK: Well, look at her. I mean she's sweet, young, virgi.... well she's sweet and young and she.... she cares about people, she's concerned. She's sensitive, sometimes she's too sensitive. I mean you're beginning to get the picture here.

WHITNEY: Go on.

JACK: Go on to what? I mean there's nothing else to tell except that as a couple Jennifer and I are a joke. Don't you agree?

WHITNEY: Jack it's not my job to judge. It's my job to help. I want to help you get what you want.

JACK SUDDENLY LOOKS AT HIS WATCH. HE IS FEELING VERY UNCOMFORTABLE.

JACK: Oh I thought I heard my beeper. Well would you look at that, it's time to go.

WHITNEY: Yes it is.

JACK: Oh well, I think we almost solved all the problems of the world in one little session.

WHITNEY: Jack I think we made real progress. You took a big step just by coming here. Let me get my book. We'll arrange for another appointment.

JACK: I tell you what, let me get my book and I'll see if I've got any openings and if I do, that's great. If I don't, this has been a real mind expanding experience. Better than the sixties, really.

JACK ESCAPES OUT THE DOOR AND SIGHS WITH RELIEF. HE LEANS ON THE DOOR AND IT BEGINS TO OPEN. HE SLAMS IT SHUT FAST.
---
SCENE FIVE: JACK GOES BACK TO HIS OFFICE AND MARCHES IN THE DOOR. SOMEBODY IS SITTING IN HIS CHAIR WITH THE BACK FACING THE DOOR.

JACK: Alright, who's in....

JENNIFER SWINGS AROUND TO FACE HIM.

JENNIFER: Hello Jack.

JACK: Jennifer.... I though that you'd be in New York.

JENNIFER: I was in New York and I had my job interview and now I need a reference.

JACK: So you came to me.

JENNIFER: Yes. Will you give me one?

JACK: Sure, anything else?

JENNIFER: No, that's all. I guess I'll just go. Thank you.

JACK TURNS HIS BACK TO THE DOOR AS SHE LEAVES.

JACK: (Trying too be unemotional) Nice seeing you.

JENNIFER PAUSES.

JENNIFER: Goodbye Jack.

SHE SHUTS THE DOOR. JACK HURRIES OVER TO IT. HE IS ABOUT TO OPEN IT AND CALL HER BACK WHEN SHE PUSHES IT OPEN AND BANGS HIS NOSE VERY HARD.

JACK: OOOOH, OOOOH! OOH NO!

HE GRABS HIS NOSE AND CONTINUES TO RUB IT, IN A WAY HIDING HIS FACE WITH HIS HAND SO AS TO HIDE HIS TRUE FEELINGS FROM JENNIFER.

JACK: My nose, call the.... call the plastic surgeon, call the plastic surgeon.

JENNIFER: I'm sorry. I didn't even see you there.

JACK: BECAUSE YOU DIDN'T KNOCK. YOU NEVER KNOCK! MY NOSE WOULDN'T BE BLEEDING ALL OVER THE FLOOR IF YOU....

JENNIFER: If you weren't sleeping on the door knob then you wouldn't have... wait a minute. (Realizing that Jack was about to call her back.) You were there!

JACK: Of course I was there.

JENNIFER: What were you doing there Jack? Were you going to ask me to come back in? Were you coming back to get me?

JACK: (Still holding his nose) Was I coming back to get you?

JENNIFER: Yes, that's what I asked.

JACK: I was.... I was.... I was looking for Vern. You didn't see him out there did you?

JENNIFER: Jack why can't you ever be honest about anything and why do I try so hard at this and why do you hurt when you say you love me? Do you know how I felt that night when I woke up in your bed and found you gone? I mean after we made love and I told you everything about how I felt about you, you left me a note saying have fun in New York. How could you do that Jack? You know what making love means to me. It means trust and it means commitment and you left me a note. I've loved you so much but I'm not going to let myself get hurt again alright. I really wish that we could try and love each other but you won't try and I'm not going to fight anymore. So I'm going to walk out this door right now and if you let me go this time it'll be because it's over between us. Are you going to let that happen?

JACK CONTINUES TO SIT ON HIS DESK RUBBING HIS NOSE AND NOT FACING HER, SO SHE DOES NOT SEE THE PAIN ON HIS FACE FOR HURTING HER AND HOW MUCH SHE MEANS TO HIM.

JENNIFER: Alright, I guess that's your answer.

SHE GOES TO THE DOOR.

JENNIFER: The biggest mistake you'll ever make is not fighting for me Jack.

SHE SLAMS THE DOOR AND LEAVES. JACK'S SHOULDERS DROP WITH RELIEF. HE RUBS HIS NOSE AND TAKES OUT THE WHITNEY'S CARD.
[Transcribed by Carol Vaughan
added material by Sally A. Wilson]
---