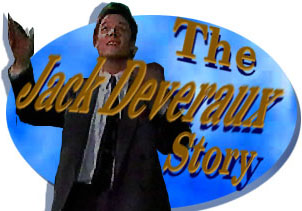 oldEpisode One-hundred-ninety-one: Jack
Tries to Convince Jennifer to Stop her
Foolish Masquerade; She Stubbornly Refuses.
---
[Air date mid-September 1990]
SCENE ONE: JENNIFER HAS JUST PRESENTED HERSELF TO JACK AS KATERINA VON LEUSCHNER. HE IS DUMBFOUNDED AT HER PLAN. SHE IS HOPING THAT HE WILL NOT GIVE HER SECRET AWAY. JACK'S MOUTH IS HANGING OPEN AS HE LOOKS AT HER.

JACK: (Speaking slowing and emphasizing what he is saying) I've.... been waiting.... a long.... time for this moment.... Miss von Leuschner.

JENNIFER: Call me Katerina. I'm very please to meet you Mr. Deveraux.

SHE EXTENDS HER HAND SO THAT HE CAN KISS IT. HE TAKES IT IN HIS.

JACK: Somehow I.... I doubt that very much.

HE KISSES HER HAND AS WARNER SPEAKS.

WARNER: What do you mean by that?

JACK RAISES HIS EYES TO LOOK AT JENNIFER. SHE IS STILL CONCERNED THAT JACK WILL GIVE HER AWAY.

WARNER: Is there something the matter Mr. Deveraux?

JACK: Something?

WARNER: Yes, why would you think Miss von Leuschner would be unhappy to meet you?

JACK: Um.... well.... ah.... just because.... (Trying to think of something to say) because of.... because of all the articles I've written about her. I'm sure she must be furious with me and I really wouldn't blame her.

JENNIFER GIVES HIM A SMILE OVER WARNER'S SHOULDER AND AN OKAY SIGN WITH HER FINGERS.

JENNIFER: I'll forgive you if you prints the facts correctly from now on.

JACK: Oh I'll print the facts as soon as I get them.

JENNIFER: Everything is exactly as you see. I'm not missing at all. You have proof of that now.

JACK: Oh I don't know. You just.... something about you just.... you're not exactly what I expected.

WARNER: Oh, how is that?

JACK: Well.... she just doesn't seem that much like an heiress to me. Actually she kind of reminds me of this old ex-girlfriend I had.

JENNIFER: (Angry) Oh do I? And why is it that this girlfriend's an "EX"?

JACK: Well, she had the biggest mouth. I mean big. And she got into so much trouble no matter how much I tried to keep her out of it.

HE IS ENJOYING THE SITUATION; YET ALSO VERY CONCERNED FOR HER, SEEING THAT SHE HAS PLACED HERSELF *WAY* OVER HER HEAD.

JENNIFER: Well maybe if you had've made some sort of commitment to her she wouldn't have done that.

JACK: Well it's kind of hard to argue with somebody who's so pigheaded. Boy I tried to keep her out of it, boy....

THE PHONE RINGS AND WARNER GOES TO ANSWER IT IN THE OTHER ROOM. AS SOON AS HE LEAVES JACK WANTS ANSWERS.

JACK: Alright heiress, what.... what do you think you're up to? Wait a minute, what do you think you're doing trying to impersonate an heiress?

JENNIFER: I was doing fine until you almost blew it Jack.

JACK: You know this is never going to work.

JENNIFER: It will if you don't screw up.

JACK: You know this is a crazy crazy thing.

JENNIFER: We'll talk about it later. Just leave before Warner gets back, do you hear me?

JACK: No, I'm not going anywhere without you.

JENNIFER: Oh Jack, don't do this again to me.

JACK: Yes I'm going to do it again. Going to dinner with him is one thing but getting involved in one of his hair-brained schemes is suicide.

JENNIFER: For your information this was my "hair-brained scheme," not his.

JACK: I don't care. I'm not letting you go through with it.

JENNIFER: You can't stop me anymore because I am your "ex-girlfriend," remember. The one who wouldn't listen to you and the one who won't listen to you know. NOW GET OUT!

WARNER BAYER HEARS THEIR SHOUTING AND WANTS TO KNOW WHAT IS GOING ON.

WARNER: What is going on in here? Why are you trying to get rid of Mr. Deveraux?

JENNIFER: (Trying to come up with an excuse.) Um because he wanted to take a picture of me and I said no but he insisted.

WARNER: But he hasn't got a camera.

JACK: (Helping her out) Ah.... that's true but she knew that I have a camera down in my car and I was going to go down, I'm sorry, bring it up and take a picture here. But I would be so happy if Miss Von Leuschner would come with me to my car to....

HE GRABS HER HAND TIGHTLY AND SHE TRIES TO PULL AWAY.

JENNIFER: Unhand me this instant Mr. Deveraux.

JACK: "Unhand me?"

WARNER: You heard Miss von Leuschner. I suggest that you just go. We want to avoid any possible publicity before the wedding.

JACK: You still have something hide?

WARNER: We invited you here this afternoon to prove that we have nothing to hide. Now you can see for yourself that Katerina is not missing. So you can now print a retraction for you claim that she is.

JACK: I'm not in the habit of retracting things.

WARNER: I would advise you to take it into consideration.

JACK: Oh I'm taking everything into consideration these days. But what the hey.... oh just for the record... I want to ask you one little thing. Do you still plan to marry Lawrence Alamain on your twenty-fifth birthday?

JACK TAKES OUT A NOTEBOOK AND PEN. HE PULLS THE TOP OFF THE PEN WITH HIS TEETH.

JENNIFER: There isn't a thing that could stop me.

JACK IS SURPRISED, SLIGHTLY HURT, AT HER ANSWER.

JACK: I er.... it's funny I have a lot of trouble believing that you're actually going to go through with this marriage.

WARNER: What difference does it make to you Mr. Deveraux if she marries Lawrence or not?

JACK: Well it's.... I don't know. It just comes as strange you know the.... the whole arranged marriage business.

JENNIFER: Why Mr. Deveraux, I didn't realize you were such a romantic?

JACK: I'm not. It's just seemed odd that.... ah.... that you would go through with this.

WARNER: Not only is she going through with it but we're flying to New York to meet Lawrence at the end of the week.

JACK: Well.... ah.... in that case let me be the first to offer you my condolences.... my congratulations. I mean think of it this way, the Alamains aren't losing a son, they're gaining an heiress.

JENNIFER: Thank you Mr. Deveraux, you may leave now.

JACK: You may just become a possible queen.

WARNER: Yes I think that's enough Mr. Deveraux.

JACK: I tell you what.... give us.... I want to know your registry number cause the whole.... the whole office is going to get together and get you a spoon or two, you know.

WARNER: Goodbye Mr. Deveraux.

JACK: Oh one more thing, one more thing. Miss von Leuschner, may I wish you the best of luck, because you're certainly going to need it.

HE TAKES HER HAND AND KISSES IT AND AS SHE PULLS IT AWAY SHE PURPOSELY HITS HIM ON THE NOSE.

JACK: OH! JENNIFER: Oh I'm terribly sorry. I'm so clumsy, I'm sorry.

JACK: That's okay. Just don't do it to your new hobby. He might trade you in on a Bugatti or a Lamborghini or something.

WARNER: Mr. Deveraux please.

JACK: Tootleloo!

JACK LEAVES.

JENNIFER: Well how did I do?

WARNER: I do believe we have fooled Mr. Jack Deveraux. Do you know this just might work after all.
---
SCENE TWO: JACK GOES DOWN TO WINGS FOR A STIFF DRINK AFTER SEEING JENNIFER. AS HE WALKS IN, HIS IMAGINATION TAKES OVER AND HE SEES HARPER AND DUKE SITTING AT A TABLE.

JACK: What are you doing here?

DAVE SEES JACK TALKING TO HIMSELF.

DAVE: I work here remember.

JACK: I wasn't talking to you.

DAVE: Is there by any chance a big rabbit sitting there, about six feet tall, goes by the name of Harvey?

JACK: You know that's really ridiculous Dave because there's no such thing as a big six foot rabbit.

DAVE LEAVES THINKING JACK IS WEIRD.

DUKE: Come on little Billy Boy, take a load off your feet. We've been waiting for you.

HARPER: We got a little hungry so we took the liberty of ordering for you. We know you're going to like it because it's your favorite food. Here have a little crow.

DUKE: How about some humble pie?

DUKE AND HARPER THINK THE WHOLE THING IS VERY VERY FUNNY.

DUKE: What's the matter, ain't got the stomach for it.

HARPER: Maybe a little bubbly seeing as you've got something to celebrate.

JACK: I.... don't know what you're talking about.

JACK HAS HIS HAND PARTLY COVERING HIS MOUTH SO THAT OTHER PEOPLE WILL NOT SEE HIM TALKING TO HIMSELF.


HARPER: We're talking about Jennifer.

DUKE: Yeah stop stalling will you. Come on, she's finally out of your life, come on.

JACK: How do you know about that?

HARPER: It makes perfect sense. Why should she stick around with a heel like you when she can have a catch like Lawrence Alamain?

JACK: No, no, it's not that at all.

HARPER: Don't kid yourself. She was never your type anyway. Listen to me, take it from me, you've got to find someone more your style like I did. Someone just as cold and ruthless as you are.

DUKE: Better still somebody like I had, somebody who wanted to be put in her place, who wanted to know who the boss was. Didn't I tell you to wait in the car? Shut up, shut up.

DUKE THEN PRETENDS TO HIT SOMEBODY.

JACK: You know I don't want to waste my time talking to you guys. I could be saving this all for my shrink.

HARPER: Your shrink! Now there's a woman to stay clear of. Talk about bossy.

DUKE: Now tell me something, do you really think that broad's going to help you?

JACK: I.... I think I've got better things to do than sit around here listening to you two. Yeah.... Jennifer it's not too late.

JACK GETS UP AND TURNS TO LEAVE.

DUKE: Hey Billy Boy, don't forget your doggy bag.

AS JACK LOOKS AT THE TABLE THEIR IMAGES FADE AWAY.
---
SCENE THREE: HE GOES TO THE LOFT AND WAITS FOR JENNIFER TO RETURN. AS SOON AS SHE GETS OUT OF THE ELEVATOR, THEY START ARGUING.

JENNIFER: Would you mind getting out of the way?

JACK: Not till we have a little talk your highness.

JENNIFER DUCKS UNDER HIS ARM AND HURRIES TO GET INSIDE. HE FOLLOWS HER.

JENNIFER: I already know what you're going to say and I don't want to hear it Jack.

JACK: That's tough because you're going to hear it anyway.

JENNIFER: Didn't you get the hint when I took the key away from you. I don't want you here Jack, alright.

JACK: Jennifer it is ludicrous if you think you are going to be able to impersonate Katerina von Leuschner.

JENNIFER PICKS UP HER WALKMAN AND PUTS ON THE HEADPHONES SO SHE CANNOT HEAR JACK. SHE STARTS TO HUM.

JACK: You can't do it.

JENNIFER: It's none of your business whether I do it or not.

JACK: You can't do it. These people do not play games. This is serious. Jennifer you are not playing a game here would you listen to me for a second.

JENNIFER: Lalalalalalalalala.

JACK: Would you listen.... would you.... would you....

HE SPINS HER ROUND AND PULLS OUT THE PLUG FOR THE HEADPHONES.

JACK: I am not.... this is for your own good okay. For your own good.

JENNIFER: Give me a break Jack.

JACK: YOU GIVE ME A BREAK!

JENNIFER: Why?

JACK: BECAUSE I CARE WHAT HAPPENS TO YOU! I'm not going to let you do this.

JENNIFER: Well don't tell me it's because you care Jack because you don't. You're just jealous that's all.

JACK: No that's not true.

JENNIFER: Oh it isn't? You hate the idea of me getting involved with another man especially someone as wealthy and handsome as Lawrence Alamain. You don't want me Jack but you don't want anybody else to have me either, right.

JACK: No, no, no, no, that's not it at all. I want you to be happy. I want you to find somebody who's going to make you happy.

JENNIFER: Well I thought I did.

JACK: You thought wrong.

JENNIFER: Well then just leave me alone Jack.

JACK: You know something I would leave you alone if I though this was about love but it isn't.

JENNIFER: You're right, it isn't. It's about you being out of my life for good.

JACK: Oh no.

JENNIFER STARTS TO PULL JACK TOWARDS THE DOOR AND HE INTENTIONALLY BANGS HIMSELF ON THE BENCH AS HE GOES.

JENNIFER: And there's nothing you can do about it Jack. Get out of here.

JACK: Oh, ouch, oh!

JENNIFER: You're so dramatic Jack.

SHE THROWS HIM OUT THE DOOR AND HE SPINS ROUND AND HITS THE ELEVATOR DOOR.

JACK: (Melodramatic) OH, OUCH, OH!

SHE SLAMS THE DOOR.

JACK: No it isn't over by a long shot.
[Transcribed by Carol Vaughan
added material by Sally A. Wilson]
---
---