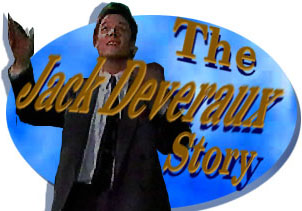 oldEpisode One-hundred-ninety-six: Jack,
Vern, and Nigel the Bum Work on a
Plan to Crash the Gala Embassy Ball to
Rescue Jennifer; Meanwhile, She Begins to
Realize Just How Dangerous Lawrence Really Is.
---
[Air date early October 1990]
SCENE ONE: IT IS THE NEXT MORNING, JENNIFER IS ASLEEP IN HER ROOM. THE SHELL RING IS ON THE NIGHT TABLE NEXT TO HER BED. SUDDENLY AT THE WINDOW A GORILLA APPEARS. HE CLIMBS IN AND SHE SCREAMS. HE GRABS HER.

JACK: Be quiet, it's me! It's Jack!

THE GORILLA RIPS OFF HIS HEAD AND IT IS JACK.

JENNIFER: Jack?

JACK: Yeah, you didn't know you had a Gorilla in your Midst, did you? HEHEHEHEHEH, love those jokes, don't you.

JENNIFER: How did you get in here?

JACK: What do you mean, it's New York City. If you want help, don't call a cop, if you want to climb a building, dress like a gorilla, nobody will notice. And they won't even notice if you're climbing back down with a beautiful blonde in your hands.

JENNIFER: Wait a minute, you want me to climb back down this building with you Jack?

JACK: Yes. Come on, this isn't a dry run for Halloween, let's get going.

JENNIFER: Okay.

JACK: Give me the head.

JENNIFER PICKS UP THE GORILLA HEAD READY TO PUT IT ON JACK.

JENNIFER: Let's put your hat back on.

JACK: My head.

JENNIFER: Hat.

JACK: Head.... head.... I....

JENNIFER: Ready?

SHE PULLS IT BACK OVER HIS HEAD AND HE PICKS HER UP. SHE IS WEARING A WHITE SATIN AND LACE NIGHT GOWN. HE STUMBLES TOWARDS THE WINDOW BUT TRIPS AND FALLS TOWARDS THE BED. SHE ENDS UP SITTING ON THE BED HUGGING THE GORILLA.

JENNIFER: Jack no wait. Arrrrgggghhh!

JACK: Arrrrggghhhh. Sssshhhh!

SHE STARTS TO BEAT HIS BACK AND SLOWLY WAKES UP FROM HER DREAM. LAWRENCE, INSTEAD OF JACK, IS HOLDING HER, SHE IS BANGING HIS BACK.

JENNIFER: I'm so glad you....

LAWRENCE: I had no idea you'd be this happy to see me.

JENNIFER: Lawrence, hi.

LAWRENCE: You were thinking of someone else.

JENNIFER: No, no, it's not that.

LAWRENCE: You don't have to cover with me Katerina. I can see how nervous you are and I know why.

JENNIFER GOES ON TO EXPLAIN THAT SHE WAS JUST HAVING A NIGHTMARE ABOUT A GORILLA. LAWRENCE ASKS HER IF HE WAS THE MAN WHO GAVE HER THE SHELL RING. SHE BRUSHES IT OFF AS NOTHING BUT HE SAYS THE REASON SHE KEEPS IT MUST BE A MAN. SHE SAYS THAT THERE IS NO MAN NOW SO LAWRENCE GIVES HER AN ENGAGEMENT RING WHICH IS HUGE. JENNIFER IS VERY SCARED OF LAWRENCE. HE USES THAT FEAR TO DOMINATE HER. GREGORY COMES IN, AND SHE MANAGES TO STEAL HIS KEYS SO THAT SHE CAN BREAK INTO LAWRENCE'S OFFICE.
---
SCENE TWO: BACK AT HIS HOTEL, JACK IS DRAWING UP PLANS TO RESCUE JENNIFER. HE IS WEARING A DEEP BLUE TURTLENECK SWEATER WITH THE SLEEVES PULLED UP. HE HAS A BLACKBOARD SET UP AND IS DRAWING A PLAN OF THE EMBASSY IN CHALK.

JACK: Okay, we've got to come all the way down here, watch out for the police. Okay turn here, take a left, take a right....

VERN: Stand up, sit down, fight, fight, fight.

JACK: Is that a joke? Are you trying to be funny? This is serious Vern. We need to get into the embassy ball tonight to get Jennifer.

VERN: Oh I'm sorry Jack but it looks to me like the play book for the Bears.

JACK: Why.... that's another joke? Is that funny? Are you being funny now, are you through?

VERN: Yeah.

JACK: Are you through being funny?

VERN: Yeah.

JACK: Good because it's time to back to the explanation. Alright, we're.... we're already inside, okay. Coming down the hallway and here's the ballroom. Remember the ballroom because that's where we were.

VERN: Huh, uh.

JACK: Okay, right here is Lawrence Alamain, right here is Jennifer surrounded by her honor guard. And over here is Jack Deveraux disguised as a dignitary. Now this is where you come in Vern.

VERN: Oh forget it!

JACK: What do you mean, forget it?

VERN: I mean I am tired of dressing up like a fireman, speaking in tongues and wearing a bear costume.

JACK: I never made you wear the bear costume.

VERN: Oh it crossed your mind up there in the mountains, don't say it didn't.

JACK LOOKS VERY GUILTY.

VERN: You know Jack, I used to be a sane rational man until by two lousy shares of stock you became my boss and since then I've been involved up to my eyeballs in yours and Jennifer's half baked schemes.

JACK: Wait a minute, there is nothing half baked about this. Look this is something we've got to do. We've got to get her out of there.

VERN: You really love her don't you?


JACK IS SURPRISED THAT HIS FEELS ARE THAT OBVIOUS. HOWEVER, HE TRIES NOT TO LET ON THAT VERN IS RIGHT.

JACK: Vern this is not about what I want. I just want to make sure that Jennifer doesn't have to be Mrs. Lawrence Alamain.

VERN: But you do love her.

JACK: I didn't say that.

VERN: Well why don't you just admit it?

JACK: Because we have more important things to do like get Jennifer out of this mess.

VERN: You know I'm beginning to catch on to this thing.

JACK: Well it's about time Vern.

VERN: You know you're trying to pull an end run.

JACK: An end run.

VERN: Yeah you know how it works when you try to avoid the defense.

JACK: Yeah, yeah.

VERN: Namely in this case, Jennifer.

JACK: I knew you were going to bring that up again. I knew it.

VERN: Well that's exactly what you're doing. You're using this caper to avoid your feelings for her.

JACK: If I was avoiding Jennifer, would I be going in after her?

VERN: Yes, because by avoiding your feelings you got her into this thing in the first place. Now you feel obligated to get her out.

JACK: No, that is where it ends Vern.

VERN: Now, does it? I've been around you and Jennifer long enough to know you belong with each other, whether you two know it or not.

JACK: Are you trying to be my father Vern?

VERN: Well maybe that's what you need.

JACK: Vern, those are mighty big shoes to fill. And think about what happened to the first two, alright.

VERN: Jack, all I'm saying is that it's alright to do these things for Jennifer because you care about her.

JACK: Watch those shoes Vern.

VERN: Oh!

JACK: I'm just saying that we've got other things to do before we.... before we think about what to do with Jennifer.

JACK AND VERN GO OUT TO WALK THROUGH THEIR PLAN.
---
SCENE THREE: THEY GO TO THE BACK ALLEY AND THERE THE WIRE GATES ARE SHUT.

JACK: First of all, this opens up, alright.

VERN: Alright.

JACK: Then, so we are coming down this road.

VERN HITS HIS HEAD ON A STREET LAMP.

JACK: Oh watch out for that.

VERN: Okay.

JACK: And over there, that's the embassy. Now remember, by this point I'm going to be disguised as a dignitary.

VERN: Oh it's going to take more than a costume to make you look like a dignitary Jack.

JACK: Like what?

VERN: Well like, do you know how to approach the embassy? Do you know anything about protocol, how to greet Lawrence

e or anybody else who might be there?

JACK: Well I'm sure it'll take more than a casual yo.

VERN: Now this Lawrence Alamain is no dummy Jack. You said that yourself. Now he's going to see through you in a minute.

JACK: (Beat) You're right.

VERN: What?

JACK: I said you're right.

VERN: Well, glad I could talk some sense into you to give up the cockamamie scheme.

JACK: No I'm not giving up any cockamamie schemes. I just need to find somebody to go with me, somebody who can cut through all this pomp and circumstance.

NIGEL: And pomp and feast and revelry with must and ancient prayer.

NIGEL WAS ASLEEP IN HIS CARDBOARD BOX RIGHT NEAR WHERE JACK AND VERN ARE STANDING.

VERN: I'm closer to the edge than I thought Jack. You tell me, please tell me, you heard that cardboard box speak.

JACK: That is not a talking cardboard box. That is none other than our own....

NIGEL: Nigel Peabody at your service.

JACK GETS AN IDEA.
---
SCENE FOUR: MEANWHILE BACK AT THE EMBASSY, JENNIFER HAS STOLEN GREGORY'S KEYS AND SHE DECIDES TO SEARCH LAWRENCE'S OFFICE. SHE USES THE KEYS TO GET INSIDE AND THERE SHE FINDS A PICTURE OF CARLY ON THE PIER IN SALEM. AS SHE IS LOOKING AT THE PICTURE, LAWRENCE COMES IN AND WANTS TO KNOW WHAT SHE IS DOING. SHE TELLS HIM SHE CAME TO SEE HIM BUT SHE ASKS HIM WHY HE HAS PICTURES OF CARLY. HE SAYS THAT IT IS BECAUSE OF HIS INTEREST IN THE OIL COMPANY JENCON AND CARLY SEEMS TO WANT TO STOP THE ADVANCEMENT OF THE COMPANY. HE GIVES HER A VAGUE THREAT THAT HE WILL HURT CARLY AND OTHERS IF SHE DOES NOT COOPERATE WITH THE MARRIAGE PACT. JENNIFER IS VERY SCARED FOR CARLY AND HERSELF.
---
SCENE FIVE: BACK IN THE ALLEY, JACK AND VERN HELP NIGEL TO HIS FEET. NIGEL CONTINUES TO QUOTE POETRY AS HE STAGGERS UP.

JACK: Milton, right?

NIGEL: Yes. Have we met?

JACK: Wait a minute, you don't remember me.

NIGEL: You do bear a striking resemblance to.... to a lovely maiden I once knew.

JACK: I am that.... lovely maiden.

NIGEL: You've had an operation.

JACK: No, no, no, no, no. It's me, it's Jack Deveraux. Don't you remember we slept togeth.... we slept.... we slept.... we slept in the same alley the other night.

NIGEL: Yeah, yeah, of course.

JACK: Yes.

NIGEL: I didn't recognize you without your red pumps on, sir.

JACK: Vern.

VERN: I don't want to know.

JACK: Good, good. Excuse us for a minute. Nigel, over here. Oh, could we talk? Listen could you do me a little favor?

NIGEL: Yeah, it's all yours.

NIGEL OFFERS JACK HIS BOTTLE.

JACK: No, no, no, no, no, no, really. I just remembered you said something about being a professor for a college?

VERN: Doesn't everybody on the street talk that way?

NIGEL: In my case sir, it happens to be true. It certainly happens to be true.

VERN: Oh wait a minute.

NIGEL: And I can prove it.

VERN: You're not going to recite Milton again, right.

NIGEL: It just so happens that I happen to have my Ph.D. somewhere here on the premises.

NIGEL BEGINS TO SEARCH THROUGH HIS CARDBOARD BOX, THROWING STUFF AT JACK AND VERN AS HE SEARCHES. FIRST HE THROWS OUT A TOY WITH A BELL, THEN A RUBBER CHICKEN. HE THEN PICKS UP A BLOWUP BOY AND INSTEAD OF THROWING IT, HE GIVES IT A KISS AND PUTS IT BACK IN HIS BOX.

NIGEL: Ah, da, da, da, da. Found it. Dee da, dee da da dee da. There!

JACK TAKES A DEEP BREATH AS NIGEL BREATHES ON HIM.

JACK: Oxford! Wait.... wait a minute. I could have sworn you told me the other night that it was Cambridge you went to.

NIGEL: I taught at Cambridge but studied at Oxford.

VERN: What was your field of study?

NIGEL: Oh it was.... it was.... interdisciplin.... interdiscip....

JACK: Interdisciplinary.

NIGEL: Thank you. Sociology, anthropology and linguistics focussing on the elite of all Europe.

JACK: What an amazing coincidence. That's exactly what I'm looking for.

JACK TRIES TO WAVE AWAY NIGEL'S BREATH EVERYTIME HE SPEAKS.

VERN: Jack, listen.

JACK: Excuse us.

VERN: Jack are you crazy? I know what you're thinking and it's not going to work. He's just an old lush with all kinds of fantasies. Screwball fantasies.

JACK: Just.... just hold that thought. Nigel?

NIGEL: Yes.

JACK: I've had a change of heart here. Perhaps I could do you a big favor. How would you like to spend an entire day as the elite ruling class?

NIGEL FALLS ON HIS KNEES AT JACK'S FEET.

NIGEL: Sir, it would be.... it would be an honor.

VERN: What's with.... look at him, god.

JACK JUST SMILES.
---
SCENE SIX: MEANWHILE BACK IN SALEM, CARLY HAS GONE TO WINGS BECAUSE SHE HAS FOUND OUT THAT NICK IS DOING SOME WORK FOR LAWRENCE. SHE BREAKS INTO NICK'S OFFICE AND LOOKS ON HIS COMPUTER FOR NEWS ABOUT HER LONG LOST BROTHER, FRANCOIS. SHE FINDS A FILE ON HIM AND IT SAYS THAT THE SUBJECT HAS BEEN ELIMINATED. CARLY THINKS THAT LAWRENCE HAS KILLED HER BROTHER.
---
SCENE SEVEN: BACK IN NEW YORK, JACK HAS TAKEN NIGEL BACK TO THE HOTEL AND HE IS TRYING TO SOBER HIM UP.


HE POURS HIM A CUP OF HOT SWEET COFFEE AND TAKES IT OVER TO NIGEL WHO HAS JUST COME OUT OF THE SHOWER WEARING JACK'S ROBE.

NIGEL: I see you've really come up in the world. Do you mind telling me the secret of your overnight success?

JACK: I'll tell yours if you tell mine. Why don't we start with a few little notes about the ruling class?

NIGEL: Oh no, in the morning if you don't mind. At the moment, I feel just a little bit fatigue.

NIGEL FLOPS BACKWARDS ONTO THE BED.

JACK: Oh, no, no, no, no. No you don't. Come on, come on upsadaisy.

NIGEL: Ooooh.

JACK: Yeah, time to have a little bit of coffee here.

NIGEL: Coffee.

JACK: Yes, this is going to have you up and perky in no time.

NIGEL: Is there perchance a little drop of.... in there?

JACK: There's cream and sugar.

NIGEL: Didn't think so.

JACK: Oh come on. We've got a lot of work to do before tonight. The coffee will make you sobered up. Hmmmm, yum yum yum. Oh there's plenty more where that came from, yeah, yum.

JACK HOLDS NIGEL'S NOSE AND POURS DOWN THE COFFEE.
---
SCENE EIGHT: A SHORT TIME LATER AT THE EMBASSY, THE PHONE RINGS IN LAWRENCE'S OFFICE. HE PICKS IT UP AND WE HEAR THAT IT IS NIGEL ON THE PHONE. HOWEVER, HE PRETENDS TO BE WARNER BAYER.

LAWRENCE: Hello Mr. Bayer. What a surprise to hear from you.

NIGEL: Thank you. I was looking for Miss von Leuschner and she's not in her suite. I was just wondering if perhaps you might know where she is.

LAWRENCE IS AWARE THAT IT IS NOT WARNER ON THE PHONE BUT HE GOES ALONG WITH IT.

LAWRENCE: In fact she's right here with me.

NIGEL: Oh.

LAWRENCE: (To Jennifer) It's Warner Bayer, he'd like to speak to you.

JENNIFER TAKES THE PHONE.

JENNIFER: Hello.

NIGEL HANDS THE PHONE TO JACK.

JACK: Good job Nigel. Jennifer, don't give me away. It's me Jack. (Beat) Are you over your shock?

JENNIFER: Yes.

JACK: Good, good. Keep pretending I'm Warner Bayer. I just wanted to let you know that the plan is set for tonight. I'm going to break into the embassy ball and I'm going to get you out of there.

JENNIFER: Maybe that wouldn't be such a good idea after all Mr. Bayer.

JACK: Wh.... tell.... what's wrong?

JENNIFER: I don't want you to go to a lot of trouble just to be at the ball tonight.

JACK: Ah, I hope this is part of put on because the plan has already been set into motion and by the end of tonight you're going to be free.

JENNIFER IS VERY SCARED AS LAWRENCE LEANS OVER HER SHOULDER. SHE BRUSHES HER HAIR ASIDE IN A NERVOUS GESTURE, THEN REALIZES THAT LAWRENCE IS AWARE OF IT.

JENNIFER: Please I don't.... I don't want that. I mean it.

JACK: What do you mean, you don't want to be free?

JENNIFER: Look it really isn't necessary for you to be there tonight.

JACK: What is that supposed to mean? What's wrong?

JENNIFER: Mr. Bayer I really appreciate everything that you've done for me but your assistance is no longer needed. Thank you very much.

JACK: Wait a minute Jennifer. Don't hang up, don't hang up.

JENNIFER: Yes.

JACK: Okay I can tell by the sound of your voice that something is wrong. I just want you to know that I'm going to show up there whether you want me to or not, alright.

JENNIFER: Please do as I say Mr. Bayer.

JENNIFER HANGS UP ON JACK. JENNIFER EXPLAINS TO LAWRENCE THAT WARNER ALWAYS THINKS OF HER HAS A CHILD AND LIKES TO CHECK UP ON HER. HE SAYS THERE IS NO NEED FOR THAT AND BRUSHES HER CHEEK WITH HIS FINGER GIVING HER COLD SHIVERS.
---
SCENE NINE: BACK AT THE HOTEL, JACK IS NOW MORE WORRIED THAN EVER FOR HER SAFETY.

NIGEL: Did a problem arise?

JACK: Nigel, it's time for you to take a nice long hot soak in the tub. We've got a big night ahead of us.

NIGEL: Yes.

JACK: That's right, just don't drown. Vern, good, you got everything I asked for?

VERN: I got everything you wanted. Look I still think....

JACK: I know what you think but I'm telling you we've got to get Jennifer out of that embassy tonight. It's more important.... now more than ever.

---
SCENE TEN: JENNIFER RETURNS TO HER ROOM AND PLACES HER ENGAGEMENT RING NEXT TO THE SHELL RING THAT JACK GAVE HER. SHE SITS WONDERING HOW THINGS WILL TURN OUT.
[Transcribed by Carol Vaughan
added material by Sally A. Wilson]
---