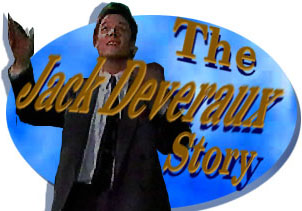 oldEpisode One-hundred-ninety-eight:
Despite What Jennifer Says, Jack Is
Determine to Rescue Her from the
Embassy; to Do so He Bribes His
Way into Being Her Personal Guard.
---
[Air date mid-October 1990]
SCENE ONE: IT IS THE NEXT DAY AFTER THE BALL AND LAWRENCE HAS ASKED JENNIFER TO SEE HIM IN HIS OFFICE. HE TELLS HER THAT IT HAS COME TO HIS ATTENTION THAT THERE WAS AN IMPOSTOR AT THE BALL. JENNIFER TRIES TO HIDE HER CONCERN FOR JACK.
---
SCENE TWO: BACK AT HIS HOTEL, JACK IS PLANNING HIS NEXT RESCUE MISSION.

VERN: Well now that you and the nutty professor have finished impersonating Lord Grenville and son, maybe we can get back to Salem, huh.

JACK: Well that's half right Vern.

VERN: Oh come on Jack, we've left The Spectator in other hands long enough.

JACK: That's why you're going back to Salem to take care of The Spectator and drop these off on the way.

HE HANDS VERN THE TAILS THAT HE WORE TO THE BALL.

JACK: I have to get Jennifer out of this mess.

VERN: Well I know I'm going to hate myself for asking but how do you.... how.... how do.... will you stop handing me this stuff.

JACK HAS BEEN SHOVING DIRTY LAUNDRY IN VERN'S ARMS.

VERN: How do you plan on doing it this time?

JACK: I can't tell you that Vern. It could put you in a hazardous state.

VERN: Oh so you admit the situation's dangerous, right.

JACK: Oh it's no trip to Disneyland, Vern.

VERN: Oh but old macho Jack, he's going to go in anyway, right.

JACK: Vern you said yourself that it was my fault that Jennifer's in this mess, so.

VERN: So.

JACK: So.

VERN: Well you're probably right but if you think this compulsion you have of rescuing her is to save your conscience, you better think again.

JACK: Say what?

VERN: Oh come on Jack, face it. I'm tired of trying to get through to you. You do all this stuff because you love her.

THERE IS A KNOCK AT THE DOOR.

JACK: Come in.

THEY BOTH SEE THE DOOR OPEN AND IGNORE IT BUT THEN TURN BACK FOR A SECOND LOOK. THERE IS NIGEL ALL DRESSED UP IN A NEW SUIT AND TIE.

VERN: Nigel?

NIGEL: Hmmm.

VERN: Is that you? You look like a million bucks.

NIGEL: Yes thank you gentlemen. I am the picture of senatorial splendor, am I not. It's amazing what a barber and a good haberdasher can do for one.

JACK: Yes. You look positively.... smarshing!

NIGEL: Oh Tharnk you.

JACK: Heheheheh. As a matter of fact, here's a little something to keep you that way.

JACK PEELS OFF A HUNDRED DOLLAR BILL FOR NIGEL.

NIGEL: Oh Jack you don't owe me anything more. Helping you was a privilege and a pleasure.

JACK: Good.

NIGEL: On the other hand I wouldn't think of insulting you by declining so generous a gesture.

JACK HOLDS ON TIGHT TO THE BILL AND MAKES NIGEL PULL IT FREE.

NIGEL: Thank you.

JACK: Just.... make sure you spend it wisely Nigel.

NIGEL: No more words, no more words. I know that you're afraid I'll squander this nobly earned cash on liquid refreshment. And indeed I have been known to imbibe on occasion. But I'm happy to tell you that I haven't touched a drop in almost.... almost twenty-four hours.

JACK: Really!

NIGEL: Hmmm, it's true. You know seeing the depth of your devotion to that little woman Jennifer and your determination to rescue her from her captors, it made me realize that perhaps not all the milk of human kindness is curdled yet and that true love can still triumph over adversity.

JACK: Well that's a lovely sentiment Nigel. However it's a little premature for triumph. I've got some things to do know, if you'll excuse me.

NIGEL: Well I won't take up any more of your time then. Oh there is one more thing and again thanks to you I made the acquaintance of Albert Chamier the headmaster of St. Guenivere's Academy. He's really rather a pleasant chap for a headmaster. He told me to drop by his office something and we'll have a chat, about possible employment.

JACK: Well, he'll never know what hit him.

NIGEL: Well.... goodbye old fellow. Thanks for everything.

NIGEL GIVES JACK A HUG.

JACK: Ah.... yeah. Good luck.

NIGEL: Thank you. To you too. To both of you.

VERN: So long Nigel.

NIGEL: Ah, in the words of a latter day bard, "all you need is love, love. Love.... is all you need." (This aired about the time of the tenth year anniversary of John Lennon's assignation.)

JACK: Coo-coo-ca-choo.

NIGEL LEAVES.

VERN: You know Nigel's brain may be muddled by too much wine for too many years but even he picked up on your feelings for Jennifer. You know I really think you gave him something he hasn't had for a long time. I think you gave him a little hope.

JACK: Vern I think you better save all this for the editorial page alright. We both have a lot of work to do.

VERN: Yeah right, yeah right. Well listen, good luck partner. It's been a romp. I just hope you and Jennifer can get out of it alive.

JACK: That makes two us, Vern.
---
SCENE THREE: BACK AT THE EMBASSY, JENNIFER ACTS SURPRISED THAT ANYBODY WOULD WANT TO CRASH THE BALL. SHE TRIES TO HIDE THE FACT THAT THIS UPSETS HER AND THAT SHE IS WORRIED ABOUT "THE IMPOSTOR," JACK. LAWRENCE SAYS THAT HE WILL FIND OUT WHO IT WAS AND DEAL WITH him. IT SEEMS THAT HE KNOWS MORE THAN HE LETS ON, AND THAT HE IS PURPOSEFULLY TRYING TO SCARE HER. GREGORY COMES INTO THE ROOM AND SHE LEAVES.

HE TELLS GREGORY THAT HE BELIEVES HIS VEILED THREAT HAS GOTTEN THROUGH TO HER, AND THAT SHE WILL BE SCARED INTO MAKING SURE THAT THE IMPOSTOR DOES NOT GET FURTHER INVOLVED.

MEANWHILE, SHE IS LEANING AGAINST THE DOOR TRYING TO LISTEN IN ON THEIR CONVERSATION. SHE IS TERRIFIED FOR JACK'S SAFETY.
---
SCENE FOUR: JACK DECIDES TO MAKE HIS WAY BACK INTO THE EMBASSY. HE DRESSES AS A SPY IN A TRENCH COAT AND HAT AND SMALL GLASSES AS WELL AS A GOATEE AND MOUSTACHE. HE GOES TO SEE THE CAPTAIN OF THE GUARDS. HE BEGINS BY SPEAKING IN HIS NORMAL VOICE.

JACK: I know that this is an unusual procedure for getting a job application but I figured that you were the man to talk to. You know, why waste time, go straight to the main man.

GUARD: You're wasting your time period. There are no openings.

JACK PULLS UP HIS COLLAR AND PEERS THROUGH HIS GLASSES, SQUINTING HIS EYES. HE SPEAKS IN A GERMAN ACCENT, SOUNDING LIKE A SPY FROM A 1940S B-MOVIE.


JACK: I wouldn't be so sure about that. I think we should check again.

GUARD: And what would want to make me do that?

JACK: Perhaps a little scene I saw here yesterday. A gentleman standing right where you're standing wearing plaid on plaid. He was hit by a limousine. He seemed hurt. Yes, four guards brought him into the embassy. A short time later the same four guards brought him out. I believe you were one of them.

GUARD: There must be some mistakes.

JACK: No, no, we don't make mistakes. I think what we have here is a security breach. Yes.... yes. Something that Mr. Alamain would not like. Mr. Alamain does know about this....

GUARD: This is blackmail. You're trying to blackmail me.

JACK: (Fake laugh) Heh.... heh.... heh.... heh. Yes.
---
SCENE FIVE: JENNIFER GOES BACK TO HER ROOM AND DECIDES SHE HAS TO WARN JACK THAT LAWRENCE MAY BE ON TO HIM. SHE PICKS UP THE PHONE BUT HER CALLS ARE BEING SCREENED.

JENNIFER: Damn, why is he doing this?

SHE TURNS AROUND TO FIND LAWRENCE IN THE ROOM WITH HER.

LAWRENCE: I didn't meant to startle you Katerina.

JENNIFER: Oh that's okay.

HE TELLS HER THAT IT IS TIME FOR DINNER AND HE OFFERS HIS ARM TO ESCORT HER. THEY WALK DOWN THE HALL FOLLOWED BY THE HONOR GUARD. JACK IS NOW ONE OF THOSE GUARDS.

JACK IS AWKWARD, AND AS THE OTHER GUARD, IN PRECISION, MARCH INTO THE DINING ROOM, JACK TURNS TOWARDS THE OTHER DIRECTION. HE HAS TO SKIP TO GET BACK IN LINE. HE CONTINUES TO BE AWKWARD. THEY ENTER THE DINING ROOM AND JACK PUSHES THE OTHER GUARD OUT OF THE WAY SO THAT HE WILL BE THE ONE TO HELP JENNIFER GET SEATED. HE HOLDS HER CHAIR FOR HER THEN PLACES THE NAPKIN ON HER LAP AND RAISES HIS CAP A LITTLE SO THAT SHE RECOGNIZES HIM. JENNIFER IS SHOCKED TO SEE HIM, BUT KNOWING HOW DANGEROUS THE SITUATION IS SHE TRIES TO HIDE HER SURPRISE. THE FIRST COURSE SERVED IS OYSTERS ROCKEFELLER. GREGORY COMES IN AT THAT MOMENT AND CALLS LAWRENCE AWAY FOR URGENT BUSINESS.

WHEN HE LEAVES JACK PROCEEDS TO TALK TO JENNIFER.

JACK: Excuse me madam. Methinks you need another napkin.


HE BEGINS TO TIE ONE AROUND HER NECK.

JENNIFER: Are you out of your mind?

JACK: No Madam. This is going to keep you from making a big mess.

JENNIFER: Jack, you've got to get out of here now before you get us both killed.

JACK: Allow me to cut one for you.

JACK KNEELS DOWN TO CUT HER FOOD.

JACK: What do you mean, leave. I went to a lot of trouble, blackmailing my way into the honor guard, just to keep an eye on you.

JENNIFER: I don't need you to keep an eye on me alright Jack. You're ruining everything.

JACK: Don't worry about a thing. I'll just blend right in with the wallpaper. You won't even notice me. Neither will Lawrence Alamain.

JENNIFER: Are you kidding me? He's probably noticed you already. He managed to figure out that there was in impostor at the ball so how do you think he's not going to recognize you under that dumb disguise.

JACK: (Pretends to be offended) Dumb disguise? I think this is downright spiffy. (Noticing the other guards are getting suspicious) I think this is one of the most tasteful things I own. Salt, salt. I think madam needs salt.

JENNIFER: (Playing along) Yes salt thank you. Salt would be very good. Thank you very much. Jack this is serious. If he finds you and I'm sure he will, he will kill you.

JACK: That scares you doesn't it?

JENNIFER: Yes of course it scares me.

JACK: I thought you hated me.

JENNIFER: I loathe you Jack but as I've pointed out before, I don't want to see you get murdered.

JACK: Don't get your blood pressure up. I'm willing to match wits with Lawrence Alamain any day.

JENNIFER: Well no offense but you'd be terrible mismatched. So please leave.

JACK: You talk about being concerned for my safety, it's a two way street. I'm not going anywhere without you. I'm staying right here. So, please enjoy.

JACK GOOSE-STEPS BACK TO HIS POSITION IN THE GUARD. JENNIFER DECIDES TO TALK TO HIM AGAIN.

JENNIFER: Can I have some pepper, please?

JACK: Pepper.

JENNIFER: What do you mean, you're not going anywhere. You're going somewhere. You're leaving now.

JACK: Says who?

JENNIFER: Says me.

JACK: You don't know what you're....

LAWRENCE WALKS BACK IN AND JACK STANDS UP AND RETURNS TO HIS POSITION.

JACK: I hope that's all that will be required.

JENNIFER: Yes, that's all thank you.

JACK: Thank you.

JACK GOOSE STEPS BACK INTO POSITION IN THE HONOR GUARD. JENNIFER ASKS LAWRENCE ABOUT THE IMPOSTORS BUT LAWRENCE SAYS THAT THERE IS NO MORE NEWS. HE THEN BEGINS TO TALK ABOUT THEIR FUTURE TOGETHER AND DISMISSES THE HONOR GUARD. JACK MARCHES OUT BUT IS RELUCTANT TO LEAVE HER WITH LAWRENCE.
[Transcribed by Carol Vaughan
added material by Sally A. Wilson]
---