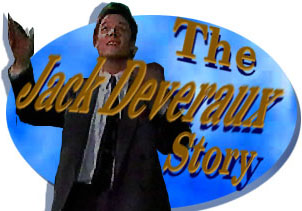 oldEpisode Two-hundred-two: Jack Remains
Vigilant at Steve's Side; Alice Gets Jack to
Tell Her About Jennifer, She Then Goes to
Help Her; Jack Has Another Session with
Dr. Baker. Steve Regains Consciousness.
---
[Air mid-October 1990]
SCENE ONE: JACK IS STILL IN THE HOSPITAL. HE HAS NOT SHAVED IN TWO DAYS AND HE IS WEARING THE SAME CLOTHES. HE LOOKS TIRED AND VERY SAD AS HE WALKS DOWN THE CORRIDOR. ALICE CALLS TO HIM.

ALICE: Oh Jack, Jack.

JACK: Mrs. Horton.

ALICE: I'm so sorry about Steve.

JACK: That makes both of us.

ALICE: I know how worried you are and I wouldn't trouble you know except that I'm so worried too.

JACK: What are you worried about?

ALICE: About Jennifer. Where is she?

JACK: Ah I don't know. Isn't she working on a story somewhere.

JACK: Really?

ALICE: Yes, really. She just disappeared and I think it has something to do with Lawrence Alamain. Am I right?

BO: Mrs. H.

ALICE: Hello Bo.

BO: What do you know about Lawrence Alamain?

CARLY IS LISTENING ALSO.

BO: Mrs. H why are so interested in Alamain?

ALICE: Well it's just that I know he's in someway connected with....

JACK INTERRUPTS.

JACK: Rich.... rich, rich, rich beyond your wildest dreams. Mrs. Horton was very interested in a series of articles I was writing and in fact she was hounding me day and night just to write some more articles from his point of view.

JACK SIGNALS ALICE TO DROP THE SUBJECT OF LAWRENCE.

ALICE: Ah, yes, yes he cut such an intriguing figure in that story that you wrote Jack. I'd like to know more about him.

BO: Oh I see. That's all there is to it.

JACK: Ah I think that is all there is to it. Why are you so interested?

BO: I'm just curious. ALICE: Well aren't we all. Maybe we should finish our talk over a cup of coffee Jack.

JACK: Coffee? I'd love to but I really.... I have....

ALICE: I think if you'll just come right in here. If you'll excuse us Bo.

JACK: Excuse us Bo.

ALICE DRAGS JACK INTO THE LOUNGE TO TALK IN PRIVATE.

ALICE: Alright, I'm waiting.

JACK: Okay here it comes. A nice hot cup of joe.

JACK POURS HIMSELF A CUP OF COFFEE, TRYING TO AVOID ALICE ASKING HIM ABOUT JENNIFER, REMEMBERING THE PROMISE HE MADE TO HER.


ALICE: Why did you lie to Bo out there just now? For heavens sake Jack, what is going on here? Jack I have to know what's happened to Jennifer. Where is she? Is she alright?

JACK: I don't know what makes you think I have any idea where she is.

ALICE: Jack, now come on, answer my question. Where is my granddaughter?

JACK: She made me promise not to tell you alright.

ALICE: Well tell me anyway.

JACK: I wish I could tell you. I really do.

ALICE: Jack, please. I love that girl just as much as you do and if she's in any trouble, I want to know.

JACK: Look you're not making this easy for me, you know that.

ALICE: I don't intend to. I intend to help my granddaughter if she's in trouble.

JACK: Huh, uh.

ALICE: Alright I'll go to the police.

JACK: Hmmm.

ALICE: I'll go to every newspaper in this town.

JACK: Newspapers.

ALICE: Yes. I'll just blow the top off of this if that's what I have to do.

JACK: No, alright, alright, don't do it. I'll tell you where she is.

JACK PROCEEDS TO TELL ALICE THE FULL STORY.
---
SCENE THREE: A SHORT TIME LATER. JACK HAS TOLD ALICE THE STORY. JACK PROCEEDS TO TELL ALICE THE FULL STORY.

ALICE: Jennifer is really in over her head this time. I just can't bear to think of her in that embassy all by herself.

JACK: Oh she'll be fine. Really, really, she's a grown up young lady. She can handle herself. Don't worry about a thing. In fact, I am going to be popping in and out of New York from time to time. So promise me something, don't tell anybody about this.

ALICE: You know I wouldn't.

JACK: Good. I'm going to go out and check and see how Kayla's holding up.

ALICE: Yes, yes and please give her my love.

JACK: I sure will.

JACK LEAVES.
---
SCENE TWO: JACK VISITS WHITNEY BAKER. HE IS ABOUT TO KNOCK AND THEN CHANGES HIS MIND, BUT SHE OPENS THE DOOR.

WHITNEY: Hello Jack.

JACK: Oh.... hi.

WHITNEY: Are you here to see me?

JACK: Ah.... um.

WHITNEY: My next patient just canceled. I've got the next hour free.

JACK: Well I hate to see you running at a loss for the day.

WHITNEY: Thanks.

JACK: You know there is something.... something I've been meaning to ask you.

WHITNEY: Hmmm.

JACK: Aren't you a little old to be playing with these?

HE HOLDS UP ONE OF THE SOFT FURRY TOYS SHE HAS IN HER OFFICE.

WHITNEY: Some of my patients are children.

JACK: Children!

WHITNEY: Yes, they use the dolls to act out their true feelings. Sometimes it's easier than talking directly.

JACK: Well you know they probably have to.

WHITNEY: So how are you?

JACK: Errgggh!

WHITNEY: Do you want to tell me what you mean by errgggh!

JACK: Nah.

WHITNEY: Jack.

JACK: Well what do you expect me to say. I've got a brother in a coma here. I've been walking the halls so long (He gives his right armpit a big sniff.)) I feel like my clothes could walk for me. I got Jennifer locked. Up in this.... in this embassy in New York. What am I supposed to feel?

WHITNEY: That doesn't answer my question.

JACK: Well maybe we could put in terms that even your youngest clients could understand. Allow me.

JACK SITS DOWN ON THE CHILD'S CHAIR IN FRONT OF A SMALL TABLE COVERED IN TOYS.

JACK: Let's see. What have we here? Let's see.

HE PICKS UP A PRINCESS DOLL WEARING A CROWN AND BLUE LACE DRESS.


JACK: Once upon a time in the Midwest, there was a doll named Jennifer. She was stubborn, headstrong and in danger of developing a serious princess complex. Actually she didn't realize just how fra....

HE REALIZES THAT ONE OF THE DOLL'S ARMS IS LOOSE. HE HOLDS UP THE ARM.

JACK: How fragile.... she could always use an extra hand.

WHITNEY: I'll take that.

JACK: Next.

HE PICKS UP A FROG.

JACK: Well....

WHITNEY: Well who is that?

JACK: Aaaah.... me! A trifle toady perhaps but a good froggy none the less. Out of the way.

HE PUTS THE FROG DOWN AND PICKS UP THE SNAKE WHICH IS ALSO A HAND PUPPET. JACK PUTS HIS HAND IN THE HEAD AND STARTS TO MOVE THE SNAKE LIKE A PUPPET.

JACK: Hahahahah .

WHITNEY: And who do we have here?


JACK: Well this is also me. This is my lounge lizard side of me. A little bit slimy but he gets the job done. See?

HE USES THE SNAKE PUPPET TO PICK UP THE FROG IN IT IS MOUTH.

JACK: Now are we making any sense of this?

WHITNEY: I think so.

JACK: Well that's one of us. I tell you we have here, we have a good sense of scale.

WHITNEY: Excuse me?

JACK: Well, my snakey side is a lot bigger than my good side.

WHITNEY: I noticed that but for a different reason.

JACK: Ah, what is that?

WHITNEY: Well, this is the first time you've even admitted to having a good side. That was a major breakthrough for you Jack.

JACK: Yeah, hold the presses.

WHITNEY: It's important that everybody acknowledge the good in himself.

JACK: Yeah, I think I'll put that on a fortune cookie.

WHITNEY: Jack, there's a lot of good in you and now that you've acknowledged that you can start by finding the answers in yourself.

JACK: Do you think people really want to believe that?

WHITNEY: You don't?

JACK: No.

WHITNEY: You will. I have faith in you. But to continue a metaphor, don't forget what happened to the frog when he gets kissed by the princess?

JACK JUST GIVES HER A HALF SMILE.
---
SCENE FOUR: JACK RETURNS TO STEVE'S ROOM WHERE KAYLA AND STEPHANIE ARE WITH HIM.

KAYLA: I think he's waking up.

JACK: Steve.... Steve it's me. Can you hear me?




KAYLA: Yeah, he can hear you. Jack's here with me and Stephanie, Steve. We're waiting for you. We're waiting for you to come back so we can take you home.

STEVE BEGINS TO OPEN HIS EYES AND KAYLA IS VERY EXCITED.
---
SCENE FIVE: MEANWHILE ALICE HAS DECIDED TO VISIT JENNIFER AT THE EMBASSY AND SHE HAS GOTTEN JULIE TO FIND OUT ALL SHE CAN ABOUT LAWRENCE ALAMAIN AND KATERINA VON LEUSCHNER. SHE THEN HEADS OFF TO NEW YORK TO SAVE JENNIFER.
---
SCENE SIX: JENNIFER IS IN HER ROOM, SCARED FOR HER OWN FUTURE, AND EVEN MORE TERRIFIED THAT SOME TERRIBLE HAPPENED TO JACK. THERE IS A KNOCK ON THE DOOR. IT IS LAWRENCE WITH A SPECIAL SURPRISE, ALICE. JENNIFER ALMOST CALLS HER GRAMN. BUT CORRECTS HERSELF. ALICE, INTRODUCES HERSELF AS CECILY SMYTHE, KATERINA'S OLD NANNY. THEY TELL HIM THAT EVER SINCE SHE WAS YOUNG SHE REFERRED TO CECILY AS GRANMA. THEY ARE RELIEVED THAT LAWRENCE BELIEVES THEIR EXPLANATION. HOWEVER, IT SEEMS AS IF LAWRENCE MAY BE MORE SHREWD AS TO THE GOINGS ON THAN HE LETS ON.
---
SCENE SEVEN: BACK IN SALEM, STEVE IS CONSCIOUS AGAIN BUT VERY WEAK. JACK GOES FOR THE DOCTOR.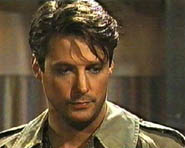 JACK: You just stay right there, I'll get Dr. Hopkins, I'll be right back.
---
SCENE EIGHT: JACK THEN GOES TO SEE JO AND TELL HER ABOUT STEVE. JO IS WITH NEIL IN THE LOUNGE.

JO: I hope your right Dr. Curtis because Steve is surrounded by love and you know I think he feels it. I just pray that it's enough to bring him back to us.

JACK: I think your prayers have been answered. Steve's back.

JO: Steve is back. You're saying Steve is awake.

JACK: Awake and conscious.

NEIL: There Jo what did I tell you?

JO: Ohhhh. I want to see him.

JACK: Oh I don't know about that but I'm hearing that the doctor's want to keep an eye on him.

JO: But he's going to be alright, isn't he Dr. Curtis.

NEIL: Well I don't want to raise your hopes prematurely but this is something to be happy about. Let's think positively.

JO: Oh absolutely.

NEIL: Listen I've got some patients to see. I'll check with you later. Jack (He Leaves).

JO: Listen we better.... we better call Justin and Adrienne and....

JACK: I tell you what, you call them and I'll meet you back at Steve's room, okay.

JO: Oh Jack?

JACK: Yeah.

JO: Thank you for telling me about your brother.

JACK: Sure.

JO: Jack?

JACK: Yeah.

JO: Thank you for being here with your family.

HE GOES TO LEAVES.

JACK: Jack?

JO LAUGHS AND SO DOES JACK.

JACK: I'll see you later.
---
SCENE NINE: BACK IN NEW YORK AT THE EMBASSY, JENNIFER ASKS ALICE HOW JACK IS.

JENNIFER: Who told you I was here?

ALICE: Jack.

JENNIFER: Jack! Is Jack in Salem? Is he okay?

ALICE: Yes, yes, he's fine.

JENNIFER: Oh thank god.

ALICE: He didn't want to tell me about all this. I practically had to drag it out of him.

JENNIFER: Well it's nice to know he's trying to be discreet. What made him change his mind?

ALICE: When he saw how worried he was about you. But don't worry, he won't blow your cover and you know I won't.

JENNIFER: How did you find out about all these details, even Jack didn't know about Cecily Smythe.

ALICE: Julie got me the folders on everything she could about the Alamain family and the von Leuschner family. When I ran across Cecily Smythe, Katerina's old nanny, I knew she was my ticket into seeing you.

JENNIFER TELLS ALICE THAT SHE AND JACK ARE GETTING ON MUCH BETTER NOW AND SHE IS HAPPY. ALICE IS HAPPY TOO, GLAD THAT JACK AND JENNIFER ARE BACK TOGETHER.
[Transcribed by Carol Vaughan
added material by Sally A. Wilson]
---