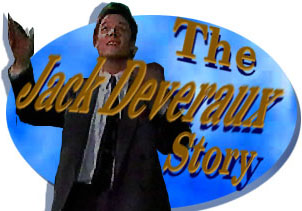 oldEpisode Two-hundred-three: Everyone
Rejoices over Steve's Apparent Recovery;
However, Lawrence Has Someone Poison
Steve's IV; Hearing about Steve, Jennifer
Is Determined To Return to Salem for Jack.
---
[Air mid-October 1990]
SCENE ONE: JENNIFER TELLS ALICE THAT JACK WENT TO GET STEVE AND SHE IS BEEN GOING CRAZY WONDERING WHAT HAPPENED TO HIM.

ALICE: Oh Jennifer, I can tell you why Jack didn't come back.

JENNIFER: (Worried) What do you mean? You said Jack was fine.

ALICE: No, no, there's been a terrible accident. Steve is seriously hurt.

JENNIFER: What?

ALICE: Jack couldn't come here because he couldn't leave his brother.

JENNIFER: Well why, is Steve going to be okay?

ALICE: The doctors aren't at all sure that he's going to make it.

JENNIFER

Oh my god, I've got to get home, Jack's going to need me now more than ever.
SCENE THREE: BACK IN SALEM, JACK PAUSES OUTSIDE STEVE'S ROOM BEFORE GOING IN ALLOWING KAYLA AND STEVE TO TALK. HE HEARS AS SHE TELLS HIM THAT EVERYONE HAS BEEN WORRIED ABOUT HIM. JACK IS EMOTIONAL, GLAD THAT STEVE IS ALIVE. HE THEN HEARS HER TELL STEVE THAT JACK WAS BY HIS SIDE THE WHOLE TIME.



KAYLA: As a matter of fact, Jack, he was by your side just about every minute.

JACK ENTERS.

JACK: Well.

STEVE:

I had a feeling about that. Thanks Jack.


JACK:

It was nothing. I'm a newspaper man. Somebody's got to report the story.

STEVE: Oh shut up.

JACK: I think he's feeling better.

STEVE: Just listen to me. I appreciate that you were here with me Jack, okay.

JACK: Well.... if that's the case, maybe there's a little something that you can do for me?

STEVE: Really. Ah, I'll be happy to help you out if it doesn't involve standing up Jackson.

JACK: Um actually, it's.... the problem is Jennifer. She's in big trouble and I want you to get better so you can help me get her out of it.

STEVE: I'm in no shape to help you get your woman out of trouble. You can see that. You're going to have to do it yourself.

JACK: Well you see that's the problem. You see I tried myself and.... ah.... it didn't work out, you see.

STEVE: You get my wallet over there. Just get my wallet for me baby, will you?

JACK: What's.... what's in the wallet.

STEVE: Never mind, don't ask me any questions. Give it to him.

JACK TAKES THE WALLET FROM KAYLA.

STEVE:

Open it up, behind the driver's license on the left side. There's a little picture.... there you go. That's the one.

JACK TAKES OUT A SMALL BLACK AND WHITE PICTURE OF HIMSELF AS A BABY SITTING ON STEVE'S KNEE.

STEVE: You see that.

JACK: It's a picture of.... you and me.

STEVE: That's right. That's you and me.

JACK: What, are you telling me you've been carrying this around?

STEVE: Yeah. I've always carried that around but now I want you to have it.

JACK IS FEELING VERY EMOTIONAL.

JACK: Why do you want me to have this?

STEVE: Why, because you look this here you see. We're brothers, we're made of the same stuff, you notice that? Okay. So that means you put your mind to it, you can do anything you want to do. You can take care of yourself and Jennifer.

JACK NODS.

JACK: I'll.... take your advice.

STEVE:

Alright, you do that.

AT THAT MOMENT A DOCTOR COMES IN CARRYING A NEW IV BAG. HE IS THE DOCTOR THAT LAWRENCE HAS SPOKEN TO.

DOCTOR:

I'm sorry Mrs. Johnson but you'll have to leave while I run those tests we talked about.

KAYLA: Alright. We'll be back in as soon as the doctor finishes.

STEVE: Okay.

JACK: Me too.

STEVE: Yeah.

KAYLA AND JACK START TO LEAVE.

STEVE: Hey Billy Jack, Happy Jack, Deveraux Johnson, come here. Come here. Give me five.

STEVE EXTENDS HIS HAND AND JACK TAKES IT AND THEY HOLD ON FOR A FEW SECONDS.

STEVE: I believe in you. It's time you started believing in yourself. Now you take a look at that little picture of us. You look at that and remember how much I love you.

JACK NODS AND AT THE DOOR, KAYLA HAS TEARS IN HER EYES. JACK SMILES BUT IS UNABLE TO SAY THE WORDS BACK TO STEVE.

STEVE: Okay.

JACK: I'll be back, I'll see you.

THEY LEAVE AND THE DOCTOR HOOKS UP THE NEW BAG.
SCENE SIX: IN SALEM, JACK GOES BACK TO SEE JO WHO IS TALKING TO NEIL.

JO: You have no idea what it meant to have Steve say he loves me.

JACK OVERHEARS THOSE WORDS AND STOPS.

JO:

Ever since the day I gave my boys away I've dreamed about the day that both of them would learn to love me again.

NEIL NOTICES JACK LISTENING.

NEIL:

Jack.

JO: Jack.

JACK: Hello.

NEIL: Jo, I'll be in my office if you need anything. Jack.

JACK:

Neil, again.

NEIL LEAVES.

JACK IS POURING COFFEE. HE TRIES, BUT NOT TO SUCCESSFULLY TO REVEAL HOW HAPPY HE IS.

JACK:

Oh I'm fine. But you don't look so good. (Pouring coffee) Do you need some of this delicious coffee, maybe some delicious tea or maybe some del.... green noodle casserole.

JO: I just need you.

JACK: Well I'm here.

JO: I didn't exactly mean it that way.

JACK: I'm trying.... Jo.

JO: I know you are and you know something.... that's enough.

SHE GIVES HIM A BIG HUG AND HE SMILES. THOUGH HE MAY PRETEND TO THE CONTRARY HE ENJOYS ALL THE AFFECTION FROM JO; AND HAS COME TO ACCEPT HER AS HIS MOTHER.
SCENE SEVEN: BACK IN STEVE'S ROOM, KAYLA HAS RETURNED BUT STEVE SEEMS TO BE GETTING VERY SICK AGAIN. HE BEGINS TO BREATHE HEAVILY AND STRUGGLES TO STAY CONSCIOUS. KAYLA PANICS AND CALL THE DOCTOR BUT STEVE CONTINUES TO DETERIORATE AND THE DOCTORS TRY TO RESCUCITATE HIM. KAYLA IS CRYING IN THE CORNER WHEN JACK RETURNS.

JACK: Kayla, what?

NURSE:

Coming through.

JACK LOOKS HORRIFIED AS HE SEES WHAT IS HAPPENING.

JACK:

Kayla I think we better go. Kayla, we better go. Sit down out here.

ALL THE TIME THE DOCTORS AND NURSES ARE SHOUTING AND TRYING EVERYTHING THEY CAN TO SAVE STEVE. JACK AND KAYLA ARE BY THE DOOR, HORRIFIED, AS THE HELPLESS WATCH STEVE DETERIORATE.

KAYLA:

No he needs me here.

JACK: No, no, I think maybe we.... we'd be better if....

KAYLA: Just let me talk to him, just let me talk to him and he'd live, I know he will.

JACK: They know what they're doing.... they know what they're doing, you know.

THEY TRY TO RESTART STEVE'S HEART BUT IT IS TOO LATE.

JACK: We'll be right outside. We'll be right here, we'll be right here.

KAYLA: Everything was okay. He was okay. What happened, what happened?

JACK: Kayla, please....

MARCUS AND BO ENTERS.

MARCUS: Get her out of here right now.

JACK: Marcus.

MARCUS: LEAVE KAYLA NOW. GO.... GO!

MARCUS GOES TO HELP STEVE AND BO AND JACK TAKE KAYLA OUTSIDE.

KAYLA: Everything's going to be fine. He'll be fine, he has to be.

JACK: He will be.... he can.

KAYLA: Marcus will help, yes. Marcus will help.

IN THE ROOM, MARCUS TRIES FOR A LONG TIME BUT THERE IS NOTHING HE CAN DO TO RESUSCITATE STEVE. HE DECLARES HIM DEAD THEN GOES OUT TO SEE KAYLA AND JACK.

KAYLA TRIES TO GO IN THE ROOM.

MARCUS: Now listen to me, wait.

KAYLA: Please.

MARCUS: You can't.... he's gone, he's gone.

WHILE KAYLA IS TALKING TO MARCUS, JACK RUNS AWAY TO FIND JO.
SCENE EIGHT: WHO IS IN NEIL'S OFFICE WITH ADRIENNE AND JUSTIN.

JO: Jack.

ADRIENNE: What happened?

JO: Any news about Steve?

JUSTIN: Jack what is it?

ADRIENNE: What's going on?

JACK SLOWLY SHUTS THE DOOR AND HIS FACE SAYS IT ALL.


JACK:

I... ah.... I was looking for you. I couldn't find you earlier.

ADRIENNE: Well we were here.

JO: Something's wrong. It's Steve isn't it? Something's happened to....

ADRIENNE: Momma.

JO: No, no. It's okay. Has something happened to my son?

JACK: YES, something's happened.

ADRIENNE: Justin.

JO: No!.... No, it can't be. No! Stevie....

ADRIENNE: Momma, come here.

JO FALLS INTO ADRIENNE'S ARMS CRYING.

JACK: They thought he was doing better and all of a sudden they couldn't do.... anything else for him.

JO: You know what, I got to tell him that I loved him and how very proud.... very proud that I was of him. And you know he told me too. I will always have that, I will always have that.

JACK IS SILENT WITH ALMOST NO EXPRESSION ON HIS FACE AS HE THINKS OVER THE OPPORTUNITY HE LOST TO SAY THOSE WORDS TO STEVE.

ADRIENNE: I think he knew momma. I think he came out of it just long enough.

JUSTIN SUGGEST THAT HE TAKES ADRIENNE FOR A WALK AND JO SAYS SHE WILL BE FINE RIGHT THERE.

ADRIENNE: Jack.

JACK: That's okay, you go ahead. I'm going to be.... I'll be right here.

ADRIENNE:

Jack I'm here for you too.

ADRIENNE AND JUSTIN LEAVE.

JO:

Jack.

JACK: Look you don't have to say anything. You said what you had....

JO: We knew. We all knew.

JACK: Look I.... I had a chance to say something and I didn't. So I didn't. I didn't.... I didn't see.... I couldn't see.

JO: You couldn't have known. But that's why family is so important. It's very important.

JACK: Would just stop.... would you just stop trying to be strong for just a second. Just stop that. I had a chance and I blew it.

JO: Billy, you listen to me. Now your brother knew how you felt about him and he felt the same way about you. He always did. Now that's the truth. He didn't need to hear your words because he knew. Your brother knew.

JACK: You think so, huh?

JO: I know so.

JACK:

You think he knew when I didn't even know myself, really?

JO: Yes.... really. You're brother always knew.

JO AND JACK GO TO BE WITH KAYLA.