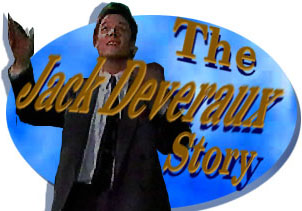 oldEpisode Two-hundred-five: Steve's
Funeral; Jack Goes to New York to
Rescue Jennifer. She and Alice Have Been
Forcably Taken to Lawrence's Country.
---
[Air date late October 1990]
SCENE TWO: IN SALEM, JACK ARRIVES AT THE CHURCH WITH JO, THEY STOP IN THE VESTIBULE.

JACK: Are you ready for this?

JO: No one's ever ready Jack.

JACK: Right, right.

JACK LOOKS BACK OUT THE DOOR FOR JENNIFER.

JO: I'm sorry that Jennifer is not here for you. I'm sure she could have helped. Wasn't she supposed to be here?

WHILE THEY ARE TALKING JULIE AND TOM ARRIVE.

JULIE: Jack.

JACK: Yes.

JULIE: Have you heard from Jennifer?

JACK: Um.... no, but I know that's she's going to be here. She will.

JO: Jack.

JACK: Excuse me, I think it's time.

JULIE: My condolences on your loss.

JACK: Thank you.

TOM: We'll see you inside.

JACK:

Let's go.


JACK ESCORTS JO INTO THE CHURCH. THEY SIT IN THE FRONT PEW ON THE RIGHT SIDE FACING THE ALTAR. THE SERVICE BEGINS WITH KAYLA ASKING EVERYONE TO CELEBRATE THE JOY OF STEVE'S LIFE.

THROUGHOUT THE SERVICE, DURING EVERYONE'S REMEMBRANCES OF STEVE, JACK'S FACE IS SOON, HE IS IN DEEP PAIN OVER HIS LOSE, AND THE FACT THAT IN THE END HE WAS UNABLE TO TELL STEVE HOW MUCH HE LOVED HIM. JACK ADVERTS HIS FACE FROM EVERYONE, TO HIDE FROM THEM THE PAIN HE IS SUFFERING.
SCENCE NINE: KAYLA IS LAST TO SPEAK. EVERYBODY LEAVES FOR THE CEMETERY. AS KAYLA IS LEAVING, JACK STOPS HER.

JACK:

Kayla. I'm.... I'm not going with you to the graveyard.

KAYLA: Alright.

JACK: I'd like to explain. Ah, Jennifer didn't show up today and she was supposed to and.... ah.... Steve told me something. He basically told me to get off my backside and do something about her. I'm going to New York to do that.

KAYLA: I understand.

JACK: I....

KAYLA: I'm glad that he could help you.

JACK: Yeah, I.... I think he still is, you know.

KAYLA: I know.

JACK: Anyway, there's something else and I don't know quite how to say this but.... ah.... things were changing for the better.... for all of us.... for you and me. I don't want to lose that.

KAYLA: I think that's what Steve wanted.

JACK: I think so.

KAYLA PUTS HER HAND OUT AND JACK TAKES IT. THE MOMENT IS EMOTIONAL AND SPECIAL FOR THE BOTH OF THEM. DESPITE THE PAIN OF THE PAST, THEY HAVE BEEN UNITED IN THEIR GRIEF AT THE LOSS OF STEVE.

KAYLA: And I don't want to lose that. Good luck with Jennifer.

JACK: Thank you. (Beat) I'll see you.

KAYLA:

Yeah.
SCENE ONE: ON THE PLANE, JACK HAS DOZED OFF AND HE IS DREAMING OF MAKING LOVE WITH JENNIFER AT THE EMBASSY. THE FLIGHT ATTENDANT COMES ALONG AND ASKS HIM TO PUT HIS TRAY IN THE UPRIGHT POSITION. JACK GRABS HER HAND IN HIS DREAM.

FLIGHT ATTENDANT: Sir, sir.

Oh, oh. (He wakes up) Oh I'm glad I got your attention.

FLIGHT ATTENDANT: Is something wrong?

JACK: Yes I can't get it up. I mean, it's defective (Realizing the double entendre of what he just said). I mean the desk, it's defective. I can't get it up into the upright.... you know into the upright position. Like that. I don't want to delay the flight.

FLIGHT ATTENDANT: Certainly not.

JACK: Federal regulations, you know.

FLIGHT ATTENDANT: Jennifer's a very lucky lady.

JACK: I beg pardon.

FLIGHT ATTENDANT: To have someone who cares about her as much as you obviously do.

JACK LOOKS A BIT EMBARRASSED.
SCENE FOUR: MEANWHILE JACK HAS ARRIVED IN NEW YORK AND HE HEADS STRAIGHT FOR THE EMBASSY.

JACK: Special delivery for Lawrence Alamain.

GUARD: May I ask who's.... wait a minute I know you.

JACK: And I know you.

GUARD: And I have orders to shoot you should you try to step on the embassy grounds once again.

JACK: You know I really think Lawrence Alamain wouldn't appreciate this hospitality.

GUARD: Blackmail won't work this time.

JACK: Oh.

GUARD: Mr. Alamain is gone.

JACK: What do you mean, he's gone?

GUARD: What business is it of yours?

JACK: What am I doing talking to you, I'm going to go see for myself.

THE GUARD STICKS HIS RIFLE IN JACK'S SIDE.

JACK: Whoa, whoa.

GUARD: The only thing you will see is the wrong end of this gun and if you persist it will be the last thing you will see.

JACK: You know you obviously don't realize who you're messing with. I'm a close personal friend of the NYPD, all of them.

GUARD: Get them then but let me just warn you. They don't take kindly to people harassing foreign embassy guards.

JACK: Oh well we'll just see about that won't we because I'm goin to get to the bottom of this.

JACK GOES AND GETS A POLICEMAN. IT IS THE SAME POLICEMAN FROM THE TIME JACK WAS MUGGED, WHILE IN DRAG, PRETENDING TO BE MRS. BAYER.

POLICEMAN: You better have a darn good reason for dragging me all the way over here mister.

JACK: Oh I'm Deveraux, your old buddy Jack. Listen, I'm telling you this is the place where an American citizen is being held against her will. Right here in this embassy. Yep.

AT THAT POINT THE AMBASSADOR COMES OUT.

AMBASSADOR: Hello officer. I am Ambassador Pejar. Is there a problem here?

JACK: Yes absolutely, there is a big problem here. There is an American citizen being held against her will right here in this embassy and I want to know what you want to do about it.

POLICEMAN: You want to let me take care of this.

JACK: Oh.

POLICEMAN: There is such a thing as diplomacy. Ah sir, I realize technically this embassy is foreign territory. I have no authority to investigate but if you any idea what this guy is talking about I'd appreciate it if you could set the record straight.

JACK: Ah....

POLICEMAN: You know anything about a woman being held against her will?

JACK: Wait a minute, he knows. Believe me he knows. He's seen.... wait a minute, let's just clear this up right now.

JACK GETS OUT A PICTURE OF JENNIFER AND SHOWS THE AMBASSADOR.

JACK: Okay, right here, I've got a picture of a young lady, blonde, about yeh tall, check this out. Do you know where she is? I know you do.

AMBASSADOR: I know this woman.

JACK: Right.

AMBASSADOR: She's Katerina von Leuschner, Lawrence Alamain's fianc√e.

JACK: Look we're wasting our time. Let's just go and get her ourselves. Let's go.

AMBASSADOR: I'm sorry sir, I'm afraid that would be impossible.

JACK: And why is that?

AMBASSADOR: Because Mr. Alamain has taken her back to his country.

JACK: He what?

POLICEMAN: Oh well that settles that then. Thank you Mr. Ambassador. Better luck next time buddy.

JACK: Wh...wait a minute. This doesn't settle anything. They've taken her away, that's kidnapping. That's police business.

POLICEMAN: Not if it involves a foreign country. Then it's in the hands of the State Department and your friend is out of my jurisdiction.

JACK:

Oh yeah, well I tell you something, she's not out of my jurisdiction.
SCENE SIX: IN NEW YORK, JACK BOARDS A PLANE FOR LAWRENCE'S COUNTRY. THE LADY NEXT TO HIM IS READING A ROMANCE NOVEL. JACK NOTICES IT.

JACK: Once A Hero, huh? Ah the titles they come up with for these books these days. What's it say in there, what's it say? You gotta have hope, courage and confidence for a man to be a hero?

LADY: It takes all those things I guess.... and it's woman.

JACK: Oh.... yeah. Well you know, man, woman.... yeah.... I knew somebody like that once.

JACK LOOKS WISTFULLY OUT THE WINDOW OF THE PLANE, THINKING OF STEVE AND JENNIFER.