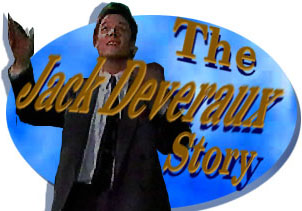 oldEpisode Two-hundred-ten: Alamania Part V:
Jack Dreams He Is Jack-bo; Harper and Duke
Give Him a Medal for Cowardice. Julie, Shane,
and Kayla Find Him; They Go to Lawrence's
Villa to See What Happened to Alice and Jennifer.
---
[Air date early November 1990]
SCENE ONE: JACK IS ASLEEP ON THE GROUND, HE IS DREAMING. HE IS RAMBO WITH FAKE, EXAGGERATED MUSCLES AND BLACK HEADBAND. HE IS STALKING AROUND THE VILLA BEATING UP GUARDS AS HE GOES. HE IS IMITATING SLYVESTER STALLONE, AND JACK SOUNDS LIKE STALLONE'S ROCKY.

JACK: (Mixing all of Stallone's character's stock sayings) Go for it, I'm your worst nightmare! Yo, Adrienne..... I mean.... Jennifer, it's me, Jackbo.

HE KNOCKS IN HER DOOR AND GOES INSIDE POINTING HIS RIFLE AT EVERYTHING BUT SHE IS NOT THERE.

JACK: Yo Jennifer....oh, yo.

IN WALK HARPER AND DUKE WHO ARE ALWAYS PART OF JACK'S SUBCONSCIOUS. THIS TIME THEY ARE DRESSED IN MILITARY UNIFORMS. HARPER IS A GENERAL, AND DUKE IS AN OFFICER.

HARPER: Long gone soldier.

DUKE: At ease, sonny boy. It's just us guys now.

JACK: Ah...wh...wh, wh, wh, wh....what are you all doing here? Where's Jennifer?

HARPER: She's gone, Alamain took her prisoner.

DUKE: That's right. But the general here and me, we think she's a willing hostage, if you know what I mean? Nudge, nudge, wink, wink.

HARPER AND DUKE START TO LAUGH OUT LOUD.

HARPER: But you shouldn't take it personally son. Anybody can see that Alamain's got it all over you.

JACK: Ah I know I'm not the best person. Basically I'm a good person deep down and....

DUKE: Oh man oh man oh man. What a load of crudola. You could have rescued Jennifer the other day. Hey sonny boy, this isn't a question of too little too late. This is the answer and it's zippo, nothing.

HARPER: He's right Jack. Frankly the idea of you playing a hero, well it's somewhat embarrassing.

JACK: I...I....I tried to stop her but....

HARPER: Oh spare us. We've dealt with deserters before.

JACK: Wh...what are you talking about?

DUKE: You, you lily livered yellow bellied coward. You know something, we've got a name for guys like you in the regiment. And we got an expression. The bigger they are, the faster they run.

JACK: I....I'm going. I'm moving out.

HARPER: Oh you can't walk out in the middle of a ceremony.

JACK: What do you mean? What ceremony?

HARPER: We hereby invest you with the Royal Order of the Yellow Garter, the Congressional Medal of Dishonor, the Badge of No Courage. I'm proud of you son.

THEY BOTH LAUGH AS THEY PUT AN OLD CROWN ON A YELLOW RIBBON AROUND JACK'S NECK. JACK LOOKS AT THE MEDAL.


DUKE:

Me too, baby boy. To Billy, the biggest non hero of them all.

ATTENTION! THEY START TO POUR CHAMPAGNE OVER HIS HEAD.

THEY DO HE STARTS TO WAKE UP AND REALIZES THAT HE IS STILL IN THE BUSHES AND THAT SOMEBODY IS POURING WATER ON HIS FACE.

JULIE: Nothing like a good brisk shower in the morning to wake you up, eh darling?
SCENE TWO: JACK LOOKS UP TO SEE JULIE WITH THE WATER AND SHANE AND KAYLA STANDING BEHIND HER.

JACK: Oh, what are you all doing here?

SHANE: Yes well we might ask the same question. What the hell's going on Jack?

KAYLA HELPS HIM TO HIS FEET.

JACK: Ah....ah....Jennifer's being held by this gentleman named Lawrence Alamain.

SHANE: Lawrence Alamain, yes we know all about him. We think he's the man behind Steve's murder.

JACK SWINGS A ROUND TO LOOK AT SHANE.

JULIE: Jack, where is my grandmother? Have you seen her?

JACK: Ah, I....I don't know. Your....your grandmother....your grandmother's not here. She left.

JULIE: Well she never came home so something must have happened to her.

JACK: No nothing happened to her. Jennifer told me that she'd already left. She got out of here.

JULIE: We've got to get to that villa.

JACK: Alright, we'll get to that villa. I'll take you back to the villa. We'll get Jennifer and your grandmother.

SHANE: Wait a minute Jack. You're not going anywhere.

JACK: Excuse me?

SHANE: You're not coming with us.

JACK: I'm not coming with you. Are you insane, do you know who you're talking to? I was locked up in there. I know how to get to Jennifer and if anybody knows how to get to Lawrence Alamain, ergo your grandmother, it's her.

KAYLA: You know he's right. I mean Steve was his brother and he has a right to go with us.

SHANE: Alright Jack you can come along. We'll have to stop off on the way and get you cleaned up. Come on Julie.

KAYLA STARTS TO WALK AWAY WITH THEM BUT JACK STOPS HER.

JACK: Wh...wait a minute. I just wanted to....ah....thank you for what you just said right now....about Steve.

KAYLA: Well if Lawrence Alamain killed Steve, we can't let him hurt Jennifer.

KAYLA WALKS OFF WITH THE OTHERS.
SCENE FOUR: THE OTHER FOUR, JACK, JULIE, KAYLA AND SHANE ALL GO BACK TO THE VILLA AND ARRIVE AS VISITORS.

SERVANT: Mr. Alamain will be down in a moment.

LAWRENCE: Good afternoon ladies, gentlemen. I'm Lawrence Alamain.

JULIE: You certainly are. I've heard so much about you, I can't describe my feelings at actually.....meeting you.

JACK HAS CHANGED INTO A CLEAN SUIT AND HE GIVES GREGORY A SMILE AS HE PASSES. GREGORY HALF SMILES BACK.

JULIE: My name is Williams, Julie....

LAWRENCE: I know who you are Mrs. Williams. I've been a great admirer of your business acumen for quite some time. But please, introduce me to your friends.

JULIE: Of course. Shane Donovan.

LAWRENCE: Mr. Donovan.

SHANE: Mr. Alamain.

THEY SHAKE HANDS.

JULIE: And this beautiful lady is Kayla Johnson.

LAWRENCE: It's good to meet you Ms Johnson.

KAYLA: Mrs. Johnson. Mrs. Steven Johnson.

LAWRENCE: A pleasure.

HE EXTENDS HIS HAND AND KAYLA RELUCTANTLY TAKES IT. MEANWHILE JACK IS TRYING TO LOOK INCONSPICUOUS IN THE BACKGROUND.

SHANE: And last but not least, Mr. Jack Deveraux who we found by the roadside. His car had broken down so we gave him a lift. Mr. Deveraux is, I believe, by way of being a guest of yours.

SHANE: Yes but funny thing though. He's laboring under the misunderstanding that he was being held a prisoner by you.

LAWRENCE: Well that is a misunderstanding. But perhaps you'd care to explain how you became known as Jack Deveraux.

JACK: Why I think you'd have to ask mom and dad that one.

LAWRENCE: And where would I find them, in England, at Grenville Manor? Wilfred Grenville, that was the name you used wasn't it?

JACK: Wilfred, Wanda, Sven. I'm a reporter you see and I use many identities to get my story.

LAWRENCE: How very interesting. And what story was the character of Jasper Jasper designed to help you get.

JACK: Oooooh....that's a....that's a work in progress.

LAWRENCE: I should think so. Well I welcome you all to my home and I'm sure that my father is anxious to meet you before the party as well. So, won't you stay until then?

SHANE: Thank you. We'd all be very grateful.

LAWRENCE: Excellent. I'll have the servants prepare some rooms.

JACK: Something with view.

SHANE: Mr. Alamain, we understand you recently got married. We are so looking forward to meeting you new wife.

LAWRENCE: When the time is right but no doubt you've had a long journey. So I'll have some people prepare some cold drinks and you can relax and make yourselves at home.

LAWRENCE WALKS OVER TO TALK PRIVATELY TO GREGORY.

GREGORY: What now?

LAWRENCE: We have guests Gregory. It's our duty to entertain them.

LAWRENCE: Let the games begin.
SCENE SIX: THE FOUR NEW GUESTS ARE ALL TALKING IN THE MAIN LIVING ROOM.

KAYLA: I don't know how much longer I can look at that man.

JULIE: Lawrence is the personification of evil. Well I'm not about to sit here drinking sherry with him while my grandmother and Jennifer are locked up in this place somewhere. We've got to get them out.

SHANE: Look how many times do we have to go over this. We have to e patient. We have to tread very carefully around Lawrence Alamain. One false move and it could be the last move any of us make.

JACK:

Shane, Shane....Shane. Look, I don't want to interrupt your ISA business or anything like that but I already know by way around this villa. So while you're busy finding your way around Lawrence, I'm going to find Jennifer, alright.

SUDDENLY A BARRAGE OF RIFLE SHOTS RING OUT NEXT TO JACK AND HE FALLS TO THE GROUND UNDER A TABLE. WHEN THE SHOTS STOP, KAYLA RUNS OVER TO JACK.

KAYLA: Jack, Jack, are you alright? Jack, are you alright?

JACK: Ah, I think they got me. I've been hit.

JULIE: Oh! Shane where did the firing come from?

SHANE: I don't know, I can't tell.

LAWRENCE COMES DOWN THE STAIRS.

SHANE: Alamain, you bloody fool! What's going on? Who fired that gun?

LAWRENCE: There was no gun.

SHANE: What do you mean there was no gun?

LAWRENCE: You can get up now Mr. Deveraux. The imitation bullets didn't hurt you, I promise.

JACK: Well I can't exactly say the same for the floor. That marble can kill a person.

LAWRENCE: I am a great fan of American films and somewhat of a connoisseur of what they call special effects.

JULIE: Don't tell me. This is an example of your movie making skill?

LAWRENCE: The first of many Mrs. Williams. You see while I enjoy playing host, I find it's only the rare individual who is up to the task of being my guest. But....if I had explained that to you earlier, perhaps you might not have been so eager to stay.

LAWRENCE SMILES AND WALKS AWAY.