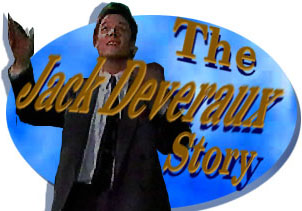 oldEpisode Two-hundred-eleven:
Alamania Part VI: The Gang Arrive
at Lawrence's Villa; He Introduces
Them to "Katerina," Jennifer; Jack Tries
to Get Her to Go with Them, but She Refuses.
---
[Air date early November 1990]
SCENE ONE: IT IS THE NEXT MORNING AND JACK IS WANDERING IN THE WALLED GARDEN LOOKING AT HIS BLUEPRINT OF THE VILLA. JULIE COMES OUT TO SPEAK TO HIM.

JULIE: You a fan of architecture Jack?

JACK: Ah.... what, excuse me?

JULIE: That just looked like a copy of a blueprint if I'm not mistaken.

JACK: No, no, it wasn't anything. Just something that I just picked up. It's nothing, really.

JULIE: Really. Well perhaps Shane can set you straight. You know where he might be?

JACK RELENTS AND DECIDES IT IS BEST TO TELL HER WHAT HE HAS.

JACK: Ah.... alright, they're blueprints. Don't tell him about them alright?

JULIE: Jack.... Jack. I know how desperate you are to find Jennifer and rescue her. I want that too and if my grandmother is here too, I want to get her out at the same time.

JACK: Alright, I'll make you a deal. We can get Jennifer and your grandmother out of here if we can keep Shane out of the way.

JULIE: You think we can get around Mr. Donovan.

JACK: With your help. Are you with me?

JULIE: Well.... I assume he has to play by certain ISA rules. But, that does not mean the rest of us have to. So show me those plans, huh.

JACK GETS OUT THE BLUEPRINT.

JACK: Alright, okay. Okay there are tunnels that go underneath this entire structure. That's how I got out the first time. This tunnel right here. There's another guy with me they were holding at the same time. We both got out.

JULIE: You didn't say anything about him before.

JACK: Well I didn't exactly trust him but if he's smart enough to get out, I think maybe we can use him if we can find him.

JULIE: Did he say anything about my grandmother?

JACK: He didn't say a word but if she's here she's downstairs, somewhere, alright.

JULIE: Then let's go down there and get her out.

JACK: It sounds easier than it is. I went back to the original tunnel to get out and they'd sealed the whole thing off. Now the only way that we can get back in to those tunnels and downstairs is through Lawrence's bedroom.

JULIE: And how in the world do you propose to do that Jack?

JACK: Well I....

POLDY: That name again. Yes I thought I heard Katerina call you that.

JACK AND JULIE ARE VERY SURPRISED BY POLDY'S APPEARANCE IN THE GARDEN.

POLDY: Why are masquerading as this Jasper person?

JACK CANNOT THINK OF WHAT TO SAY.

JACK: Well....

POLDY: Don't lie to me again. You're trying to hurt Katerina and I will not allow it.

JACK LOOKS DOWN AT JULIE WHO IS JUST AS WORRIED AS HE IS.
SCENE TWO: IN THE GARDEN OF LAWRENCE'S VILLA CONTINUED.

JACK: I think you've got this all wrong. I would never hurt Katerina. I'd never do that.

JULIE: He's telling the truth.

POLDY: Then what's the reason for this charade?

JACK: Well I.... I've already explained it to your son.

POLDY: Lawrence knows of this?

JACK: Of course he knows about it. You see I'm a reporter and sometimes I have to take on other.... other.... other accents just to get a good story. And I'm assuring you, I would never do anything to hurt anyone especially Katerina.

POLDY: My instincts tell me otherwise and I'm a man who lives by instincts. They've never led me astray.

POLDY STARTS TO WALK AWAY AND GET THE GUARDS BUT JACK RUNS AROUND IN FRONT OF HIM.

JACK: Wait, wait a minute, how about this? You've seen the two of us together, correct?

POLDY: Hmmm, yes.

JACK: Has she ever looked unhappy?

POLDY: Well no. On the contrary, she always seems quite happy to be in your presence.

JACK: See?

POLDY:

Which is my concern. Although you've assured me to the contrary that your feelings for her are nothing more than mere friendship, it's quite obvious that they are not. And it's also obvious that you refuse to relinquish these feelings. She is

MARRIED

to my son. I forbid you to harm either one of them.

JACK GLARES AT POLDY.

POLDY: Which is why I am about to ask you to be forcibly removed from the premises. GUARD!

JACK SIGNALS JULIE FOR HELP AND SHE INSTANTLY RUSHES TOWARDS POLDY.

JULIE: My god, what force! What strength, what power, what.... charisma. Sir you're like a veritable force of nature. Oh...but I don't supposed I should even be speaking. Pardon me.

SHE BOWS HER HEAD.

POLDY: Oh no please. Don't stop on my account. Madam, Lawrence is my son, I am Leopold Alamain. And you are?

JULIE: Just a guest of your son's. My name is Julie Williams.

POLDY: Aaaaah, what a distinct lovely pleasure to meet you. Miss Williams is it?

JULIE: Oh, you may call me.... Julie.

THEY BOTH GIGGLE AS HE KISSES HER HAND.

POLDY: You Americans are so informal.

JULIE: That's why we are so in love with the old world. A gentleman such as yourself, so radiant, practically royalty in our eyes and of course we're endlessly fascinated with royalty.

POLDY: Really?

JULIE: Absolutely. That's why Mr. Deveraux, why Jack, is doing this story. Of course he knows Katerina but he's merely using his acquaintance to get an exclusive on a story that all of America wants to see. As a matter of fact I believe Jack is doing an entire series on this particular subject. Isn't that true, Jack?

SOMEWHAT SURPRISED, JACK RESPONDS.

JACK: Ah.... yes. A whole series, yes.

JULIE: Yes a whole series, starting of course with the father of the groom. As I believe it's going to be the front page of the Sunday section. Many, many beautiful photographs, is that right?

JACK: The works, the works.

JULIE: What do you think of that, sir.

POLDY: I have no need for publicity.

JACK AND JULIE ARE STUNNED.

JACK AND JULIE: (Together) He has no need for publicity.

POLDY: However, I have developed a new breed of rose. I would like very much for it to be known.

JULIE: A rose! How magnificent! Jack did you hear that, a new rose, just what the world needs.

JACK: That's news! That's big news, yes.

JULIE: And of course in my country when a new rose comes into the world, it's always named after the genius that cultivates it. May I suggest it should be called the Regal Leopold?

POLDY IS FLATTERED.

POLDY: Oh.... that does have rather a nice ring to it.

JULIE: I would love to be the first American woman to set eyes on your blossom. What would I have to do to show you I'm worthy of such a privilege?

POLDY: Not very much but I'm afraid it will have to wait until a little later. Lawrence has requested your presence in the living room.

JACK: What for?

POLDY IS ANGRY.

POLDY: He didn't say! (To Julie) I shall meet you after in the garden?

JULIE: Oh I should be delighted. I'll be looking forward to it.

POLDY: So will I. Until then.

POLDY LEAVES.

JACK: Ah that was close.

JULIE: Yes but I think you can leave Rolly Polly to me. It's going well. He could well be the key to finding Jennifer and grandma.

JACK:

Ah...yes.
SCENE FOUR: JULIE AND JACK GO INTO THE LIVING ROOM TO MEET SHANE AND KAYLA.

JULIE: Kayla, Shane, do you have any idea why Lawrence wants to see us?

KAYLA: No, we were wondering the same things ourselves.

JACK: Maybe he's going to show us some of his special effects.

SHANE: I have a feeling we're about to meet his wife. But look whatever happens we all have to keep our cool and stick to the plan, alright. And that means all of us.

JACK: What if...what if that's not his reasoning, huh. What if it's something else?

SHANE: Well we'll just have to wait and see, won't we. The important thing is we can't rush into anything.

JACK: Huh, uh.

SHANE: We have to find out what Lawrence is up to before we make a move. Now does everyone agree with that?

JACK: I don't know whether I can really.... if I can....

JULIE STEPS UP TO JACK AND CLEARS HER THROAT TO REMIND HIM OF THEIR PLAN.

JACK: I...I don't know but it sounds like a great idea to me. I'm in. You're the boss.

SHANE: Alright, this might be the chance we've been waiting for.

JACK: Alright, well I'm ready and rearing to go. Yeah.

JACK WALKS OVER BEHIND KAYLA AND TRIES TO STAY CALM.

LAWRENCE: Good, good, you're all here. As you know I've recently married and I wanted to take this opportunity to introduce you all to my new bride. Katerina!

JENNIFER STARTS TO WALK DOWN THE STAIRS AND THEN SEES JULIE AND SHANE LOOKING AT HER. SHE TURNS TO LOOK AT KAYLA; THEN TURNS SLOWLY TO SEE JACK STANDING WITH HIS ARMS FOLDED AND A FROWN ON HIS FACE.

JENNIFER: Hello, it's nice to meet all of you.

LAWRENCE: Allow me to introduce you. This is Julie Williams.

JULIE: Charmed.

LAWRENCE: And her friends Shane Donavan and Kayla Johnson. And I believe you're already acquainted with this gentleman. Of course you know Jack Deveraux.

JACK KEEPS HIS ARMS FOLDED BUT THIS TIME TRIES TO SMILE.

JACK: Oh yes, yes. It's a pleasure to see you again.

LAWRENCE: I'm a very lucky man to have such a beautiful (Lawrence runs his hand on Jennifer) and charming wife.

JACK FROWNS AT BOTH OF THEM AND JENNIFER CANNOT TAKE HER EYES OFF JACK. SHE IS SCARED AND SAD.

SHANE: Yes you certainly are Lawrence.

LAWRENCE: Are you enjoying your stay?

SHANE: Yes, yes we are. Thank you very much.

LAWRENCE: Good, good. I think once you all get to know Katerina, you will be as charmed by her as I am. She maybe shy at first but eventually she'll open up to you, just like she did to me. Isn't that right my darling?

JENNIFER'S EYES ARE FULL OF TEARS AS SHE LOOKS AT JACK AND LAWRENCE IS GLOATING.

SHANE: Ah Lawrence, you have a fascinating collection of weaponry around here. You must be quite a collector.

LAWRENCE: Well I have others if you'd like to see them?

SHANE: I certainly would.

LAWRENCE: Then follow me. I do have in my possession the sword Excalibur from the film of the same name.

LAWRENCE WALKS UPSTAIRS AND SHANE FOLLOWS HIM, SIGNALING THE OTHERS TO FIND OUT FROM JENNIFER WHAT EXACTLY IS GOING ON. AS SOON AS THEY ARE OUT OF SIGHT, THE QUESTIONS START.

JULIE: Jennifer, why are you doing this? Why are you going along with this pretending to be Katerina?

JENNIFER: Trust me, I have my reasons, okay.

JACK: I really don't think they're important anymore Jennifer. We're going to get you out of this now so don't worry about a thing.

JENNIFER: Please, I'll be alright. Just go home. Don't worry about me anymore.

SHE STARTS TO WALK AWAY BUT JACK FOLLOWS.

JACK: Just a minute. Jennifer, would you wait a minute?

JENNIFER: Jack, just leave me alone, please.

HE PUTS HIS HAND ON HER ARM.

JACK PAUSES AT THAT COMMENT.

JACK: Jennifer, tell me what's going on.

JENNIFER: You can see for yourself what's going on. I'm married to Lawrence and I love him and I'm going to make this marriage work out. Now....

JACK: Jennifer! There is nothing to worry about anymore, alright. You wanted the big guns, they're here. Shane Donovan of the ISA is going to handle everything, alright.

JENNIFER: Jack tell him not to alright. He's going to make everything worse.

JACK: Things can't get any worse.

JENNIFER: Yes they can. You don't understand. You have no idea.

JACK: I understand perfectly. We think Lawrence killed Steve.

JENNIFER: What?

JACK: We believe.... Lawrence is behind Steve's death, alright. I'm not going to let you stay here any longer.

JENNIFER: Jack I have to stay here.

JACK: HE STILL HAS YOUR GRANDMOTHER. YOU DON'T UNDERSTAND.

JENNIFER: No he doesn't. My grandmother....

JACK: She never got back to Salem, alright. You've got to stop playing around like this. You can't play games with Lawrence or he's going to start playing hard ball with you.

JENNIFER: You have to leave. All of you have to leave, please.

JACK: Jennifer, nobody's going to leave.

JENNIFER: Just go!

JACK: Jennifer you....

JENNIFER RUNS AWAY.

JULIE: Were you able to find out from her what's going on?

JACK: All I know is that there's a lot more going on than we bargained for.

JACK IS VERY ANGRY AND WORRIED.
SCENE NINE: IN THE LIVING ROOM, JACK AND SHANE ARE STILL ARGUING.

JACK: Okay, okay. Okay, I'm alright.

SHANE: Jack, I'm not letting you go off half cocked so you can blow this whole thing.

JACK: Let's just get Jennifer out of this before she or anybody else gets hurt.

SHANE: Fine, stick to my plan and we can achieve all our objectives.

JACK: We're not talking about objectives Shane. We're talking about people! RIGHT, ISN'T THATS WHAT'S IMPORTANT HERE, PEOPLE!

KAYLA: But Lawrence is probably forcing her to go along with his sick little game.

SHANE: Kayla's right. Now we have to stick together or we might as well go home right now.

JACK: There isn't time for you to crack your case, alright.

SHANE: So what do you plan to do instead?

JACK: I don't know.... I don't know, I think we've got to just do something. We can.... we can.... we can.... we can do something.... we can do what Steve always did. I mean he always just followed his heart instead of his head.

SHANE: Great and that's what got your brother killed, Jack.

JACK: Yeah that's true. But I still think we have to do something.... so what are we going to do? Are we going to follow Shane and his case or.... stick with me and try and do something? (Beat) So what's it going to be. Are you going to stick with Shane or maybe stick with me and get something done?

SHANE: Alright Jack, just listen to me.

JACK: Look there's nothing to talk about anymore. It's every man and woman for themselves, alright. Let's just....

SUDDENLY THE GROUND SEEMS TO SHAKE AND IT FEELS LIKE AN EARTHQUAKE. JACK TAKES SHELTER UNDER THE TABLE WHILE THE OTHERS FALL TO THE GROUND.