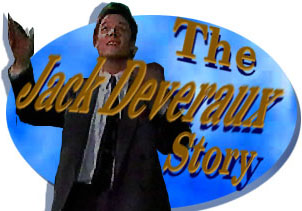 oldEpisode Two-hundred-thirteen: Alamania
Part VIII: "I Don't Love You!": Jack Sets up
a Romantic Dinner for Jennifer; He Talks about
Their
Possible
Future Life Together; and Asks
Her if She Still Loves Him, She Says She Does not.
---
[Air date mid-November 1990]
SCENE ONE: IT IS THE NEXT MORNING AND JACK IS BACK IN THE GARAGE. JENNIFER NEVER SHOWED UP AND NOW HE HAS ANOTHER PLAN TO GET HER ALONE AND HE NEEDS JULIE'S HELP.

JACK: Oh Julie, were you able to arrange everything?

JULIE: Everything is arranged with Lawrence.

JACK: You mean he agreed to it.

JULIE: He loved it. There's going to be a reception for his guests from Salem.

JACK: Good, good.... perfect.

JULIE: I don't know about perfect, Jack. Under the circumstances, I think tolerable is all we can hope for.

JACK: You don't understand. I was supposed to meet Jennifer here last night and for some reason, I don't know why, she stood me up. And now I know I'll find out why with this.

JULIE: This? Is something else going on except the Salem mixer Jack? What are you up to?

JACK: Well it's not like I'm up to anything. I'm just banging around these garage wall. I just want to get Jennifer out of this mess, that's all.

JULIE: Jack, it is far too risky. Darling, I understand how you feel, I admire your courage in wanting to take action, but your tactics are just.... darling, you could get all of us in very deep trouble.

JACK: You know I thought you were on my side.

JULIE: I am!

JACK: Well starting acting like that.

JULIE: You know your tenacity is your greatest charm. I hope I won't regret this. What is it, what do you want me to do?

JACK: I.... I want you to do what you've been doing, alright. I want you to follow Shane's plan but at the same time make sure that Leopold and Lawrence stay away from the pool. Can you do that?

JULIE: It's a piece of cake.

POLDY COMES INTO THE GARAGE.

POLDY:

Julie, I was just.... looking everywhere for you.

HE SEES JACK AND DOES NOT LIKE HIM.

JULIE: How lovely, how lovely to be sought after. How are you?

POLDY: I'm fine.... everything considered.

JACK: Well I really need to be going. I have some things I need to do.

JULIE: Well we'll see you later then. Do take care.

JACK: As always.

JACK LEAVES. JULIE KEEPS LEOPOLD DISTRACTED.
SCENE THREE: A LITTLE LATER, JENNIFER DECIDES TO GO DOWN TO THE POOL. SHE WALKS OUT ALONG THE GRASS AND OVER TO THE POOL EDGE WHERE THERE IS A TABLE SET FOR TWO. AT FIRST, TOO PREOCCUPIED WITH HER THOUGHTS SHE DOES NOT NOTICE IT. SHE FINALLY DOES, AND IS CONFUSED BY IT. SHE LOOKS AROUND AND IS A BIT SURPRISED WHEN SUDDENLY JACK APPEARS DRESSED IN A WHITE TUX, LOOKING EXTREMELY HANDSOME.


HE WAVES TO HER AND COMES OVER TO THE TABLE. SHE IS TAKEN ABACK BY HIS SUDDEN APPEARANCE, AND HOW HANDSOME HE LOOKS; AND HOW ROMANTIC EVERYTHING IS.

JENNIFER:

Jack, what do you think you're doing here?


JACK:

I'm hungry. I thought we could have a snack.

JENNIFER: No, Lawrence would never....

JACK: Lawrence will never know. He's currently being wined and dined by our friends and loved ones. I figure we have.... they're in the middle of an appetizer, right.... we have six, maybe four, if he's really concerned, courses before he goes to your room to see how you're feeling, right. Now you did tell him you weren't feeling well, isn't that correct? Please, make yourself comfortable. Have a seat. Take a load off.

HE PULLS THE CHAIR OUT FOR HER AND SHE RELUCTANTLY SITS DOWN.

THIS IS GREATLY AFFECTING JENNIFER. SHE WANTS SO DEARLY TO BE WITH JACK, BUT IS AFFRAID OF WHAT LAWRENCE WILL DO, SO SHE STRUGGLES TO HOLD HER COMPOSURE, AND PRETENDING BEING WITH JACK MEANS NOTHING TO HER.

JACK: I do hope you're hungry. You have no idea how much trouble I went to get all this out here. They're going to be missing some silverware in there, you can bet.

HE SITS DOWN OPPOSITE HER.

JACK: You are hungry I know that, because you didn't go in an eat with anyone else.

JENNIFER: How did you know Jack?

JACK:

Elementary my dear Horton. You're avoiding them the same way you're avoiding me. You're afraid you're going to break.


JENNIFER:

I don't know what you're talking about Jack. I have no reason to break.

JACK: So you say.

JENNIFER: Yes, so I say.

JACK: Well if that's the case, this shouldn't bother you one bit.

HE TAKES A REMOTE CONTROL OUT OF HIS POCKET AND PRESSES PLAY. THE SONG FASCINATION STARTS TO FLOAT OVER THE POOL AREA.

JACK: I know it certainly doesn't bother me.

HE WALKS AROUND THE TABLE AND TAKES HER IN HIS ARMS TO DANCE. SHE IS TRYING TO AVOID HIM, AND NOT LOOK INTO HIS EYES, AFFRAID TO BREAK AND TO GIVE AWAY HER TRUE FEELINGS. AS THE SONG ENDS HE KISSES HER ON THE FOREHEAD.


JENNIFER IS IN TORMENT, AND IS EXTREMELY SAD, THAT NOW THAT JACK IS DOING ALL SHE WANTED HIM TO DO, SHE CANNOT RESPOND.

JENNIFER: Jack, I can't believe you're doing this.

JACK: Neither can I but.... here we are.

JENNIFER:

Let go of me please. Jack I am through with you, alright. I am married to someone else now. I don't want to have anything to do with you anymore, do you understand that?

JACK: All I understand is that you need me now more than ever.

JENNIFER: What does it take to get through to you?

JACK: How about a little truth?

JENNIFER: I have been telling you the truth Jack. It's over.

JACK: Well if that's the case, then I guess we're both going to miss out.

JENNIFER: What are you talking about Jack?

JACK:

I'm talking about the future that we were discussing earlier. You know.... the wedding.... the honeymoon. I just thought maybe we could complete the thought. What about the home that we'd be coming back to? You see I always figured we have a.... little house on the lake. Of course knowing you, you'd want a town house, something in town for those late nights at the office. Something with a little extra guest room, maybe for Vern. Not that we'd ever be there with your budding penchant for travel. We'd be jet setting around the world, following down those leads to exciting, exotic, romantic places.


JACK (CONT.):

Of course once the kids started showing up, somebody would have to slow down. Just a little bit, just a touch. What do you think, have two, three, four? Doesn't matter to me. You know I've always liked kids. I really have. Never told you that before but I do. What about you, you like kids? You like one, two, three?.... What?

JENNIFER: Please stop Jack.

JACK:

Stop? There's nothing to be afraid of. We're just talking here. Like you.... you've already got everything you could want.... plus Lawrence.

JENNIFER: I don't want to talk about this anymore Jack.

JACK: Jennifer we're just talking. It's not a big deal.

JENNIFER: JUST LET GO OF ME!

SHE GRABS HIS ARMS AND PUSHES HIM. HE FALLS BACKWARDS INTO THE POOL.


SHE THEN REMEMBERS THAT JACK CANNOT SWIM. HOWEVER, JACK IS TALL, AND THE POOL NOT THAT DEEP; THERE IS NO WAY THAT HE COULD BE DROWNING.HE IS OBVIOUSLY PRETENDING, KNOWING THAT IF JENNIFER THOUGHT HE WERE IN DANGER, SHE WOULD REVEAL HER TRUE FEELINGS FOR HIM. AND SHE DOES.

JENNIFER: JACK, JACK, WAIT. YOU CAN'T SWIM. JACK, JACK! JACK IS UNDER THE WATER.

JENNIFER: JACK, KICK YOUR LEGS. JACK LISTEN TO ME, JUST KICK YOUR LEGS. HE MANAGES TO GET HIS HEAD OUT OF THE WATER AND WAVES TO HER FOR HELP.

JENNIFER: KICK YOUR LEGS. OH SHOOT! NEXT THING JACK IS UPSIDE DOWN IN THE WATER KICKING HIS LEGS IN THE AIR.

JENNIFER: NO, NOT LIKE THAT JACK. FORGET IT, JUST HOLD ON.

SHE PICKS UP A RESCUE HOOK FROM THE SIDE OF THE POOL.

JENNIFER: I'M GOING TO SAVE YOU. JACK COME HERE, COME ON. JACK SWIM TO THIS.

JACK: HOOK ME, HOOK ME.

JENNIFER MANAGES TO GET THE HOOK UNDER HIS CHIN.

JENNIFER: Just hold on. I'm going to drag you in. Just keep breathing. BREATHE, BLOW, BREATHE, BLOW, BREATHE JACK, KEEP BREATHING. I'M GOING TO SAVE YOU. JUST A LITTLE FURTHER. COME ON JACK, HOLD ON. COME ON. COME ON JACK, COME ON.

THINKING JACK HAS "DROWNED" JENNIFER CAN NO LONGER HIDE HER TRUE FEELINGS. SHE DRAGS HIM UP THE STEPS AND ONTO THE PAVED POOL SURROUND.

JENNIFER: Okay, just hold on, okay, okay.

SHE BENDS DOWN AND HOLDS HIS NOSE WITH HER FINGERS AND BEGINS TO GIVE HIM MOUTH TO MOUTH RESUSCITATION. SHE GIVES HIM THREE BIG BREATHES OF AIR AND ON THE THIRD HE WRAPS HIS ARM AROUND HER AND KISSES HER.

JENNIFER: Oooooh.

JENNIFER RESPONDS, AND KISS HIM JUST AS PASSIONATELY.
SCENE FOUR: THEY CONTINUE TO KISS EACH OTHER FOR A FEW MINUTES THEN JENNIFER PULLS AWAY AND STANDS UP.

JENNIFER: That was cheap. That was really cheap.

JACK: That was cheap and you liked it.

JENNIFER: I didn't like it. I'm sick and tired of being used and tricked and taken advantage of Jack.

JACK: Wait a minute. Jennifer, I'm sorry, I'm sorry. I'm all wet. I just had to make a point.

JENNIFER: Just leave me alone alright. I'm going to be fine. I'm married now and it's time you started treating me like that.

JACK: I'd treat you like that if I believed it. But the whole thing is a sham. You got married under false pretenses, an assumed identity. It doesn't count. You can get out of it if you want to.

JENNIFER: That's right, if I wanted to.

JACK: Jennifer, you don't love him. You don't want to be married to him. I can tell by the way you just kissed me right now.... I think you love me. And I know that I love you. I do.

JENNIFER: You're wrong. Let me go.

JACK: I'm not going to let you go until you look me right in the eyes and you tell me that you don't love me. You look me in eyes, you tell me that and I'll believe you.

JENNIFER STARES AT HIM FOR A FEW SECONDS.

JENNIFER: (Trying to hide her pain and tears) I don't love you.

SHE RUNS TOWARDS THE HOUSE.

JENNIFER: I DON'T LOVE YOU JACK!

SHE STOPS AS SHE GETS TO THE DOOR AND LOOKS BACK AT JACK, WHO IS STANDING DRIPPING WET IN HIS WHITE TUX. HIS FACE SHOWS THE PAIN OF FEELING REJECTED.


SEEING JACK IN PAIN IS BREAKING JENNIFER'S HEART TOO.

JENNIFER:

I do love you Jack. I'll always love you.
SCENE ONE: IT IS THE NEXT DAY AND JENNIFER ASKS TO SEE FRANKIE AGAIN. LAWRENCE AGREES BUT FRANKIE IS BRUISED AND BEATEN. APPARENTLY LAWRENCE HAD HIM BEATEN UP BECAUSE JENNIFER WAS WITH JACK BY THE POOL. LAWRENCE ALLOWS JENNIFER TO BATHE HIS WOUNDS.

JENNIFER: You heard Lawrence. He did this to you because I was with Jack.

FRANKIE: Why did Jack come back anyway? I thought he escaped and went for help.

JENNIFER: Yeah he did but he came back here.

FRANKIE: It's pretty risky.

JENNIFER: Yeah well you don't know Jack.

FRANKIE: Maybe I know him better than you think. I'd have done the same thing for you.

JENNIFER APOLOGIZES ONCE AGAIN TO FRANKIE FOR HIM GETTING BEATEN UP. FRANKIE TELLS HER TO STOP BEING SCARED OF LAWRENCE AND THEN SHE WILL BE BETTER OFF. SHE REFUSES TO TELL FRANKIE ANY DETAILS OF WITH WHOM JACK CAME IN CASE FRANKIE GETS INTO MORE TROUBLE. FRANKIE TELLS JENNIFER THAT HE STILL CARES ABOUT HER. SHE IS RELUCTANT TO ANSWER BUT EVENTUALLY TELLS HIM SHE CARES TOO BUT IT IS OBVIOUS THAT SHE DOES NOT LOVE HIM ANYMORE, AND ONLY CONSIDERS HIM A FRIEND.