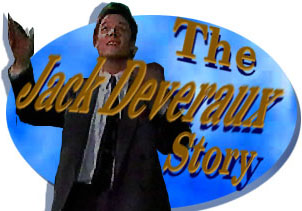 oldEpisode Two-hundred-fourteen: Alamania
Part IX: After Jennifer Fails to Convince Jack
That She no Longer Loves Him, Lawrence
Warns Her That He Has Something Planned for
Him; Later, Lawrence Challenges Jack to a Duel.
---
[Air date mid-November 1990]
SCENE ONE: IT IS NOW TWO DAYS SINCE JACK HAS SEEN JENNIFER, AND HE IS WORRIED. HE GOES UP TO HER BEDROOM TO TRY TO SEE HER BUT THE GUARD WILL NOT LET HIM ENTER.

JACK: Wait.... wait a minute, do you know who you're talking to? Do you know who I am? You don't understand....

LAWRENCE: Is there a problem?

JACK: A problem? Yes, actually there is a problem. Your guard has forbid my access to this room.

LAWRENCE: But Katerina's resting, she's tired.

JACK: Resting for TWO DAYS!

LAWRENCE: She's very tired. Mr. Deveraux, I appreciate your concern for my wife's good health but I have given you my word. Katerina's fine.

JACK: Well if.... I'm sorry I'm an American. We have to see it to believe it. It's a tragic American flaw. I'll tell you what, if you'll let me take a quick peek....

LAWRENCE: I'll tell you what. Since it might damage my reputation as a host to deny a guest's desire, I'd be happy to arrange for you to see Katerina.

JACK: Oh great! I'll tell....

LAWRENCE: In let's say half an hour. A lady must prepare to receive in her bedroom of all places.

JACK: Her bedroom? (Jack is pleased by this, because it reinforces his beliefs that she still loves him, not Lawrence.) Okay, half an hour. In the words of a great American, I'll be back.

JACK LEAVES AND LAWRENCE GOES INTO SEE JENNIFER. HE TELLS HER THAT HE GOING TO ALLOW A VISITOR BUT SHE MUST DO WHAT SHE IS TOLD. HE PUTS A MICROPHONE ON HER BLOUSE SO THAT HE CAN LISTEN TO THE WHOLE CONVERSATION.
SCENE TWO: MEANWHILE DOWNSTAIRS, BO HAS CALLED EVERYONE TOGETHER, EXCEPT CARLY, TO TELL THEM SOME NEWS.

BO: I got some news, very interesting news.

KALYA: Well shouldn't we wait until we go find Carly?

BO: No, no. It's about Carly. She's working with Alamain.

JULIE: WHAT?

BO: Yeah I saw them together last night. They were talking together up in his room. She's helping him settle an old score with me.

KALYA: You mean you know him?

BO: I knew him at one time. I thought it was all over with till Carly brought him back into my life. Hell for all I know they're sleeping together.

JULIE: Well what are we going to do?

BO: Shane.

SHANE: Yes Bo and I have come up with a way of getting both of them, Lawrence and Carly.

AT THAT MOMENT CARLY WALKS IN THE ROOM.

CARLY: Did someone mention my name? What's going on, what did I miss?

BO SAYS THAT NOTHING IS GOING ON AND THEN LAWRENCE COMES DOWN AND ASKS TO SEE HER ALONE. THE OTHERS ARE NOW MORE SUSPICIOUS THAN EVER. JACK IS PACING.

KALYA: Jack calm down.

JACK: Look I.... Jennifer's been taking a nap up there for two days. I find that rather odd. Look we don't know what's happening. We don't know what's....

SHANE: Jack, Jack, didn't Lawrence promise you could see her this afternoon?

JACK: Yeah but what if....

SHANE: No, no, Jack, listen to me, there's no more time for what ifs. Jack, you have to shape up. Now it's not going to do Jennifer any good if she sees you're worried.

JULIE: You've got to be strong for her.

JACK: That.... that goes without saying. Look what if....

SHANE: No, Jack, listen, listen. Even if Lawrence doesn't keep his word about this afternoon, Jennifer will be there at the party tonight. Now it's too important an occasion and Lawrence would have to do too much explaining not only to us but to Leopold if Jennifer didn't turn up. Don't worry, whatever happens you'll have your time with her.

JACK: If I live that long!

SHANE: You're going to live that long Jack. We're all going to live that long as long as everyone remembers what they have to do. Julie?

JULIE: Oh I think it's quite clear what has to be done.

SHANE: Kayla?

KALYA: Whatever has to be done.

JACK STAYS SILENT WITH HIS ARMS FOLDED.
SCENE THREE: A SHORT TIME LATER JENNIFER IS LYING ON HER BED WHEN THERE IS A KNOCK AT THE DOOR.

JENNIFER:Yes.

GUARD: Ma'am your guest.

JACK: Hello.

JACK WALKS IN AND JENNIFER CLOSES THE DOOR.

JENNIFER: Jack I'm glad you're here because there's a few things that I want to get straight between us and I....

JACK:

Whoa, whoa, whoa, whoa, whoa, whoa. Nobody has seen you for two days. You've been resting. Are you all rested up now? Are you alright.... Jennifer?


JENNIFER:

I'm fine. I'm better than fine and I want you to listen to me. I want you to listen to me very carefully, alright.

LAWRENCE IS LISTENING TO THIS IN HIS OFFICE.

JENNIFER: After the party.... I want you to go.

JACK: So what else is new?

JENNIFER: (She fighting back tears, and stumbles over the words) I want you to go home. I want you to leave this country forever and I never want you to come back. Do you understand me? I'm married now and I have a husband and I have a home and I have a whole new life. And I don't want you to ruin it.

JACK: The only thing that's ruined here is my dinner jacket. It's shrunk right up to here....

JENNIFER: I don't want to see you again.... ever. Is that clear enough for you?

JACK: I still don't believe it.

JENNIFER: Well believe it because that's how I feel.

JACK: Jennifer.... after everything that we have gone through.... to get to this point, you're just going to give up.

JENNIFER: It is time for me to move on. And it's time for you to move on too.

JACK:

Okay.... alright, I'll just move on. I'll just move on.


HE GOES TO WALK PAST HER BUT INSTEAD GRABS HER AND SPINS HER ROUND TO KISS HER. SHE STRUGGLES FOR A SECOND AND LOOKS AT HIM. JENNIFER DESPERATELY WANTS TO BE WITH HIM, BUT SHE KNOWS THAT IF SHE LETS INTO HER FEELINGS, LAWRENCE WILL DO SOMETHING DRASTIC TO JACK.

JACK KISSES HER ANYWAY. HE KISSES HER PASSIONATELY AND HARD CONVINCING HER OF HIS FEELING FOR HER. HE TAKES HER FACE IN HIS HANDS.

JACK: Nobody is ever going to love you the way that I love you! (Beat) Alright?

SHE NODS AND HE BENDS DOWN AND KISSES HER AGAIN; THIS TIME SHE RESPONDS.

THEY CONTINUE TO KISS.
SCENE FIVE: BACK IN THE BEDROOM JACK AND JENNIFER ARE STILL KISSING BUT SHE BEGINS TO STRUGGLE AND PULL AWAY. SHE TURNS AWAY FROM HIM BUT HE WRAPS HIS ARMS AROUND HER FROM BEHIND, ENCLOSING HER.

JENNIFER: Stop.

JACK: What is this Jennifer.... what is this?

JENNIFER: It's goodbye. It's one last final goodbye.

JACK RELEASES HER.


JACK:

You are the biggest liar! But you.... but you're

bad

, I mean you can't carry it off. We.... how long have we known each other. I thought I taught you better than this, huh.

JENNIFER: Jack, Jack, please.

JACK: Please, what? I would never stick my neck out this far for anyone else.

SHE IS SILENT.

JACK: Alright, if you won't tell me, I'll just go straight to the source.

JENNIFER: No.

JACK: I'll go straight to the source.

JACK OPENS THE DOOR AND LAWRENCE IS STANDING THERE.

JACK: Oh!

LAWRENCE: Mr. Deveraux, I hope you enjoyed your meeting. It's time to get ready Katerina. If you'll excuse us. Sanctity of the bedroom.

JACK: Oh sure, sure.

LAWRENCE: I'll see you at the party.

JACK: Ah.... sure. I'm sure you will.

JACK RELUCTANTLY LEAVES. LAWRENCE CONFRONTS JENNIFER.

LAWRENCE: You handled the situation very badly. In fact I don't believe it could have gone any worse.

JENNIFER: I did the best I could.

LAWRENCE: Well your best wasn't good enough. It's time for you to prepare for my father's celebration. Mr. Deveraux should have the opportunity to see you at your most radiant as he pays the penalty for your inadequate performance.

LAWRENCE GOES.
SCENE SIX: LATER THAT EVENING, THE GUESTS ARE ASSEMBLING IN THE MAIN LIVING ROOM. EVERYBODY IS IN DINNER SUITS AND BEADED EVENING GOWNS. JACK AND KALYA ARRIVE TOGETHER; THEY GATHER WITH SHANE, BO, AND JULIE. BO IS DETERMINED TO GO AHEAD WITH THEIR PLAN WHICH INCLUDES SHANE LOOKING FOR THE ELEVATOR IN LAWRENCE'S ROOM WHILE EVERYBODY ELSE IS BUSY AT THE PARTY.

LAWRENCE INTRODUCES HIS FATHER ON HIS BIRTHDAY AND THEN BRINGS IN HIS WIFE, KATERINA. JENNIFER COMES DOWN THE STEPS IN THE SAME RED AND GOLD BEADED GOWN SHE WORE BEFORE FOR DINNER WITH LAWRENCE. JACK AND JENNIFER CANNOT KEEP THEIR EYES OFF ONE ANOTHER. LAWRENCE FLAUNTS HIS MARRIAGE TO JENNIFER.



JACK LOOKS AT HER, HURT; AND CONFUSED KNOWING THAT SOMETHING MORE IS HAPPENING AND THAT JENNIFER DOES NOT WANT TO BE WITH LAWRENCE, BUT HE DOES NOT KNOW WHY SHE IS CONTINUING WITH THE ROUSE. A LAWRENCE PROPOSES A TOAST TO HIS FATHER; AND THEN PRESENTS HIM WITH HIS GIFT, THE ACTUAL SWORDS FROM ERROL FLYNN'S EPIC MOVIE CAPTAIN BLOOD.

LAWRENCE: Captain Donovan, you're a man of the world with an appreciation and experience for the fine art of sword play. How about we entertain our guest of honor and our other guests as well.

SHANE: Well....

BEFORE LAWRENCE CAN SAY ANYTHING, LAWRENCE CHANGES HIS MIND AND OFFERS THE SWORD TO JACK; IT APPEARS THAT WAS WHO HE HAD IN MIND ALL ALONG, AND THIS "FRIENDLY" DUEL, IS NOT AT ALL FRIENDLY, AND PART OF LAWRENCE'S PLAN TO HURT JACK.

LAWRENCE: Better yet, my father and I are firm believers in fleshing out a man's hidden potential. Testing his metal so to speak. Mr. Deveraux?

JACK: Ah me?

LAWRENCE: Would you do my father the courtesy of putting this theory to the test?

JACK: Ah.... well.... I....

LAWRENCE: Excellent. Excellent Deveraux.

JACK LOOKS UP AT JENNIFER, WHO KNOWING THAT LAWRENCE HARM OR KILL HIM SHAKES HER HEAD, TELLING HIM NOT TO FIGHT LAWRENCE.

SHANE: Jack don't worry. I'll take care of this. I'll get you out of this. I can handle Lawrence.

JACK: I....

LAWRENCE: (Listing all the aliases Jack used) Mr. Wilfred Grenville, Jasper Jasper, Jack Deveraux!

LAWRENCE PUTS THE SWORD IN JACK'S HAND.


SHANE:

Good luck!

JACK STANDS FOR A MINUTE WITH HIS MOUTH OPEN AND THE SWORD HANGING FROM HIS HAND.

LAWRENCE PARRIES WITH JACK FOR A FEW SECONDS AND KNOCKS JACK'S SWORD TO THE FLOOR. JACK BENDS OVER TO GET IT AND LAWRENCE PUTS HIS FOOT ON HIS AND THEN PLACES THE POINT OF HIS SWORD ON JACK'S HEART.


THEY STARE ANGRILY AT EACH OTHER FOR A FEW SECONDS AND THEN BEGIN TO LAUGH.

LAWRENCE: Here Mr. Deveraux take mine. And now, grip tightly and as you American's like to say, give me your best shot.

JACK: Heheheheh.

JACK TAKES THE SWORD IN HIS RIGHT HAND AND JENNIFER SHAKES HER HEAD AT HIM AGAIN. THIS SEEMS TO CONVINCE HIM THAT HE SHOULD GO AHEAD WITH THE FIGHT AS IF HE HAS TO PROVE SOMETHING.

LAWRENCE: Come on Jack.

JACK: Well.... sure.

JACK LUNGES AT LAWRENCE BUT LAWRENCE USES HIS FOOT TO PUSH HIM AWAY.

LAWRENCE: Now pay attention Jack.

JACK:

Ahhhhh!
SCENE SEVEN:THEY BEGIN TO FENCE WITH JACK COMING ON THE OFFENSIVE.

HE FORCES LAWRENCE BACK ACROSS THE ROOM TOWARDS A TABLE. HOWEVER JACK SLIPS AND FALLS AGAINST THE TABLE AND LAWRENCE IS BEHIND HIM WITH HIS SWORD POINTING AT JACK LAWRENCE LAUGHS AND JACK IS ANGRY. HE TAKES A FEW DEEP BREATHS AND SLOWLY TURNS AGAIN TOWARDS LAWRENCE.

LAWRENCE: HAHAHAHAHAH! Come on Jack. Come on. I'm bringing it out of you.

LAWRENCE LUNGES ONCE MORE TOWARDS JACK AND HOLDS HIM AT BAY AGAINST THE TABLE.

LAWRENCE: Are you enjoying the game, man of a thousand names?

HE THROWS JACK ACROSS THE ROOM AND DOWN ONTO THE FLOOR NEAR THE STEPS. HE LUNGES ONCE AGAIN AT JACK BEFORE HE CAN GET TO HIS FEET.

JACK RUNS UP THE STEPS AWAY FROM LAWRENCE.

JACK: Incoming (Jumping over the railing onto the mainfloor).

LAWRENCE: Balcony, good move Jasper Jasper.

JENNIFER: Jack!

THEY FIGHT EACH OTHER WITH LAWRENCE ABOVE JACK ON THE BALCONY. JACK MANAGES TO KNOCK LAWRENCE'S SWORD TO THE FLOOR. JACK WITHDRAWS AND MOVES BACK TO THE MIDDLE OF THE FLOOR THINKING THIS SUPPOSED GAME OF LAWRENCE'S IS OVER.

JACK: Oh.... well.... I guess that's that. Everything's taken care of.

HOWEVER, LAWRENCE PICKS UP HIS SWORD AND WALKS DOWN THE STEPS AND UP BEHIND JACK.

LAWRENCE: We're just getting warm.

LAWRENCE LUNGES AT JACK WHO REFUSES TO FIGHT ANYMORE.

JACK LEAPS OVER THE SOFA AND LAWRENCE FOLLOWS HIM. THEY PARRY AROUND THE ROOM WITH THE GUESTS ALL AMAZED. LAWRENCE MAKES A SWEEP AT JACK ACROSS A TABLE AND JACK MANAGES TO LAND HIS SWORD ON TOP OF LAWRENCE'S AND HOLD IT THERE.

JACK: Now just calm down. Let's just.... calm down, okay. That's it.

AS SOON AS JACK LIFTS HIS SWORD, LAWRENCE MAKES ANOTHER LUNGE AT HIM AND JACK JUST DUCKS IN TIME TO AVOID HAVING HIS THROAT CUT.

LAWRENCE: Sorry about your brother.

JACK STANDS AND IS FURIOUS.
HIS ANGER GOES DEEPER THAN LAWRENCE COULD EVER IMAGINE.


HE PUSHES FORWARD TOWARDS LAWRENCE FIGHTING HARD AND STRONG.

JACK IS FAR TOO GOOD FOR LAWRENCE WHO LOSES HIS SWORD AND FALLS TO THE STEPS. JACK STANDS OVER HIM.

JACK:

(With a self-satisfied smile) One thing I didn't tell you. (Beat) I'm not right-handed!




HE THROWS THE SWORD TO HIS LEFT HAND AND PLACES THE POINT AT LAWRENCE'S HEART.

HE SLOWLY LOOKS UP.

JACK: Well I guess everybody can.... start to clap.

THE GUESTS ALL APPLAUD. KAYLA IS PROUD, JULIE FLASHES HIM A LOOK, AND SHANE'S EXPRESSION SHOWS THAT HE IS NOT TOO PLEASED WITH JACK'S HEROICS. JACK LOOKS OVER TO JENNIFER FOR APPROVAL. SHE SMILES AND NODS AT HIM. HE WALKS AWAY WIPING HIS BROW AND KAYLA COMES OVER TO TALK TO HIM.

KALYA: Jack where did you learn to fence like that?

JACK: I guess Anjelica didn't send me to Renaissance Summer Camp for nothing.

HE LOOKS DOWN AT THE POINT ON HIS SWORD.

JACK: Wait a minute, this is real. This sword is real.

LAWRENCE: Congratulations Deveraux. You've proved my father's point with your point it seems. I think we brought out the best in you. And now ladies and gentlemen, join us as we eat and drink and celebrate. I look forward to a rematch.... one day.

LAWRENCE WALKS AWAY.

SHANE: That was a damn dangerous game you played Jack. You were lucky.

JACK: Well, shake hands with Mr. Lucky.

SHANE: Alright we go into the second phase of the plan now. Remember we all wait for Bo's signal.

BO WALKS OVER TOWARDS CARLY AND WHILE SHE IS TALKING HE SUDDENLY GRABS HER AROUND THE NECK AND HOLDS HER CAPTIVE. HE HOLDS A GUN AT HER THROAT.

CARLY: Why are you doing this?

LAWRENCE: Yes Mr. Brady, I'm interested in your answer as I'm sure we all are.

BO: Very fancy sword play Mr. Alamain but this is for real. Unless you do what I say, this lady dies. I put a bullet in her head. I want safe passage out of here for myself and my friends. That includes Jennifer and Mrs. Horton. Unless you do what I ask, this lady's dead.

LAWRENCE: Interesting.

CARLY: I don't understand. How could you do this to me?

BO: Don't give me, how could I do this? You used me lady and now I'm using you.

LAWRENCE AND THE GUESTS STARE AT BO.