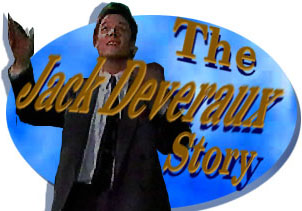 oldEpisode Two-hundred-seventeen:
Alamania Part XII: Still Trapped, Jack
and Frankie Start Arguing; Jennifer
Tells Them That Frankie was her
Past
Jack is "Her
Present
and
Furture
."
---
[Air date late November 1990]
SCENE ONE: JACK IS NOW FEELING A BIT BETTER AND HE'S TRYING TO MOVE SOME ROCKS WHILE FRANKIE HAS A REST. JENNIFER IS NOW WEARING JACK'S COAT OVER HER EVENING DRESS. JACK STILL HAS A BANDAGED HEAD.

JENNIFER: We should have tried to get out of here when Katerina got out.

JACK: Ooooooh! Tell that to Sleeping Beauty over there.

JENNIFER: Jack this isn't going to work.

JACK: Look Jennifer it has to work.

JENNIFER: Look I realize that you want to get out of here. We all do, but you were almost killed yesterday. You're not strong enough to be moving....

JACK: Well then what do you want me to do? Do you want me to go back and take another nap?

JENNIFER: Yes, you need your rest.

FRANKIE: She's right Jack. Come on, the way you keep moving that stuff around you could cause another cave-in.

JACK: I don't recall asking for your opinion.

FRANKIE: Well maybe you should you know. If you're so determined to dig your way out of here, there is a better way.

JACK: Jeepers Francoise, thank you for the advice.

FRANKIE: Is he always so pleasant in the mornings?

JACK: No I think I'm better in the mornings.

JENNIFER: Would you two just stop?

SUDDENLY A PILE OF DIRT FALLS FROM THE ROOF OF THE TUNNEL.

JACK: NO.... GET DOWN.... DUCK.... GET DOWN.... NO.... OH.... AHHHH.... AHHHHH.
SCENE TWO: JACK, JENNIFER, AND FRANKIE ARE STILL IN THE TUNNEL, THERE HAS BEEN ANOTHER SMALL CAVE-IN.

FRANKIE:

You know something, you were right Jack. What do you need with my advice, huh? You obviously can screw things up just fine on your own pal.

JENNIFER: Frankie, please.

FRANKIE: What?

JENNIFER: Just drop alright. Just forget it.

FRANKIE: What are you.... what?

JACK: Yeah why don't you just go back to sleep, huh. We'll wake you when it's over or when we're all dead, which ever comes first.

FRANKIE: What's with you? What's his problem, I'm only trying to help.

JENNIFER: Frankie his claustrophobia is getting worse, alright.

FRANKIE: Oh.

JENNIFER: He can't even stand to be in an elevator. Imagine what he's going through right now.

FRANKIE: Yeah well you better calm him down before he freaks out.

JACK IS BUSY TRYING TO PUSH ROCKS OUT OF THE WAY. HE IS GRUNTING AND MOANING AS HE WORKS.

JENNIFER: Alright. I've just got to get his mind off of being here. JACK!

JACK: What?

JENNIFER: Come here. Stop. Come over here a second. Jack let go. We have more important things to do.

JACK: What's more important to do?

JENNIFER: I want to do what we did yesterday alright.

JACK: What's that?

JENNIFER: Let's.... let's talk about old times.

JACK ROLLS HIS EYES AS IF HE CAN THINK OF NOTHING WORSE BUT JENNIFER GOES ON WITH HER IDEA.

JENNIFER: And the thing is even though everybody was broke it was still one of the best Christmases I've ever known.

JACK IS SITTING WITH HIS HEAD IN HIS HAND LOOKING VERY BORED.

JENNIFER: It's your turn to tell a story Jack.

JACK: No, thank you for your story but I shall politely refrain. Thank you very much. I'm getting back to rock pulling.

FRANKIE: Jack, just do me a favor, be careful alright.

JACK: Enough of your helpful comments, please!

FRANKIE: Oh great.

JACK: Okay.

FRANKIE: So Jen, are you still as mad at me as he is?

JENNIFER: Well what do you think Frankie? I mean you lied to me the whole time we were together.

FRANKIE: I never lied to you about the way I felt.

JACK CAN HEAR THIS WHOLE CONVERSATION.

FRANKIE: It was always real. You know it was. Come on Jack just think back about how it was between us.

SHE THINKS OVER A FEW TIMES THAT SHE AND FRANKIE WERE TOGETHER BEFORE SHE BEGAN WORKING WITH JACK.

JENNIFER: What you're talking about was a long time ago Frankie. Things are different now.

SHE LOOKS AT JACK WHO TURNS TO LOOK BACK AT HER.

FRANKIE: Look Jen, I don't need to hear about how things have changed. I'm not trying to come between you two. I care about you. Your friendship's very important to me.

JACK: I tell you something. Francoise, if you're such a great friend, why don't you get the hell over here and help dig us out, alright.

FRANKIE: Look Jack, I know you're mad at me, both of you.

JACK: Oh geez.

FRANKIE: But if we keep fighting with each other, we're never going to get back home.

JENNIFER TURNS SUDDENLY TO LOOK AT FRANKIE WHEN HE MENTIONED HOME. JACK DOES THE SAME.
[Air date late November 1990]

SCENE ONE: IT IS THE NEXT DAY AND JENNIFER IS SLEEPING WHILE JACK AND FRANKIE CONTINUE TO ARGUE.

JACK: There're so many rocks in this place we're not making any progress.

FRANKIE: Wait a minute, wait a minute, come on Jack, what do you think you're doing, huh. Now come on, cool it. Quit moving this stuff around or you'll cause another cave in.

JACK: This from the guy who couldn't get out of his own room. Who died and made you a structural engineer?

FRANKIE: You know Jack, I'm really sick and tired of your sarcasm. Now I know you're not exactly thrilled that I'm stuck here with you and Jen.

JACK: Oh no, no, no, no, no, Francoise I'm happy to have you here. I 'm thrilled at the prospect of listening to your advice all the way back to Salem. Excuse me, excuse me.

FRANKIE: I'll have you know Jack that I was in Salem first. And whether you like it or not, Salem was my home.

JACK:

Well, they say home is where the heart is. I guess the question is are you going home to Salem or are you going home to Jennifer.
SCENE TWO: JENNIFER HAS WOKEN UP AND HEARD THE LAST COMMENT FROM JACK.

JACK: Excuse me while I work.

FRANKIE: Alright look, you want to know how I feel about Jen, I'll tell you. I care about her a lot Jack but that doesn't mean that I am going to try to take her away from you, alright.

JACK: Francoise, really I....

FRANKIE: Will you just shut up and let me finish. Because the truth is, she belongs with you Jack.

JACK: Francoise, look I really don't care what....

JENNIFER: Look, why don't I put an end to this discussion okay.

JACK: That's alright Jennifer, you don't have to think up anything. I've got to get back to work here.

JENNIFER: Jack, Jack, listen. Jack! Frankie is a part of my past okay. You're my present and my future. You're my whole life.... if you want to be.

HE PUTS HIS HAND GENTLY OVER HERS AND IMMEDIATELY SHE IS REMINDED OF THE RAPE AND PULLS HER HAND AWAY.

JENNIFER: Okay.

JACK: What's the matter?

JENNIFER: Nothing. I just think that we should just keep on concentrating on getting out of here and somebody should look for Katerina. She's been gone a long time, alright.

FRANKIE: Ah, I'll go.

JACK: No, no.

FRANKIE: No I'll go, I'm worried about her. Just stay here.

JACK: Alright.

JENNIFER: Just be careful alright.

FRANKIE: I will.

JACK: Careful.

JACK IS WORRIED AS HE LOOKS AT JENNIFER. HE KNOWS SOMETHING IS VERY WRONG.
SCENE THREE: FRANKIE IS BACK IN A SHORT WHILE.

FRANKIE: We got a problem.

JACK: Oh yeah.

FRANKIE: Yeah it's blocked off.

JACK: Oh I could have told you that. Okay let's push over here. All together, come on, on this one right here.

JACK PLACES HIS HAND OVER JENNIFER'S TO HELP HER PUSH.

JACK: Ahhh, come on, come on.

ONCE AGAIN SHE THINKS OF THE RAPE AND PULLS AWAY FROM JACK.

JACK: Jennifer what the hell.... could you get back here. What's the matter?

JENNIFER: Nothing. I'm just scared, that's all.

JACK: Look, now's not the time for being scared. We're going to work together and we're going to get out of here, right. Soon this will be nothing but an unpleasant memory.

JENNIFER: I hope you're right Jack. Alright, come on.

JENNIFER CLIMBS BACK UP TO HELP BUT JACK IS MYSTIFIED BY HER MOOD.