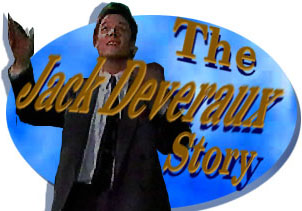 oldEpisode Two-hundred-twenty-eight: Jack
Visits Adrienne, Who in the Hospital; She and
Jo Are Happy That Jack Is Getting Close to
His Family; Later When Jennifer Seems to Act
Cool Towards Him, He Goes to Visit Dr. Baker.
---
[Air date mid-Decemeber 1990]
SCENE ONE: JACK AND JENNIFER ARE CARRYING IN THEIR CHRISTMAS TREE IN THE LOFT. JACK IS HOLDING THE TIP AND JENNIFER IS HOLDING THE HEAVY BASE AS THEY CARRY IT INTO THE LOFT.


JACK: Come on Jennifer, come on, keep it going.

JENNIFER: Jack I have the heaviest part down here.

JACK: No the top part is the heaviest part. Don't you know that?

JENNIFER: Jack don't question my judgment.

JACK: Just keep doing what I say. Just follow my directions. This way, come on, come on. There you go.

JACK: That's right, don't worry. You got it, you got it.

JACK: ARRRGGGHHHH right on my foot! OUCH, thank you.

FRANKIE COMES DOWNSTAIRS CARRYING HIS BAG.

JENNIFER: Frankie, hi, did you see our Christmas tree? We just.... what are you doing? I didn't know you were going on a trip.

FRANKIE: I'm not.... I'm moving out Jen.

JENNIFER:

Oh you're moving out.

JACK CANNOT HELP BUT LOOK HAPPY ABOUT THIS.

JACK: I guess a man has to do what a man has to do.

THEY BOTH TURN AND LOOK AT JACK.

JACK: Ah look if you'll excuse me, I'm sure you kids need to talk. I need to do something myself right now. I'll see you later.
SCENE TWO: JACK LEAVES AND JENNIFER QUESTIONS FRANKIE ABOUT HIS LEAVING. HE SAYS THAT NOW HE IS TOLD HER HE LOVES HER IT WILL BE TOO DIFFICULT TO STAY. SHE CONVINCES HIM THAT SHE WANTS HIM THERE AND HE SAYS HE WILL NOT LEAVE IMMEDIATELY BUT WILL THINK ABOUT IT.
SCENE THREE: MEANWHILE JACK ATTENDS A BOARD MEETING AT THE HOSPITAL. IT IS TO DECIDE IF NEIL CURTIS IS SUITABLE FOR THE POSITION OF CHIEF OF STAFF.

TOM: The meeting's called to order. First an announcement. Two of our board members won't be present. Victor Kiriakis and Julie Williams can't be here. Victor is indisposed and can't vote but Julie has recorded her vote and sent it in and it will be recorded.

NEIL: Oh Tom, Justin won't be here either. His wife had surgery as you know.

JACK IS GULPING A GLASS OF WATER AND HE STOPS SUDDENLY. IT IS OBVIOUS THAT JACK CARES DEEPLY FOR HIS SISTER.

JACK: Ah, what, Adrienne? Is she alright?

NEIL: Yeah, yeah, she's fine.

TOM: I'm aware of that. Justin's been excuses and he's had his vote recorded.

JACK: Um.... if you'll excuse me, I think I need to go too. But if I could say a word or two. I've known Dr. Curtis here for a few years now and I know there is some question about the past. Um.... I would just like to say for the record, I think the past is the past. I know him to be a good and fair doctor and very caring. And that's from first hand experience. So.... can I go now?

TOM: Given the special circumstances in light of the family emergency, we'll record your vote.

JACK: Oh thank you. My vote is.... yes. A definite yes.

BOARD MEMBER: Wait a minute, isn't there a conflict of interests here. Your mother works for him.

JACK: So what? I think you heard my vote didn't you. Look I need to go see Adrienne and make sure everything is alright.

MICKEY: You go ahead Jack. I'll take care of everything.
SCENE FOUR: ADRIENNE WHO HAS HAD SURGERY. SHE IS PREGNANT AGAIN, AND DESPITE BELIEVING SHE COULD NEVER HAVE ANOTHER CHILD -- SHE HAD A MISCARRIAGE YEARS EARLIER. JO IS WITH HER WHEN JACK POPS HIS HEAD IN THE DOOR.

JACK: Ah excuse me, I wasn't sure if this was a good time, I could.... maybe I should go.

ADRIENNE: Don't you dare. Get over here.

JACK: Adrienne. I suppose you know I didn't really.... I didn't...I didn't know about this operation.

JO: You're in good company Jack. She didn't tell anybody.

JACK: Um what I mean is I just.... I was in a meeting and I just heard about the operation. And I wanted.... I wanted to come by and.... I don't know.... I wanted to tell you I hope everything is.... everything's alright for you and the baby too.

ADRIENNE: (She is crying, happy about Jack's concern)Thank you.

JACK: I mean it's all.... I could do.

ADRIENNE: Thank you. Your coming by helps a lot. It helps to have my family around me you know.

JACK: Well that was.... that was the idea.

JO: (Jo is holding back tears) Brother and sister.

JACK: (Jack is overcome with emotion too)Um.... well look before things get too wet, I think maybe I better go.

ADRIENNE: Thank you for coming by.

JACK: Sure I really need.... I need to go but I'll.... I'll see you.

EMOTIONAL OVER THE CLOSENESS WITH HIS FAMILY, HE BACKS OUT OF THE ROOM NOT WATCHING WHERE HE IS GOING, THUS HE ALMOST BUMPS HIS HEAD ON THE TV AS HE LEAVES.


JACK: Television.... bad for your head. Ah bye.

JACK LEAVES. JO AND ADRIENNE ARE EXTREMELY PLEASED THAT JACK IS GETTING CLOSER TO THEM.

JO: You know they say when god closes a door, he opens a window and with Steve's.... I think our family's getting closer.

ADRIENNE: I think so too.
SCENE FIVE: MEANWHILE JENNIFER LEAVES THE LOFT TO GO TO HER FIRST RAPE COUNSELING SESSION. THERE SHE LISTENS TO A WOMAN WHO SAYS SHE WAS RELUCTANT TO TELL HER HUSBAND ABOUT HER RAPE AND WHEN SHE DID TELL HIM HE LEFT HER A NOTE AND WALKED OUT. JENNIFER IS UPSET HEARING THIS AND LEAVES THE SESSION WITHOUT SAYING ANYTHING ABOUT HER CASE.
SCENE SIX: JACK IS WALKING BY THE ROOM WHEN JENNIFER COMES OUT.

JACK: Um (whispering) the doctor in?
JACK: (A bit louder) Is Dr. Baker in?

SECRETARY: Yes she is but she's in a rape counseling session right now. Would you like to wait? It'll be over in just a few minutes.

JACK: Ah.... sure. Sure I'll be right here.

JACK SITS DOWN AND WAITS OUTSIDE. HE SEES JENNIFER COME OUT THE DOOR.

JACK: Jennifer! What are you doing here? What were you doing there, that's a....

JENNIFER: (Jennifer is surprised and does not want Jack to know why she is there) What am I doing? Ah, I just thought it would be obvious you see. I guess you haven't really been following my stuff lately but I did this story on a campus rape and I was following up on it. That's what I was doing in there.

JACK: Oh, I suppose it must be very difficult to deal with all that information.

JENNIFER: It is, it's really heartbreaking. So that's why I need to get to the studio and type up my notes. You know while they are still fresh.

JACK: (Tentatively)If you finish early, perhaps I could.... ah.... proofread them with you maybe over some dinner.


JENNIFER:

No I can't. I mean I just.... ah.... I just need to type up my notes and when I'm done I need to go home because there is something important that I need to take care of.

JACK KNOWS SHE IS MAKING EXCUSES AGAIN AND HE IS HURT.

JACK: Something about yah high with short hair? Do you know if he's going to stay or go.

HE HOLDS HIS HAND UP TO EXACTLY FRANKIE'S HEIGHT.

JENNIFER: I haven't really thought about that yet. I don't know. But I really have to go before my notes get stale, you know. Goodbye.

JACK FROWNS AS SHE WALKS AWAY.
SCENE SEVEN: HE GOES INTO SEE WHITNEY BAKER AND SPENDS THE FIRST FEW MINUTES FIDDLING WITH HER PENCILS UNTIL HE BREAKS THEM IN HALF. HE IS BROKEN ABOUT SIX WHEN SHE STOPS HIM.

JACK: Sorry about that. I guess they don't make them the way they used to.

WHITNEY: Jack, before you systematically break every pencil in this office, why don't you try telling me what's making you so tense?

JACK: Tense? Do I look tense? I'm not tense. There's nothing tense about me.

HE GETS UP AND STARTS PACING THE ROOM.

JACK: I mean I just happen to break a few pencils every now and then. Some people like to play golf you know.

WHITNEY: Jack, I thought we were past that.

JACK: Alright, so I'm tense.

WHITNEY: Well do you know why?

JACK: No!

WHITNEY: Well why don't you try to guess.

JACK: Let me guess.... ah.... my guess is that it probably has something to do with Jennifer. And the fact that she's.... she's acting very young. She has.... well she cares about several people at once, myself and.... ah.... and her old.... teenage sweetheart.

IT IS OBVIOUS THAT JACK THINKS THAT JENNIFER STILL LOVES FRANKIE.

WHITNEY:

Frankie?


JACK:

(Pronouncing the name as he always does) Francoise!!
SCENE EIGHT: JENNIFER GOES BACK TO THE LOFT AND FINDS THE CHRISTMAS TREE HAS BEEN DECORATED.

FRANKIE COMES DOWNSTAIRS. HE TELLS HER THAT HE DID THE DECORATING. SHE TELLS HIM THAT SHE REALLY NEEDS HIM TO STAY. HE SAYS THAT HE WILL STAY. SHE IS VERY HAPPY ABOUT THAT.
[Transcribed by Carol Vaughan
added material by Sally A. Wilson]
---
---