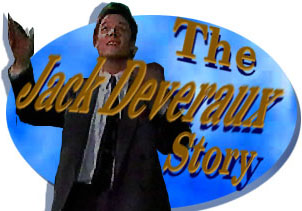 oldEpisode Two-hundred-twenty-nine: Jack
Arranges a Special Christmas Eve for
Jennifer, and Gives Her a Special Hope Chest.
---
[Air date Decemeber 23rd, 1990]
SCENE ONE: JENNIFER GOES TO SEE HER GRANDMOTHER IN THE HOSPITAL WHERE SHE IS TELLING CARLY ABOUT THE HORTON ORNAMENTS ON THE TREE. JENNIFER FEELS TO BLAME HERSELF FOR ALICE'S HEART ATTACK.
SCENE TWO: BACK AT THE LOFT, JACK IS PUTTING HIS OWN DECORATIONS ON THE CHRISTMAS TREE.

HE IS HUMMING LITTLE DRUMMER BOY AS HE THROWS TINSEL OVER THE TREE. HE HEARS A KNOCK AT THE DOOR.

JACK:

Just a.... budum, budum, budum.... (Obviously thinking it is Jennifer) MERRY CHRISTM.... ah.... (Slightly disappointed) Jo.

JO: Merry Christmas son. I went by the paper and they said that you were here and.... oh my....

JO (CONT.): I don't guess I have to ask why.

JACK: Actually I was preparing a little something for.... for Jennifer. And she doesn't actually know that I'm here. I.... ah.... well I actually had to.... ah....

HE SHEEPISHLY TAKES A CREDIT CARD OUT OF HIS POCKET.

JO:

You did!

JACK: Well now that you've seen everything, do you suppose she'll like it?

JO: Well how could she not?

JACK: Ah, what brings you here?

JO: Oh, I'm going to have a special Christmas dinner. Your sister, Justin and the kids are coming and I was sort of hoping you might come too. I'm going to make my famous tuna casserole.

JACK: Green tuna casserole.

JO: Huh, uh.

JACK: Well that's really something to consider but unfortunately I believe I'll have to pass. I have big.... I have plans for tonight.

JO: What um.... what kind of big plans do you have for this evening?

JACK: I didn't say.... I didn't.... I didn't say anything about any kind of big plans.

JO: You actually are going to do it aren't you? You're going to pop the question. Oh Jack, oh I can't wait for the wedding.

SHE GRABS HIM FOR A BIG HUG.



JACK: Look.... I believe you'll just have to.... wait, alright. It's....

JO: What do you mean?

JACK: I mean the question has already been popped.

JO: But she didn't say no.

JACK: She didn't say yes either.

JO: Why not?

JACK: Because she.... beca....

JACK IS TANGLED UP IN TINSEL AND DECIDES TO THROW IT AWAY IN A FLURRY.

JACK: Because ah, she ah.... I don't think she believed me the first time and ah.... I thought it best to do it again.

JO: Oh I don't know what's going on between you two but I'm so glad that you're finally able to tell Jennifer how you feel. Well I'll.... I'll let you get back to your work. Now listen, please try to make it for Christmas.... tuna casserole!

JACK: Kind of makes you green all over.

JO: You have a wonderful evening tonight son.

JO LEAVES AND HE SHUTS THE DOOR.

JACK:

Yes, that's the intention.
SCENE THREE: LATER CARLY TELLS JENNIFER THAT SHE IS GOING TO SEE LAWRENCE ABOUT THE VON LEUSCHNER MONEY AND JENNIFER WARNS HER THAT LAWRENCE IS VERY DANGEROUS. CARLY IS CONCERNED BECAUSE JENNIFER SEEMS VERY SCARED OF LAWRENCE, MUCH MORE THAN OTHER PEOPLE. WHEN CARLY LEAVES, JENNIFER CALLS BO AND LEAVES A MESSAGE ON HIS ANSWERING MACHINE SAYING WHERE CARLY HAS GONE.
SCENE FOUR: JENNIFER ARRIVES A BIT LATER TO LOFT. THE LIGHTS ARE OFF, AND SHE CAN TELL SOMEONE IS THERE. SHE IS SCARED. JACK IS LIGHTING WHICH ARE ON TABLE HE HAS SET. SHE HAS YET TO SEE HIM.

JENNIFER: (Nervous and scared) Who's there?

JACK: (Looking up after finishing lighting the candles) Entrez-vous, Mademoiselle.

JENNIFER: Ah, Jack.

JACK: That's right, Jack. Please have a seat.

JACK HAS A SMALL TABLE SET FOR DINNER AND CHAMPAGNE. HE SEATS JENNIFER AT THE TABLE. HE TAKES A NAPKIN AND WAVES IT A FEW TIES, THEN TUCKS IT AROUND HER NECK.


JACK: Here you go.

JENNIFER: Okay.

JACK:

Sure.

HE SITS OPPOSITE HER SO THAT SHE IS LOOKING AT THE TREE. AS HE SITS HE SITS ON THE BOX OF MATCHES.

HE THROWS IT AWAY AND THEN PICKS UP THE CHAMPAGNE.

JACK:

Well, time for a little ambiance.

HE PRESSES THE REMOTE CONTROL AND BING CROSBY SINGING SILVER BELLS STARTS TO FLOAT OVER THE ROOM. JENNIFER FOR ONCE SEEMS VERY HAPPY.

Silver bells; silver bells
It's Christmas time in the city;
Ring-a-ling; Ring-a-ling
Here them ring, soon it will be Christmas Day.

City sidewalks, busy sidewalks
Dressed in holiday style
In the air there's a feeling of Christmas
Children laughing; people laughing;
Meeting smile after smile
And on every street corner you'll hear.

JENNIFER:

What do you think you're doing Jack?

JACK: Hope everything's to your liking.

HE PULLS THE CORK ON THE CHAMPAGNE, AND JUMPS AS IF IT STARTLED HIM; SHE GIGGLES.

JACK:

A lilt champagne perhaps.

JENNIFER: I can't believe you did this.

JACK:

Well to be honest,

The Spectator's

already had it's office Christmas party and I figured why waste the greens and the lights and the candles and the.... champagne. So I figured why not recycle.

JENNIFER IS SMILING AT JACK.

JACK:

So what's the matter. It's not quite the perfect Horton set up I know that. Of course we could always take it down and....

JENNIFER: No, it is perfect.
SCENE FIVE: LATER, AFTER DINNER, JACK MOVES OVER TO THE TREE AND GIFT GIVING.

JACK: Now I know you don't have anything for me. That's quite alright, I know you've been rather busy. I don't need anything anyway.

JENNIFER: I do have a present for you Jack.

JACK: You do?

JENNIFER: Yes I do. One second.

SHE HANDS HIM A SMALL WRAPPED BOX.

JENNIFER: I hope you like it.

JACK SLOWLY LIFTS THE LID.

YOU CAN TELL HE THINKS THAT HE THINKS SHE DID NOT PUT MUCH THOUGHT INTO THE GIFT; HOWEVER JENNIFER EYES ARE BEAMING.

JACK:

Ah, they are very unique. That's ah.... it must have taken you a lot of time to find these.

JENNIFER:

They're not just any cufflinks. They were my grandfather's and then he gave them to my father and then my dad gave them to me to give to the man I love.

JACK FEELS A BIT LOUSY THINKING SHE HAD NOT SPENT MUCH TIME CHOOSING THEM.

JACK: That's very.... that makes them very special. Thank you.

JENNIFER IS REALLY HAPPY.

JACK: Ah what I have is not quite so historical but.... well perhaps. Maybe.... maybe a little.

JACK BENDS DOWN AND SWEEPS A CHRISTMAS CLOTH OFF A LARGE WOODEN CHEST.

JENNIFER: A hope chest?

JACK: Ah.... an historical hope chest. An historical account.... come, look inside.

THEY BOTH KNEEL DOWN IN FRONT OF THE CHEST AND JACK LIFTS THE LID.

JENNIFER: Okay. JACK: You see....

JENNIFER: What in the world....

JENNIFER TAKES OUT A LARGE TOY FIRE TRUCK COMPLETE WITH LADDER.



JACK:

Jennifer Horton, this is your life! At least this year. You see when reporting on important historical events it's very important to get all the details straight and correct.

HE TAKES A SMALL BRIDE DOLL AND A FIREMAN DOLL OUT OF THE BOX. HE POINTS TO THE BRIDE DOLL'S FACE.

JACK:

Notice.... the gas mask. Fitting yes. Alright.

JENNIFER GIGGLES THEN REACHES IN AND TAKES OUT A BOX.

JENNIFER: Lincoln Logs?

JACK: Ah yes, to make a two scale log cabin that they stayed at.

NEXT SHE FINDS A BIG FURRY TOY BEAR.


JENNIFER: And a bear to scare me with, right. Do I really need to be reminded of all this Jack?

JACK: Well that is the way it was. These are the facts and you did enjoy yourself I believe. Admit it.

JENNIFER: Jack I almost fell off a cliff wearing practically nothing and I almost got bit by a snake.... there's not a snake in there right?

JACK: Ah, what in there?

SHE STARTS TO GIGGLE AND HITS HIM WITH THE BEAR.

JENNIFER: No.

JACK: Over here maybe.

NEXT SHE FINDS TWO SMALL CHILDREN'S LIFE JACKETS. EACH ONE HAS THE NAME "LORETTA" STENCILED ON IT.

JENNIFER: Huh, uh. Another wonderful memory, huh.

JACK: Well it should be. That's when.... that's when I saved your life.

JENNIFER: When you saved my life? I don't think that's the way it was.

JACK: Oh perhaps that's when I allowed you to save my life.

JENNIFER: No you didn't allow me to do anything Jack.

JACK: As I was saying, details are very important. Ah.... and to round everything up there is a final report. That's kind of a.... kind of a forecast actually.

JENNIFER: Okay.


HE HANDS HER A SHEET OF PAPER AND SHE BEGINS TO READ IT ALOUD.

JENNIFER:

"All kidding aside, now that this is finally empty, we can fill it up again with new memories and hopes for a wonderful future."

JENNIFER BEGINS TO CRY.


JACK:

The intention was not to make you feel sad or blue.

JENNIFER: You're so wonderful. Too wonderful.

JACK: That's incorrect reporting. I think they're talking about you.

HE CARESSES HER FACE WITH HIS HAND AND SHE GENTLY STROKES IT.
SCENE FIVE: LATER SHE IS SITTING BY THE FIRE HOLDING THE TWO DOLLS WHEN JACK COMES OVER AND SITS DOWN BESIDE HER. SHE GETS A FRIGHT. THIS WORRIES AND HURTS JACK, BECAUSE SHE IS STILL PULLING AWAY FROM HIS PRESENCE.

JACK:

Left over cider from the party.

JENNIFER:

Oh!

JACK:

Oh I'm sorry. I scared you.

JENNIFER: No you didn't. You didn't scare me.

JACK: I never mean to scare you or hurt you.

JENNIFER: You couldn't.

JACK: You know I've been thinking.... if I had.... if I had been able to go ahead and tell you how I feel, you would not have been so inclined to go running off and get yourself married to Lawrence. And things would be a lot better right now.

JENNIFER: Yeah but it did happen and we can't change that.

SHE GETS UP AND MOVES AWAY AND HE FOLLOWS.

JACK: Well one can give it the old college try.

JENNIFER: I don't know if I can.

JACK: I think we could.... you know, I help you and you help me.

JENNIFER: Help you?

JACK: Yes. I believe we both.... we both have ghosts to get rid of. I think we can do that together. And as you recall, I still do love you.

JENNIFER: I love you too Jack. I really do and there's nothing I want more than to be with you.

JACK IS STILL NERVOUS BUT HE MOVES CLOSE TO HER, HE HOLDS HER HAND IN HIS.

HE BEGINS CARESSES HER FACE WITH HIS HAND. THEN HE TAKES HER FACE IN BOTH HIS HANDS AND KISSES HER FIRMLY BUT GENTLY.



HE PUTS OUT HIS HAND AND SHE TAKES IT AND HE SLOWLY LEADS HER BACK TO THE SOFA. HE KISSES HER AGAIN AND THEN SITS DOWN GENTLY PLACING HER UNDER HIM. THEY BEGIN TO KISS MORE PASSIONATELY.
SCENE SIX: ALICE HAS TO UNDERGO SURGERY TO INSERT A PACEMAKER IN HER CHEST.
[Transcribed by Carol Vaughan
added material by Sally A. Wilson]
---
---