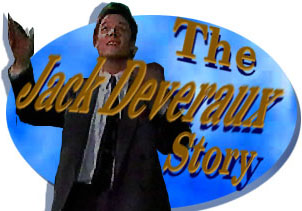 oldEpisode Two-hundred-thirty-one:
Christmas Day 1990: Santa Comes
Down Jennifer's Fireplace, with
a Special Question from Jack.
---
[Air date Christmas Day, December 25th, 1990]
SCENE ONE: IT IS CHRISTMAS DAY AND JENNIFER IS WOKEN BY THE SOUNDS OF THUMPING, BANGING, AND GROANS COMING FROM INSIDE HER CHIMNEY. SHE GRABS A BASEBALL BAT AND IS READY TO ATTACK WHEN SANTA COMES TUMBLING OUT THROUGH THE FIREPLACE.



DESPITE TRYING TO IMITATE SANTA, IT IS CLEAR THAT IT IS JACK'S VOICE.

JACKÁS VOICE:

OHHHH!.... OHHHH!

JENNIFER: Who is it? Who's there?

JACKÁS VOICE: (Jennifer hits him a few times) ARGHHHHHH!

JENNIFER: Who is it? ARGHHHHHH!

JACK: DON'T SHOOT, DON'T SHOOT! Don't shoot, don't shoot, it's only me, Santa.

JENNIFER: (Finally recongizing his voice) JACK!

JACK: Jack, no.

JENNIFER: What do you think you're doing Jack?

SHE COMES TOWARDS HIM WITH THE BAT.


JACK:

Don't!

JENNIFER: That is unbelievable. You came down the chimney. What are you doing Jack?

JACK: That's it, Jack Deveraux, Jack, Mr. Deveraux, he's the one who sent me here to give you a Christmas greeting and even more a special gift. Aaah.

JENNIFER:

Jack I already gave you a gift. I don't have anything else to give.


JACK:

A gift, gift. My, my holiday reindeer! What are you talking about? No, no, I'm checking my list and checking it twice to see if you've been naughty or.... well speaking of checking.... oh Mr. Deveraux wanted me to check on my time and see if you had an answer to his.... his little question.

SCENE TWO: HE HOLDS UP THE ENGAGEMENT RING ON HIS FINGER.

JACK:

Ah yes, so I'm asking for him.... ah.... wou.... wou.... wou.... wou.... wou.... would you marry him?

JENNIFER: Jack....

JACK: Ah you're talking to St. Nick young lady and.... and I'm telling you Mr. Deveraux would never be seen in a hat with a pompom. He would wear fake fur though, thank you.

JENNIFER HAS A BIG GRIN ON HER FACE.

JACK:

Now if you....

JENNIFER: Okay Santa.

JACK: That's right, now just stand by and I'm going to get a...little pillow here and.... oh, sorry about the couch here.

HE BRUSHES SOOT OFF THE CUSHIONS.

JACK: (Groaning as he squats down to bend down on his knees) AIYE.... ARGH.... now for a presentation here and I quote.... very specially prepared....

JENNIFER GRINS AGAIN AS JACK GETS OUT A DIRTY PIECE OF YELLOW PAPER TO READ FROM.


JACK: Ah, ah.... "why should.... why should she marry him? Ah, let me count the ways. An immodest proposal of Mr. Jack Deveraux. Reason one, he loves you and reason two, you love him. And reason three, you wanted to.... no, you'd do just about anything for each other but you already figured that out." Now you see, now under the norkamal.... normal circumstances.... ah.... ah....

GETS UP, NERVOUS AND SCARED.

JACK (CONT.) Santa wouldn't be here asking questions for Mr. for Mr. D but apparently he was.... ah woke up in a kind of cold sweat last night and ah.... excuse.... he was kind of worried that he was losing you.

JENNIFER SHAKES HER HEAD.

JACK (CONT.) :

So to sum up the.... "to sum up this incredible offer of work and adventure and growth and stimulation for as long as you.... as long as you both shall live." I'll even throw in a promise.... I'll even throw in a promise to do everything in.... in his power to deserve someone.... someone as you.

JENNIFER WALKS AWAY WITHOUT ANSWERING.

JACK:

So.... so you can.... you can take your time to think about it. Do you need a

minute

?

JENNIFER: No I don't need a minute. I already know how I feel. I love you Jack.

JACK: You mean you love.... you love.... ah.... you love Mr. Jack Deveraux.

JENNIFER: b that's right, I love you, Jack. And I want to marry you. You know I want to marry you.

JACK: Ah yeah, him. Well maybe.... ah....

JENNIFER: No maybe, nothing. As soon as I'm out of this whole marriage with Lawrence, yes I will marry you.

JACK: Ah.... ah.... co.... come again?

JENNIFER: Yes I will marry you!

JACK:

Oh, him, well yes.... well.... ah perhaps for a second, if I may?

HE TAKES HER HAND AND SLIPS THE RING ON IT.


JACK:

I may, thank you. Yeah, that looks.... that looks good. How.... ho.... how does that feel?

THEY BOTH ADMIRE THE RING ON HER FINGER.

JENNIFER:

It's good. It feels good.

JACK: Yeah, it looks and it feels pretty good. Ah I tell you what, maybe.... ah.... maybe ah.... maybe in Mr. DeverauxÁ absence I can perhaps maybe steal a kiss, huh?

JENNIFER: (Gesturing with her thumb and finger) I think maybe you could.... a little kiss.

JACK: Happy.... happy holiday.

JENNIFER KISSES HIM

THEN LEANS BACK AND TAKES OFF HIS CAP AND BEARD.

JACK:

Excuse me.... I.... I....

THEY LEAN TOGETHER AND KISS AGAIN.

SCENE FOUR: BO GOES OVER TO SEE VICTOR, WHO IS RECOVERING FROM HIS STROKE, BUT CAN NEITHER MOVE NOR TALK. MELISSA ARRIVES AND IS SHOCKED TO SEE ALICE THERE. SHE TELLS ALICE THAT THEY HAVE A SPECIAL CHRISTMAS TREAT FOR HER. THEN MELISSA, JENNIFER AND SARAH GRAB HATS AND SUNGLASSES AND HIDE BEHIND MICKEY, JULIE AND MAGGIE. THEY ALL BEGIN TO PERFORM A HOMECOMING SHOW FOR HER. THEY SING ALWAYS FOR HER, ALICE'S SONG. JACK STANDS BEHIND TOM AND ALICE, HOLDING HIS EGGNOG AND GRINNING AT JENNIFER AND THE GROUP AS THEY SING. IT IS A FUN FAMILY OCCASION THAT JACK FEELS A BIT AWKWARD IN BUT IS STILL ENJOYING HIMSELF. FIRST THE OLDER SET SING, THEN THE YOUNGER COUSINS, WHO GIVE IT A RAP FEEL, THEY ADD LYRICS SUITED TO ALICE. AT THE END THEY ALL JOIN TOGETHER, WITH TOM SINGING THE LAST LINE.AT THE END MELISSA AND JENNIFER GIVE EACH OTHER A HIGH FIVE AND MELISSA FEELS THE ENGAGEMENT RING ON JENNIFER'S FINGER.

MELISSA:

Hey you guys, look.

ALICE: What, what are you talking about?

MELISSA: She's engaged!

ALICE: Engaged?

MELISSA:

They're engaged!

JACK WALKS OVER AND STANDS NEXT TO JENNIFER. HE IS SOMEWHAT NERVOUS BUT VERY PROUD.

TOM:

Well, it seems we have a new member of the family.

JULIE: Jack, congratulations. Jennifer.

JACK: Ah.... thank you.

MICKEY: So we'll expect you to take good care of her.

JACK: Ah, that's. (Nervous stutter) ...that.... that's the.... that's the plan.

ALICE: Jennifer?.... You happy?

JENNIFER: (Jennifer is happy for a change) Yes I am honest. I want this more than anything.

ALICE: That's all I wanted to hear. Mickey dear, there's a box up there on the mantel if you'll hand it to me please.

MICKEY: Yeah.

ALICE: Thank you. Jack, I expected something like this, an announcement. So I wanted to be prepared.

SHE OPENS THE BOX AND TAKES OUT A CHRISTMAS ORNAMENT FOR THE TREE WITH "JACK" PRINTED ON IT.

ALICE: Welcome to the family!

JACK LEANS OVER TO LOOK AT IT.

JACK:

It's.... it's a little ball.


ALICE:

Welcome dear.

JENNIFER: It's your ornament.

JACK:

Ornament.

JACK GRINS AND EXCHANGES LOOKS WITH JENNIFER.

JACK:

Thank you.... thanks.

HE REALLY FEELS PART OF THE FAMILY NOW.
SCENE FIVE: A BIT LATER BO RETURNS. ALICE SAYS HOW GLAD SHE IS TO BE THERE WITH THEM ALL, FOR AWHILE SHE WAS NOT SURE IF SHE WAS GOING TO MAKE IT. AS FAMILY MEMBERS PUTS THEIR ORNAMENTS ON THE TREE ALICE SPEAKS OF LOVE AND FAMILY, AND THOSE THAT ARE NO LONGER WITH THEM.JACK HANGS HIS RIGHT NEXT TO JENNIFER'S AND THEY BOTH ENJOY THE MOMENT.


ALICE:

My children, my grandchildren I just want you to know how much I love you and how vital you are in every way, those of you who are here with me and those who couldn't be here this year. But as the years go on we can't help but notice so much things change. The world changes, faster, louder, but if we can hold on to each other and try to remember -- not.... not just at the holidays -- but as much and as often as we can. If we stop, and take a minute to look at each other, we'll realize that what's

most

important

doesn't

change and never will: the love we have for each other, the strength, comfort, continuity can only come from family, and as long as this family gathers together to touch and share and laugh and remember; and as long as our hearts and arms are open to new friends and loves, then we have everything a human being can hope for in this life,

everything

, and it never ends. (Beat) But no matter how fast, no matter what the changes, there's always home and love.

THE FAMILY BEGINS TO SING HAVE YOURSELF A MERRY LITTLE CHRISTMAS.

JACK AND JENNIFER STROLL UP TO THE WINDOW TO WATCH THE FALLING SNOW. AS SHE PUTS HER HAND ON THE CURTAIN, JACK TAKES HER HAND AND LOOKS AT THE RING. AS THE SONG ENDS, JACK SIGNALS TO JENNIFER THAT THEY BETTER JOIN THE FAMILY. THEY WALK BACK AND STAND BEHIND THE COUCH WITH THE REST OF THE HORTON CLAN.

Have yourself a merry little Christmas
Let your heart be light
From now on are troubles will be out of sight


Have yourself a merry little Christmas
Make the Yuletime gay
From now on are troubles will be miles away

Here we are as in olden days, happy goldens of yore
Faithful friends that are dear to us,
Gather near to us once more
Through the years we all will be together
If the Fates allow
Hang a shining star on upon the highest bow
And have yourself a merry Christmas, now.