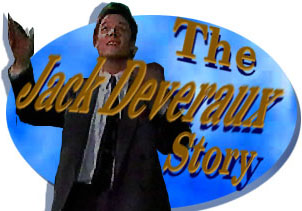 oldEpisode Two-hundred-thirty-three:
New Year's Eve 1990: Everyone
Attends a Myserious Party; Jack Is
Hurt and Angry When He Discovers
That Jennifer Lied. Emilio Is Murdered.
---
[Air date late December 1990]
SCENE ONE: IT IS NEW YEAR'S EVE AND JACK IS SITTING IN HIS OFFICE WHEN VERN COMES IN WITH HIS TUX.

VERN: Hey, I guess you and Jennifer are looking forward to the big getaway, huh.

JACK: Ah, actually there's been a change in plans. There's not going to be any getaway. I'll be staying right here. I'm going to be covering this murder mystery party thing and I believe Miss Horton will be doing the same for her station.

VERN: What.... too bad she can't make it. You'd think with Jennifer's Q rating, she'd have more clout.

JACK:

Look Vern, I don't care what you're saying about cute....

AT THAT MOMENT EVE WALKS INTO JACK'S OFFICE.

EVE: Oh Jack, I'm sorry. I need to talk to you.... privately.

JACK: Oh....

VERN: That's okay. Is there anything you need before I leave? Cologne, socks, maybe a new butler, huh.

JACK: I don't need a one. I have you.

VERN: Yes.

JACK: Look you don't need to....

VERN: Listen, Happy New Year, Jack.

JACK:

You don't need....

VERN LEAVES AND JACK SHUTS THE DOOR.

JACK:

I don't know what this is about but I suppose that you'll tell me.

EVE: It's about the party tonight. I'm here to give you a warning Jack.

JACK: You've got a warning for me. It sounds quite serious.

EVE: I'm sure you don't like to think about this but the fact is you're not Jennifer's first love. She was involved with Frankie before you, very involved.

JACK: Who pays your bills, you or your daddy?

EVE: Excuse me?

JACK: I was just wondering who is paying the gas bill for you to come over and tell me something I already know.

EVE:

Alright, alright, so you already know about Frankie. Well then you must know that he's back and he still

wants

her.


JACK:

That's really no concern of mine. I'm not concerned about Jennifer and I'm not really concerned about Francoise either.

EVE: You know Jack, if you were half as smart as you think you are, I think you'd listen to me and you'd make sure you are very.... very romantic with Jennifer at that party tonight.

JACK: And why would I do that?

EVE: Because Frankie's going to be there and if you can't be bothered to show Jennifer some special attention, I.... I think he'll be only too happy to Jack.

HE PICKS UP THE PHONE PRETENDING TO IGNORE HER. SHE WALKS TO THE DOOR.

EVE: Happy New Year Jack.

HE PUTS DOWN THE PHONE AND THINKS CAREFULLY OVER WHAT SHE SAID. HE KNOWS THAT EVE IS AFTER FRANKIE BUT HE ALSO KNOWS THAT SOMETHING IS VERY WRONG WITH JENNIFER SINCE FRANKIE CAME BACK INTO HER LIFE.

SCENE TWO: AT THE STATION, JENNIFER IS TAPING A PIECE FOR THE NEWS BUT KEEPS MAKING MISTAKES. FRANKIE COMES IN AND HEARS HER AND MAKES A SECRET DEAL WITH DAN THAT JENNIFER NOT GET ANYMORE RAPE PIECES TO DO IF FRANKIE GIVES DAN AN EXCLUSIVE VON LEUSCHNER INTERVIEW. LATER THAT EVENING, JACK COMES TO THE STUDIO TO PICK UP JENNIFER. HE IS WEARING A BLACK TUX AND HOLDING A LARGE BUNCH OF DELPHINIUMS AND PINK ROSES. JENNIFER COMES OUT IN A STRAPLESS BLACK GOWN WITH A MATCHING WRAP.

HE PAUSES TO ADMIRE HER.

JENNIFER: What?

JACK: Nothing. (Beat) You look quite.... lovely.

JENNIFER: Thanks.

JACK: It was not the most original comment I'm sure but.... ah.... these are.... these are for you too.

HE REACHES OVER AND HANDS HER THE FLOWERS. HE IS NOW SO WORRIED ABOUT THEIR RELATIONSHIP AND HER RELUCTANCE TO ALLOW HIM NEAR HER THAT HE KEEPS HIS DISTANCE WHEREVER POSSIBLE.

SHE TAKES THE FLOWERS AND SMELLS THEM.

JENNIFER:

Thank you. These are really beautiful. You went all out, huh.

JACK: Well you never know what's right with flowers, you know.

JENNIFER: This was a really wonderful romantic thing to do Jack.

JACK: Well I wouldn't make too much out of it. I was accosted down by the freeway by one of those little kids who sells flowers and I was fearing for my hubcaps and I figured I had to buy some.

JENNIFER: Yeah sure.

JACK:

So.... ah.... maybe we should....

HE LEANS OVER AND KISSES HER GENTLY ON THE LIPS. SHE IS OBVIOUSLY A BIT AWKWARD BY HIS KISS AND TOUCH.

JACK:

I think it's going to be a good year, I think.

JENNIFER: Think so?

JACK: It's what I just said. (Beat) Here let's.... let's go.

HE TENTATIVELY PUTS HIS HAND ON HER BACK TO GUIDE HER OUT. THEY ARRIVE AT THE PARTY WHERE FRANKIE AND EVE ARE TALKING.

JENNIFER: Hi.... hi Frankie.

EVE: Jennifer.

JENNIFER: How are you?

FRANKIE: Hi, how are you doing, you look great.

JENNIFER: Oh thanks, thanks, so do you. You look great.

FRANKIE:

Thank you.

JACK LOOKS ACROSS AT EVE ACKNOWLEDGING HER.

JACK: Ah well perhaps you care to have a dance with your intended.

JENNIFER: (Smiling) Yes, I'd love to have a dance with my intended. Excuse us.

THEY MOVE ONTO THE DANCE FLOOR.
SCENE THREE: LATER IN THE EVENING, THE MC ANNOUNCES THAT THE MURDER GAME IS ABOUT TO BEGIN. HE HANDS OUT CARDS GIVING EVERYBODY THEIR PART AND THE OBJECT IS TO FIND OUT THE MURDERER. FIRST HE TELLS EVERYBODY ABOUT THE SUPPOSED VICTIM.

MC:

His name was Rick. He came from humble beginnings, the other side of the tracks. But he reformed and he made a good life for himself until one day, the woman he loved, rejected him and he turned once again to a life of crime. Now to help you solve the case, we'll be handing out cards that say who you are and what your relationship to the victim was. Remember all of you have a potential motive. You for instance....

HE POINTS TO EVE.

MC:

You wanted Rick dead because he made you his heir and with him out of the way, the money was all yours. And you....

HE LOOKS AT JULIE.

MC:

Rick had something you wanted, property perhaps.

THEN HE LOOKS AT EMILIO.

MC:

And what was your motive, maybe revenge. You were very upset with the way Rick was treating your sister.

EMILIO: Hey what's going on? I thought this was only a game.

MC: Well you were there when he was killed. You fought with him, didn't you?

EMILIO: I don't know what you're talking about man.

MC: I'm talking about murder, cold blooded vicious murder.

EVERYBODY IS VERY UNEASY ABOUT THE GAME BECAUSE IT HAS BEEN OBVIOUSLY SET UP AROUND THE MURDER OF NICK CORELLI. EMILIO LEAVES IN ANGER AND THE REST OF THE PARTY GETS HANDED THEIR ROLE CARDS. JACK GETS TWO ACCIDENTALLY SO HE PUTS ONE ASIDE.

JENNIFER:

What does your card say?

JACK: Jack, you're a well-to-do young professional who's always yearned to commit the perfect crime. Well that's true.

JENNIFER: I don't think I want to play this game Jack.

JACK: Well we don't have to stick around. We can always.... leave.

JENNIFER: No I have to. Dan practically forced me to do this story. He'd kill me if I left.

JACK: Nice choice of words.

J

ACK AND JENNIFER HEAD OFF IN DIFFERENT DIRECTIONS TO FOLLOW THE CLUES.
SCENE FOUR: JACK IS WANDERING AROUND, STARING AT HIS CARD AND MUNCHING ON A CELERY STICK WHEN DAN COMES OVER TO TALK TO HIM.

DAN:

Hey Jacko. This is stringing out better than I thought. This will make a terrific feature.

JACK: Huh?

DAN: Lucky you and Jennifer didn't have any plans.

JACK: I'm sorry, what do you mean?

DAN: What do you mean, what? I asked Jennifer if she was free to cover this wing dig and she said sure. Practically begged me for the assignment.

DAN WANDERS OFF AND JACK IS LEFT PUZZLED BY DAN'S COMMENT.


HE DECIDES TO CONFRONT JENNIFER.
SCENE FIVE: IT IS NEARLY MIDNIGHT AND THEY ARE COUNTING DOWN WHEN SHE FINDS HIM.

CROWD:

Eight, seven, six....

JENNIFER: Jack.

JACK: We need to talk.

CROWD: .... five, four, three....

JACK: I said.... (Shouting to be heard over the crowd) WE NEED TO TALK.

CROWD: Two.... ONE. HAPPY NEW YEAR.

BALLOONS AND CONFETTI FALLS ALL OVER THE CROWD. JACK AND JENNIFER ARE STANDING SLIGHTLY APART.

JENNIFER:

Happy New Year.

JACK IS ABOUT TO GET VERY ANGRY WHEN EVE CATCHES HIS EYE AND HE REMEMBERS WHAT SHE SAID. HE SOFTENS HIS WORDS TO JENNIFER.

JACK:

Look.... if something happened you would tell me right?

JENNIFER: I don't know what you're talking about Jack.

JACK: It doesn't matter. Well I guess 1990Ás over. I'd say it wasn't too bad a year.

JENNIFER: No it wasn't bad at all.

JACK:

Happy New Year.

HE KISSES HER FOREHEAD, RIGHT CHEEK, AND THEN HER LIPS.


JACK:

(Whispering) Happy New Year.

HE WRAPS HIS ARMS AROUND HER AND HOLDS HER CLOSE. HER EYES FILL WITH TEARS.
SCENE ONE: JACK CONTINUES TO HOLD HER FOR A FEW MINUTES IN SILENCE WHILE FRANKIE WATCHES THEM, NOT TOO HAPPY AT THEIR CLOSENESS. EVE IS JEALOUS. STILL HOLDING HER JACK ASKS HER WHAT IS WRONG.

JACK: Alright why don't you tell me what's been happening this last couple of weeks?

JENNIFER: I don't know what you're talking about Jack. What's the problem?

JACK: What's the problem.... you tell me what the problem is. You're the one who's lying about having to be here tonight. It is a lie, isn't it?


MEANWHILE, LAWRENCE HAS WALKED UP NEAR THEM AND IS STARING AT JENNIFER. SHE GLANCES TOWARDS HIM.

JACK:

Well?.... Don't look at him. We both know he's here. I had a talk with your boss a little earlier this evening and he told me he was totally befuddled as to....

LOOK AT ME

.... totally befuddled as to why you'd want to work tonight.

JACK: Are you trying to avoid me?

JENNIFER: You're wrong. I already told you.

JENNIFER: He assigned me....

JENNIFER: .... to this story because he wanted me to cover this for the station.

JENNIFER:

And that's what I should be doing right now. I should be covering this story for the station.

JENNIFER WALKS AWAY AND JACK IS FURIOUS. FRANKIE WALKS STRAIGHT OVER TO JENNIFER AND SEEING THAT JACK IS ABOUT TO STORM OUTSIDE.
SCENE THREE: JACK AND JENNIFER ARRIVE BACK TO THE LOFT. JENNIFER WALKS IN FOLLOWED BY JACK WHO SLAMS THE DOOR SHUT.

JACK: It's a little past two in the morning and it's a great beginning to a great new year.

JENNIFER: Yeah, you could say that. I should start working on my paper for the station.

JACK: You can start anytime.

JACK: We can start anytime. Start talking about what's the problem! (Beat) Huh?

HE JAMS HIS HANDS IN HIS COAT POCKETS IN ANGER.

JACK:

We can get down to solving it.

JENNIFER: Jack I don't know how many times I have to tell you there is no problem.

JACK: There's a problem when you lie and avoid.

JENNIFER: That's not true.

JACK: You didn't really want to go away this weekend did you?

JENNIFER: Look, I already explained that to you at the party. I don't know what Dan said to you.

JENNIFER: I thought that he told you.... what?

JACK: I said, it's a lie.

JACK GRABS HER BY THE ARMS AND BEGINS TO SHOUT AT HER.

JACK: STOP

LYING TO ME! STOP LYING! I DON'T NEED THIS IN MY LIFE AND YOU DON'T NEED IT EITHER. DO YOU UNDERSTAND WHAT I'M SAYING?




JACK: DON'T WHAT, DON'T WHAT?

JENNIFER: Don't!

JENNIFER: Don't get angry with me.

JACK PAUSES AND STARES AT HER, REALIZING THAT HE WAS FRIGHTENING HER.

JENNIFER:

Please.... just don't get angry.

HE LETS GO HER ARMS AND SHE RUBS THEM. JACK PUTS HIS HANDS BEHIND HIS BACK AWARE THAT HE CAPABLE OF SCARING HER.

JACK:

Jennifer, I'm not angry. (Beat) And I wouldn't hurt you, you know that.

JENNIFER: I know.

JACK SIGHS HEAVILY.

JACK:

So there's obviously something going on here more than meets the eye. And if it has nothing to do with Francoise....

JENNIFER: It doesn't, it's not.

JACK: Then what does it have to do with?

JENNIFER IS SILENT.

JACK:

Jennifer I can handle it. (Beat) I can handle anything.

JENNIFER: It's just.... everything. Everything's just getting to me all of a sudden and that's it. I just need to be alone for a while.

JACK: Alright, well if you don't need me, then I'll be going.

JENNIFER: No Jack! I do need you. That's not it. (Beat) I just um.... I just need time because I just.... I just want to think, that's all. And I just need to be alone and I just want to...feel and I want to sleep.

JACK:

It'll still be there when you wake up.

JENNIFER HAS BIG TEARS ROLLING DOWN HER CHEEKS.

JENNIFER:

I know.

JACK: I suppose.... I suppose I'll be somewhere in the vicinity also.

JENNIFER: I hope so.

JACK: Well this doesn't really sound apropos but.... Happy New Year.

JENNIFER: Happy New Year.

HE WIPES THE TEARS FROM HER CHEEK AND THEN WALKS OUT THE DOOR AND SHUTS IT. HE STOPS OUTSIDE STILL PUZZLED ABOUT WHAT IS WRONG WITH HER. HE HEARS HER COME OVER AND LEAN ON THE DOOR CRYING WHICH PUZZLES HIM MORE.
SCENE FOUR: JACK TAKES A WANDER DOWN TO THE PIER WHERE FRANKIE IS STANDING ALONE. JACK IS OBVIOUSLY NOT HAPPY TO SEE HIM, AND IT IS EVIDENT HE DOES NOT LIKE FRANKIE.

JACK:

Surprise, surprise, surprise!

FRANKIE: Spanky. I figured you'd be with Jen.

JACK: Well it is a night of surprises, isn't it? (Beat) Actually it's no surprise. She's tired and.... the lady requires a little beauty sleep.

FRANKIE: Huh, uh.

JACK: She was also engaged to Emilio Ramirez once you know.

FRANKIE: Don't push it.


JACK:

(Not liking the fact that Frankie is giving him advice) A little bit of advice from the other side of the wall. Don't push

what

?

FRANKIE: This wedding. Jack she's going through something right now. She needs to work it out herself, okay.

JACK: What is this something?

FRANKIE: Hey.... you know....

JACK: Hey.... you obviously know something. Do you have something to do with this?

FRANKIE: No! I've nothing to do with it, nothing at all.

JACK: Then what?

FRANKIE: Just.... give her some time.

JACK:

Well, thank you for the friendly advice.

JACK BEGINS TO WALK AWAY.

FRANKIE:

I just want what's best for her.

JACK TURNS BACK TO FRANKIE.

JACK:

What do you suppose I want?

JACK WANDERS HOME.