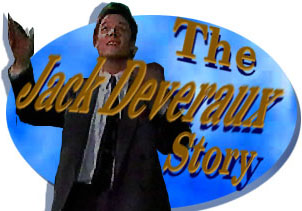 oldEpisode Two-hundred-thirty-six: Alice Visits
Jack to Plan the Wedding, He Tells Her What
Happened. Jennifer Visits Him too, but in too
Much Pain, He Takes Back the Ring. Meanwhile,
Jennifer Begins to Investigate Nick's Murder.
---
[Air early January 1991]
SCENE ONE: IT IS THE DAY AFTER JENNIFER SLAPPED JACK AND CALLED HIM A RAPIST. SHE HAS GONE TO THE HOSPITAL TO VISIT CARLY WHO WAS STABBED BY SOMEBODY WHO WAS AFTER BO. JENNIFER BUMPS INTO FRANKIE AT THE HOSPITAL. HE SENSES THAT SOMETHING IS VERY WRONG. SHE TELLS HIM WHAT HAPPENED. SHE FEELS TERRIBLE FOR WHAT SHE SAID, BECAUSE JACK IS A CARING, SENSITIVE, AND LOVING MAN. FRANKIE, SECRETLY KNOWING ABOUT THE RAPE, TRIES TO GET HER TO TELL HIM WHAT IS WRONG. THOUGH SHE CANNOT OPEN UP TO HIM. AFTER SHE LEAVES, HE STORMS OFF TO CONFRONT LAWRENCE.
---
SCENE TWO: FRANKIE CONFRONTS LAWRENCE AND TELLS HIM TO STAY AWAY FROM JENNIFER AND CARLY. IT IS THE FIRST TIME LAWRENCE HAS HEARD THAT CARLY IS HURT AND HE RUSHES TO THE HOSPITAL TO SEE HER. FRANKIE LEAVES AFTER TELLING LAWRENCE TO STAY AWAY OR HE WILL KILL HIM.
---
SCENE THREE: JENNIFER GOES BACK TO THE STUDIO WHERE SHE GETS A CALL FROM SOMEONE WHO HAS INFORMATION ABOUT NICK'S MURDER. SHE AGREES TO MEET HIM AT THE CHEATIN' HEART IN AN HOUR.
---
SCENE FOUR: JENNIFER ARRIVES AND FINDS IT VERY UNCOMFORTABLE BEING IN A BAR ON HER OWN. SHE SITS DOWN AT A TABLE AND A FEW MEN CHECK HER OUT. THE GUY WHO IS THE INFORMANT WATCHES HER TOO BUT SHE HAS NO IDEA WHAT HE LOOKS LIKE SO DOES NOT APPROACH HIM. HE IS ABOUT TO TALK TO HER WHEN FRANKIE COMES IN AND SITS DOWN WITH HER. SHE GETS FED UP WAITING AND LEAVES WITHOUT TALKING TO THE INFORMANT.
---
SCENE FIVE: FRANKIE THEN DECIDES TO GO TO SWITZERLAND TO MEET WITH HIS BANKERS TO SEE IF THE MONEY CAN BE TRANSFERRED TO LAWRENCE. EVE DECIDES TO GO WITH HIM AND SNEAKS ON THE PLANE.
---
[Air early January 1991]
SCENE ONE: ANOTHER DAY HAS PASSED AND JACK IS IN HIS OFFICE PACING AND FINDING IT IMPOSSIBLE TO WORK. HE CANNOT GET JENNIFER AND WHAT SHE SAID OFF HIS MIND. HE LOOKS THIN AND STRESSED. HE REACHES OVER HIS DESK, HE SEARCHES IN HIS TOP DRAWER UNTIL HE FINDS A PICTURE OF HIM AND JENNIFER. JUST AS HE FINDS IT, THERE IS A KNOCK AT THE DOOR SO HE PUTS IT BACK.

JACK: Ah.... come in, come in.

ALICE: Jack, I....

JACK: Mrs. Horton!

ALICE: I hope I'm not interrupting so terribly much but I can't wait to get started on the wedding plans with Jennifer. But first of all, I want to know if there's anything particular that you want at the wedding.

JACK IS UNCOMFORTABLE.

JACK: I don't think you should really concern yourself with....

ALICE: Now just wait a minute. If you're going to try to stop me being involved in this wedding, just save your breath. Because of my condition? No. The doctors have promised me that I can live a perfectly normal life. So what better way to start than to plan a Horton wedding.

JACK: There's not going to be one!

ALICE IS SHOCKED.

ALICE: What?

JACK: Well obviously Jennifer didn't tell you. (Beat) There's not going to be a wedding.

JACK TRIES TO PRETEND THAT HE CAN TAKE IT IN HIS STRIDE BUT INSIDE HE IS REALLY IN PAIN.
---
SCENE TWO: MEANWHILE JENNIFER GOES TO SEE WHITNEY BAKER, EVENTUALLY DECIDING THAT SHE MUST GET PROFESSIONAL HELP. SHE TELLS WHITNEY THAT SHE HAS BEEN TRYING TO HELP JACK DEAL WITH HIS PAST AND THAT'S WHY SHE'S BEEN ATTENDING THE SESSIONS. WHITNEY IS SURPRISED THAT JENNIFER THINKS SHE NEEDS TO HELP JACK BUT JENNIFER SAYS THAT HE IS STILL HAVING PROBLEMS DEALING WITH IT. SHE DOES NOT TELL WHITNEY THAT SHE WAS RAPED HERSELF AND THAT IS THE REASON FOR ALL THE TROUBLE.

JENNIFER: Yeah, yeah, he's still having a problem dealing with the fact that he's changed and like I said, I want to help him. But it backfired.

WHITNEY: What happened?

JENNIFER: I called him a rapist.

WHITNEY: Jennifer, under what circumstances did this occur?

JENNIFER: Ah, he was being really sweet. He brought me to this country inn and set up everything, you know, real romantically, and then when we were starting to get close....

WHITNEY: Yes?

JENNIFER: You know part of it's my fault. I've been having some problems lately and I probably just took it out on Jack.

WHITNEY: Jennifer what kind of problems?

JENNIFER: Oh nothing important. Nothing worth getting into anyway.

WHITNEY: Have you talked to Jack about them?

JENNIFER: Look the important thing here is not my problems and what they are about. It's that they are coming between Jack and me and I want to fix that. I want things to be the way they were.

WHITNEY: And how do you propose to do that?

JENNIFER: Well I thought maybe.... I thought maybe you could talk to him.

WHITNEY: You want me to act as a go-between?

JENNIFER: Yeah. He trusts you. He'll believe you. Just tell him what I said. It didn't have anything to do with him and I know it will make things better.

WHITNEY: Jennifer I'm sorry but I can't do that. You have to meet your problems head on. You have to work through them yourself not around them. If you don't, you're going to be facing them the rest of your life.

JENNIFER: So I guess that means you're not going to talk to Jack.

WHITNEY: I think it's something you should do, don't you?

JENNIFER: Well I'll think about it. Thanks. Thanks again for seeing me, I really appreciate it.

JENNIFER LEAVES WHITNEY'S OFFICE AND GOES BACK TO THE LOFT.
---
SCENE THREE: BACK IN JACK'S OFFICE, ALICE IS TRYING TO FIND OUT WHY THERE WILL BE NO WEDDING.

ALICE: What do you mean, you and Jennifer aren't going to get married?

JACK: Let's say we ran into a couple of snags and I thought it best to refrain from any commitment at this stage of the game.

ALICE: Jack.... I don't know what the problems are with you and Jennifer but would you tell me about them?

JACK: Well it's not the kind of thing you talk about in mixed company.

ALICE: Well I.... I don't think I could be easily shocked. Not at my age, I've heard just about everything.

JACK: Well I'm sure you've heard this. In fact I'm sure everybody in town heard about this one, whether they went to the trial or not.

ALICE: You mean.... your trial for....

JACK: Yes, I'm talking about the rape.... yes. Anyone who knows me, knows what I did and Jennifer is no exception. However she waited until this moment to really be honest about her feelings and tell me how she felt and say what she thinks about me and tell me what I really am.

ALICE: She didn't....

JACK: I don't believe I was hearing things.

ALICE: Are.... are you sure you didn't misunderstand?



JACK: She said something to that effect also. But.... she said it. And she definitely meant it.

ALICE: (Sigh) No.... no there has to be more to it than that.

JACK: I don't know if there could be.

ALICE: I don't know, but I know something's been bothering her.

JACK: Well we all know what that is now, don't we?

ALICE: Ah....

ALICE HALF NODS THEN GETS UP TO LEAVE. SHE FEELS TERRIBLE FOR JACK, SEEING IN HIS EYES THE PAIN AND HIS GREAT LOVE FOR JENNIFER. SHE REALLY WANTS JACK AND JENNIFER TO BE TOGETHER.

JACK: Ah, I want to thank you for coming. Ah, you're welcome to come here anytime. Please feel free....

ALICE: Jack.... please don't let this come.... talk to her, try to make her understand.

JACK: I don't think that I could do that. There's nothing really that can be done.

ALICE: Don't give up so easily.... not when you love her as much as I think you do. A love like that is worth fighting for.

ALICE LEAVES JACK ALONE TO THINK OVER WHAT SHE SAID. HE SITS DOWN IN HIS OFFICE AND BEGINS TO THINK OVER WHAT A BAD PERSON HE IS.

NATURALLY HARPER AND DUKE MAKE AN APPEARANCE IN HIS SUBCONSCIOUS. THIS TIME THEY ARE DRESSED AS A 1930S REPORTER AND NEWSIE; HE SEES THEM IN BLACK AND WHITE.

HARPER: And just think you don't have to pretend to be something you're not, some kind of hero or something like that.

DUKE: Sure.

HARPER: You can be the kind of man you know you truly are. The kind of son that makes a father proud.

HARPER TRIES TO TOUCH JACK BUT HE SHRUGS HIM AWAY.

JACK: Ah.... look....

JACK STOPS TO LOOK THEM UP AND DOWN.

HARPER: Gee I thought you'd want me now. Somebody who understands.

DUKE: Wait a minute, wait a minute. What's going on here? What's with the grieving here? What, is the kid getting to you or what?


HARPER: Yeah well I love my son. I mean I know what's he's going through. I know how much this hurts and all that. I mean sometimes when you pretend you're something you're not, you convince yourself for a while but sooner or later it's got to come out. You can't get away from yourself what you really are, what you always will be.

DUKE: Yeah, yeah, you might have something there. It must be really tough when it comes home to your brain finally that you are nothing but a rat.

HARPER: Yeah, sure.

DUKE: Wait a minute, wait a minute. What am I talking about, what are we doing here? What, you got me bad rapping the rats here. It all depends on who's doing the looking right?

JACK: Yeah, yeah.

DUKE: I mean a rat does look bad to another rat, remember that?

HARPER: That's right.

DUKE: I like that.

HARPER: Just remember son when people start talking about you, when they start saying all those things about you, we'll be there for you, always. You can always count on us.

DUKE: That's right.

HARPER AND DUKE LEAVE HIS OFFICE (AND HIS MIND) CALLING OUT A FLURRY OF NEWS HEADLINES.

HARPER: Come on, "RAPIST!"

DUKE: READ ALL ABOUT IT. "JACK DEVERAUX THE RAT".

HARPER: "RAPIST ON THE LOOSE."

DUKE: GET YOUR PICTURE!

THEY FADE AWAY AND JACK'S MIND RETURNS TO THE PRESENT AND ALSO BACK TO COLOR.

JACK: Ah....

HE SHAKES HIS HEAD TO CLEAR IT THEN RUNS TO THE DOOR.

JACK: Ah.... excuse me. Did anybody out here see.... two guys.... ah.... never mind. At least they spelt the name right.
---
SCENE FOUR: BACK AT THE LOFT JENNIFER GETS A VISIT FROM ALICE.

JENNIFER: Grandma, hi.

ALICE: Hi dear. I hope.... I hope you don't mind my dropping in like this completely unannounced.

JENNIFER: Oh no not at all.

ALICE: But I just came from seeing Jack.

JENNIFER: Oh.... ah, what did he tell you?

ALICE: He told me what happened between you.

JENNIFER: Oh, well you must think I'm pretty terrible then.

ALICE: No I think that there's been a terrible misunderstanding. (Beat) And I think Jack must love you a lot to tell me what happened.

JENNIFER: Grandma I feel awful for saying what I did to him.

ALICE: I know that. The question is, why did you?

JENNIFER: I didn't mean to. Calling him what I did, it was a mistake. But he won't believe me. But you believe me right?

ALICE: Yes. Yes I believe there is something that's bothering you that you haven't told anyone. And I think it's time you told me what it's all about. You know you can talk to me darling. You can tell me anything.

JENNIFER: Yeah. Grandma there is a part of me that wants to tell you everything and then there's a part of me that just won't let the words come out. I try but I just can't. Because it won't help. It's not going to change what happened. Nothing will.

ALICE: Well maybe not but maybe it will help you deal with it. And dealing with it is better than anything else isn't it? I remember another time when you came to talk to me. You didn't want to do it but you were so worried about making love for the first time and you came to me.

JENNIFER: Yeah it seems like a long time ago.

ALICE: It wasn't, not really.

JENNIFER: I was a different person then.

ALICE: No, no you weren't. You're still Jennifer Rose. And I just wanted to take you in my arms and protect you from all the awful things that could happen to you in this world. And I couldn't.

JENNIFER: I don't think you can now either.

ALICE: No, I realize that. But I can help you through them.

JENNIFER: No there really isn't anything anyone can do. This is something I have to deal with on my own.

ALICE: If you can.

JENNIFER: Well I'm trying.

ALICE: Jennifer Rose, my dear darling Jennifer Rose. Isn't there anything I can do to help you?

JENNIFER: You're always there to help me grandma.

ALICE: I know someone who can help you better.... if you let him.

JENNIFER: No. No I can't talk to Jack about this.

ALICE: You have to.... if you don't want to lose him for good, alright. (Beat) I'll leave and just remember what I said. Goodbye dear.

JENNIFER: Goodbye.

JENNIFER EYES ARE FILLED WITH TEARS AND SHE DECIDES TO GO AND TALK TO JACK.
---
SCENE FIVE: JACK IS SITTING AT HIS DESK STARING AT A SCULPTURE WHEN SHE KNOCKS QUIETLY AT THE DOOR.

JACK: Ah.... gentlemen, I believe one visit a day is enough thank you very much. Please, It's time to amscray. I mean a rat is....

JENNIFER: It's me Jack.

JACK: What!

HE TURNS TO FACE HER AND IS SHOCKED.

JACK: Well.... hello.

JENNIFER: I would like to talk.

JACK: Really? I don't think there is anything that can be talked about at this point.

HE GOES TO LOOK THROUGH SOME FILES, DOING ANYTHING TO KEEP FROM LOOKING AT HER.

JENNIFER: No you're wrong. There is a lot that needs to be talked about. Because I don't.... I don't like the way things are between us right now and I want to try.... I want us.... to try to work this out because I know we can. We can go back to the way everything was before all this started.

HE HALF TURNS TOWARDS HER WITH A PUZZLED LOOK ON HIS FACE.


JENNIFER: Now listen to me Jack. You.... you were really sweet that night, the night you took me to the country inn. And you gave me that rose and the champagne. I want to try to make it like that again, the way it was before I hurt you.

JACK THINKS FOR A FEW SECONDS.

JACK: I don't know if that can really be.

JENNIFER: Yes it can. All we have to do is forget about what I said. We can do that.

JACK LOOKS AT HER KNOWING THAT HE CAN NEVER FORGET WHAT SHE SAID, AND NEITHER CAN SHE.

JACK: Can you forget what you said?

JENNIFER: Yes.

JACK LISTENS TO HER BUT KNOWS IT IS NOT TRUE JUST LIKE HE CANNOT FORGET.

JACK: No you can't! You can't forget what you said and you can't go back. Neither can I. We both know that, right? We both....

JENNIFER: No, you're right. We can't go back so let's go forward. Let's try and put what happened behind us. I know we can do it if we try hard enough, okay.

JACK: No, you don't understand. I don't want to deny who I am anymore. I'm tired of that, alright. Do you understand?

JENNIFER: Yes, I'm not asking....

JACK: I am trying.... I am trying to make a point here, okay. You cannot run away from who you are. You can try. You can try all day long but the truth will out. Who you are, what you are, what you like to do, what you like to be, who do you want to be.

JENNIFER: You're a wonderful caring man who I love and I want to spend the rest of my life with.

JACK: THAT IS A FANTASY.

JENNIFER: No it's not!

JACK: That is a fantasy Jennifer. Your life with me is a fantasy. I'm just glad you woke up long enough and come to your senses before there were children and weddings or anything like that.

JENNIFER: Why are you talking like this? Why are you....

JACK: BECAUSE THIS IS WHO I AM! You're talking to who I am now, alright. I was waiting for you to say the word rapist to me at some point. I was waiting for that. One of these days you were going to say it. And you know something, I am glad that you said it because now I can relax and be who I am.

JENNIFER: Just stop it.

JACK: I can be the real me.

JENNIFER: Would you just stop?

JACK: YOU STOP IT! (Beat) THIS IS MY OFFICE. I'M TRYING TO MAKE A POINT HERE! (Beat) Now you stated a fact, you called me a rapist. And I am proud of you. I really am. Because for once, you were able TO BACK UP AND LOOK AT THE SITUATION REALISTICALLY AND OBJECTIVELY, like a real reporter. The way I trained you. It's something to be proud of. You'll go far....

HE PATS HER ARM AND TURNS AWAY FROM HER.

JACK (CONT.): .... from me.

JENNIFER: Don't say that, alright. Please don't say that.

JACK: You don't want to get hurt the way Kayla got hurt.

SHE PULLS HIM ROUND TO FACE HER.

JENNIFER: Why are you talking about that, alright? That was in the past. The problem that we're facing right now has nothing to do with that okay. I told you, it's me. I'm having trouble right now, dealing with something.

JACK: I'M SICK AND TIRED OF YOUR EXCUSES, ALRIGHT. I'M.... YES....

JENNIFER: It's not an excuse. I'm trying to tell you....

JACK: ....JENNIFER, I AM SICK OF YOUR EXCUSES. STOP GROVELING. STOP DOING THIS TO YOURSELF.



JENNIFER: Listen to me....

JACK: YOU DIDN'T.... YOU....

JENNIFER: JUST LISTEN TO ME!

JACK STOPS TALKING.

JENNIFER (CONT.): Now you have worked so hard. You have come so far. We both have. WHY ARE YOU GOING TO LET SOME STUPID MISUNDERSTANDING COME BETWEEN US?

JACK RECOILS AT HER SUGGESTION THAT IT WAS ONLY A MISUNDERSTANDING TO CALL HIM A RAPIST.


JENNIFER (CONT.): Alright.... I love you Jack. And you love me and no matter what you say you know that we belong together. (Beat) So don't do this. Don't put us through this pain.

JACK: You're right. I'm sorry. No one should have to go through this kind of pain. I'm sorry. JENNIFER: Okay, let's do something. Let's fix it. Let's work it out.

JACK: Alright, let's fix it. I want you to do something for me.

JENNIFER: Alright.

JACK: I want you to take the engagement ring off.

JENNIFER GASPS.
---
SCENE SIX: JACK'S OFFICE, JENNIFER IS IN SHOCK, JACK HAS JUST ASKED HER TO TAKE OFF THE ENGAGEMENT RING.

JENNIFER: Alright, wait. I realize that things are difficult between us right now Jack, alright. But this ring, it's a sign of hope. It's a sign that we can work it out.

JACK: Jennifer, there is nothing that you can do or say that's going to change anything.

JENNIFER: Nothing?

JACK: Nothing.

JENNIFER JUST STANDS THERE WITH TEARS IN HER EYES.

JACK: Now.... you can drop it, lose it, pawn it. I don't care. I just don't want you wearing it around this town giving people like your grandmother the false idea that there's going to be a wedding when there will not be one.

JENNIFER: If you want the ring, you take it. I won't take it off.

JACK SIGHS KNOWING THAT THIS IS THE HARDEST THING THAT HE HAS EVER DONE BECAUSE IT IS TEARING THEM BOTH APART INSIDE.

JACK: Very well.

HE TAKES HER HAND IN HIS AND LOOKS IN HER EYES. SHE ALMOST WILLS HIM NOT TO DO THIS BUT HE STICKS TO HIS RESOLVE AND SLOWLY PULLS THE RING OFF HER FINGER.


HE IMMEDIATELY TURNS AWAY FROM HER, GLANCES AT THE RING THEN STARES STRAIGHT AHEAD.


JACK: Goodbye Miss Horton.

SHE SLOWLY LEAVES HIS OFFICE AND WHEN THE DOOR IS SHUT, SHE BEGINS TO SOB. INSIDE, JACK CAN HEAR HER AND HIS HEART SINKS.

[Transcribed by Carol Vaughan
added material by Sally A. Wilson]
---
---