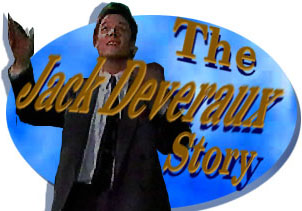 oldEpisode Two-hundred-thirty-eight:
Lawrence Is Determined to Destory
Jack, and Buy
The Spectator
. Not
Wanting to Completely Get Rid
of the Ring, Jack Gives It to Jo.
---
[Air mid-January 1991]
SCENE ONE JACK GETS A MESSAGE TO MEET JENNIFER AT WINGS. HE GETS THERE BEFORE HER AND IS IMPATIENT AND NERVOUS TO FIND OUT WHAT THIS IS ALL ABOUT.

LAWRENCE: Good morning Jack, so good to see you.

JACK SPINS AROUND IN FRIGHT.

JACK: So, what that....

LAWRENCE TAKES HIS HAND AND SHAKES IT.

JACK: What.... what.... is.... this?

LAWRENCE: Up on the wrong side this morning Jack? I'm sure Dave will be glad to make us some of Wings excellent coffee.

DAVE: Right away sir.

LAWRENCE: Won't you join me?

JACK: Why are you here?

LAWRENCE: Same reason you're here, to meet Jennifer.

LAWRENCE SITS DOWN AND JACK REMAINS STANDING.

JACK: I see. So you set this up. You sent me some.... kind of a note.... telling me that she would be here.

LAWRENCE: And got your message that she wanted to see you here as well.

JACK: Ahhhh, great.

JACK SITS DOWN.

JACK: I tell you what, before she gets here, why don't you tell me what you want from me.... or from us.

LAWRENCE: It's a question of what you want from me. The two of you left quite a few things behind when you abandoned my villa.

LAWRENCE LOOKS ACROSS TO GREGORY WHO IS WATCHING THE DOOR. GREGORY NODS AND LAWRENCE CONTINUES. HE HANDS JACK A LARGE LEATHER BOUND JOURNAL — THE ONE JENNIFER WAS WRITING IN AT THE VILLA.

LAWRENCE: This for instance.

JACK: This?

JACK HAS NEVER SEEN IT BEFORE.

LAWRENCE: Jennifer kept a record of everything that happened to her in my country. It's very well written and full of surprises.

AT THIS MOMENT JENNIFER COMES INTO WINGS AND SEES JACK HOLDING HER JOURNAL. SHE DOES NOT WANT JACK TO READ IT, BECAUSE THEN HE WILL KNOW ABOUT THE RAPE. LAWRENCE KNOWS THIS, AND IS TOYING WITH HER. HE ALSO CAN TELL THAT THERE IS A STRAIN IN THEIR RELATIONSHIP, AND HE IS ENJOYING MONOPOLIZING ON THAT

LAWRENCE: Aren't you going to look at it?

JACK: Ah.... well.... you.... you know it's.... it is Miss Horton's.

LAWRENCE: She's not the kind of woman to keep secrets. Especially not from you Jack. Go on, open it. She won't mind.

JENNIFER: Oh yes she will.... mind.

JACK TURNS IN SURPRISE TOWARDS JENNIFER.

JENNIFER: Can I have that please? It's my journal.

LAWRENCE: Well you've managed to live without it for weeks now. Why are you so anxious to have it now?

JACK WOULD ALSO LIKE TO KNOW THE ANSWER TO THAT.

JENNIFER: I'm a reporter and those are my notes.

LAWRENCE: Really, you intend to tell the world what happened to you in my house?

JENNIFER: I don't want my story turning up in The Spectator Jack.



JACK: Hey, wait a minute! I was there too. Why should I have to steal your story to get my story?

JENNIFER: We're both journalists and we're both competitive. So if you don't mind?

JACK: Well as a matter of fact I do mind. I mean I'm no Woodward or Bernstein but I have never ever had to steal someone else's story to get my own story. At least not yet.... maybe this year, I don't know. Anyway Mr. Alamain, I don't know what you're trying to do here but, in the future, if you have any plans to involve me in your fun and games, I'd appreciate it if you would just refrain. I'm a newspaper man and I'm very busy. So....

LAWRENCE: You know what they say Jack. All work and no play.

JACK: Well the reverse is true. All play and no work, could go blind. Excuse me....

LAWRENCE: You know you surprise me Jack.

JACK LOOKS PUZZLED.

LAWRENCE: I would have thought that you and Jennifer would have been pleased to see each other but instead you seem very.... uncomfortable.

JACK LOOKS AT JENNIFER AND BEGS HIM WITH HER EYES TO LET IT GO.

JACK: Huh?

LAWRENCE: Or am I mistaken?

JACK IMMEDIATELY TAKES JENNIFER'S SIDE.

JACK: I believe you're mistaken, Mr. Alamain.

JACK STANDS UP AND SMILES WEAKLY AT JENNIFER.

JACK: Miss Horton.

HE WALKS STRAIGHT OUT OF WINGS.
---
SCENE TWO: WINGS, JACK HAS LEFT, AND JENNIFER IS ALONE WITH LAWRENCE AT THE THE TABLE; SHE CONFRONTS HIM.

JENNIFER: You're still not satisfied? You haven't done enough to hurt and humiliate me?

LAWRENCE: I never wanted that.

JENNIFER: Then when are you going to stop this?

LAWRENCE: When I get my money.

JENNIFER: Frankie is doing everything that he can.

LAWRENCE: Not quick enough. I'm not as patient as I claim, Jennifer.

JENNIFER: Yes, I've noticed.

LAWRENCE: You have a great deal of influence with Frankie. I suggest you use it or those.... near and dear to you will.... pay a price.

JENNIFER: Are you talking about Jack?

LAWRENCE JUST STARES AT HER.

JENNIFER: You are, aren't you?

LAWRENCE: Just get me the money Jennifer.

JENNIFER: This isn't about any money. You're rich. You don't need the von Leuschner money. You're trying to pay us back.

LAWRENCE: Pay you back? For what?

JENNIFER: For helping Carly get away from you and for showing your father what kind of man you really are. You see Lawrence, you're not the only one who can read people.

LAWRENCE LEAVES AND JENNIFER IS RELIEVED TO GET THE JOURNAL BACK BEFORE JACK READ IT.
---
SCENE THREE: JACK HAS RETURNED TO HIS OFFICE AND HE IS HOLDING THE ENGAGEMENT RING AND THINKING. THERE IS A KNOCK AT THE DOOR.

JACK: Yes?

JO: Jack, it's Jo. It's locked.

THE DOOR IS LOCKED. HE PUTS THE RING ON THE DESK AND OPENS THE DOOR.

JACK: Yes, I'm sorry I'm coming. Yes it was locked, yes, like you said.

JO: Hi!

JACK: Hi, hello.

JO: Well?

JACK: Well.... well.... yes...what?

JO: Well why did you call me here?

JACK: Oh why did I call you. Of course.... I.... ah.... something.... something.... oh yes.... I wanted you to.... I wanted you to take that. There you go.

HE HANDS HER THE ENGAGEMENT RING.


JO: Oh! Jennifer's engagement ring.

JACK: No.... it's yours. Consider it yours now.

HE PICKS UP A GALLEY AND PRETENDS TO READ IT LIKE THE RING DOES NOT MATTER.

JO: Now what would I want with an engagement ring?

JACK: I don't know. I figured you know something to do with it. Pawn it, throw it away.... pay off your Christmas bills with it. I don't know. I just have no desire to see it anymore.

JO: Huh, uh. If that's the way you really felt you would have thrown it in the garbage but you didn't.

VERN WALKS IN THE DOOR AND JACK SEES HIM BUT JO DOES NOT.

JO: You called me because you want to talk about what you're going through, don't you?

JACK: I don't.... I don't want to talk about anything. Just suffice to say Miss Horton and I are through.

JO: I don't believe that now Jack.

JACK: Vern, what do you want?

JACK IS UNCOMFORTABLE WITH VERN THERE LISTENING TO HIM AND JO.

VERN: (To Jo) Oh listen, excuse me, I'm very sorry. I didn't mean to interfere with anything, really. I'm very sorry.

JO: Oh that's alright, that's alright.

JACK: Can it, Vern!

VERN: Can what?

JACK: Can the pity!

VERN: I'm not pitying anything. I was just....

JACK: What.... whatever you were just doing, please just do it.... out there, alright. Please let.... please let my secretary know that I'm very busy and I want to be left alone.... by everybody.... present company included.

JACK WOULD RATHER BE RUDE TO JO THAN HAVE HER QUESTION HIM MORE ABOUT JENNIFER.

JO: Alright Jack, I'll leave. And I will take this ring. You want to know why, because one day you're going to want it back. You're going to realize where this really belongs.... on Jennifer's finger.

VERN: That's telling him Jo.

JO: Thank you Van.

JO LEAVES AND POOR VERN IS UPSET THAT SHE STILL CANNOT REMEMBER HIS NAME. JACK FINDS IT AMUSING.

JACK: I believe the door's right behind you, Van.

VERN: Yes I know that.

VERN DOES NOT MOVE AN INCH.

JACK: That was another little hint to let you know that I really don't require your services either, thank you.

VERN: Look Jack I know you're on the grill but don't take it out on me, okay. I came in here because I found out the company that's going to try to take over Diana's shares. I know who owns it but, ho little buddy, if you don't care then....

JACK: No, no, no, no. Don't go away.

VERN: Suddenly I'm popular.

JACK: Just tell me what you came in here for.

VERN: Read it and weep!

HE HANDS JACK A NOTE PAD AND JACK'S FACE DROPS TO COMPLETE DEPRESSION WHEN HE READS THE NAME.

JACK: Vern, do I strike you as being a.... sane, rational type of person?

VERN: Ahhhh.... moderately, yeah.

JACK: Well remember what it sounds like because.... if this is true.... I think I might start foaming at the mouth very soon.

VERN LEAVES JACK TO INVESTIGATE IF THE INFORMATION IS TRUE.
---
SCENE FOUR: HE HANGS UP THE PHONE. HE IS STUNNED, AND EVEN MORE DEPRESSED.

JACK: Damn, I can't believe it. It's true. It's true.

THERE IS A KNOCK AT THE DOOR AND JENNIFER COMES INTO THE OFFICE.

JENNIFER: Jack, hi.

HE SPINS ROUND IN SURPRISE. HE WAS TOO DISTRACTED TO HEAR HER KNOCK.

JACK: I told Marie, no visitors.

JENNIFER: Ah, she didn't think.... that applied to me.

JACK: Well I'll just have to set her straight.

JENNIFER: Listen Jack I have something I have....

JACK: I'm really very very busy.

JACK TURNS AWAY FROM HER AND WILL NOT LOOK AT HER AGAIN.

JENNIFER: I know but this is important. At least it is to me.

JACK: Alright, go ahead.

JENNIFER: Listen, this morning, Lawrence, he said something and I think he's out to get you Jack.

HE TURNS BACK TO HER.

JACK: I know that.

JENNIFER: You know?

JACK: I know that. I know he's trying to buy Diana's share of the paper.

JENNIFER: I knew it. I knew that he was going to try and hurt you Jack.

JACK: Oh no, no. Don't worry about that. He's not going to hurt me.

JENNIFER: What do you mean? You just said he was.


JACK: No, no. I said he's not going to hurt me. I am bound and determined that no one, let alone Lawrence, is going to hurt me again.

JENNIFER: I came here because I care about you and I don't want to see anything bad happen to you.

JACK: Nothing is going to happen to me. If you recall I said I'm not into pain any more. You remember that?

JENNIFER: How can you say that when you're forcing our relationship away Jack?

JACK: I think that was inevitable.

JENNIFER: No it wasn't.

JACK: Look, we just don't mix, you know. It's like oil and water. Just not meant to be.

JENNIFER: You don't believe that Jack.

JACK: There was a time.... when...I didn't believe that because I kind of gave in to your cheerful optimism. But I've been cured of that, I really have. Now(motioning to the physical building of The Spectator) this is what I believe in, this newspaper. I believe in it because it's real and I know it and it's here....

JENNIFER: It means that much to you?

JACK: Well you know I went to a lot of trouble to steal this from Diana. I'm not about to let somebody steal it from me.

JENNIFER: Look this paper means a lot to me too. Alright. I loved working here. Things were different then. Things were possible.

JACK: Well you know the old French saying. The more things change the more they're not the same.

JENNIFER: Yeah.... I'm really sorry.

JACK: Oh bad translation, huh?.... What?

JENNIFER: Because it's not the same.

HEY LOOK IN EACH OTHER'S EYES FOR A SECOND AND THEN THE PHONE RINGS.

JACK: Hello, Jack Deveraux.

TANNER: Is Jennifer Horton there?

JACK: Ah.... well yes. (Beat) It's for you. Don't make a habit out of it.

JENNIFER: No, I'll leave a quarter, Jack. Hello?

SHE TAKES THE PHONE AND HE LOOKS HURT BY HER COMMENT THAT HE IS CHEAP.

TANNER: This is your last chance. Meet me at the Heart and I'll tell you everything I know about Corelli's murder. If you don't, you won't.

TANNER HANGS UP AND SO DOES JENNIFER.

JACK: Look if you're finished with the phone, I'm really busy. I have a lot to do.

JENNIFER: Yeah, I too. I have a lot of work that I need to do but.... ah.... if there's anything I can do....

JACK: Jennifer, if you....

JENNIFER: .... I mean, to help you fight Lawrence.

JACK: I know.... I know what you mean, alright. If you really want to help me, if you really do, you'll leave and not come back.

HE WALKS TO THE DOOR AND OPENS IT FOR HER.

JACK: I mean you'll be doing us both a big favor. You know that, right?

JENNIFER: You know you always used to say things like that. You used to think that you were bad for me.

JACK: Now I know that.... time.... time tells.

JENNIFER: I can't believe this is happening.

SHE STARTS TO CRY.

JACK: Look it's progress. It's moving on. Separate checks, separate tables, separate lives. It's.... ah.... for the best.

JENNIFER: We had the best Jack.

JACK: That's correct.... had. Past tense.

JENNIFER: What about all the promises that we made? What about all the plans that we had together?

JACK: I.... I think that we should really count our blessings and remember how lucky we are that we found out when we did. (Beat) Goodbye Miss Horton.

SHE SLOWLY WALKS PAST HIM AND HE QUICKLY SHUTS THE DOOR. HE SIGHS AND LEANS NEAR THE DOOR IN RELIEF THAT SHE HAS GONE AND HE DOES NOT HAVE TO LOOK AT HER AND ENDURE THE PAIN OF SEEING HER.
---
[Air date mid-January 1991]
SCENE ONE: JENNIFER HEADS OFF TO SEE TANNER AND HE IS ABOUT TO GIVE HER SOME INFO. WHEN HE GETS SCARED AND RUNS OFF.
---
SCENE TWO: SHE LEAVES AND THEN LATER FINDS TANNER IN AN ALLEY ALL BEATEN UP. MELISSA AND BRIAN COME ALONG AND IT TURNS OUT THAT TANNER IS BRIAN'S BROTHER AND VERN'S SON.
---
SCENE THREE: JACK GOES OVER TO SEE LAWRENCE AND IS WAITING IN HIS LIVING ROOM AND FIDDLING WITH THE ORNAMENTS.

LAWRENCE: Well, surprise. After this morning, you are the last person that I thought I would run into here.

JACK: Ah yes, well I was just passing by and I was.... ah.... I was curious. Are you trying to buy your way into my paper?

LAWRENCE: I have no idea what you're talking about.

JACK: Oh come now. We both know this is a small town. I had to find out that you were.... you were the anonymous investor who was trying to get hold of Diana Colville's stocks.

LAWRENCE: Well you're much more clever than I gave you credit for Jack.

JACK: Then you admit that?

LAWRENCE: Well.... I was saving it for a surprise. But yes, I want to be your partner. I hope you're pleased.

JACK: Hope I'm pleased, huh.

JACK SEEMS NERVOUS AND LAWRENCE HAS NOTICED.

LAWRENCE: Well you should be. I intend to use my wealth to improve The Spectator.

JACK: What if I likeThe Spectator the way it is?

LAWRENCE: Heh, in other words, no thanks.

JACK: Well I wasn't exactly thinking of those two words.... but they'll do, yes.

LAWRENCE: Very clever Jack. And very independent. But is that the reason that you don't want me involved? I don't think so. I think you want to keep The Spectator the way it is, to hold onto your memories. Your memories of Jennifer. (Beat) I am right aren't I Jack? You want to keep that newspaper the same way because of Jennifer. By holding onto it, you are perpetuating a lost love. You two have called it off, haven't you?

LAWRENCE POURS TWO BRANDIES AND HANDS JACK ONE.

JACK: I.... ah.... I suppose this is your attempt at psychiatry.

LAWRENCE: Oh no, I would never presume to be a Dr. Baker, Jack.

JACK ALMOST CHOKES ON HIS DRINK WHEN HE REALIZES THAT LAWRENCE KNOWS HE IS IN THERAPY.

LAWRENCE: Careful, we want to keep you around so that we can work together.

JACK: Ah.... I might as well let you know that working with me at The Spectator, could be real hell.

LAWRENCE: Hmmm, it could be Jack.

JACK: Well.... knowing that, ah.... what are your intentions?

LAWRENCE: My intentions are to buy Diana Colville's shares.

JACK: Well if this is going to be a hostile takeover, and it certainly looks like it's going to be, then you just.... tipped your hand! You made a big mistake there. Heheheheh!

LAWRENCE: Did I?

JACK WALKS TO THE DOOR.

JACK: Yes, you've forgotten one thing. This isn't your country. This is my country. You can't do that sort of thing in this country. You can't railroad all....

LAWRENCE FOLLOWS JACK TO THE DOOR.

LAWRENCE: Jack, in a fight.... a man with a broken heart is at a distinct disadvantage in any country.

JACK: What, did you learn that from Carly Manning?

JACK TAKES A SWIG OF THE BRANDY BUT LAWRENCE TAKES THE GLASS AWAY FROM HIM. LAWRENCE IS FURIOUS AT THAT COMMENT AND JACK KNOWS IT.

LAWRENCE: That was a long time ago, Mr. Deveraux.

JACK: Well you know what they say. Time doesn't heal everything.

LAWRENCE: I agree. And I doubt very much that time will help you get over Jennifer. I doubt it very much.

LAWRENCE SHUTS THE DOOR AND JACK HEAVES A HUGE SIGH.
---
[Air mid-January 1991]
SCENE ONE: TANNER IS ADMITTED TO HOSPITAL AND JENNIFER IS DETERMINED TO GET THAT INFO SO SHE GOES TO VISIT HIM. BRIAN IS THERE AND WANTS TO KNOW WHAT'S SHE'S DOING THERE. JENNIFER REFUSES TO GIVE HIM ANY INFORMATION ABOUT WHAT TANNER MIGHT KNOW.
---
SCENE TWO: JENNIFER BUMPS INTO ALICE WHILE SHE IS AT THE HOSPITAL AND ALICE SENSES SOMETHING IS REALLY WRONG.

JENNIFER: I've been real busy bogged down with everything else for the last few months that I'd forgotten what it is I really love and that's going after a story.

ALICE: Oh nonsense!

JENNIFER: What?

ALICE: (Alice is perceptive) Well what you love is Jack Deveraux and you're just throwing yourself in your work to avoid seeing him.

JENNIFER: Grandma, I'm not using work to avoid Jack.

ALICE: Sorry darling I didn't mean to make you mad.

ALICE UNDERSTANDS THAT JENNIFER IS NOT READY FOR ADVICE AND LETS JENNIFER GETS BACK TO WORK. ONCE AGAIN JENNIFER TRIES TO TALK TO TANNER AND ONCE AGAIN HE REFUSES TO TELL HER ANYTHING.
---
SCENE THREE: MEANWHILE, ANJELICA, JACK'S STEP MOTHER, HAS BEEN IN SOUTH AMERICA WITH HER SON ALEXANDER. JACK AND THE REST OF SALEM THOUGHT SHE DIED IN A PLANE CRASH A YEAR AGO. ANJELICA IS NOW VERY SHORT OF MONEY AND SHE CONTACTS JOHNNIE CORELLI AND AGREES TO GIVE HIM ALEXANDER, WHO IS JUSTIN'S SON, FOR A FEE OF ONE MILLION DOLLARS. JOHNNIE BRINGS HIM BACK TO SALEM AND INTENDS TO GIVE HIM TO VICTOR IN ORDER TO GAIN FAVOR WITH HIM.
[Transcribed by Carol Vaughan
added material by Sally A. Wilson]
---
---