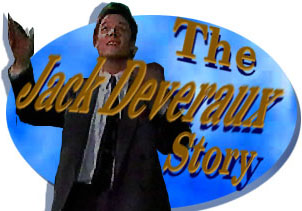 oldEpisode Two-hundred-thirty-nine: Lawrence
Implies to Jack That He and Jennifer Made
Love. Jack Goes to Confront Jennifer. She
She Denies It, Telling Him He Is the Only
Man with Whom She Ever Made Love.
---
[Air late January 1991]
SCENE ONE: JENNIFER DECIDES TO DROP BY WHITNEY BAKER'S OFFICE TO TELL HER THAT SHE WOULD LIKE HER TO SEE TANNER.

WHTINEY: Come in.

JENNIFER: Hi Dr. Baker. I really wanted to see you and I would have made an appointment but your secretary wasn't at her desk.

WHTINEY: It's not problem. I seem to have a little free time right now.

JENNIFER: Okay.

WHITNEY'S BEEPER GOES OFF AND SHE HAS TO LEAVE FOR TEN MINUTES. JENNIFER AGREES TO WAIT FOR HER. SHE PICKS UP A RAPE COUNSELING BROCHURE AND IS READING IT WHEN JACK BURSTS IN.

JACK: Well doctor, I've got good news and I've got.... Miss Horton. Fancy meeting you here.

JENNIFER: Hi.

JACK: I take it your fans in the TV generation are clamoring for you to be back on the story.

JENNIFER: What story?

JACK: The one on date rape. I'm assuming that Dan Ryan reassigned you to it and that's why you're here.

JENNIFER: Um.... I didn't know you had an appointment.

JACK: I don't. I just came by to tell the good doctor something.

JENNIFER: Oh, well, you said something about good news. Does that mean you've thought of a way to fix things between us?

JACK: There's nothing to fix. That's what I was going to say that I know that there is nothing to be fixed. So I think I'm about to save myself a great deal of money on psycho-therapy. It's a big moment in a person's life isn't it, when they can finally say goodbye to their shrink.

WHTINEY ENTERS THE ROOM.

WHITNEY: Did I hear you right Jack? I thought I heard you say something about quitting your therapy.

JACK: Yes...um...I'm done. Well done.

WHTINEY: I'm not sure that ending your therapy is the answer.

JACK: I'm sure. You see, the whole purpose of these sessions was for me to find out who I am, good, bad or.... or ugly. You know the way that...that rape is ugly. And we used a lot of methods to deal with the aforementioned question. But all to no avail. I mean all that therapy didn't give me an answer. But I tell you something, she did.

JENNIFER IS REALLY HURT.

JACK: She really did. I mean she took the issue that we dealt with for months and in one foul swoop wrapped it all up. Just called me a rapist. And with that simple and economical answer, I knew who I was.

JENNIFER: Jack, no, don't....

JACK: No, no, no, no, no. I realized that she was right. Of course there's no good Jack, there's no bad Jack, there's just Jack.... the (Rolling the ŤrÓ) Rrrrrapist. Like you therapists say.... (with a fake German accent) it's an integration of de personality. (Beat) I've made quite a breakthrough haven't I?

WHTINEY: I think that's something you might want to discuss with me in private, don't you?

JACK: I don't....

JENNIFER: I'll go.

JACK GRABS HER ARM AND THEN RUBS HIS HAND OVER HERS. HE STILL FINDS EXCUSES TO TOUCH HER.

JACK: No, no, no, no, no. You're not going anywhere. I've said everything that I have to say. Good-day.


JACK LEAVES AND SHUTS THE DOOR. HE IS ANGRY WITH JENNIFER FOR MAKING HIM FEEL LIKE THAT.
---
SCENE TWO: WHITNEY TRIES TO FIND OUT WHY JENNIFER IS SO UPSET BUT JENNIFER CANNOT TALK ABOUT IT. SHE CHANGES THE SUBJECT TO TANNER AND ASKS WHITNEY TO TALK TO HIM. WHITNEY SAYS SHE WILL DO HER BEST BUT THAT SHE CANNOT MAKE PEOPLE TALK IF THEY DO NOT WANT TO DO SO.
---
SCENE THREE: JACK GOES BACK TO HIS OFFICE WHERE LAWRENCE IS WAITING. HE HAS JUST PICKED UP THIS MORNING'S ISSUE. JACK SEES HIM AND IMMEDIATELY REACHES FOR THE SWORD ON HIS WALL BUT CHANGES HIS MIND.

JACK: You know, you have a.... real habit of showing up when we're at our busiest.

LAWRENCE: You always did amuse me Jasper.

JACK: Ah look, there's got to be some other points of interest in this town, really. Like the library or....

LAWRENCE: What would be the point unless I wanted to buy it as I do this paper.

JACK: It's not for sale, remember. Now I have to tell you we really are very busy so perhaps you could.... ah.... shop somewhere else.



LAWRENCE: There's a lot we can do with this Jack.

JACK: I'm sorry. It just isn't going to happen.

LAWRENCE: Oh but you see I have a real yen to own Diana Colville's half of this paper.

JACK: And I have a yen to see that you don't.

JACK SITS DOWN AND BEGINS TO READ THE MORNING'S EDITION.

LAWRENCE: You know Jack I hate to see you this upset. Is there anything I can do to help you? For example, if Jennifer is angry with you for something....

JACK:THIS HAS NOTHING TO DO WITH MISS HORTON! Please don't mention her name again.

LAWRENCE: Oh but I must. I care about Jennifer. Her welfare is of great concern to me. You see once you lived with someone as a man and a wife have, there remains a lingering bond.

JACK HAS BEEN TRYING TO READ THE PAPER AND IGNORE LAWRENCE BUT THIS LAST COMMENT MAKES JACK LOOK UP IN SURPRISE. LAWRENCE REALIZES THIS AND IS PURPOSEFULLY TRYING TO MAKE JACK BELIEVE HE AND JENNIFER SLEPT TOGETHER, HOPING TO FURTHER DISTROY JACK AND JENNIFERÁS LIVES.


JACK: (Beat) What do you mean, man and wife?

JACK STANDS UP.

JACK: Exactly.... what happened between you two?

LAWRENCE: What happens between a man and his wife! We were married.

JACK: Not by her choice.

LAWRENCE: At first.

JACK: Ah.... you know, you perhaps you could be a little more specific. Which is.... well how far did things.... really go?

LAWRENCE: When you and Jennifer were guests at my home, I noticed there was nothing you wouldn't do for her. But here in Salem I sense a distinct.... I won't say coldness.... but a lowering of the temperature between you. Just a perception, but am I right? I've asked a number of times Jack and you've yet to be forthcoming.

JACK: I'm sorry. I'm really very busy. I don't have the time or the inclination to answer your question.

LAWRENCE: Something else we have in common. I don't have the time or the inclination to answer your question either. If you want to know what took place between Jennifer and myself, ask the lady. Touch√ Jack.

LAWRENCE WALKS OUT LEAVING JACK WITH A VERY BIG UNANSWERED QUESTION.
---
SCENE FOUR: LATER THAT NIGHT, JENNIFER IS HOME AT THE LOFT WHEN JACK DROPS BY.

JACK: Hello.

HE WALKS STRAIGHT IN.

JENNIFER: Jack!

JACK: We need to talk.

JENNIFER: Ah, what is it?

JACK: Some information has come to light that.... makes me believe that something.... ah....

JENNIFER: What? Something what?

JACK: I don't know quite how to say this.

JENNIFER: Well just say it. I mean whatever it is, just say it.

JACK PAUSES THINKING OF THE RIGHT WORDS.

JACK: You were young, relatively inexperienced, perhaps you were just taken with him.

JENNIFER: With who?

JACK: With.... Lawrence!

JENNIFER IS SCARED NOW.

JENNIFER: What do mean exactly, taken with him?

JACK: Well he was witty, charming.... perhaps you were.... taken with him before you really knew the man.

JENNIFER: What are you talking about?

SHE GRABS HIS ARM AND PULLS HIM AROUND TO FACE HER. HIS FACE TELLS HER EXACTLY WHAT HE IS THINKING.

JENNIFER: What do you mean, perhaps I knew him? (Beat) You think I made love to Lawrence?


JACK STILL LOOKS AT HER AS HE BELIEVES SHE DID.

JENNIFER: That's what you meant, didnÁt you? You think I made love to him?

SHE TURNS AWAY, UNABLE TO LOOK AT HIM.

JACK: It has that certain click don't you think? (Beat) That click when things just fall together. (Beat) She was young, relatively inexperienced and she fell in love with her former boss. But still inside, perhaps that little subconscious said maybe there's someone else. And there before her eyes was Lawrence.

JENNIFER HAS TEARS STREAMING DOWN HER FACE.

JACK: And romance under foreign sunny skies.

JENNIFER: You listen to me.

HE LOOKS AT HER WITH CONTEMPT.

JENNIFER (CONT.):You are the only man that I care about. You are the only man that I have ever made love to. You are the only man that I want to make love to.

JACK'S EXPRESSION SOFTENS A BIT.

JENNIFER: That's all that counts. The past, everything else, it doesn't matter Jack. Just let it go. There is nobody else, just us. (Beat) Jack, please....

SHE TRIES TO PUT HER HAND ON HIS CHEEK BUT HE STOPS HER.

JACK: I'm sorry. I don't believe I can let it go. JENNIFER: Yes you can. You can Jack, you have to. You have to for us.

HE WALKS AWAY A BIT TO THINK.

JENNIFER: I don't want to lose you Jack. Please, I couldn't bear that.

SHE CRYING AS SHE TALKS.

JENNIFER (CONT.): Will you hold me (Beat) please.

JACK LOOKS AT HER, NOT QUITE BELIEVING WHAT SHE IS SAYING. WANTING TO HOLD HER, BUT STILL IN TOO MUCH PAIN FROM HER CALLING HIM A RAPIST.

JENNIFER (CONT.): Please just hold me.





PLEADING, WITH HER EYES FILLED WITH TEARS. JACK CONTINUES TO STARE AT HER, DEBATING IN HIS MIND WHAT TO DO; HE WANTS SO DESPERATELY TO HOLD HER, YET PART OF HIM DOES NOT BELIEVE IT WILL CHANGE ANYTHING. JENNIFER CONTINUES TO LOOK PLEADINGLY AT HIM, WITH HER EYES FILLED WITH TEARS.
[Transcribed by Carol Vaughan
added material by Sally A. Wilson]
---
---