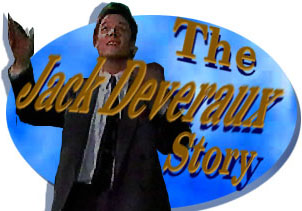 oldEpisode Two-hundred-forty: Jennifer
Asks Jack to Hold Her, but He Withdraws.
Later, He Is Determined to Move on, but
Reminisces about Happy Times with Jennifer.
---
[Air late January 1991]
SCENE ONE: JACK HAS GONE TO VISIT JENNIFER AFTER HE HAD A CONFRONTATION WITH LAWRENCE WHERE HE INFERRED THAT PERHAPS THERE WAS SOMETHING BETWEEN HIM AND JENNIFER WHEN THEY WERE AT THE VILLA. JENNIFER HAS DENIED MAKING LOVE TO LAWRENCE; AND SAID THAT JACK IS THE ONLY MAN SHE EVER WANTS TO MAKE LOVE TO. HE IS UNSURE OF HER REPLY BUT SHE SAYS IT WILL ALL GO AWAY IF HE LETS IT. SHE ASKS HIM TO JUST HOLD HER.


JACK: You w ant me to hold you?

JENNIFER: Yes. (Beat) I want you to forget everything about Lawrence Alamain. I want you to forget the terrible thing I said to you because that isn't you now. All I care about and all I want right now is for you to hold me.

JACK IS VERY WARY OF ANY PHYSICAL CONTACT. HE HAS BEEN HURT TOO MUCH ALREADY.

JENNIFER: Jack I never meant to hurt you. (Beat) I love you. I love you more than anything.

JENNIFER PUTS HER ARMS AROUND HIM.

JENNIFER: Please? Just hold me.

JACK IS STILL WARY.

JENNIFER: Come on Jack. That's not asking too much is it? (Beat) I mean after everything we've been through together, it should be the most natural thing in the world.

JACK REALLY WANTS TO BELIEVE EVERYTHING SHE IS SAYING BUT HE IS SO AFRAID OF GETTING HURT AGAIN.

JENNIFER: Everything's going to work out for us Jack, you'll see. I mean we still care about each other so the rest of it really doesn't matter, right?

HE IS STILL STANDING UP STRAIGHT WITH HIS HANDS GLUED TO THE COUNTERTOP.

JENNIFER: Come on Jack, don't push me away. Alright, I'm here already. All you have to do is put your arms around me. (Beat) Please.... please just do it.
---
SCENE TWO: SLOWLY HE MOVES HIS HAND AROUND TO TOUCH HER BACK. SHE WINCES. HE THEN SLOWLY PUTS HIS OTHER HAND NEAR HER NECK AND SHE STIFFENS.



JACK CAN FEEL HER TENSION AND HE SHUTS HIS EYES FOR A SECOND THEN SLOWLY PUSHES HER AWAY.

JACK: (Sigh) Well that was very nice. That was a very nice try.

JENNIFER: What.... what?

JACK: You tried very hard. I appreciate that but it's obvious. From the moment I touch you, you can't think about anything but rape.


JENNIFER IS SILENT.

JACK: It's true isn't it?

JENNIFER: No.

JACK: When I touch you, you think about rape.

HE LEANS DOWN AND STARES IN HER EYES.

JACK: Well come on, I don't really blame you. I mean after all we're right here, where it happened.

JENNIFER: What do you mean, we're right here?

JACK: Right here, the scene of the crime, with Kayla. It happened right here in this room.

JENNIFER: Jack don't.... bring up....

JACK: Don't, don't, don't.... don't what? We're just discussing a little reality here.

JENNIFER: That was yesterday's reality. It's all in the past.

JACK: THEN WHY DOES IT UPSET YOU SO MUCH?

JENNIFER: It doesn't upset me.

JACK JUST SHAKES HIS HEAD AND LOOKS AT HER KNOWING VERY WELL IT UPSETS HER AND SHE IS LYING AGAIN.


JENNIFER: I promise, it doesn't.

JACK BEGINS TO STAMP HIS FOOT WITH IMPATIENCE.

JACK: (Beat) You're a masochist! That means.... you know what that means? That means you like to beat yourself up when you're alone. You like do it in front of me too. LOOK YOU'RE PUSHING THIS WHOLE THING ON ME AND IT OBVIOUSLY TORTURES YOU.

HE WALKS TO THE DOOR.

JENNIFER: Jack, I'm telling you....

JACK: IT DOES. YOU'RE A MASOCHIST.

JENNIFER: .... we can work this out together alright.

JACK: OH GET OUT OF HERE!

JENNIFER: Jack I still believe that we have a chance to work this out.

HE TURNS BACK TO HER IN ANGER.

JACK: WHY?.... WHY?

JENNIFER: Why, because I love you, that's why.



JACK GLARES AT HER.

JENNIFER: And you love me.

JACK: That.... that doesn't have anything to do with anything.

HE TURNS AWAY BUT SHE GRABS HIS ARM.

JENNIFER: Don't you dare walk away!

HE PULLS AWAY AGAIN BUT SHE HOLDS ONTO HIS ARM.

JENNIFER: Jack don't go, please. Don't go.


JACK: I'm sorry.... there's no use.... there's no use.

HE TRIES TO SHUT THE DOOR BUT SHE HOLDS IT.

JENNIFER: What are you talking about, there's no use. YOU JUST GIVE UP, JUST LIKE THAT. Is that all I mean to you?

JACK: NO! (Beat) NO! I JUST.... I JUST.... I CAN'T TAKE THIS ANYMORE. I JUST CAN'T DEAL WITH IT ANYMORE.

JENNIFER: WHAT DO YOU MEAN, YOU CAN'T TAKE THIS ANYMORE? DAMMIT I HAVE ALWAYS BEEN THERE FOR YOU! I HAVE STOOD BY YOU IN EVERYTHING. I HAVE ALWAYS FOUGHT FOR US. NOW IT'S YOUR TURN, YOU HAVE TO FIGHT. HE TRIES TO SHUT THE DOOR AGAIN.

JACK: I just....

SHE GRABS HIS HAND.

JENNIFER: No.... alright. Just listen to me alright. I need you. I need your love and I need your patience and I need your help. Alright. Just help me out with this. We can do it if we do it together.... (Pleading with him) please.

JACK HESITATES BUT HE CANNOT DO IT.

JACK: I'm sorry.... it's just too late. It's too late.

HE GETS IN THE ELEVATOR BUT SHE STOPS HIM SHUTTING THE DOOR.

JENNIFER: Jack, come on.

JACK: It's too late. It's just too late.

JENNIFER: If you want it bad enough, we can do it.



JACK: If you want my attention that bad, you can just slap me again.

SHE BURSTS INTO TEARS KNOWING HOW MUCH SHE HAS HURT HIM AND HOW MUCH SHE WANTS HIM TO UNDERSTAND. SHE WALKS BACK INTO THE LOFT AND JACK RELENTS A LITTLE AND FOLLOWS HER.



AS HE RE ENTERS AND SEES HER CRYING, ALL HE CAN THINK OF IS WHEN HE RAPED KAYLA AND THE PAIN IS TOO GREAT -- HE SEES IT ALL IN FLASHBACK, AND IT FRIGHTENS HIM WHAT HE IS CAPABLE OF DOING.
HE SHUTS THE DOOR AND LEAVES.
---
SCENE THREE: SOMETIME LATER HE IS AT THE CHEATIN' HEART, GETTING VERY DRUNK. HE DIPS HIS FINGER IN HIS DRINK AND SUCKS IT, THEN PULLS A FACE.


JACK: I guess it comes with the territory.

HE PICKS UP HIS DRINK AND GULPS IT DOWN. JO COMES ENTERS.

JO: Jack what do you think you're doing?

JACK: I believe, in the vernacular of the people, I'm getting soused. And you can tell Vern, that's the last time I'm telling him where I'm having my liquid lunch. Excuse me, if you don't mind, I like to have my liquid lunch by myself.

HE STRUGGLES TO STAND AND WALK TO THE BAR.

JO: I do. I do mind. Son, this is no good. This is not right.

JACK: Fill 'er up.

JO: Drowning yourself in alcohol is not going to give you the answers.

JACK: No, but I tell you something. If you have enough of this stuff, it'll make you forget the questions.

JO GRABS HIS DRINK OUT OF HIS HAND.

JO: Don't you be flip with me!



JACK IS SURPRISED SHE IS ACTING SO MUCH LIKE HIS MOTHER.

JO: This is very serious Jack. Very serious. (Beat) I am.... your mother is an alcoholic. A recovering one, yes, but an alcoholic none the less.

JACK: Are you saying it's hered.... it's hered.... are you saying it's heredi....

JO: Son, I just want you to listen to me and learn from my mistakes.

JACK: Oh! Well I've made quite a few mistakes myself. I think I can learn from my own. But thank you anyway. I'll just take this and save a trip.

HE PICKS UP THE BOTTLE FROM THE BAR AND WALKS BACK TO HIS TABLE.

JO: Jack, please. Son, you've had enough, okay.

JACK IS SLURPING DOWN GROG AS HE WALKS.

JACK: No, no, no, come on. Enough about that. Let's upward and onward to different to different subjects. Tell me about your son Adrienne and your daughter Justin.

JACK DELIBERATELY MIXES THEM UP.

JO: Um, I've had a hard time getting in touch with Adrienne. Her phone isn't on yet.

JACK: Hmmm.

JO: And I do need to talk to her because I'm having trouble getting anyone interested in the penthouse.

JACK: Ah, ye old buyer's market, uh?

JO: Jack! Maybe Justin and Adrienne's penthouse is exactly where you need to live.

JACK: Ahhhh, what are you talking about? I've got a place to live. I've got my own house.

JO: Well I know but maybe you could use a change. I mean you've got to admit that that old mansion is a little stuffy and I'm sure there are some memories that aren't very pleasant.

JACK: What are you talking about? I thrive on unpleasant memories. It builds character. It's where I belong.

JO: I don't believe that and I don't think you believe it either. Look I know it's late but why don't we just take a ride over there and take a look at it?

JACK: I think you've forgotten. I've already seen it. Remember that?

JO: Oh yes but not with an eye for living there.

JACK KNOWS SHE IS GOING TO WIN.

JACK: Look, if it's going to get you off my back, we'll go have an after hours tour of the Kiriakis penthouse.

JO: Good, okay. Well how about giving me the keys? I'll drive.

JACK: Alright, you do that. I'll.... I'll do this.

JO WALKS OUTSIDE AND JACK POURS HIMSELF ONE FOR THE ROAD.
---
SCENE FOUR: BACK AT THE LOFT JENNIFER IS VERY UPSET. SHE IS WANDERING AROUND LOOKING AT THE SHELL RING AND THINKING THAT SHE AND JACK WILL NEVER BE TOGETHER AGAIN. FRANKIE CALLS FROM THE PLANE. HE IS ON HIS WAY HOME FROM SWITZERLAND WITH GOOD NEWS. HOWEVER, THIS DOES NOTHING TO EASE HER PAIN, AFTER WHAT JUST HAPPENED BETWEEN HER AND JACK, IT APPEARS THEY NEVER WILL BE TOGETHER AGAIN — SHE WILL NEVER BE HAPPY AGAIN.
---
SCENE FIVE: AT THE PENTHOUSE, JACK AND JO ARE WANDERING THROUGH THE EMPTY ROOMS. THERE ARE A COUPLE OF LADDERS ARE THERE FOR THE PAINTERS, BUT NO FURNITURE AT ALL.

JO: Well what do you think?

JACK TAPS SOME TIMBER WORK TO SEE HOW SOLID IT IS.

JO: Solid, solid oak and it's got lots of closet space.

JACK IS UNSTEADY ON HIS FEET AND TRIPS A BIT.

JACK: I tell you something, if you started into real estate, you'd be selling windows instead of doing them.

JO: Oh you!

JACK: You don't have to sell me this place. I can see that it's very very nice.

JO: You're going to take it. Oh Jack what a great way to start a new life.

JACK: Well I don't know if moving is the same thing as starting but.... I think Justin and Adrienne were relatively happy here. If someone was superstitious they might say that that sort of thing would rub off.

JO: Maybe it will.

JACK: Well you tell them, that if they're interested, I'm interested and we have a deal.

JO: Oh, are you serious?

JACK: No, no, no, I'm Roebuck, who's minding the store? (Beat) Oh yes I am serious. As long as the price is not outrageous, then I'm serious.

JO: Oh no, no, the price is just fine. Let's go call the realtor, come on.

JACK: No, I tell you, you call the realtor. I'm just.... I'm just going to stay here and just....

HE SPINS AROUND HOLDING HIS ARMS OUT, LIKE IMITATING ZORBA THE GREEK.

JACK: .... just feel the space. Yeah, that's what I'll do. I'll just feel my way through the space.

JO: Heheheh. Okay, if that's what you want.

JACK: Yeah, that's what I want.

JO: It is what you want isn't it? (Beat) You know I still have Jennifer's engagement ring. You might want to try again.

JACK: What I tried with Miss Horton was a.... a dream. Of course the unfortunate things about dreams are that sooner or later you have to.... wake up.

JO LEAVES. JACK IS LEFT TO CONTEMPLATE HIS EMPTY LIFE AND EMPTY NEW HOME.
---
SCENE SIX: AT THE LOFT FRANKIE ARRIVES AND TELLS JENNIFER THAT HE HAS ARRANGED FOR LAWRENCE TO GET THE VON LEUSCHNER FORTUNE SO THAT SHE CAN GET HER DIVORCE. JENNIFER TELLS FRANKIE THAT JACK WALKED OUT ON HER TONIGHT AND SHE IS AFRAID THAT HE HAS GONE FOR GOOD.
---
SCENE SEVEN: AT THE PENTHOUSE, JACK WALKS OUT ON THE BALCONY AND LOOKS OVER THE CITY. HE THINKS ABOUT ALL THE GOOD TIMES HE HAS HAD WITH JENNIFER. THE SONG ALL I HAVE BY BETH NEILSEN CHAPMAN PLAYS WHILE HE THINKS BACK OVER THE GOOD TIMES.

You can say you love me
And I'll believe that's true.

HE THINKS OVER THEIR FIRST REAL KISS AT STEVE'S HOUSE AND THE TIME THEY FELL IN THE MUD.

Loving you is easy
Cause I believe in you.

HE THINKS OF THE TIME SHE LOCKED HIM IN HIS BEDROOM AND PUT THE KEY DOWN HER FRONT. THEN HOW SHE TRIED TO SEDUCE HIM RIGHT BEFORE SHE GOT ENGAGED TO EMILIO, WHEN THE BED BROKE.

There is nothing I would miss
As long as we're in love like this.

HE THINKS OF THE TIME HE KIDNAPPED HER FROM THE WEDDING TO EMILIO AND THE TIME HE FELL IN THE BATH WITH HER.

All I have is all I need
And it all comes down to you and me
How far away this world becomes
In the harbor of each other's arms.

HE THINKS OF THE CRUISE AND THEM ALMOST KISSING IN THE CABIN WHEN HE WAS DRESSED AS LANCELOT AND THEN LATER ON THE ISLAND WHEN THEY MADE LOVE FOR THE FIRST TIME. THEN WHEN HE GAVE HER THE SHELL RING.

I feel like I've known you forever and ever
Baby that's how close we are
Right here with you is where my life has come together
And where love has filled my heart.

HE THINKS OF HIS PROPOSAL TO HER ON THE ROOFTOP AND HOW ROMANTIC IT SHOULD HAVE BEEN AND FINALLY THE TIME HE ASKED HER AGAIN WHEN HE CAME DOWN HER CHIMNEY DRESSED AS SANTA AND SHE SAID YES. You know I'd go anywhere
As long as I have you to care
All I have is all I need
And it all comes down....

HE COMES BACK TO REALITY.

JACK: Sooner or later you just have to wake up.


HE LEANS HIS HEAD ON THE WALL IN SADNESS.
[Transcribed by Carol Vaughan
added material by Sally A. Wilson]
---