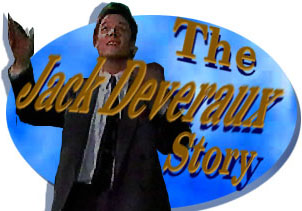 oldEpisode Two-hundred-forty-one: Lawrence
Discovers Jack's Secret. Jack Tries to Stop
Jennifer from Investigating Nick's Murder.
---
[Air early February 1991]
SCENE ONE: JACK IS TRYING TO WORK AT HIS DESK BUT HE CANNOT CONCENTRATE AT ALL.

JACK: Oh dammit!

VERN: Jack!

JACK PICKS UP A PILE OF FOLDERS AND THROWS THEM AT THE DOOR, JUST MISSING VERN WHO IS COMING IN WITH A HUGE PILE OF OLD NEWSPAPERS.

JACK: I'M BUSY!

VERN: Oh gee, what the hell. I've got the back issues you wanted.

JACK: Oh here, here. Right here.

VERN: You know working with you Jack, I'm going to have to ask for hazardous duty pay.

JACK: Yeah.

JACK PICKS UP A PAPER AND STARTS READING.

VERN: Well?

JACK: Well what?

VERN: Well I hope you like moth eaten old news and dust. You're going to get plenty of it. Listen at the risk of my sanity....

JACK: And mine!.... Yes?

VERN: What are you looking for in all this stuff?

JACK: I'm just comparing facts with some of our competitors, that's all. Thank you.

VERN: Well, good luck and listen....

JACK IS REALLY ANGRY.

JACK: WHAT?

VERN: Send me a bulletin the next time you decide to launch a surface to air missile, okay.

JACK: Vern.... OUT!.... OUT!

VERN LEAVES AND JACK STARTS SORTING THROUGH THE LARGE PILE OF NEWSPAPERS.

JACK: I can't believe.... I don't think he even got me the right papers, what.... what is this. I didn't ask for this. This is the....

HE OPENS THE PAPER AND SEES THE TOP STORY ON THE PAGE.

JACK: What the hell!

THE HEADLINE READS: "JACK DEVERAUX FACES CHARGES OF MARITAL RAPE." HE SHUTS HIS EYES TO TRY TO MAKE IT GO AWAY.

JACK: What the hell!

EVE: I warned you not to do it Jack!

SUDDENLY EVE WALKS STRAIGHT INTO HIS OFFICE.

JACK: Ah.... beg pardon Miss Donavan. Warned me not to do what?

EVE LEANS OVER THE DESK AND YELLS AT HIM.

EVE: YOU BLEW IT WITH JENNIFER! Now that she's free I don't stand a chance with Frankie.
---
SCENE TWO: MEANWHILE JENNIFER AND FRANKIE ARE WALKING ALONG THE PIER. JENNIFER IS ON HER WAY TO SIGN THE DIVORCE PAPERS AT MICKEY'S OFFICE. FRANKIE IS TELLING JENNIFER THAT HE THOUGHT EVE HAD CHANGED BUT THEN HE FOUND OUT THAT NICK LEFT EVE ALL HIS MONEY ONLY IF SHE MARRIES AND JULIE APPROVES OF HER CHOICE.
---
SCENE THREE: BACK AT THE SPECTATOR.

JACK: I beg your pardon Miss Donavan. Not that this is any of my concern but I was under the impression that you had no feelings for Francoise. I mean isn't that what you told me?

EVE: Well things have changed since then Jack.

JACK: Really.

EVE: Yeah and if you taken my advice and held onto Jennifer, she wouldn't constantly be around to lure Frankie away from me!

JACK: What does this look like? The Tiger Beat Lonely Hearts Column? I mean has it ever occurred to you that Francoise has no fondness for girls who are conniving or devious.

EVE: You have a hell of a nerve, you know that.

JACK: I'm just telling it like it is.

VERN COMES BACK IN BEHIND EVE.

EVE: If you think you can tell me.

VERN: I hate to interrupt but I just got news on the buy out.

JACK: Oh.

JACK RUNS AROUND TO SEE WHAT VERN IS HOLDING.

VERN: I thought you wanted to see this right away.

JACK: Oh yes, Miss Donavan, it's been a pleasure talking to you. It really has. Perhaps we can continue this conversation another time.

JACK PULLS HER TO THE DOOR.

EVE: Alright! Jack you don't have to push me away, alright.

JACK: Thank you!

HE PULLS THE DOOR SHUT BUT EVE DECIDES TO STAY AND LISTEN. SHE OPENS THE DOOR JUST A CRACK.

VERN: Now this is the offer that Lawrence Alamain is making to Diana.

JACK: Oh my gosh! This is half the national debt.

VERN: And change. You know, Diana would be crazy not to jump at this Jack.

JACK: This is what you're going to do. You're going to go to Diana and convince her to deal with me.

VERN: YOU! You're up to your eyeballs in escrow at the penthouse. Diana would love to see you squirm. I mean, look the Deveraux.... this.... they couldn't absorb this.

JACK: Listen, just be glad that I'm not committing you for the money. Just go, alright.

VERN: Good point. Yes, I'll call Diana right away. Don't worry about it.

JACK: Good.

VERN OPENS THE DOOR AND EVE IS STILL STANDING THERE.


VERN: OH!

EVE: Sorry. I.... I forgot my purse.

JACK: I believe the only thing you've forgotten recently is your manners.

EVE PICKS UP HER PURSE AND WALKS TO THE DOOR. SHE STOPS AND SALUTES JACK WITH IT THEN LEAVES.

JACK: What the hell is going on here?
---
SCENE FOUR: A BIT LATER JACK LEAVES HIS OFFICE AND LAWRENCE COMES WALTZING IN LIKE HE OWNS THE PLACE. HE SEES THE PAPERS ALL OVER JACK'S DESK AND PICKS UP THE TOP ONE. HE SEES THE HEADLINE ABOUT THE CHARGES OF MARITAL RAPE AGAINST JACK. JACK WALKS IN BEHIND HIM, GETS ANGRY AND SLAMS THE DOOR.

JACK: Look, it's been a helluva day and I know you don't have an appointment. So....

LAWRENCE DECIDES TO TAKE THE FRIENDLY APPROACH.

LAWRENCE: I'm sorry Jack. I do apologize. I should have called ahead. But this will only take a few minutes of your time.

JACK BACKS DOWN.

JACK: Ah.... well yes, what.... what can I do?

LAWRENCE: Well I came to remind you what day this is.

JACK: What day, Monday, but wh.... what day?

LAWRENCE: Ah but just not any Monday Jack. This is the day that my soon to be ex-wife gets what she wants. (Beat) Divorce!

JACK: Right. (Beat) D Day.

LAWRENCE: It's also the day I get what I want. Namely the funds from the von Leuschner estate which I will be using to make us partners when I buy into your venerable paper.

JACK: Look I'm sorry but it's ju....

JACK REALIZES HE IS HOLDING A LEGAL DOCUMENT ABOUT THE BUY OUT AND HE FOLDS IT OUT OF SIGHT.

JACK: .... it's just.... it's not going to happen.

LAWRENCE: Well you've seen the numbers Jack. How do you propose to stop me? You can't. So save your energies because after all last but not least, this is the day that you get what you want. (Beat) The lovely Jennifer Horton.

JACK HAS A PAINED EXPRESSION ON HIS FACE.

LAWRENCE: Oh I know you've had your difficulties. As we've had ours. But as soon as she and I are divorced there should be nothing in the way of you marriage to her.

LAWRENCE GIVES JACK A SLIMLY GRIN.

LAWRENCE: Congratulations.

LAWRENCE SHAKES JACK'S HAND AND WALKS TO THE DOOR.

LAWRENCE: Let's enjoy our day, Mr. D.

LAWRENCE SHUTS THE DOOR AND JACK IS LEFT WONDERING HOW MUCH MORE OF HIS LIFE CAN FALL APART.
---
SCENE FIVE: LATER JACK IS STILL GOING OVER THE BUY OUT DEAL WHEN TANNER COMES WALKING INTO HIS OFFICE.

JACK: The hell! Why do they keep sending you paper boys up here? It's downstairs. Circulation is downstairs to the right. Sorry about that. TANNER: You're a funny guy Jack but that's not why I'm here. I saw you and Jennifer Horton the other night at the mid town hotel. I thought you might be some kind of friend of hers or something.

JACK LOOKS SURPRISED.

JACK: Oh I am sorry. You're the deep throat she was talking about. The one she was trying to get that story from.

TANNER: Yeah, yeah, that's me. So what's the deal man, are you a friend of hers or not?

JACK: Ah.... well not the way that she might have inferred. I mean.... well no, no. No we're not.

TANNER: Well then I guess you don't want to pass along a warning to her, man. I'm sorry that I bothered you.

JACK: No, no, no. Not so fast. Perhaps you'd best explain what that warning is.
---
SCENE SIX: JENNIFER MEETS LAWRENCE AT MICKEY'S OFFICE. MICKEY IS CALLED OUT FOR A FEW MINUTES AND JENNIFER AND LAWRENCE DECIDE TO GO AHEAD AND SIGN THEM WHILE HE IS GONE. LAWRENCE IS SOMEWHAT THREATENING TO JENNIFER BUT SHE SIGNS THE PAPERS AND TELLS HIM THAT HE HAS RUINED ANY CHANCE SHE HAS FOR HAPPINESS. HE TELLS HER THAT HE KNOWS ABOUT JACK'S PAST AND HE ASKS HER HOW SHE COULD FALL IN LOVE WITH A MAN CAPABLE OF SUCH CRUELTY. HE TELLS HER THAT SHE HAS PROJECTED JACK'S GUILT ONTO HIM AND DARES HER TO CHARGE HIM BUT SHE CANNOT WITHOUT MAKING THINGS WORSE WITH JACK.
---
SCENE SEVEN: BACK AT THE SPECTATOR.

JACK: Ah please sit down. Coffee, donuts? I know you kids love donuts. Ah tell me, what.... what was the warning to Miss Horton?

TANNER: She's involved in something that doesn't concern her. If she keeps digging, she could get hurt.

JACK: Well that sounds like Miss Horton. I recall giving her several warnings myself from time to time.

TANNER: Well you won't mind telling her again?

JACK IS HESITANT.

JACK: Ah.... well that depends. Perhaps you could explain a little more about what this warning is. Specifically!

TANNER: She needs to get off the Nick Corelli murder case.

JACK: Nick Corelli!

TANNER IS ABOUT TO LEAVE.

JACK: Hey, wait a minute.

TANNER: She needs to stop it.

TANNER LEAVES.

JACK: Nick Corelli!
---
SCENE EIGHT: JACK GOES TO THE LOFT TO TALK TO JENNIFER.

JACK: Alright, we need to talk.

JENNIFER: You're right. We both said some really hurtful things the other night Jack and ....

JACK: No, no, no, no, no. Not about that. (Beat) I understand you're doing an investigative report on the Nick Corelli murder?

JENNIFER: Yeah that's right. I am.

JACK: Huh, uh. I want you to stop it, now!

JENNIFER LOOKS A LITTLE SURPRISED THAT HE STILL THINKS HE CAN TELL HER WHAT TO DO.

JENNIFER: Why should I?

JACK: Why should you?

JENNIFER: Huh, uh?

JACK DOES NOT REALLY KNOW HOW TO ANSWER THAT.

JACK: Well I'm sorry. If I have to tell you why, I'm sorry, I didn't train you better. It's boring, it's been done to death. No pun intended. But people aren't interested anymore.

JENNIFER: Jack, that is ridiculous. That's not true.

JACK: Alright, I'll give you a better reason. It's too dangerous for you.

JENNIFER IS PLEASANTLY SURPRISED AT THIS.

JENNIFER: Well why should that concern you?

JACK IS SILENT.

JENNIFER: Now why should my well-being concern you Jack?

JACK: I didn't say that it did.

JENNIFER: You said that you didn't want me to be in danger which is the same as saying that you care.

JACK: I.... I said.... what I was trying to say was.... you're going to stick your nose where it doesn't belong and get yourself into trouble and I'm going to have to get myself into trouble to get you out. And bail us both out. (Beat) There, does that satisfy you?

JENNIFER: No it doesn't satisfy me. Why don't you just admit the truth Jack?

JACK: The truth.

JENNIFER: Huh, huh.

JACK: Alright, here's the truth. I have decided to take on the Nick Corelli murder case myself, personally. First thing I planned to do was get all the information that you have and then scoop you, professionally speaking of course.

JENNIFER: You know, I see what you're doing. Going back to square one again right, Jack. Pretending that you have no feelings for me and then doing everything you can to be near me including working on the same news story, right?

JACK: No, no, no.... I am....

JENNIFER: Yes you are. You're pretending that everything that's ever happened between us, never happened.

JACK: I would never....

JENNIFER: You're backsliding, aren't you Jack? But I'm not going to do it because I'm getting on with my life.


JACK IS SURPRISED AT HER ATTITUDE TO MOVE ON.

JACK: I'm.. .. I'm not backsliding or anything else. I'm.... I.... I just don't want to see you get hurt.

JENNIFER: But I thought you just said that you didn't care?

JACK: Alright, I lied.

JENNIFER: Again?

JACK: Ah.... again. I lied because.... I don't want to see you get hurt because.... because you've.... you've been hurt too much by too many. Present company included.

JENNIFER: So what are you saying?

JACK: I'm saying that I.... that I want to see you happy. That's all I've ever wanted to see.

JENNIFER: Come on Jack, head of a newspaper? I thought you'd be able to come up with something better than that.

SHE WALKS PAST HIM AND GOES UPSTAIRS LEAVING HIM ALONE.

[Transcribed by Carol Vaughan
added material by Sally A. Wilson]
---
---