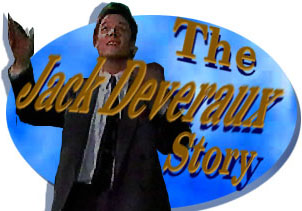 oldEpisode Two-hundred-forty-three:
Jack and Jennifer Run into Each Other
Searching Nick's Place for Clues. Eve
Catches Jennifer; When She Tears into
Her, Jack Definds Jennifer, Causing
Her to Wonder If He Still Cares.
---
[Air early February 1991]
SCENE ONE: IT IS NOW A COUPLE OF DAYS LATER AND JACK STILL CANNOT RAISE THE MONEY TO BUY DIANA'S HALF OF THE SPECTATOR. HE IS GETTING DESPERATE AND DECIDES TO CALL A FRIEND FROM WINGS.

JACK: Oh come Wess, is that the best you can do for your old prep school buddy? (Beat) Well when will you know? (Beat) No, no, no, what do you mean, next week? I needed help last week. You don't underst.... I don't want to hear about your procedures. This is my newspaper that we're talking about here. (Beat) Alright, I understand, okay. I'll see you tonight.

JACK HANGS UP.

JACK: DAMN, DAMN!

EVE: Ooooh, such language. You really are worried about losing that paper of yours aren't you?

JACK: No the only thing that I'm worried about is you not being able to help me out with this story. Now I need to get upstairs and I need to go through Nick's things.

EVE: Why, Jack? The police have already done that and they weren't able to find out anything about who killed him.

JACK: Just do me a favor. Point me in the direction of Nick's room.

EVE: Take the back stairs.

JACK: Hmmm.

EVE: Take your first left.

JACK: Yes.

EVE: And it's the first door on your left.

JACK: Right.

JACK TURNS TO LEAVE BUT EVE JINGLES THE KEYS AT HIM.

JACK: Oh! I suppose you'll be coming with me.

EVE: No, I don't think so. I'm very busy!

JACK: Right, good. Suit yourself.

EVE: Goodbye, good luck. Hurry, please.

JACK RUNS UPSTAIRS AND EVE GOES BACK TO WORK MANAGING WINGS.
---
SCENE TWO: MINUTES LATER FRANKIE AND JENNIFER COME IN AND FRANKIE DISTRACTS EVE SO THAT JENNIFER CAN SNEAK UPSTAIRS TO SEARCH NICK'S ROOM. AFTER JENNIFER GOES UPSTAIRS THE PARKING VALET COMES INSIDE AND TELLS EVE THAT HE FORGOT TO GIVE MISS HORTON THE TICKET FOR HER CAR. EVE REALIZES THAT FRANKIE WAS PURPOSELY DISTRACTING HER SO THAT JENNIFER COULD SEARCH NICK'S ROOM. SHE GOES UPSTAIRS TO SEE WHAT JENNIFER IS DOING.
---
SCENE TREE: UPSTAIRS IN NICK'S ROOM, JACK HAS BEGUN HIS SEARCH. HE LOOKS BEHIND THE PAINTINGS FIRST.

JACK: Bad art.... bad bad furniture.

HE PICKS UP ONE OF NICK'S SHIRTS.

JACK: Definitely a bad tailor.

THEN HE NOTICES SOME BOOKS.

JACK: Oh goodie, bad books.

JACK PICKS A FEW PAPERBACKS.

JACK: Mike Hammer, Mike Hammer, Dick Tracy, Debbie Does.... huh, well you can't judge a book by its cover but you can judge a man by the books that he reads. (Beat) The toilet! These cheesy crime novels always have somebody sticking something in the toilet. That's it.

JACK GOES INTO THE BATHROOM; WHILE HE IS IN THERE, JENNIFER COMES INTO THE ROOM. SHE GOES STRAIGHT OVER TO THE DRAWERS AND BEGINS SEARCHING THE TOP ONE, REMOVING A PAIR OF NICK'S BOXER SHORTS. JACK HEARS HER AND SNEAKS UP BEHIND HER AND GIVES HER A SMALL SMACK ON THE BEHIND.


SHE STANDS UP IN FRIGHT.

JENNIFER: JACK!

JACK: That's what you get for sticking your hands into dead men's drawers.

HE SNATCHES THE BOXERS FROM HER. THEY BOTH BEGIN TO TALK AT ONCE, BOTH SAYING THE SAME THING. THOUGH IT IS ALSO APPARENT THAT THEY ARE GLAD TO SEE EACH OTHER.

JACK: So....

JACK AND JENNIFER: What are you doing?

JACK: No....

JACK AND JENNIFER: What are you doing here?

JENNIFER: No, I want to know what you're doing here?

JACK: No, what are you doing here? What are you doing here?

JENNIFER: What are you doing here?

JACK: No, what are you doing here?
---
SCENE FOUR: MEANWHILE FRANKIE IS WORRIED ABOUT JENNIFER AND HE GOES UPSTAIRS TOO. JACK AND JENNIFER ARE STILL ARGUING.

JACK: Would you believe....

JENNIFER: No I wouldn't believe.

JACK: .... there was a line downstairs and I couldn't wait.

JENNIFER: I don't think so Jack!

JACK: I don't think so either.

JENNIFER: Alright, then tell me what you're doing here.

JACK: Well, the reason that I'm here is very simple. I'm....

AT THAT POINT EVE WALKS IN THE ROOM AND SLAMS THE DOOR.

EVE: Get out of here! (Talking to Jennifer) GET OUT OF HERE, YOU DIRTY LITTLE UNDER-HANDED SNEAK!

JENNIFER: Look Eve, I know that you're upset alright. If you'll let me explain.

EVE: Don't you dare talk to me in that patronizing tone Jennifer. I know what you just did. You just used Frankie so that you could get past me and get your dirty little paws all over Nick's private things. That's so typical, always manipulating men to get what you want.

JENNIFER: Look Eve, you have no idea what you're talking about, alright. I just want to explain.

EVE: THE HELL I DON'T JENNIFER! Do you know how many years I have seen this annoying virgin number you've played with Frankie. (To Jack) I'm sure she milked that dry with you. (Beat) (Mimicking Jennifer) I never let a man touch me but somehow I just know I'll be safe in your strong yet gentle arms.

JENNIFER: I don't have to listen to this Eve.

EVE: Yeah you do Jennifer.

JENNIFER GOES TO LEAVE BUT EVE TRIES TO GRAB HER. JACK INTERVENES AND HOLDS EVE BACK.

JACK: I believe that's enough.

EVE: Let go of me Jack.

JACK: Look I know you're upset but this isn't the time or the place to bring up your frustrations with Miss Horton.

EVE: Every single word I said was true and you know it.

JACK: I disagree. Miss Horton does not use people or play games.

EVE: What do you call breaking into somebody's private room?



JACK: I call that being a reporter. And as for your other allegations, there may be someone else in this room who has used and manipulated men throughout her life but ....

AT THAT POINT FRANKIE COMES BURSTING IN.

FRANKIE: GET OUT OF....

HE STOPS AS HE SEES THE THREE OTHERS STANDING THERE.

FRANKIE: .... here.

JACK: Francoise.

FRANKIE: Spanky.

JACK: Huh, uh.

EVE: Well, it's a good thing you're not in security Frankie. They'd be robbing us blind if you were on look-out duty.

FRANKIE: Eve, I know you're upset but....

EVE: ONE more person says look Eve I know you're upset, I'll scream. I'm a lot more than upset here Frankie. YOU LIED TO ME to score cheap points with your old girlfriend.

FRANKIE: No, wait a minute, let me explain, okay.

JACK AND JENNIFER BOTH LOOK A BIT REMORSEFUL AS THEY LISTEN TO EVE.

EVE: Explain, why, why, why? I understand how it works now. You are allowed to lie, cheat and steal as long as it's for a so called good cause. But if I tell one tiny little fib it's proof that I am fundamentally dishonest. You see there is one standard for me and another one for Frankie Donner or Frankie Brady or von Leuschner or whatever the hell it is this week.

FRANKIE: Frankie Brady.

EVE: (To Jennifer) And you! You're no better Jennifer. You're both a pair of holier-than-thou hypocrites.

JACK: I believe that's enough.

EVE: Alright, Jack, fine.

THEN GET THEM OUT OF HERE! THIS IS MY PROPERTY AND I DO NOT WANT MR. PERFECT AND MISS GOODY TWO SHOES ON IT! JACK (Matthew) CANNOT HELP BUT SMILE AT THIS AND HE LOWERS HIS HEAD INTO HIS HAND TO HIDE HIS SMILE.

JENNIFER: Eve, don't worry. We're leaving right now.

EVE: GOOD! Thank you.

FRANKIE: We're out of here.

EVE: Goodbye.

JENNIFER AND FRANKIE LEAVE.

JACK: Alright, that was a big mistake talking to Miss Horton that way.

EVE: It was a big mistake for her to break into Nick's place, Jack.

JACK: That doesn't justify what you said.

EVE: Excuse me, I thought.... I thought you were competing with her for this story. Was I wrong?

JACK: No I'm competing.

EVE: Then why do you keep defending her Jack, unless you're still in love with her.

JACK: The only thing I'm in love with is getting this story in my paper first. Now let's just calm down, go downstairs and go over our notes. Can we do that?

EVE WALKS OUT OF THE ROOM AND JACK PAUSES TO TOSS THE BOXERS BACK ON THE CHAIR.

JACK: I certainly hope we can.
---
SCENE FIVE: JACK AND EVE ARE BACK DOWNSTAIRS, SITTING TOGETHER AT A TABLE WITH A BOTTLE OF CHAMPAGNE. THEY ARE BOTH DEPRESSED AFTER SEEING JENNIFER AND FRANKIE WORKING TOGETHER. JACK POURS ONE GLASS AND EVE GRABS IT IMMEDIATELY.

EVE: Thank you.

JACK: Wait.... wait a minute. That's mine.

SHE KEEPS THE WINE.

EVE: Are you going to make toast?

JACK: A toast to what?

EVE: To a good day's work.

JACK: Something good about today's work.... I went through Nick's room and didn't find a damn thing.

EVE: Well I did. I found out where I stand with Frankie.

JACK: Why do we keep coming back to this? I thought you knew that there was no hope with Francoise.

EVE: But this is different Jack. This is definite!

JACK: Who cares? (Beat) Look, just suffice to say that there will always be some chump out there who you can marry, alright.

EVE: Jack I wasn't trying to trick Frankie into marrying me, okay.

JACK: Who do you think you're talking to? I'm very fond of money myself.

EVE: This isn't about money! I really cared about Frankie, Jack. I did. I thought if I tried hard enough I could make him like me too. But the harder I tried, the more I screwed everything up.

JACK: Well.... just suffice to say you're.... still in love with him.

EVE: No, you're the one who's in love Jack, not me. You wouldn't admit it before but I can see right through you.

JACK: Oh that'll be the day.

EVE: You still care about her.

JACK: About who? (Beat) Oh you mean Miss Horton? Oh no, no, no, no. We're through, we're through.

EVE: You're still in love with her. Yeah you are.

JACK: Tell me something, are you through with Francoise?

EVE: Of course.... I am.

JACK: Well I guess the same could be said about you then.

EVE: I thought we were going to try to have fun tonight, Jack. Why are we doing this?

JACK: I didn't say anything about fun. I said we would be comparing notes and you said something about making a toast.

EVE: Alright, let's make a toast, alright.

JACK: Alright.

THEY CLINK GLASSES.

EVE: To.... um.... to us.

JACK: I'm inspired by that.

EVE: I'm serious Jack. Things are going to get better.

JACK: No they won't.

EVE: What do you mean?

JACK: It's exactly what you said. Everytime you try to do something, try to get something or someone, you screw it up. Well that's one place that we have common ground.

EVE: Oh really.

JACK: Yes. So let's just suffice to say there will be no love and no happily ever after. We're not cut out for that.

JACK RAISES HIS GLASS TO EVE.

JACK: N'est pas?

THEY CLINK GLASSES AND EVE GIVES A DROLL LAUGH.
---
SCENE SIX: IN TOWN, JENNIFER CANNOT GET JACK OFF HER MIND. SHE IS SITTING IN THE PARK, LOOKING AT THE FINGER THAT SHOULD STILL HAVE THE ENGAGEMENT RING ON IT. FRANKIE SEES HER.

FRANKIE: Look like you've got a lot on your mind.

JENNIFER: Yeah, I guess I do.

FRANKIE: Jack?

JENNIFER: I'm just trying to figure out what I should do.

FRANKIE: Well did you come up with any answers yet?

JENNIFER: No. It's just that Frankie, he was so protective of me before during all that with Eve. And when he gets like that I feel like that we could get through anything. That he will be by my side no matter what.

FRANKIE: Maybe you should trust that Jen.

JENNIFER: I don't know.

FRANKIE: Why not?

JENNIFER: Because I'm afraid. I'm afraid of setting myself up. I mean what if I go to him and I confide in him and he turns me away. I don't know if I could take that.

FRANKIE: Yeah come on. You're a lot stronger than you realize Jen. And on top of that, you have a lot of people around you who will support you. So when you are ready to take that chance, you know when you get read to talk to Jack, just remember that you are not alone.

JENNIFER: You're the best, you know that.

FRANKIE: Far from it but thanks. Look I just.... I know that the love you have for Jack is rare. And when somebody has something like that I just hate to see them throw it away, that's all.
---
SCENE SEVEN: JENNIFER LEAVES TO GO TO THE HOSPITAL WHERE SHE BUMPS INTO KAYLA.

JENNIFER: Oh Kayla, hi.

KAYLA: Jennifer, hi. How are you? I haven't seen you in such a long time.

JENNIFER: I'm fine, I'm fine. How about you?

KAYLA: I'm fine. You know I saw Jack on your show last night. He was debating with some other reporter, I can't remember her name.

JENNIFER: Ah Madeline Armstrong.

KAYLA: Madeline, right. Then you saw it.

JENNIFER NODS.

KAYLA: Well it must have been difficult for you.

JENNIFER: Well it was, but you know it shouldn't have been.

KAYLA: I don't understand.

JENNIFER: Well Jack and I aren't together anymore.

KAYLA: I.... I didn't know that. I thought the two of you were so happy. I'm sorry.

JENNIFER: No, I know that you really feel that way but nobody would expect you to feel that way about Jack after everything that's happened.

KAYLA: I.... I got past that.

JENNIFER: Well I'm sure it wasn't easy for you.

KAYLA: Well I mean I tried to shut everybody out but then I realized that I had to go back to work and see people again, go places.

JENNIFER: And that helped you?

KAYLA: Yeah it did.

JENNIFER: Well you know some people say that I'm strong but I don't think I could ever be that courageous.

KAYLA: Oh you would be surprised. When something happens to you like that you find courage. Look I don't mean to run out but I need to get back to the lab.

JENNIFER: I'm sorry. I didn't mean to keep you.

KAYLA: No, that's okay. (Beat) Jennifer, you know, don't give up on Jack. I think the two of you could have something really special. Don't let it slip away.

KAYLA LEAVES AND JENNIFER SIGHS.
---
SCENE EIGHT: JENNIFER IS WALKING HOME WHEN SHE COMES TO JORDAN'S JEWELRY SHOP. IN THE WINDOW THEY HAVE A PAIR OF WEDDING RINGS. SHE STOPS AND STARES AT THEM WISHING AND HOPING THAT THINGS HAD WORKED OUT WITH JACK. SHE TURNS TO LEAVE WHEN SHE HEARS JACK CALL HER.

JACK: Miss Horton!

SHE LOOKS UP TO SEE JACK COMING OUT OF THE BANK OPPOSITE.


JENNIFER: Jack, hi.

JACK: Well don't act so surprised. I'm just walking out of a bank. Haven't robbed it.... yet.

JENNIFER: It's.... I just didn't expect to see you at all. I mean.... I didn't know that the bank was still open.

JACK: Well they usually do close for your regular customers. But they keep it open for their really.... valued customers.

JENNIFER: I don't know what you mean.

JACK: I don't mean anything, forget it.

THE SPACE AND TENSION BETWEEN THEM IS OBVIOUS.

JENNIFER: Well I'm actually glad that I ran into you because I wanted to thank you for sticking up for me before back at Wings.

JACK: Oh I was just.... I couldn't let somebody walk over a fellow reporter you know. Freedom of the press and all that.

JENNIFER: (Beat) So that's the only reason that you said something?

JACK: (Beat) Isn't that enough of a reason?

THEY LOOK IN EACH OTHER'S EYES AND NEITHER SAYS A THING. JENNIFER BREAKS THE SILENCE JUST BEFORE SHE STARTS TO CRY.

JENNIFER: So.... ah.... how's the paper? I mean what's happening? Think you can keep Lawrence out?

JACK: I believe I can keep Lawrence out, yes.

JENNIFER: How?

JACK: How.... I.... I don't know how. But.... I will come up with a some kind of way. I mean Mr. Alamain has reeked enough havoc in my life. I can't have him reeking all over what's left of it.

JENNIFER: Well I hope that you beat him Jack. I really do.

JACK: Thank you.

THERE IS ANOTHER LONG AND AWKWARD SILENCE AS THEY LOOK AT EACH OTHER. BOTH ARE IN PAIN BEING WITH EACH OTHER BUT RELUCTANT TO PART.

JACK: So....

JENNIFER: Ah.... well I guess I should get going.

JACK: I.... I guess I should get going too. (Beat) Good evening.

JACK WALKS SLOWLY AWAY.

JENNIFER: Good evening Jack.

JENNIFER WALKS BACK OVER TO THE JEWELRY STORE WINDOW AND PUTS HER HAND ON THE GLASS THINKING ONLY OF JACK.
[Transcribed by Carol Vaughan
added material by Sally A. Wilson]
---