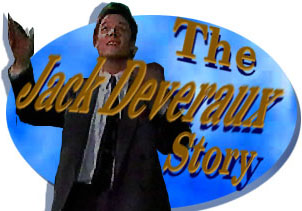 oldEpisode Two-hundred-forty-eight:
Jennifer Tells Julie about the Rape.
Julie Agrees to Sanction the Wedding,
So Jack and Even Can Get Nick's Money.
---
[Air mid-February 1991]
SCENE ONE: IT IS THE NEXT DAY AND AS JENNIFER IS LEAVING FOR WORK SHE DROPS HER STUFF AND FRANKIE FINDS A COPY OF ROMEO AND JULIET AND A VALENTINEŃS DAY CARD THAT SHE HAD BOUGHT TO GIVE JACK. SHE IS SAD THINKING ABOUT IT.
---
SCENE TWO: AT WINGS, EVE AND JACK HAVE ARRIVED AND EVE IS GIVING JACK A RUN THROUGH OF HOW HE SHOULD ACT.

EVE: So I made a list of possible questions Julie might ask us. You must make sure you memorize all the answers Jack and make sure you smile when you look at me, alright.

JACK IS COMPLETELY DISTRACTED WHILE SHE RANTS AT HIM.

EVE: And don't call me Eve. That sounds so.... cold.... call me honey or darling or sweetie. We have to make sure that every detail is perfect if we're going to convince Julie that we're happily wed. And try to touch me every five minutes or so but PLEASE don't mess up my hair Jack, okay.

JACK: Excuse, did you say something? You know, I've been carrying this buzzing ever since we left and....

EVE: Ha ha!

JACK: .... I kept thinking it was a fly or a very large gnat....

EVE: You should be taking this seriously and I mean it Jack.

JACK: .... and you at best should try to keep your mouth shut for at least sixty seconds. It could be a whole new experience.

EVE: Oh? Are you trying to tell me to shut up?

JACK: Well it's a dirty job but someone has to do it.

EVE: You know Jack, you think you can talk to me like that and tell me to shut up when....

EVE SUDDENLY NOTICES JOHNNIE CORELLI WATCHING THEM. JOHNNIE HAD HOPED THAT HE WOULD INHERIT NICK'S MONEY.

EVE: .... I'd love to honey but it's kind of private don't you think. Let's save it for the bedroom. (She blows him some kisses)

JACK: Bedroom?

EVE: Yes.

JACK: That's enough to make the stomach turn....

JOHNNIE: Hi.

JACK: .... and turn into a quivering mass of flesh, right sweetheart.

JACK PUTS HIS ARM AROUND EVE AND THEY CUDDLE UP FOR JOHNNIE.

EVE: Right darling.

JACK: Hmmm.

JOHNNIE: So what's the buzz here? Cupid doing his thing again?

EVE: Cupid sure did. Did you see my ring? Jack and I got married. Which means I collect on Nick's will and you get nothing.

JOHNNIE GRABS HER HAND TO LOOK AT THE RING.

JOHNNIE: The hell.... you will.

JACK PULLS AWAY FROM EVE.

EVE: Jack.... HONEY. You're not going to let him talk to your wife that way, are you?

JACK: Well I've always been one for freedom of speech.

EVE GLARES AT HIM.

JACK: But...ah.... in this case, I'd say a little bit of restraint is called for.

JOHNNIE: Come on man. You actually married this chick. I'd rather swing with Typhoid Mary.

EVE: And you'd probably will Johnnie if there is any justice in the world.

JOHNNIE: Check in Eve, will you? Who the hell do you think is going to buy this act?

EVE: Nobody has to buy anything Johnnie. Jack and I fell in love and then.... we got married.

JACK: Ah...that's right, my little...dumpling.

EVE: Honey, oney, boobie, woobie.

SHE GIVES JACK A SICKLY SWEET GRIN.

JACK: Ah.... yes.

JOHNNIE: Hahahah. You know this is some of the worst acting I've seen since The Return to Gilligan's Island.

EVE: WE'RE NOT ACTING! What does it take to get through to you, you cretin.

JOHNNIE: You kill me Mrs. Deveraux. Come to think of it, you kill a lot of people. But unfortunately I caught some of your act before the curtain went up. A little disagreement the two of you were having. I'm so sorry apple dumpling, here you went to all this trouble to lure this poor soul in and you're not one step closer to Nickie's money but hey.... the show was a scream. (To Jack) You take good care of her, honey bunny.

JOHNNIE LEAVES AND JACK AND EVE LOOK A BIT CONCERNED.
---
SCENE THREE: MEANWHILE JENNIFER GOES TO SEE JULIE.

JULIE: Thank you for coming Jennifer.

JENNIFER: Yeah, you said you wanted to talk to me about something.

JULIE: Yeah, I'll get right to the point. It is my duty, mind you it's not a pleasant one, but my duty never the less, to pass judgment on Eve and Jack's marriage. I have to make the decision tonight. I will not make the decision until I hear what you have to say.

JENNIFER: Well why me? What could I possibly have to say?

JULIE: You say the word.... and I'll put a stop to the marriage, Jennifer.

JENNIFER: It's not up to me Julie.

JULIE: Jennifer darling.... I saw your relationship with Jack blossom. I know enough about humanity to see a good strong true love between two people. And you two had that.... then something changed. You turned away from Jack. What happened, did he do something to you?

JENNIFER: No, it wasn't Jack. It was....

JULIE: Well who was it? Who on earth could possibly make you turn away from the man I know you love?

JENNIFER: Nobody!

JULIE: Jennifer please. Tell me who it was.

JENNIFER: I can't.

JULIE: Jennifer darling, don't you know, there is nothing on earth you can't tell me.

JENNIFER: I know that. (Beat) I guess all the problems started after we got.... after I had to marry Lawrence and pretend to be happy about it. I mean you were there, you knew. All of you were together and I was stuck all alone. And I had to watch every step I took. I had to keep it all inside. Even after I came home and I was trying to get a divorce, I had to keep it inside.

JULIE: Keep what inside? Someone did something to you.... was it.... Lawrence?

JENNIFER: I can't Julie.

JULIE: It was Lawrence, wasn't it? Something that hurt you then and is hurting you now. What did he do?

JENNIFER: (Beat) It happened on our wedding night. I went to his room, Lawrence's room, because Jack and I were going to escape together. And the only way out through the elevator was in Lawrence's room. And Jack was late.... and then Lawrence walked in so I had to come up with something. I had to come up with some sort of excuse so I pretended that I was there to see him. And Jack never showed up. I don't.... I don't know what happened to him. And then Lawrence.... he.... he started to.... ah...I told him no and I told him to stop and I cried and I told him to stop. But he didn't listen to me.

JULIE: He....

JENNIFER: I can't Julie, alright. I can't.

JULIE: Alright, I'll say it for you. (Beat)

HE RAPED YOU.

JENNIFER: Yes. Yes, Lawrence raped me.

JULIE: Oh darling. You poor darling.

JULIE GIVES JENNIFER A BIG HUG.

JULIE: Jennifer darling. Darling I'm asking you this because.... have you told anybody this?

JENNIFER: Yeah, as a matter of fact I told Frankie yesterday.

JULIE: And what about Jack? Have you told him?

JENNIFER: Julie I've tried so many times but I couldn't do it.

JULIE: I know. It's hardest of all to tell the man you love.

JENNIFER: Well yes, especially Jack.

JULIE: Especially Jack, with his history. He'd blame himself or think he should have been there to protect you or.... so many things.

JENNIFER: Wait a minute, you know?

JULIE: There is very little about happened to you my darling that I don't know all about.

JENNIFER: It happened to you, didn't it? You were raped too.

JULIE: Yes.... I was raped too. Just like you. And just like you, I kept it a secret! And before I was able to tell anybody what happened to me, the man that assaulted me, died.

JENNIFER: Yeah but Julie, Lawrence is alive.

JULIE: Yeah he's alive and he's going to be punished for what he did to you. He's got to be.

JENNIFER: There's going to be a trial then and I'd have to testify and I can't do that.

JULIE: Well.... well not now you can't.

JENNIFER: That's right. I can't.

JULIE: You can't get through this thing without professional help darling.

JENNIFER: I understand that. I've been going to the hospital. They have rape counseling sessions.

JULIE: Yeah well you keep going and you go as often as you can. I've come to believe that all this desire for secrecy and fear and shame from the person who was raped, well that's as hard on her psyche as the violation itself. Jennifer you didn't do anything wrong. Don't you dare feel ashamed Jennifer.

JENNIFER: Julie, I don't want people to know.

JULIE: I understand. But honey....

JENNIFER: But what? That doesn't mean anything. I don't want you to tell anyone. Promise me, don't tell Jack.

JULIE: Of course I won't tell Jack. I won't tell anyone. (Beat) But I think it would be better for you if you told him the truth.

JENNIFER: Don't ask me to do that okay.

JULIE: Well maybe not now. Maybe when you're ready.

JENNIFER: Yeah maybe when I'm ready. But I'm not ready.

JULIE: I understand. You know maybe it's best that there's this.... distance between you now.

JENNIFER: Well yeah, I'd call a marriage a little distance.

JULIE: Oh Jennifer, Jack went into that marriage without all the facts. Don't you think you owe it to him to tell him the truth? I mean if he knows, what he does with the information is his own decision. But then at least you won't have lost him because of a misunderstanding darling. When you're healed, you go to Jack....

SUDDENLY THE DOOR OPENS AND JACK AND EVE COME BOUNCING IN FULL OF JOY AT THEIR MARRIAGE.
---
SCENE FOUR: JENNIFER HAS BEEN CONFIDING IN JULIE ABOUT THE RAPE. JUST THEN EVE AND JACK BARGE THROUGH THE DOOR; THEY HAVE COME BY TO CONVINCE JULIE TO ACCEPT THEIR MARRIAGE SO THEY CAN INHERIT NICK'S FORTUNE. JACK AND JENNIFER ARE SURPRISED AND HURT TO SEE EACH OTHER.

EVE: I'm sorry, we just barged in.... what are you doing here?

JENNIFER: Hello Eve. (Beat) Jack.

JACK WAS AVOIDING HER EYES BUT HE TURNS TOWARDS HER NOW.

JACK: Miss Horton.... Julie.

JENNIFER: Well I guess I'll let everyone get on with their business.

JENNIFER AND JACK LOCK EYES FOR A FEW SECONDS.

JENNIFER: Thank you Julie.

JULIE: We'll talk soon darling.

JENNIFER: Yeah, we will. (Beat) Well I hope you two get what you want here tonight.

JACK: Thank you.

THEY LOCK EYES AGAIN AND JACK TURNS TO WATCH HER LEAVE AND SHUT THE DOOR.

EVE: Well Julie, I'm so glad we can have this meeting. It's been a long couple of days for me and my husband and we're very anxious to get on with our lives. So what's your decision?

JULIE: I haven't made my decision yet Eve. I have to have a few questions answered first.

JACK: Name, rank, serial number? That sort of thing.

EVE: Honey.

THEY BOTH LAUGH BUT JULIE IS VERY SERIOUS.

JULIE: Feeling like a prisoner of war, Jack? (Beat) I'd like to see how the two of you interact as a couple.

EVE: I'm not sure what you mean.

JULIE: Oh well you're so happy, you tell me. You're so in tune with each other, so.... so two of a kind as it were.

JACK: We're the grand prize winners of The Newlywed Game.

JULIE: That remains to be seen doesn't it. You've got to get past me first. Alright if that's the level you want to pursue, let's have a newlywed game kind of question.

EVE: Okay.

JULIE: What is your idea of the perfect evening out?

EVE: Oh.... movie and....

JACK: A movie and.... ah....

EVE: .... a late supper

JACK: .... and a late supper.

EVE: There's something so sexy about eating in the wee small hours. Right, honey?

JACK: Oh there sure is, muffin.

EVE: I can't tell you how many hours I have spent just staring at Jack. I can't get enough of his blue eyes.

SHE TURNS TO JACK WHO IS STARING BACK WITH WIDE OPEN EYES AND SHAKING HIS HEAD.

EVE: His green.... blue green.... blue green eyes.... blue green.... blue green eyes.

JULIE: And what is your beloved's favorite food?

EVE: Food.... he loves steak.... he loves steak.

JULIE: Really? Dave told me you were a vegetarian.

JACK: Ah.... I am.... but you see I've had to give up meat. But I love red meat dearly and I dream about it all the time.

EVE: Right, right.

JULIE: And what is Eve's favorite food?

JACK: Ah.... are you into flesh?

EVE THUMPS JACK IN THE STOMACH.

EVE: He's so funny.... so funny.

JACK: ARGH!! Actually I don't know. She hasn't told me. She's always dieting.

EVE: Ah no. I don't diet. I just have a small appetite.

THERE IS AN AWKWARD SILENCE.

EVE: Darling?

JACK: Of course.... dumpling.

JULIE: My this is enlightening. I have one last question for both of you. Do you really think you'll be able to live the rest of your lives without Jennifer.... or Frankie?

EVE: Um....

JACK: Well to tell the truth, I think I will miss Francoise.

EVE LAUGHS.

EVE: Honey.... honey.

JULIE: I'm glad you're relaxed enough to joke about it Jack. But of course, I know where your true feelings lie.

EVE: Julie I know this was a surprise to you, seeing us get married. Actually it was a surprise to us too.

JACK: Hmmm, hmmm.

EVE: But.... um.... it's happened and those relationships are where they belong. They're in the past. Frankie doesn't mean anything to me anymore. And Jennifer.... doesn't mean anything to Jack.

JULIE LOOKS AT JACK AND CAN SEE ON HIS FACE THAT HE LOVES JENNIFER.

EVE: We feel good together, Julie. I mean he makes me feel safe. He.... he makes me happy.

SHE CUDDLES UP TO JACK.

EVE: And I think I make him happy too.

JACK: I'll have to second that.

EVE: Oh honey.

JACK: Sweetheart.

EVE: Honey bun.... sweetheart.
---
SCENE FIVE: THEY CONTINUE TO KEEP THEIR ARMS AROUND EACH OTHER AND SMILE BUT EVE IS GETTING RESTLESS.

EVE: So.... have you seen enough?

JULIE: More than enough and I've made my decision. (Beat) Eve, Jack, I'm going to give you my permission to inherit Nick's estate.

EVE: Oh thank you. Thank you so much Julie.

JACK: Yes.

EVE: You won't be sorry.

JULIE: I don't expect to be sorry. I'm sure that in the long run this will be the best for everybody.

EVE: Oh it will.

ACK: Yes, well if you don't mind I'd like to place a call to Diana Colville.

JULIE: Certainly Jack. Please use the phone on the reception. I keep my lines clear. Thank you.

EVE: Bye honey, ta ta.

JACK: Certainly.

JACK GOES OUTSIDE BUT THE DOOR IS OPEN AND HE CAN HEAR WHAT EVE AND JULIE ARE SAYING. HE STOPS FOR A MINUTE TO LISTEN.

EVE: Oh Julie, Jack and I are going to be so happy. Thank you so much.

JULIE: Don't bother with all this dear. We're alone. It's quite clear you don't care in the least about each other.

EVE: Well then why would you....

ULIE: Why would I okay the marriage? I wasn't going to and then I looked at you together and suddenly I understood.

EVE: Understood what?

JULIE: Why Nick did what he did. He wanted you to find happiness and you think wealth and power are going to give you happiness and so I'm going to give you exactly what you want. I'm going to give you a loveless marriage.... and wealth and power. Maybe someday when you're sitting there surrounded by all of your riches and wondering why there's never enough and wondering why it doesn't bring you comfort and joy, you'll think back and.... finally realize that the only time you were really happy was when somebody loved you, truly loved you.... and you loved them in return.

JACK FROWNS AS HE HEARS THOSE WORDS.
---
SCENE SIX: JENNIFER GOES BACK TO THE LOFT AND TELLS FRANKIE THAT SHE TOLD JULIE ABOUT THE RAPE. TANNER ARRIVES AND TELLS THEM HE CAN RECOGNIZE THE PERSON WHO SHOT NICK.
---
SCENE SEVEN: BACK AT JULIE'S OFFICE, JACK HAS FINISHED HIS PHONE CALL.

JACK: Well it's all over but for the shouting. The Lawrence situation is through. Preparations are underway and soon The Spectator will be mine and mine alone, thank you very much. Or...thank you, darling.

EVE: Sure darling. I'm going to go freshen up.

EVE LEAVES AND JACK STAYS TO TALK TO JULIE. HE IS HAPPY BUT RESTLESS.

JACK: Good news, huh!

JULIE: That Lawrence Alamain has been defeated this time. Oh yes, I'll celebrate with you about that. And as for your marriage to Eve, I won't stand in your way. But I do believe that somewhere down the road, you and Jennifer are going to need each other very badly. And my god Jack, I hope you're ready when she comes to you.

JACK LOOKS VERY CONCERNED.

JACK: I'm not quite sure what you mean by that.

JULIE: I've nothing more to say. But you think about it Jack.
---
SCENE EIGHT: EVE AND JACK LEAVE AND GO TO WINGS TO "CELEBRATE." THEY ARE EACH HOLDING A GLASS OF CHAMPAGNE WHICH THEY CLINK TOGETHER.

EVE: To victory.

JACK IS SILENT AND TAKES A SIP.

EVE: To.... to us.

JACK: Don't push it, please.

EVE: To happiness.

EVE IS ABOUT TO CRY.

JACK: Yes....

HE TAKES ANOTHER SIP THEN PUTS THE GLASS DOWN.

JACK: To happiness.
---
SCENE NINE: BACK AT THE LOFT, TANNER TELLS FRANKIE AND JENNIFER THAT HE IS HAPPY TO TELL ROMAN WHAT HE SAW. ROMAN COMES OVER AND BRINGS PICTURES OF THE SUSPECTS. TANNER LOOKS THROUGH THE PICTURES AND CHOOSES ONE AS THE WOMAN HE SAW WITH A GUN NEAR NICK'S BODY. IT IS EVE.

TANNER: That's the girl I saw shoot Nick Corelli.
[Transcribed by Carol Vaughan
added material by Sally A. Wilson]
---
---