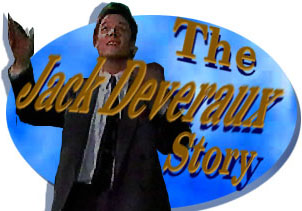 oldEpisode Two-hundred-forty-nine:
"Come What Sorrow Can:" Jack
Quotes Shakespeare to Jennifer.
Eve is Arrested for Nick's Murder.
---
[Air mid-February 1991]
SCENE ONE: IT IS THE NEXT MORNING AND EVE GOES TO SEE SHANE. WHEN SHE GETS THERE, ROMAN IS THERE WAITING TO ARREST HER. AT WINGS, JENNIFER IS HAVING BREAKFAST WITH FRANKIE.

JENNIFER: Oh I'd hate to be in Eve's shoes this morning because after last night Roman won't have any choice but to arrest her.

FRANKIE: Yeah, you're probably right. I don't know. I don't know if this Tanner can be trusted.

SUDDENLY JENNIFER LOOKS UNCOMFORTABLE.

JACK: Good morning.

FRANKIE: Oh Jack, you're bright and early this morning.

JACK: Yes.... so was my.... well, so was Eve. Apparently she slipped out this morning before I woke up and.... ah....

JENNIFER IS STARING AT HIM AS HE TALKS ABOUT HIS MARRIED LIFE.

JACK: .... I thought she might be here.

JENNIFER: Well actually Frankie and I need to talk to you about Eve, Jack. Why don't you sit down?

JACK: Well maybe I don't want to sit down. (Beat) But then again, maybe I do. If I'm going to get a lecture I may as well be comfortable, right.

FRANKIE: Look Jack, I don't think you understand.

JENNIFER: Eve might be arrested today for Nick's murder. And Frankie and I are partly responsible.

JACK DOES NOT LOOK THAT SURPRISED OR UNHAPPY.

JACK: Eve is going to be arrested? And...wait a.... how.... how are you two involved?

JENNIFER: A witness came to us with some information.

JACK: A witness.... a witness.... a witness in the murder of Nick Corelli. Who was that?

FRANKIE: It's not important.

JENNIFER: Look, he was afraid to contact the police so we did it for him.

FRANKIE: That's right, we convinced him to talk to Roman.

JENNIFER: Right, now he said that he was at the refinery site and he saw someone shoot Nick and take off. And he identified Eve from the pictures Roman showed him.

FRANKIE: Of course, this doesn't mean that she's guilty.

JACK: Well let's not forget that Eve stood to gain a lot of money with Nick out of the way.

FRANKIE: Let's not forget that she is innocent until proven guilty Jack. She is your wife, although I do use that term loosely. You know you're supposed to supporting her now not convicting her.

JACK: Since when does he know all about Eve.

FRANKIE: Since she's become my friend and you know what, she can use one right now. So if you two will excuse me, I'll see you later.

JACK: Eve's friend. There's a dubious distinction.

JENNIFER: Yeah, way up there with Eve's husband. You know you really should be by her side through all this.

LAWRENCE WALKS UP BEHIND JACK.

LAWRENCE: I quite agree, it's a husband's place.

JACK: Lawrence! This isn't the office, what are you doing here?

LAWRENCE: Well the same thing Jennifer's doing. Congratulating the new groom. That is what you're doing Jennifer. I mean you and Jack were once so close I'm sure you'd want to wish him well.

LAWRENCE STARES AT JENNIFER AND JACK SENSES THAT SHE IS VERY FRIGHTENED. HE JUMPS UP.

JACK: You know something Lawrence, if you want to say something, you should just come right out and say it. There's no reason to you know beat around the bush with Miss Horton and no need to involve her at all, right?

LAWRENCE: Isn't that interesting. You're still Jennifer's protector. Being married to somebody else hasn't at all prevented you from having these meaningful moments with your former fiancĂ, has it?

JACK: You're a little upset aren't you? Come on, you are.... you are upset because your plan to move in on The Spectator fell through.

JACK GIVES A BIG HEARTY LAUGH.

LAWRENCE: Yes, I admit that was an unexpected setback. But what a price you paid for my defeat.

JACK SLOWLY TURNS TO DEPRESSION.

JACK: Huh!

LAWRENCE: Huh. In your eagerness to keep me out of your operation you lost something infinitely more important than your precious newspaper. (Beat) Didn't you Mr. Spectator?

JACK DOES NOT KNOW QUITE WHAT TO SAY BUT DAVE INTERRUPTS.

DAVE: Jack, the phone call for you at the bar.

JACK: Thank you.... ah excuse me.
---
SCENE TWO: JACK LEAVES LAWRENCE AND JENNIFER TO TAKE THE CALL. LAWRENCE SITS DOWN.

LAWRENCE: Your friend Frankie paid me a visit recently.

JENNIFER: Oh really. Why would Frankie come to see you Lawrence?

LAWRENCE: It seems he's as much in the habit of protecting you as Jack is. From the way young Mr. Brady talked, ranted actually, I get the distinct impression you'd confided in him about, well, the more intimate aspects of our relationship. But from the way Mr. Deveraux talks, I get the equally distinct impression that he knows nothing about that subject. Of course whether you've chosen to take your ex-lover into your confidence is irrelevant at this point since he's now married to someone else. But even if he wasn't, I doubt the two of you could be reconciled. After all your choosing Frankie to share your secret but not Jack was a breach of trust. Or at least Jack will see it that way.

JENNIFER: Is that a threat Lawrence? Because if you plan on doing talking on your own, you're the one that's going to be sorry.

JACK RETURNS TO THE TABLE.

JACK: Well, it appears Eve has been arrested for killing Nick, just as you predicted.

LAWRENCE: Eve? Well when did this come about?

JACK: I suppose you'll just have to buy a copy of The Spectator and read it for yourself. Well....

LAWRENCE: Not exactly welcome news for the groom. Especially while the honeymoon is still in progress. Well I'm sure you have more important things to deal with now.... but if you need any help.

JACK: What, you're leaving?

LAWRENCE: Yes.

JACK: Ah, that's help enough.

JACK LAUGHS AGAIN.

LAWRENCE: Goodbye Happy Jack. Give my regards to your poor wife. Jennifer.

LAWRENCE LEAVES AND JACK SITS DOWN AT THE TABLE WITH JENNIFER. HE IS STILL LAUGHING.

JACK: Hahahah. Did you see the look on his face when I.... when he said Eve.... ah.... yeah.

JACK CAN SEE THAT JENNIFER DOES NOT THINK ANY OF THIS IS FUNNY.

JACK: Actually I'll be getting over to the jail to see Eve. I still have to bail her out. I mean you know how it is.

JENNIFER: Ah.... no I don't know how it is. (Beat) But don't let me keep you Jack. I mean after all, your WIFE is waiting.

JACK: Right.

JACK LEAVES.
---
SCENE THREE: AT THE POLICE STATION EVE HAS JUST BEEN CHARGED AND FINGERPRINTED. SHANE, KAYLA AND FRANKIE ARE ALREADY THERE.

JACK: Well.... if it isn't the gathering of the Eve Donovan fan club.

KAYLA: Hello Jack.

JACK: Everybody have their membership cards and their 8x10s?

SHANE: Just what the hell are you doing here?

JACK: Well I'm here to bail out my wife. I've got the trusty family check book right here.

SHANE: Well you can put it right back because I'm covering it.

JACK: Well that's very tempting but unfortunately daddy's not supposed to pay anymore, the hubby is.

SHANE: I've told you Jack, I'm going to cover it. I'm going to pay Eve's bail.

JACK: Suit yourself.

SHANE WALKS OUT AND FRANKIE FOLLOWS.

JACK: Everybody wants to get into the act.

KAYLA: Why did you do it Jack, why did you marry Eve?

JACK: Why did I marry Eve? Why did I marry.... you want to know why I married Eve? I married Eve.... why did I marry Eve. Because.... because.... I had to, that's why. It was the.... it was the only way I could think of to stop Lawrence from taking over my paper. I know you understand that, I know you do. I had to stop him Kayla. I mean there was no other choice. It had to be done.

KAYLA: Well I think you're wrong Jack. I understand your hatred for Lawrence Alamain. Believe me, everytime I think of Steve I feel it. But you're letting this hatred take over your life. And you're losing the person you love in the process. Is beating Lawrence Alamain worth losing that? I hope not.

KAYLA LEAVES TOO.
---
SCENE FOUR: EVE IS OUT ON BAIL AND JACK BRINGS HER BACK TO THE PENTHOUSE.

EVE: That place! That place was disgusting Jack.

JACK: Huh, uh.

EVE: Do you know they stuck me in a.... they stuck me in a cell with eight other people.

JACK: Well you'll have plenty of elbow room now. As a matter of fact you can have even more elbow room if I get out of your way.

EVE: Oh, does that mean you're planning to. Far be it for me to ask you for some help on the worst day of my life.

JACK: Look if you're looking for comfort, you're looking the wrong way. Why didn't you go with your father, go over to his house?

EVE: Because we are supposed to be.... Jack we're supposed to be a happily married couple. We have to stick together whether we want to or not.

JACK: No, no, that's when people are watching. Behind closed doors we can let our hair down and just be ourselves.

EVE: Right, yeah, I should have known I couldn't count on you for some support. And I know why. You think I did it, don't you? You think I....

JACK: No.... no, no, I never said that.

EVE: You think I killed Nick.

JACK: Oh I never.... oh the door.

EVE: Don't lie to me Jack.

JACK: I never ever said that, believe me.

JACK GETS THE DOOR AND IT IS FRANKIE.

JACK: Francoise!

FRANKIE: I'm here to see Eve.

JACK: Well certainly. Far be it for me to stand in the way of my wife's busy social calendar.

JACK STANDS THERE AND THEY BOTH LOOK AT HIM.

JACK: Oh.... I well, tell you what, I need to get some fresh air. What a perfect time to do that, huh.

JACK GIVES HER A LITTLE FAKE HUG; SHE BREAKS FREE, SHUDDERING AT HIS TOUCH.

JACK: Try not to miss me too much.

EVE: Altrigh Honey.

JACK: Francoise!

FRANKIE: Yeah!

JACK: (Walking out the door) Don't do anything I wouldn't do (Laughing); with Eve [???].
---
SCENE FIVE: JENNIFER HAS BEEN WORKING HARD ON FINDING OUT ANYTHING ABOUT THE MURDER OF NICK CORELLI. SHE IS ON A PUBLIC PAY PHONE TO DAN ; JUST AS SHE FINISHES THE CALL, JACK COMES WALKING BY, HAVING LEFT EVE ALONE WITH FRANKIE.

JENNIFER: Okay, thanks Dan.

JACK: Miss Horton!

JENNIFER IS HOLDING A BRIEFCASE FULL OF PAPERS AND A SMALL SHOPPING BAG.

JENNIFER: (Trying to be just as formal; but obvious emotional, upon running into him.) Mr. Deveraux. I was just checking in at the station.

JACK: Good! Good for you. Nice to see that your training is paying off. I....

JENNIFER: How's Eve? I mean how's your wife?

JACK: Well.... they're.... they're both fine. They're home scrubbing the ink off their fingertips.

JENNIFER: Oh.... so I guess they didn't keep her overnight then.

JACK: No! No, no, no, no. That dubious honor falls to me. I get to spend the night with an accused killer.

JENNIFER: You know, I don't think that Eve killed Nick. I mean the motive is there but the evidence is conflicting Jack.

JACK: Really. You know if you're such a rough and ready reporter, maybe you can tell me this. Do you remember Lawrence's response this morning when he heard that Eve was arrested?

JENNIFER: Well I mean he seemed interested.

JACK: No, no, no. He wasn't interested. He was interested. He was.... he was unusually interested.

JENNIFER: Wait a minute, do you think he could be involved in....

JACK IS HESITANT.

JACK: Well.... I mean he could.... I'm not saying he was actually involved in Nick's murder but I think he's behind the whole thing.

JENNIFER GETS EXCITED.

JENNIFER: Wait a minute, wouldn't it be great if we could find out if he really was.

JACK: It would be wonderful.

JENNIFER: I mean, Jack, nobody drags out the truth the way we do.

JACK: Yeah.

JENNIFER: I mean, think about it. Nobody is good at this like we are. With the two of us working together we could....

SHE SUDDENLY REALIZES WHAT SHE IS SAYING. JACK HAS BEEN AWARE ALL ALONG THAT SHE IS IN DREAMLAND.

JENNIFER: I forgot. (Beat) We don't work together anymore.

JACK DOES A LITTLE NODDING THING WITH HIS HEAD. RELUCTANT TO LEAVE.

JACK: That's right. Separate mediums, separate lives, (Beat) separate careers.

JENNIFER: Right. (Beat) Then I guess I should be going then. Bye.

AS SHE WALKS PAST HIM, SHE DROPS THE SHOPPING BAG AND JACK BENDS DOWN TO PICK IT UP FOR HER.

JACK: Oh no, let me, really.

HE PICKS IT UP AND LOOKS INSIDE, TAKING OUT A BOOK.

JACK (CONT.): What have we here? Romeo and Juliet. Nice to see you're still interested in the printed page. And developing a taste for the classics at the same time.

JENNIFER: Well you inspired it. (Beat) Something about a roof and a balcony as I remember.

JACK IS THE ONE THAT FEELS AWKWARD NOW.

JACK: Ri.... right.

JENNIFER: It was intended for you as a Valentine's Day gift. But you see I bought it.... before you got married.

JACK: Ergh.... yes.

HE LOOKS THROUGH THE BOOK, AS IF LOOKING FOR A SPECIFIC PAGE. HE THEN BEGINS TO READ.

JACK: "Come what sorrow can. It cannot countervail the exchange of joy that one short minute gives me.... in her sight."

HE LOOKS INTO HER EYES .

JACK (CONT.): Yes, well.

JENNIFER: You know I was going to take it back but I changed my mind. I want you to have it Jack.

SHE WALKS OFF, SHE SEEMS SOMEWHAT HOPEFUL. JACK REMAINS HOLDING THE BOOK, SIGHS, AND FROWNING.
---
[Air mid-February 1991]
SCENE ONE: IT IS STEPHANIE'S BIRTHDAY PARTY AND ALL THE FAMILY IS INVITED INCLUDING JACK. MARCUS IS RUNNING AROUND THE ROOM WITH A VIDEO CAMERA TRYING TO CAPTURE THE MOMENT.

JACK: Is this a private production or what....

JACK PUTS HIS HAND UP TO WARD OFF MARCUS WITH THE VIDEO.

JACK (CONT.): Nah, thanks, it's not my medium, no.

KAYLA: Jack, I'm glad you could come.

JACK: Well I had to. I couldn't fit into this. I hope this fits her. The problem is, I'm not really experienced in the little kid department.

HE HANDS KAYLA A BIRTHDAY GIFT FOR STEPHANIE.

KAYLA: I'm sure it will be perfect. (Beat) Is Eve on her way?

JACK: Who?

SHANE GLARES AT JACK.

KAYLA: Eve.

JACK: Oh.... ah, my significant other. Well actually she.... let's just say she sends her heartfelt regrets and leave it at that.

SHANE: Is she alright?

JACK: Well, sure, for somebody accused of... well yeah sure she's fine. She's just fine, don't worry. She's fine.

KAYLA: Well I'm sure she'll be here next year then.

JACK: Next year.... yes. (Beat) Next year. (Beat) This is great. I bet.... I bet Steve would have loved this.

KAYLA: Yeah, yeah he would.

MARCUS: Come on, smile for the camera Uncle Jack, come on.
---
SCENE TWO: JACK BEGINS TO MINGLE WITH THE KIDS AND SPENDS HIS TIME BLOWING UP SMALL BALLOONS AND BENDING THEM INTO FUNNY SHAPES. AFTER A FEW MINUTES, JO ARRIVES.


JO: Jack.

JACK: Jo, you know there was something I was going to tell you. Now what was it?

AT THAT MOMENT SHAWN BRADY COMES OVER TO TALK TO JACK.

SHAWN: Listen, I want to tell, you know you surprised us all with that wedding you know.

JACK: Heh....

JO: Huh? What.... what?

SHAWN: You know, I mean, we never expected to see you and Eve, you know. Whatever, as long as you're happy. I wanted to give you my congratulations.

JACK: Why thank you, thank you very much.

SHAWN WALKS AWAY.

JO: Eve! (Beat) Eve Donovan, Eve!

JACK JUST SHRUGS HIS SHOULDERS. THEY BRING OUT THE CAKE AND TURN DOWN THE LIGHTS AND JACK TRIES TO GET AWAY FROM JO.

JACK: I'm sorry, I don't know what to say. Really I don't know.

JO: Wait just a minute, Jack.

JO FOLLOWS HIM TO THE OTHER SIDE OF THE ROOM WHERE HE TRIES TO GET HER TO SING ALONG WITH THE REST OF THE CROWD BUT SHE WILL NOT LEAVE HIM ALONE.
---
SCENE THREE: JACK CONTINUES TO BLOW UP BALLOONS TO STAY BUSY AND OUT OF JO'S HAIR BUT SHE CATCHES UP WITH HIM.

JO: So, should I send you a toaster?

JACK: Look, I did what had to be done to stop Lawrence from taking over my paper.

JO: Huh uh.

JACK: To keep him from getting his hands on it. And maybe it doesn't change anything but I got my shot in and that makes me happy.

JO: I don't think I've ever seen you so unhappy. Son, listen to me, you are my main concern what with Steve gone and Adrienne.

JACK: I'm telling you I'm happy. I got my licks in with Lawrence and there's nothing in the world that would make me happier than that. Thanks.

JO: I don't believe you for one minute.

SHE WALKS AWAY LEAVING HIM WONDERING. SHE SPENDS THE REST OF THE PARTY CHASING HIM AROUND THE ROOM AND LECTURING HIM.
[Transcribed by Carol Vaughan
added material by Sally A. Wilson]
---
---