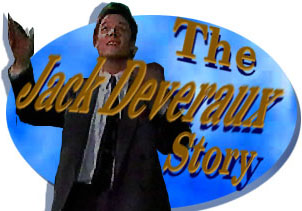 oldEpisode Two-hundred-fifty-three: "Careful,
That Could Go Off": Jack and Jennifer Work
at
The Spectator
, Like Old Times. Later,
They Are Forced to Spend the Night Together.
---
[Air late February 1991]
SCENE ONE: JACK AND JENNIFER ARE WORKING IN HIS OFFICE ON THE TRAIN STORY.

JACK: What I'm trying to say is, if Melissa's singing her way across the country with us, it's going to be harder than ever to get our hands on that gun.

JENNIFER: Well Jack, that's alright. We can work it out. We always do.

JACK: I hate to sound like Shane but we've got to get this plan down.

JENNIFER: Yeah.

JACK: Alright, now look at this.

HE SITS ON ONE SIDE OF THE DESK AND SHE CLIMBS ON THE OTHER SIDE AND CROSSES HER LEGS.


JACK: We've got our sleeper cars. That's where people sleep. We've got our dining cars and that's where the people dine. Now it's safe to assume that....

HE SUDDENLY NOTICES HOW CLOSE THEY ARE.

JACK: .... that you can't safely assume anything.

JENNIFER: That's right. (Beat) That's right. I think that we're probably going to have to go through every car.

JACK: Right and to do that we're going to have to know about the compartments of each and every car.

JENNIFER: I think this is going to be a long night.

JACK: I'm afraid so.

JENNIFER: You want to order some Chinese food?

JACK: What and have you eat all the pot stickers, no way.

JENNIFER: Jack I only eat all the pot stickers when I absolutely have to.

JACK: Oh that sounds vaguely familiar.

JENNIFER: Kind of like old times, huh?

JACK: Huh.

JENNIFER: Huh.

JACK WALKS OVER TO THE WATER JUG.


JACK: Kind of like.

JENNIFER ORDERS THE CHINESE FOOD.
---
SCENE TWO: THE TAKE OUT BOXES ARE LINED UP LIKE A TRAIN. THERE ARE ELEVEN DIFFERENT BOXES. JENNIFER IS POKING ALONG THE BOXES LOOKING FOR SOMETHING WHILE JACK IS SITTING READING ABOUT THE TRAIN.

JENNIFER: Is there anymore of that mugoo gai pan left?

JACK: It's in the caboose.

JENNIFER MOVES TO THE END OF THE LINE.

JENNIFER: The caboose. No caboose is egg foo yong.

JACK: Look Miss Horton, what are we doing here? Are we plotting strategy or are we eating dinner?

JENNIFER: Well we could do a little bit of both don't you think.

JACK: No, I....

SHE POKES A LARGE SPRING ROLL INTO HIS MOUTH.



HE SLOWLY REMOVES IT AND DROPS IT IN THE TRASH. IT IS OBVIOUS THAT THEY BOTH ARE ENJOYING WORKING TOGETHER.

JACK: Thank you!

JENNIFER: Alright, okay, okay. What was the map for again?

JACK: The map....

JENNIFER: Huh, uh.

JACK: .... the map for the umpteenth time is for mapping out the trip from east to west as it goes this way, which.... which we would be doing right now if I had my highlighter.

JENNIFER: Oh the highlighter is top center drawer, right?

JACK: Yes! Exactly, precisely.

JENNIFER: Good.

JACK: You know.... you know it is with that spirit of working together that we have to think.

JENNIFER: Okay.

SHE STARTS TO LOOK THROUGH THE DRAWER AND FINDS A PICTURE OF HERSELF.

JACK: Yes, professionally, maturity, is going to allow us to find that gun and really make use of it.

JENNIFER: Jack, come over here.

JACK: What for, come over to what?

JENNIFER: What is this....

SHE HOLDS UP THE PICTURE.

JACK: What is this....

JENNIFER: .... doing here? (Beat) Well?

JACK: Well what? I'm sorry I can't see it from over there. I.... eyes are bad.



SHE PUSHES IT UP AGAINST HIS NOSE.

JENNIFER: It's a picture of me, Jack.

JACK: Well so it is. Oh, you're wondering why it was in the desk?

JENNIFER: Heh.

JACK: Oh you know I've been so busy these last couple of months I haven't had a chance to clean it out but don't you worry, I'm going to get right down to cleaning this out along with everything else as soon as we solve these unsolved murders, huh.

HE CAREFULLY PUTS THE PICTURE UNDERNEATH THE MAP HE IS LEANING OVER. WITHOUT LOOKING UP HE PUTS OUT HIS HAND.

JACK: Let's see, highlighter.

HE WRAPS HIS HAND AROUND IT BUT SHE DOES NOT REMOVE HERS. HE LOOKS UP AT HER AND THEN AT THEIR HANDS.


HE PULLS IT TOWARDS HIM BUT SHE PLACES HER OTHER HAND OVER HIS.

JACK: (Another one of Jack's or Matthew's double entendres) Be careful, that could go off.


JENNIFER SLOWLY LETS GO.

JACK: Thank you.

HE REMOVES THE LID AND SMILES AT HER AND THEN STARTS TO LAUGH.

JACK: Let's get to work.

JACK (MATTHEW) IS STILL LAUGHING AS HE BEGINS TO WORK ON THE MAP. JENNIFER BENDS DOWN PUTTING HER FACE ALMOST NEXT TO HIS.


JENNIFER: Okay, whatever you say Jack.

JACK SHAKES HIS HEAD AND GRINS AGAIN. THE BOTH ARE ENJOYING THE CLOSENESS.
---
SCENE THREE: IT IS A BIT LATER IN THE EVENING AND JENNIFER IS STILL EATING CHINESE FOOD.

JACK: We've time to stop so what else do we have to....

FRANKIE: Excuse me. We're back.

JACK: Well, if it isn't my less than better half.

JENNIFER: Do you know that Brian Scofield has been looking all over for you?

EVE: Great, just what I need. Welcome home Eve.

FRANKIE: So what else is happening? What about the train?

JACK: We've found it. It's being taken care of at a secure holding area.

JENNIFER: Yeah, they're about to take it on a cross country trip.

JACK: And so are we. We've managed to get some press passes so we'll be in board covering the story while figuring out what the real story is. Which could be a story unto itself.

FRANKIE: Well we better get going. We're supposed to meet Brian.

EVE: Alright.

FRANKIE: We'll meet you back here later.

JENNIFER: Okay.

JACK: Well not unless we see you first at the prison. I mean.... ah Francoise, I'm sorry, bad habit.

FRANKIE: Yes it is. Break it!

FRANKIE AND EVE LEAVE TO SEE BRIAN.
---
SCENE FOUR: A BIT LATER DAN DROPS BY TO SEE JENNIFER ABOUT HER DOING THE TRAIN STORY. WHILE DAN IS TALKING, JACK IS LOADING A PLATE WITH CHINESE FOOD.

DAN: Jennifer, you are too good a reporter to waste on something like that train story.

JENNIFER: But Dan, look, I have all this....

DAN: No! (Beat) N-O! No arguments. Now anything else.

JACK HANDS DAN THE PLATE OF FOOD.

JACK: You know Dan, I....

DAN: Hey, wait a minute, didn't you promise me you'd keep absolutely quiet?

JACK: Well, I'm just agreeing with you.

DAN: What?

JENNIFER: What?

JACK: I'm agreeing. I'm just saying Miss Horton is too good to waste on a mediocre story or on a mediocre medium if you know what I mean.

DAN: What?

JACK: Let me say this....

HE MOVES OVER AND STANDS BEHIND JENNIFER AND PUTS HIS HANDS ON HER SHOULDERS.


JACK: She is too good for broadcasting, admit it. I mean I really think she should stick with the old print job, back where she belongs.

DAN: Meaning what exactly?

JACK: Meaning I may just hire her back!

JENNIFER TURNS AROUND TO LOOK AT HIM WITH A BIG SURPRISED GRIN ON HER FACE.

JACK: Miss Horton, just say it. Say, I quit! Right now. Two simple words, say it.

DAN: Wait, wait, wait. What about her salary?

JACK: Well what about her salary. I'll give you a five percent raise over whatever he's giving you. I mean, times are tight but I'll pull it out of my own pockets if I have to. How about that?

DAN: You're serious, you really do want her back?

JACK: Oh, right, I do. (To Jennifer) Just two little words!

DAN: Forget it Deveraux, she's got a contract. The station will fight you tooth and nail.

JENNIFER: But Dan I....

DAN: Besides, besides, look, look, you really want to do this train thing? This story is yours. You've got no gripe, you've got no grounds to leave. Now I'm on my way to the station to authorize an expense sheet.

JENNIFER: But Dan....

DAN: Sorry pal, nice try but she's very happy at WATB. Right Jennifer.... right.

IT IS OBVIOUS SHE MUCH RATHER GO BACK TO WORK WITH JACK AT THE PAPER. DAN LEAVES.

JACK: So Miss Horton, are we very happy?

JENNIFER: Jack.

JACK: Oh come on, it was a hell of a bluff, if I do say so myself and I do say so. What?

JENNIFER: Was.... that it?

JACK: Was what it?

JENNIFER: A bluff, is that what that really was?

JACK: What are you saying? Of course it was a bluff. I bluffed him and he fell for it.

HE PUTS HIS FINGER IN HIS MOUTH LIKE A HOOK, AND WITH HIS OTHER HAND PRETENDS TO BE REELING IN A FISH, WHILE MAKING A WIND UP NOISE.

JENNIFER: But what if he didn't fall for it Jack?

JACK: What do you mean if he did?

HE HAS BEGUN TO PUT ALL THE CHINESE FOOD IN THE TRASH CAN. JACK IS TRYING TO AVOID HER QUESTIONS.

JACK: He did and it's over, alright.

JENNIFER: That's not the point. No it's not over. The point is you put my job on the line.

JACK: What is the point? Is the point that you want to have an argument?

JENNIFER: You told Dan a string of lies.

JACK: You've met the king of arguments because I....

JENNIFER: Now you're trying to deny that. I dare you to deny that.

JACK: I do deny that. I do.

JENNIFER: What?

JACK: I said I deny it. I know I was lying but not lying about all of it.

FRANKIE AND EVE COME BACK IN THE OFFICE AND JENNIFER CANNOT GET ANY FURTHER WITH THIS. JACK IS RELEAVED.

EVE: Nothing to worry about, Brian's all taken care of.

FRANKIE: For now anyway. So what's up? Jen?

JENNIFER IS STILL WATCHING JACK, TRYING TO FIGURE OUT EXACTLY WHAT HE MEANT.

JENNIFER: Huh! (Beat) What?

FRANKIE: Well what's up? Did the station give you the go ahead or what?

JENNIFER: Ah....

JACK: Oh yes, of course. Total go ahead, green light. We'll both be covering the story from our separate mediums.

FRANKIE: Ah excuse me, what about me?

JACK AND JENNIFER LOOK SURPRISED.

JACK: What about you?

FRANKIE: Jack if you think I'm staying behind, you're wrong. I want to go.

JACK: Oh Francoise, please, please.

FRANKIE: No, Jack, zip it! Okay. I'm going. I'm going on this thing right. You guys can take guests right, two?

JACK: Yeah.

FRANKIE: Reporter and a guest!

JACK: Yes, yes.

FRANKIE: Then consider me your guest.

JACK: Oh Francoise please. I have a reputation to consider.

FRANKIE: Not you Jack.

JACK: Oh!

FRANKIE: Jennifer. It's okay right.

JENNIFER: Yeah, yeah sure it's fine.

NEITHER JACK NOR JENNIFER ARE TOO HAPPY ABOUT THIS, IT IS OBVIOUS THEY WANTED TO GO ALONE.

JACK: Ah Miss Horton, I think we should discuss this. This is not over yet.

FRANKIE: Fine, it's all settled.

JACK: Is it....

JACK SUDDENLY SEES THE LOOK IN EVE'S EYES.

JACK: Now wait a minute. No, no, no, you are not going to go, you know that. You're going to stay right here in Salem. You are not going anywhere. You understand?

EVE: Did I say anything?

JACK: Good! Good, I'm glad we all understand each other. As much as we're ever going to understand each other.

HE PUTS ON HIS JACKET.

JACK: So, I think we all better just go to bed. (Beat) What I'm trying to say is that this train trip is going to be no picnic, okay. This is hard work. (Beat) Alright snuggle bunny, time to hop off to the old home front.

EVE: What could possible bring me more pleasure than that Jack?

JACK: Well I can think of one thing. There's press waiting for you, camping out on the doorstep.

EVE: What?

JACK: The press, waiting to see you. Get ready.

EVE: Jack! Jack, you have to stop them.

JACK: What, me?

EVE: Yes.

JACK: Stop the press? You've been sniffing your own hair spray please.

EVE: What? Jack we have to do something. Come on I can't face it. Please?

FRANKIE: Eve, come on, it's okay.

EVE: I'm not going.

FRANKIE: Take it easy, take it easy. There is another way. That is, if we all want to go along with it.
---
SCENE FIVE: JACK ARRIVES BACK HOME TO THE PENTHOUSE TRYING TO PROTECT "EVE" FROM THE PRESS WHO ARE SCREAMING FOR AN INTERVIEW.

JACK: Excuse us.... excuse us.

HE MANAGES TO GET THE DOOR OPEN AND PUSH "EVE" INSIDE.

JACK (CONT.): Inside Mini Buns.

HE TURNS TO TALK TO THE PRESS.

JACK (CONT.): Hi! If you really want to know more about what's going on, read The Spectator. Thanks!

HE STARTS TO WALK INSIDE BUT A FEMALE REPORTER FOLLOWS HIM.

JACK (CONT.): You know something, you're good. You want an exclusive?

WOMAN: Yeah, right!

JACK: Go get the photographer and I'll see you right back in here.

WOMAN: Oh, right.

HE PUSHES HER OUTSIDE AND SHUTS THE DOOR.

JACK: (very smug) It's great being king! Heheheh. How are you doing?


"EVE" REMOVES HER HAT AND SUNGLASSES TO REVEAL JENNIFER.

JENNIFER: "Mini Buns?" You actually call her Mini Buns Jack?

JACK: Ah.... no. Actually I save the Maxi Buns for Eve. I'm telling you something, she never would have lasted out there. You did great! How can my bride and I ever thank you.

JACK CONTINUES TO LAUGH, HE REALLY IS ENJOYING THE SITUATION.

JENNIFER: Call me a cab.

JACK: Alright.... you're a cab. HEHEHEHEH.

JENNIFER: Jack, I want a cab to go home. You don't really expect me to walk home to the loft, do you? Besides, I have a....

SHE STOPS AND THINKS FOR A MINUTE.

JENNIFER: I.... I just realized something.

JACK: I know, I'm watching.

JENNIFER: I have to stay here tonight.... don't I?



JACK HAS A SMUG GRIN ON HIS FACE AND SHE SEEMS QUITE PLEASED TOO.

JENNIFER: So I have to spend the night here tonight, right?

JACK: Yep.... in bed.... (Before she can answer) your own. (Beat) The guest room is right back there.

JENNIFER: Well you know what, I really don't feel like going to bed right now.

SHE TAKES OFF HER COAT AND SHE IS WEARING EVE'S OUTFIT OF TIGHT BLACK PANTS AND A WHITE BODY SUIT. JACK STARES A BIT.

JENNIFER: I think I'm just going to stay up and go on the balcony and look at the view and....

JACK: Well if you have to do that, it's right out there last time I checked.

JENNIFER: Oh. (Beat) Well goodnight Jack.

SHE PUSHES HIM TOWARDS HIS OWN ROOM.

JACK: Well I guess I'm going to go to bed then?

JENNIFER: Goodnight Jack.

JACK: Although you know I need my beauty rest. We all know that but....

JENNIFER: Yes.

JACK IS TRYING TO DELAY LEAVING HER.

JACK: If you need any food, anything to eat, the fridge is right in there.



SHE IS LEANING UP AGAINST HIM AS HE SPEAKS.

JENNIFER: Goodnight Jack.

JACK: Goodnight.... Jack.

HE SLIDES AWAY FROM HER. SHE PICKS UP HER COAT JUST AS HE IS SNEAKING BACK TO LOOK AT HER. SHE WALKS OUT ONTO THE BALCONY AND LOOKS OUT OVER THE CITY; HE WALKS TO THE DOOR TO WATCH HER.

JENNIFER: (Wistfully) Sleep well, Jack.



HE HEARS HER AND GOES BACK TO HIS ROOM.
[Transcribed by Carol Vaughan
added material by Sally A. Wilson]
---
---