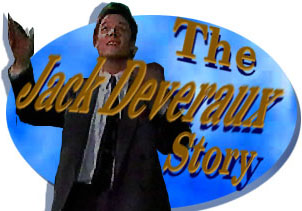 oldEpisode Two-hundred-fifty-four: At the
Train Gala, Jennifer Tells Jack That He
Is Scared of Losing Happiness Once He
Has It; But They Will Try to Get It Back.
---
[Air early March 1991]
SCENE ONE: IT IS THE NEXT MORNING, FRANKIE HAS TAKEN EVE BACK TO THE LOFT WHERE THE TWO OF THEM HAVE GOTTEN QUITE CLOSE AND END UP KISSING.
---
SCENE TWO: AT THE CHEATING HEART, JOHNNIE CORELLI HAS SUSPICIONS THAT APRIL KILLED NICK AND HE WANTS TO PROTECT HER. HE OVERHEARS TANNER TALKING ABOUT A GUN ON THE TRAIN SO HE HIRES A GUY TO BOARD THE TRAIN AND FIND THE GUN BEFORE JACK AND JENNIFER DO.
---
SCENE THREE: JENNIFER HAS SPENT THE NIGHT WITH JACK AT THE PENTHOUSE.SHE HAS DRESSED BACK INTO EVE'S TIGHT FITTING CLOTHES AND IS GETTING READYTO LEAVE.

JACK: All aboard Miss Horton, there's a big extravaganza down at the train tonight. If we hurry we can....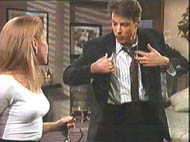 HE GLANCES DOWN AT HER BREASTS AND STOPS.

JACK: What are you doing?

JENNIFER: Well I'm getting ready to go home.

JACK: You can't go home. I mean.... you can't.

JENNIFER: Jack, what do you mean, I can't go home?

JACK: Well just that. You.... you can't. I mean we have too much work to do here if we plan to go sleuthing on that train. We have to.... ah.... we have to.... to time the stops and.... and.... and....

JENNIFER: Jack, we've already done that. I don't know what you're talking about.

JACK: Well.... there's.... there's more. There's.... so you'll stay, right?

JENNIFER: I'm not going to stay until you answer one question. Why do you want me to stay?

JACK: Well.... I think that's obvious. I want to.... I want to get to the truth of matter about the gun, the killer, the letter and Lawrence's connection to all of the above. Nobody knows Lawrence better than you do. I mean what better way to get to the truth of the matter than if we do it together.

JENNIFER TURNS AWAY BECAUSE SHE IS UNSURE OF HOW TO DEAL WITH LAWRENCE.

JACK: So what do you say Miss Horton? Are you with me or not?
---
SCENE FOUR: BACK AT THE LOFT FRANKIE AND EVE ARE HAVING A DISAGREEMENT ABOUT THE MEANING OF THEIR KISS WHEN THE DOOR OPENS AND JACK AND JENNIFER ENTER.

JACK: Another transgression Pumpkin? Who did you offend this time? Not our man Francoise, I hope.

EVE: Why do you care.... Honey Bunny?

JACK: Well, in view of the proposition I'm about to make, I think it would behoove you to be on good terms with him.

FRANKIE: What are you talking about Jack, what proposition?

JACK: Ah how would the two of you feel about a little.... mate swapping?


HE PUTS HIS HANDS ON JENNIFER'S SHOULDERS.

FRANKIE: Excuse me Jack, did I hear you right? Did you say, mate swapping?

JACK: Yes, but not in the conventional sense of course.

EVE: Well it's certainly intriguing, yeah

FRANKIE: And not to mention, confusing.

JACK: We....

JENNIFER: What Jack means is that we need to spend more time together preparing for our ride on the train, perfecting our plan to find the gun.

JACK: What Miss Horton is trying to say is, that she needs to spend the next night at the Penthouse.

JENNIFER: Right, and Eve needs to spend the night in the Loft away from the reporters.

FRANKIE: Eve?

EVE: Ah, it's fine with me, fine.

FRANKIE: Well, Jen, what about you? Are you okay with this?

JENNIFER: Yeah, yeah. It's going to be fine.

FRANKIE: Okay, then it's settled. We're on.

JENNIFER: Great, then it's settled. You know there's going to be a big party tonight.

EVE: Yeah?

FRANKIE: Yeah?

EVE: Are we going?

JACK: Ah.... we ticketed passengers are going.

JENNIFER: Yeah.

FRANKIE: Well don't WE get to invite somebody? I mean Jen we are going on this trip together so I obviously think we're going together.

EVE: Yeah right and Jack I could go as your wife. I know that's a big stretch for you but that is what I am.

JACK: Ah what the hell, the more the merrier, right. I say it's time we all put on our shiny clothes and do funny things with our hair. What do you say?

JENNIFER: Oh great well we don't have a lot of time.

JACK: That's good.

JENNIFER: Eve you can't go home so you're going to have to borrow something of mine.

EVE: Just what I've always wanted. Sure.

JENNIFER: Great, well you've already taken advantage of my closet. I'm sure we can find something else. Come on. Come with me.

JENNIFER TAKES EVE UPSTAIRS TO CHANGE.

JACK: Well Francoise.... how goes it with my wife?

FRANKIE HALF SMILES AT JACK AND GOES UPSTAIRS TO CHANGE.
---
SCENE FIVE: JENNIFER IS TRYING FIND SOMETHING FOR EVE TO WEAR. EVE FINDS A STEREOTYPICAL WITCH'S POINTED HAT AND THINKS IT WOULD BE PERFECT. JENNIFER REALIZES THAT EVE CARES WHAT FRANKIE THINKS. SHE TELLS EVE TO WEAR WHAT WORKS; THAT FRANKIE SEEMS TO LIKE HER AS IS. EVE IS SURPRISED THAT THIS DOES NOT BOTHER JENNIFER. JENNIFER SAYS IT DOES NOT. EVE WONDERS IF SHE STILL HAS ANY EMOTIONAL ATTACHMENT TO HIM. JENNIFER SAYS SHE DOES NOT. EVEBELIEVES HER. EVE SAYS, "YOU STILL LOVE JACK." IT IS OBVIOUS SHE DOES, BUT SHE TRIES TO AVOID THE QUESTION TELLING HER THEY HAVE TO GET READY FOR THE PARTY, AS SHE LOOKS AWAY, WISTFULLY THINKING ABOUT JACK.
---
SCENE SIX: WHEN HE COMES BACK DOWN, JACK ASKS HIM AGAIN.

JACK: So Francoise, how are you doing with the little lady? My little lady that is. You ran out of the room so quickly when I asked you earlier.

HE HANDS FRANKIE A GLASS OF WINE.

FRANKIE: I'd rather not discuss it Jack.

JACK: That's obvious. But I would like to thank you anyway.

FRANKIE: Thank me, for what?

JACK: Well for keeping her occupied, keeping her off my hands.

FRANKIE: You make it sound like it's a chore.



JACK TILTS HIS HEAD AT FRANKIE IS DISBELIEF.

JACK: Francoise, please. It is, isn't it?

FRANKIE: Jack this might come as a shock to you but Eve has a lot of nice qualities.

JACK: And you like to go tilting at windmills on weekends, don't you.

FRANKIE: You know if you'd just open your eyes sometimes maybe you might find some redeeming qualities in Eve yourself.

JACK: I'd much prefer to leave that task to you. With all due respect, you're much better at it.

FRANKIE: I don't understand what Jen sees in you.

JACK: I knew I wasn't high on your hit parade.

FRANKIE: I can't figure you out. Most people spend their whole lives looking for happiness. Now you have it staring you in the face and it absolutely petrifies you.

JACK: First the man is Don Quixote then Sigmund Freud. What other aspects of the human condition can you enlighten me on?

FRANKIE: Just saying what I see Jack. Jen loves you. You have a chance for happiness and instead of grabbing it you run away. Why?

JACK: I don't know Mr. Wizard. You tell me.

FRANKIE: I think it's because you're afraid of happiness Jack.

JACK HAS TURNED AWAY FROM FRANKIE BUT HIS FACE SHOWS THAT FRANKIE HAS HIT THE MARK.

FRANKIE: Maybe you think you don't deserve it. (Beat) But Jennifer does. And if not with you then with somebody else. If you keep running like that you're going to turn around one day and she won't be there.

JACK IS AFFECTED BY THIS.

JACK: Well thank you Francoise. Thank you for the ad....

JENNIFER COMES DOWN THE STEPS AND SHE LOOKS SO BEAUTIFUL THAT HE STOPS AND STARES. SHE IS WEARING A PALE AQUA SEQUINED DRESS WITH A MATCHING CHIFFON SCARF.

JENNIFER: Right, ready to go.

FRANKIE: You look beautiful Jen.

JACK IS STILL STARING.


FRANKIE: Isn't that right, Jack?

JACK: Quite right Francoise, quite.... right.

JENNIFER: Thank you.... Jack. (Beat) Eve will be right down. Oh here she is.

EVE COMES DOWN WEARING THE BLACK AND WHITE SEQUINED DRESS THAT JENNIFER WORE TO MEET JACK AT THE POOL AT LAWRENCE'S VILLA.

FRANKIE: Eve.

JACK: You look beautiful Eve. Isn't that right Francoise?

EVE: Yeah, it's me. At least I think it is, it's me.

JACK: Well enough of this small insignificant talk. Let's save it for the party.

JENNIFER: You're right, good idea. Let's go. Come on. Jack, put that down.

JENNIFER GRABS JACK'S HAND AND PULLS HIM TOWARDS THE DOOR.

JENNIFER: I'm driving so give me the keys.

JACK: That's right. You drive and I'll.... ride.... right.

JACK AND JENNIFER WALK OUT AND FRANKIE PUTS OUT HIS ARM FOR EVE BUT SHE BRUSHES PAST AND WALKS OUT ALONE.
---
SCENE SEVEN: THE PARTY IS JUST GETTING UNDERWAY IN THE LOUNGE CAR ON THE REFURBISHED TRAIN. JACK HAS JUST POURED A DRINK FOR HIMSELF BUT JENNIFER TAKES IT.

JENNIFER: Oh thank you Jack.

JACK: I....

JENNIFER: This is so elegant.

FRANKIE ASKS EVE TO DANCE AND SHE ACCEPTS BUT JACK INTERRUPTS.

JACK: That's all well and fine ladies and gent but let's not forget the reason why we're here.

BRIAN: Why are you here Jack? Were you on the guest list?

JACK DID NOT KNOW THAT BRIAN WAS LISTENING.

JACK: Ah.... well the professional guest list of course. Miss Horton and I are covering this story for our respective news agencies as it were and my lovely wife and Francoise over there are our respective guests, respectively.

BRIAN: That's very.... interesting.

JACK: Well we hope that our readers slash viewers think so.

BRIAN: Wow, well happy hunting or whatever it is they say in the news business.

JACK STARTS TO LAUGH TOO LOUDLY AND TOO LONG AND JENNIFER FOLLOWS UNTIL BRIAN WALKS AWAY.

JENNIFER: Do you think he bought it?

JACK: He wasn't even window shopping.

EVE: What are we going to do, what are we going to do?

FRANKIE: We're just going to have to stay away from him. We can't let him interfere.

EVE: He's going to stop us if he finds out Frankie. He already has me tried and convicted, I know it.

BRIAN LEAVES THE TRAIN JUST BEFORE MELISSA GETS UP TO SING.

JACK: We're looking far too conspiratorial. Time to grab our designated partners and dosie doe. Oh no, you.... this way.

EVE RELUCTANTLY MOVES OVER TO DANCE WITH JACK WHILE FRANKIE TAKES JENNIFER IN HIS ARMS AND THEY DANCE VERY CLOSE. MELISSA SINGS WHILE JACK WATCHES JENNIFER DANCE WITH FRANKIE.

I miss the days when we were crazy in love
When you weren't so sure of me
And I had my little jealousies.

JENNIFER CATCHES JACK'S EYE AND HE LOOKS AWAY FOR A SECOND OR TWO.

Bring back they days when we were crazy in love
I want to feel that way again
Remember we were crazy in love.
---
SCENE EIGHT: A WHILE LATER THE FOURSOME RETURN INTO THE LOUNGE CAR, AFTER UNSUCCESSFULLY TRYING TO SEARCH THE TRAIN FOR THE GUN.

EVE: What are we going to do? I can't believe this is the only train that isn't locked.

FRANKIE: Yeah, I know, I know. I was hoping we could start checking things out tonight.

EVE: Yeah I know.

JACK: Francoise! (Beat) FRANCOISE!

FRANKIE: What?

JACK: We're going to commence.... we're going from plan A to plan B. (Beat) We are going to start the treasure hunt as soon as the train leaves the station.

JENNIFER: Alright, we'll meet at Wings, alright and we'll all head over here together, okay?

JACK: Ssshhh.

FRANKIE: Right.

JACK: Ssshhh.

FRANKIE GOES OVER TO TALK TO EVE LEAVING JACK AND JENNIFER ALONE.

FRANKIE: Excuse me will you?

JENNIFER: Yeah.

JACK: Yeah.

WHEN THEY ARE ALONE JACK ASKS JENNIFER AN INTERESTING QUESTION.

JACK: Miss Horton, question from the press.

JENNIFER: Yes.

JACK: Off the record of course.

JENNIFER: Yes.

JACK: Do you think I'm afraid to be happy?

JENNIFER: Yes.

JACK: That's the wrong answer. It doesn't make any sense.

JENNIFER: You know it's when you have happiness that you stand the chance of losing it Jack. And the thought of losing happiness once you've known it, well that can be pretty frightening sometimes.



JACK TURNS TOWARDS HER.

JENNIFER: But I'm going to tell you something Jack Deveraux, off the record. Tomorrow we're going to start looking for a way to get it back.

JACK IS SILENT.
[Transcribed by Carol Vaughan
added material by Sally A. Wilson]
---
---