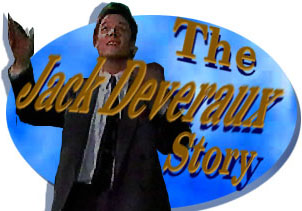 oldEpisode Two-hundred-fifty-nine: The
Train Disaster Part V:
Jennifer Decides to
Tell Jack about the Rape; She Sets up
their Room to Be Like the Island, So She
Could Be Comfortable Enough to Tell Him.
---
[Air mid-March 1991]
SCENE ONE: THE GANG ARE STILL AT THE HOTEL, AND HAVE YET TO REJOIN THE TRAIN. EVE COMES TO SEE JACK.

EVE: Hi.

JACK: I was praying for room service.

EVE: I want to talk to you Jack, okay.

JACK: You have such a charming way of making a point.

EVE: Now listen, they are looking for that murder weapon right now on the train.

JACK: So I've come to understand.

EVE: I know but the sheriff could find it at any minute.

JACK: So I've come to understand.

EVE: Save your smart remarks please. I'm trying to make a point here. Now as soon as they find that gun, we'll all be going home.

JACK: Soooo?

EVE: So, that's what I'm talking about. I mean what happens then. I mean what's ahead for us?

JACK: For us?

EVE: Yeah.

JACK: Ah I hope you're not talking about children because if you are, please forget it. I mean even my children don't deserve to have you for a mother.

EVE: I'm talking about a divorce Jack. I want a divorce from you, please.
---
SCENE TWO: MEANWHILE JENNIFER GOES TO SEE FRANKIE AND TELLS HIM THAT IT IS TIME TO TELL JACK THE TRUTH. FRANKIE ENCOURAGES HER BUT HE WANTS JENNIFER TO MAKE SURE THAT SHE IS READY FOR HIS RESPONSE BECAUSE NOBODY KNOWS EXACTLY HOW JACK WILL TAKE IT. SHE IS NOT SURE WHETHER HE WILL DECIDE TO NEVER SEE HER AGAIN BUT IF SHE DOES NOT TELL HIM THEN THERE IS NO FUTURE FOR THEM.
---
SCENE THREE: BACK WITH JACK AND EVE.

JACK: Did you just mention the "D-word?"

EVE: Yes, D-vorce, Jack.

JACK: You know I'm wondering. This sudden change of judgment, does it have anything to do with the amount of time you've been cosying up to my man Francoise, in the next compartment?

EVE: You know, you have a dirty mind Jack, a really dirty mind.

JACK: Huh, uh.

EVE: I'll have you know that my relationship with Frankie is far above the mere physical. It's much deeper, it's much more sincere.

JACK TRIES TO CLEAR HIS EARS SO HE CAN HEAR BETTER.

JACK: Ah.... hahahah. I'm sorry I must have some ear wax stuck way down there because I.... I thought I heard sincere. But please go ahead, I'm listening, please.

EVE: Yes well I'd like to go ahead.... oh, listen, the way you and Jennifer have been cuddling and kissing on this trip, I would think that you would want to put this marriage behind us as much as I do.

JACK: I beg your pardon.

EVE: Don't you want to get a divorce? (Beat) Wait a minute, wait a minute. You don't want to get a divorce because then you'll be a free man and you'll have to deal with Jennifer. Really deal with her and that scares you. You're hanging onto this marriage as some kind of excuse not to do anything.

JACK: Ms Deveraux, let me explain something. I would like to get out of this just as much as you. I just want it to be clean and kosher.

EVE: Great.

JACK: So that no one contests Mr. Nick's will.

EVE: No one. Great.

JACK: You understand me.

EVE: I understand.
---
SCENE FOUR: JACK AND JENNIFER, TANNER — WHO HAS ALSO BOARDED THE TRAIN — EVE, FRANKIE, MELISSA, AND BRIAN ARE TALKING TO THE SHERIFF. HE TELLS THEM THAT HIS DEPUTIES SEARCHED THE TRAIN AND FOUND NOTHING, EXCEPT A KID'S RETAINER. THEY ARGUE WITH HIM WHEN HE TELLS THEM THAT THEY HAVE TO SPEND THE NIGHT AT THE HOTEL, AND WILL NOT BE ABLE TO REBOARD THE TRAIN UNTIL THE NEXT DAY.

JACK: Tomorrow? Why do we have to wait to to tomorrow?

SHERIFF: Well, that's a might big train you fellows got there. It will take you some time to get along.

THEY CONTINUE TO ARGUE. EVEN LAYS INTO TANNER FOR LYING ABOUT THE GUN. HE SAYS THAT JUST BECAUSE "FAT BOY" DID NOT FIND A GUN, DOES NOT MEAN THERE IS NO GUN: HE INSISTS THERE IS.

JRNNIFER: Don't take any longer. I've got a lot at stake here.

JACK: Boy, you're gonna be in heap of trouble if you don't get the load down here.
---
SCENE FIVE: JACK AND JENNIFER RETURN TO THEIR ROOM AFTER THE SHERIFF TELLS THEM THAT THEY HAVE TO STAY THE NIGHT. JACK IS TALKING AS THEY ENTER.

JACK: So they turn the search for the gun over to a crooked sheriff. An incompetent crooked sheriff who probably couldn't find the gun if he wanted to and if he does want to and he does find it, he'll probably sell it to the highest bidder.

JENNIFER: Alright, Jack, so we get back on the train tomorrow.

JACK: No, no, no, no. We don't get back on the train tomorrow. I'm getting on the train tonight. I'm going to find more than a kid's retainer.

JENNIFER: Jack you cannot get on the train tonight. If they catch you on the train tonight, they'll ship you back to Salem, that's what they'll do.

JACK: I wish they would do that. The point is, this has been going on far too long.

JENNIFER: Well you can't make it move any faster Jack.

JACK: It's not moving anywhere.

JENNIFER: Yes it is. You found the secret compartments. Nobody else knows about them. There's a good chance the gun could be in one of them.

JACK: And meanwhile I'm in my own little compartment here with my thumbs in.... twiddling.... twiddling.

JACK IS VERY FRUSTRATED.

JENNIFER: Alright, you do have a point. Why don't you go out for a while and get some fresh air Jack?

JACK THINKS ABOUT THAT FOR A FEW SECONDS AND THEN HE HAS AN IDEA.



JACK: Yes.... I should get some fresh air. I'll just take a walk.

JENNIFER: Not toward the train!

JACK: You have no sense of adventure, you know that.

JENNIFER: You know Jack, why don't you leave.... for an hour and we'll see.

JACK: And why should I do that?

JENNIFER: I'm not going to tell you. Just come back in exactly sixty minutes, alright.

SHE DRAGS HIM TO THE DOOR.

JACK: Wait a minute, in sixt....

JENNIFER: Go on.

SHE PUSHES HIM OUT AND SHUTS THE DOOR. OUTSIDE HE STARTS COUNTING.

JACK: Alright, I'm.... I'm timing.... 59.... 53....

JENNIFER: 58!

JACK: 58.... 57....

HE WALKS AWAY.
---
SCENE SIX: AN HOUR LATER HE COMES BACK TO THE ROOM AND JENNIFER PUTS HER HAND OVER HIS EYES AND MOUTH AS HE COMES IN. BECAUSE HE IS SO TALL, SHE BENDS HIM OVER TO DO IT AND HE MOANS AND COMPLAINS.

JENNIFER: Okay, hold on, no talking and no peeking. Hold on, hold on.

JACK: Argh, you're killing me. Argh, what the heck is this, some surprise.

JENNIFER: Surprise!

SHE REMOVES HER HANDS AND JACK LOOKS AROUND THE ROOM. IT IS FILLED WITH PALMS AND FERNS AND THERE IS TAPE PLAYING OF KOOKABURRAS AND PARROTS.

JACK: Ah, don't tell me.... don't tell me. We.... we have stepped through the television screen and we have arrived at Gilligan's Island.

JENNIFER: No, we've arrived at our very own island Jack.

JACK LOOKS PUZZLED AND A BIT WORRIED.

JACK: I see. (Beat) And to arrange all this you had to corner the market on cheap plastic ferns.

JENNIFER: You know when we were stuck on the island, we were locked away together in a really safe place.

JACK FROWNS.

JENNIFER: Or at least it seemed that way. I mean it was just the two of us in this cave. And it was as if nothing could ever touch us.

JACK TURNS TO HER AND IS NOT SURE WHAT SHE IS GETTING AT.

JENNIFER: I mean I thought you could use something like this right now and since as we can't go back to the other island, I made you your very own island Jack.

HE IS GETTING MORE AND MORE PUZZLED AND CONCERNED. SHE TURNS ROUND AND PICKS UP TWO DRINKS IN COCONUT SHELLS WITH PAPER UMBRELLAS AND HANDS ONE TO HIM.

JENNIFER: Here, drink?

JACK: Um.... I don't recall ever having any drinks with straws and little umbrellas.

JENNIFER: Right. Well we didn't have much of anything.

JACK: Yeah.

SHE CLUNKS COCONUT SHELLS WITH HIM AND THEY BOTH TAKE A SIP.


JENNIFER: Except each other.

JACK SLOWLY LOOKS UP.

JACK: Yes.... um, that and about a thousand mosquitoes, right. Yeah there they are.

HE BEGINS TO PRETEND TO SWAT IMAGINARY MOSQUITOES AND IN DOING SO SPILLS HIS DRINK ON HIS JACKET.

JACK: Oh there goes another one up there.... OH!

JENNIFER: Jack! (Beat) Why don't you let me take that and you go wash that off before the ants come and get you.

JACK IS NOW VERY WORRIED ABOUT HER STATE OF MIND.

JACK: Yeah, yeah.... why don't I go do that. Perhaps you better stay out of the sun. I think you've been out in it enough.

HE GOES TO THE BATHROOM AND SHE CONTINUES TO TALK TO HIM AS HE GETS A TOWEL AND TRIES TO REMOVE THE DRINK FROM HIS JACKET.

JENNIFER: You know when we were on the island we missed things like hot and cold running water and electricity and phones and cars and.... you know, right now, right this minute, I would do anything to go back they way it was then. I'd give all of that up.... to feel that happy again. I don't think I've ever been that happy in my entire life. (Beat) I mean we were so close and there was nothing between us. Everything was finally out in the open. But I guess we had no choice. I mean we had no other way to survive. (Beat) I guess I kind of feel the same way now.

JACK COMES OUT OF THE BATHROOM, FROWNING AND LOOKING EXTREMELY WORRIED.


JENNIFER (CONT.): You see I really need for things to be that way again. I can't tell you how much I need that. (Beat) But I guess I keep wondering if that's possible, if it could ever be as good again.

HER VOICE IS STARTING TO BREAK AS HER EYES FILL WITH TEARS.

JENNIFER (CONT.): And I've played it over in my head and sometimes it's really wonderful and other times it's.... those other times it scares me more than I've ever been scared in my life. (Beat) And I don't know what to do.

JACK: And what are you trying to say? (Beat) Please tell me.

JACK WATCHES JENNIFER AS SHE THINKS ABOUT HOW TO SAY WHAT SHE WANTS TO.

JACK: It's no surprise that you're having a little trouble expressing yourself. I mean that's what's this is all about isn't it, bringing all these ferns in here, that is to help you and not help me? You're trying to make yourself feel more comfortable or safe enough to express yourself freely, isn't that right?

JENNIFER: Yes.

JACK: Yes. (Beat) So, I'm here, you're here, the.... the island is here, so what is it?

JENNIFER: I want to tell you Jack, but I'm afraid.

JACK: Of what?

JENNIFER: I'm afraid of how you'll react.

JACK: Well I wouldn't worry about that. I'm sure I can handle myself quite well.

JENNIFER: No I think this might be the one thing that you won't be able to live with.

JACK: I've lived with.... a lot of things. I'm sure this would just be another breath of fresh air.

JENNIFER: No I don't think so.

JACK: I've heard a lot of unspeakable things in my time.

JENNIFER: Nothing like this.

JACK: Ah, I've been labeled them as well.

JENNIFER: Jack this is different.

JACK IS GETTING ANGRY.

JACK: How can it be different? It couldn't be any worse could it?

JENNIFER: Yes it could be worse.

JACK: What do you mean? What could possibly be worse?

JENNIFER: It could be. It could be a lot worse. You have no idea what I'm going to say.

JACK: WHAT COULD BE WORSE? WHAT COULD BE WORSE THAN YOU CALLING ME A RAPIST?

JENNIFER: WHAT IF I TOLD YOU THAT I WAS RAPED.

JACK'S FACE FREEZES AND TURNS WHITE AS HE STARES INTO HER EYES.
[Transcribed by Carol Vaughan
added material by Sally A. Wilson]
---
---