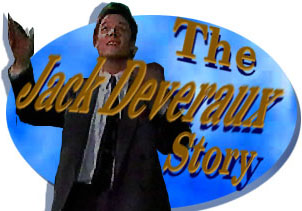 oldEpisode Two-hundred-eighty:
Jack
Takes Jennifer to See Dr. Baker;
He Has Visit from Harper and
Duke; Later, He Waits in the Rain
for Her with their Plant and the Ring.
---
[Air date early May 1991]
SCENE ONE: IT IS THE NEXT MORNING AND JENNIFER IS POURING JUICE WHEN THERE IS A LOUD KNOCK AT THE DOOR. SHE OPENS IT TO FIND LAWRENCE STANDING THERE. HE BARGES IN AND CHECKS THAT JACK IS NOT THERE. HE SAYS THAT JACK CANNOT PROTECT HER ANYWAY. HE MAKES HER AN OFFER TO WITHDRAW HER CHARGE NOW THAT KIMBERLY BRADY HAS COME TO HIS DEFENSE. HE SAYS THAT IF SHE DROPS THE SUIT HE WILL DROP HIS COUNTER SUIT FOR DEFAMATION OF CHARACTER. SHE TELLS HIM THAT HE IS OBVIOUSLY AFRAID AND REFUSES HIS OFFER. HE LEAVES AND SHE IMMEDIATELY CALLS MICKEY AND GETS A RESTRAINING ORDER AGAINST LAWRENCE.
---
SCENE TWO: THERE IS A KNOCK AT JENNIFER'S DOOR, SHE IS APPREHENSIVE, THINKING IT MIGHT BE LAWRENCE. IT IS CARLY. CARLY ALSO IS THERE BECAUSE SHE HAS READ ABOUT THE RAPE IN THE PAPER. SHE APOLOGIZES FOR PART IN JENNIFER'S CONNECTION TO LAWRENCE. SHE ALSO ASK JENNFIER TO BE HER MAID OF HONOR AT HER WEDDING TO VICTOR -- A WEEK FROM TOMORROW. JENNIFER AGREES.
---
SCENE THREE: LATER THAT DAY, LAWRENCE RECEIVES A RESTRAINING AND HE IS FURIOUS.
---
[Air early May 1991]

SCENE ONE: IT IS LATER THE SAME DAY AND JENNIFER HAS DECIDED TO TAKE A NAP. SHE BEGINS TO HAVE A NIGHTMARE.... SHE IS LYING IN BED AND LAWRENCE COMES INTO HER BEDROOM. HE HAS JUST BEEN ABSOLVED OF THE RAPE CHARGES AND HE BEGINS TO UNDRESS. SHE IS FRIGHTENED AND BEGINS TO SCREAM AS HE TOUCHES HER. BACK IN REALITY, SHE IS LYING ON TOP OF THE BED, DRESSED. SHE IS SCREAMING AND JACK IS TRYING TO CALM HER DOWN.

JENNIFER: STAY AWAY FROM ME. DON'T!

JACK: Wait.... don't.... whoa, whoa, whoa!

JENNIFER: DON'T!

SHE PUSHES HIM AWAY.

JACK: Whoa, oh, it's just a dream alright. You were just having a....

JENNIFER: OH!

SHE WAKES UP AND REALIZES IT IS JACK. SHE IMMEDIATELY GRABS HIM AND HOLDS ON TIGHT.


JENNIFER: Oh Jack, I'm so glad it's you.

JACK: Oh yeah, I think it's me or at least I thought was when I left the office.

JENNIFER: Oh Jack, is it ever going to stop? Am I ever going to feel safe again?

JENNIFER IS ALMOST STRANGLING HIM.

JACK: AIR!

SHE LETS GO.

JACK: Okay, okay. You.... ah.... you feeling better now?

JENNIFER: Yeah, a little. Thanks.

JACK: Perhaps if you need to talk about it, you should....

JENNIFER: It was Lawrence. But I'm so glad that you're here Jack. I know it was only a dream but it was so real.

JACK: Yeah, well why don't you tell me what.... what you were doing sleeping right now anyway.

JENNIFER: I was just tired and I thought that I would lay down and catch up a little bit on my sleep.

JACK: Oh, if you're tired, I can go. I'll just....

JENNIFER: NO! I don't want you to leave.

JACK: I....

JENNIFER: Don't leave okay. (Beat) I don't think I could go back to sleep right now.

JACK: You catch up on your sleep but you can't sleep. I know that overstates the simple situation here but I think it's a very good reason to talk to the good doctor.

JENNIFER: What?

JACK: The good doctor, Dr. Baker, Dr. Whitney Baker.

JENNIFER: No, I know who you're talking about but I.... I mean why do you want to call her? Why do you want to call her right now?

JACK: I think you should talk to somebody about these nightmares and.... ah.... it's a good reason to. It shouldn't be cutting into your beauty rest, right. I tell you....

JENNIFER: Jack....

JACK: .... when you talk to the doctor you're going to find that you're sleeping through those R.E.M. cycles before you know it.

JENNIFER: Jack.... I don't want to go....

JACK: Listen, you just kind of get yourself freshened up and I'll be waiting for you downstairs. Don't take too long, okay.

JENNIFER: Thank you Jack.

JACK: Thank you? For what, I mean this is.... this is no big deal, right?

JENNIFER: Right.

JACK: Right.

JACK GOES DOWNSTAIRS.

JENNIFER: It's no big deal.
---
SCENE TWO: JACK AND JENNIFER GO TO WHITNEY BAKER'S OFFICE.

JENNIFER: Dr. Baker, I really appreciate you seeing me right now.

WHITNEY: Oh anytime, day or night.

JACK: Well.... um.... you two have at it. Enjoy the dream.

JENNIFER: Wait, Jack, where are you going?

JACK: Well you know two's company and three's a crowd and considering the first of the two is a highly trained professional such as yourself and let's not forget that patient confidentiality thing.

JENNIFER: Wait a minute Jack, I thought that we were going to do this together.

JACK: Well yes but I realized that I don't really have a dream to bring to the table, you know. Just check with me tomorrow, I'm sure I'll have whipped something up by then.

WHTINEY: You know Jack, a joint session might be a terrific idea.

JACK IS TRYING TO GET OUT THE DOOR.

JACK: We thought of that, maybe splitting the fee. But I tell you the truth, you don't want me around when you're going over the details, do you?

JENNIFER: Yes I do. I want you here and I will.

WHITNEY: Will you stay Jack, just for a little while, just to start?


JACK CAN THINK OF NOTHING WORSE IN THIS WORLD THAN STAYING. YET BY HIS EXPRESSION IT IS EVIDENT HOW DEEPLY HE LOVES JENNIFER.

JACK: Just give us a moment if you will.

HE CROUCHES DOWN NEXT TO JENNIFER AND THEY BEGIN TO WHISPER.

JACK: Look, if this was my session, do you think I'd want you sitting in on it?

JENNIFER: No, of course not. But what does that have to do with me being here....

JACK: Hey wait a minute.

HE CHECKS HIS WATCH.

JACK: Look at the time. I'm telling you.... you know something....

JENNIFER: Jack, you want....

JACK: .... I'm so sorry.... we were.... we were out of town so long, I've got work piled to here on my desk and I've got a phone call waiting for me on my desk. And I'm giving blood this afternoon and....

HE HURRIES TO THE DOOR.

JACK: .... there's that door again. And another thing.... something's in the oven, been there since January. I'll see you, really.

JACK ESCAPES OUT THE DOOR.

WHITNEY: He really does care a lot about you Jennifer.

JENNIFER: You think so?

WHITNEY: Yeah, I do. It took a lot for Jack to bring you here. This is the place that is the most uncomfortable for him. But he knew that it was important for us to talk. You can take hope in that. You can at least take hope in that.
---
SCENE THREE: IT IS STARTED TO RAIN HEAVILY AND JACK HURRIES DOWN TO THE PIER WEARING ONLY A RAINCOAT. AS HE RUNS DOWN THE STEPS HE HEARS TWO MEN SINGING IN HIS MIND. THEY ARE HIDDEN BEHIND UMBRELLAS.

DUKE AND HARPER: "I'm singing in the rain, I'm singing in the rain. What a glorious feeling, I'm happy again."

DUKE: Cut, cut, cut.

SUDDENLY THE RAIN CLEARS UP BUT ONLY OVER HARPER AND DUKE. WHERE JACK'S STANDING IT IS STILL POURING.


HARPER: Oh glorious sunlight. Oh, look who's here.

DUKE: Well, well, well. It's Sonny Boy.

HARPER: Oh we saw you walking away Jack.

DUKE: Yeah, leaving that little cutie pie all by herself.

HARPER: In a shrink's office no less.

DUKE: Come on kid, tell us. What were you thinking?

HARPER: When are you going to learn?

DUKE: Come on, leaving a sweet little blondie all by herself. Listen, who cares she ain't so innocent anymore. So what?

HARPER: Someone like Jennifer Horton really needs real love. She needs commitment.

DUKE: Oooh, don't say that word! I hate that word.

HARPER: Oh sorry, sorry. Take it from me Jack. Things are going to get real emotional once the trial starts.

DUKE: You think she's needy now, just wait.

HARPER: You're just not up to it Jack. Not up to it emotionally.

DUKE: Now hold it, hold it, hold it.

HARPER: What?

DUKE: Now I want you to listen to me Sonny Boy, you understand.

HARPER: Yeah, listen to him.

DUKE: That's alright, you can also listen to him too. How often do you get advice from a dead homicidal senator?

HARPER: Oh, flatterer! The bottom line Jack is that girl, she needs security. She needs to be safe.

DUKE: Did you hear that Mr. Insecurity?

HARPER: Yeah, how can you give her that, come on.

DUKE: He can't, he can't. He's harmless.

HARPER: Now come on Jack, be honest with yourself. Is there anyway you can think of to make Jennifer feel safe....

DUKE: .... warm....

HARPER: .... comfortable....

DUKE: .... secure....

HARPER: .... secure, yes....

DUKE BEGINS TO MAKE BABY SOUNDS.

JACK: Well, yes, yeah, yes. Actually.... actually there is a way.

DUKE: Oh come on, he's kidding.

HARPER: Hold on a minute there Jack, hold on a minute there. Do you mind letting us in on this little brainstorm?

DUKE: Yes, maybe we can help you.

HARPER: Yes, yes, sure.

JACK: Actually there is something you can help me with. You know, there's this song that's been running through my head. I just can't seem to get it out.

JACK BEGINS TO SING.

JACK: "In.... into each.... into each life...."

HARPER: "Into each life some rain must fall...."

DUKE: Oh no, don't sing that song.

HARPER: "....It must fall into my life."

SUDDENLY THERE IS THUNDER AND IT BEGINS TO RAIN ON TOP OF HARPER AND DUKE AGAIN.

DUKE: You see what you did?

JACK: That's it, that's the song.

HARPER: I've been taking singing and dancing lessons. "I'm singing in the rain."

DUKE: Oh no, look at my shirt.

AS THEY ARGUE, THEY FADE AWAY FROM JACK'S MIND.

JACK: Thanks for the idea gents. "I'm singing in the rain, just singing in the rain."

JACK WANDERS OFF SINGING.
---
SCENE FOUR: THE NEXT TIME WE SEE HIM HE IS SOAKING WET STANDING UNDER AN UMBRELLA OUTSIDE JENNIFER'S BUILDING. HE IS HOLDING THE JADE PLANT AND LOOKS PRETTY MISERABLE. SHE COMES RUNNING UP TO HIM.

JACK: Where the hell have you been?

JENNIFER: Jack what are you doing standing out here in the rain?

JACK THROWS DOWN THE UMBRELLA.

JACK: Okay don't try to change the subject. You're going to hear from my tailor in the morning. You know my suit has probably shrunk three sizes while I've been waiting for you to get your head shrunk.

JENNIFER: Jack you've been waiting here for me?

JACK: Well in a manner of speaking, yes I have. I've also been.... ah.... saving a life here. I mean this sorry little thing here is dying of thirst.

JENNIFER: Is there something wrong with the faucet Jack?

JACK: Something wrong with the faucet? You know what comes through that thing, the kind of garbage. Oh I'm telling you this nearly killed this little thing, all that garbage running through it.

JENNIFER: Jack it's not that bad. You could have just used it and put in on the plant.

JACK: Oh you wanted me to take a chance with that. I'm telling you this little thing needs all the help it can get. I mean it hasn't been doing too well up to this point. So that's where the good old fashioned rain water comes in.

JENNIFER: Rain water, Jack?

JACK: Yes, rain water. H2O, the natural nectar from the heavens. Well not counting the.... acid variety. You know I think it's already doing miracles. Look at that.

JENNIFER: Well I guess it does look a little healthier Jack.

JACK: Oh come on, from the time that I first picked this thing out, I mean it's practically flourishing.

JENNIFER: You really think so?

JACK: Really. I mean take it from one who is not a great lover of plants. I'd say that it's made a remarkable recovery, yes.

JENNIFER: Well maybe those little white flowers that you told me about will start to blossom soon.

JACK: Well.... maybe, you know. Maybe if you start taking my advice and giving it a little.... ah.... proper care.... and maybe.... a lot of blind faith.... who knows it might just....

JACK STOPS AND STARES AT THE PLANT.

JACK: What the hell is?

JENNIFER: What, whatis it?

JACK: It's....

JENNIFER: What is it?

JACK: I don't know. Some kind of weird little strange growth.

JENNIFER: Really, really? Are you serious? Let me see.

JACK: Yeah, no, I mean, it's like some kind of mutated or....

JENNIFER GRABS THE PLANT AND LOOKS CLOSELY AT IT.

JENNIFER: Mutated what?

JACK: There's something growing in there. It's a....

JENNIFER'S MOUTH FALLS OPEN AND SHE LOOKS UP AT HIM.

JENNIFER: JACK!

JACK: Did you get a thorn or something?

SHE REACHES IN AND REMOVES THE ENGAGEMENT RING FROM THE SOIL.

JENNIFER: Oh my gosh! (Beat) It's my ring Jack. It's my engagement ring.

SHE SMILES UP AT HIM AND HE GRINS BACK IN THE RAIN. HE TAKES BACK THE PLANT.


JACK: Wait a minute. What the hell is this? I got this thing, this thing was supposed to flower and turns up it's giving up little diamond rings.

JENNIFER: Jack....

JACK: Well you know something, I could.... I could sell this. This could be a gold mine or perhaps a diamond mine if you want to be technically correct about it.

JENNIFER: You didn't lose the ring. You had it the whole time. You never lost it.

JACK: Oh no, no, I lost it. I definitely lost it. It's just that I found it.

JENNIFER: But this doesn't make any sense. I mean why would you put this ring in the plant and why would you stand out here in the rain and....

JACK: I just explained that to you before. I was just trying to get this thing in the proper setting that's all, just the proper....

JENNIFER: I don't understand. The proper setting for wh....

SUDDENLY JENNIFER REALIZES WHAT IT ALL MEANS AND HER MOUTH FALLS OPEN AGAIN.

JACK: Don't.... don't stand there like that. I mean you could drown in this weather, mouth open and all. JENNIFER: Jack, are you telling me that (beat) are you asking me to marry you again?

JACK IS VERY EMOTIONAL, AND SO IS JENNFIER.

[Transcribed by Carol Vaughan
added material by Sally A. Wilson]
---
---