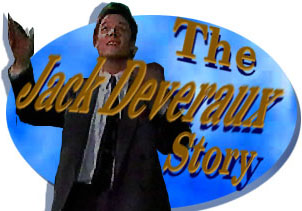 oldEpisode Two-hundred-eighty-five:
Jack and Jennifer Have Found a Witness
at Lawrence's Villa; So, They Decide to
Go There and Bring Her Back; Later, Jack
and Jennifer Practice Skydiving in the Loft.
---
[Air date mid-May 1991]
SCENE ONE: IT IS A COUPLE OF DAYS LATER AND JENNIFER IS WAITING FOR NEWS ABOUT A WITNESS FOR HER CASE AGAINST LAWRENCE. SHE IS AT THE LOFT, STARING AT AIRLINE TICKETS THAT ARE ON HER KITCHEN BENCH. THERE IS A LOUD KNOCK ON THE DOOR.

JACK: Hello.

JENNIFER: Jack?

JACK: Miss Horton are you there?

JENNIFER: Yeah, I've been waiting for you to get here.

JACK: Oh, good.

JENNIFER: Come on in. I've been wanting to talk to you.

JACK: Good.

JENNIFER: I was thinking that maybe....

JACK: I was thinking too.

JENNIFER: No, let me go first.

JACK: I was....

JENNIFER: Let me go first. You were saying the other day about going to Lawrence's villa to find a witness to what happened. Well I've been going over it again and again in my head and I think it's a really good idea.

JACK: Of course it's a good idea. That's why....

JENNIFER: No what I'm saying is that you are absolutely right. I think finding someone to confirm my story could be my only hope.

JACK: Exactly....

JENNIFER: And I think that we should pursue this right away even before we leave for Lawrence's country.

JACK: I appreciate all your confidence but actually there has been a change in the strategy. You're not going to Lawrence's villa.

JENNIFER: Look Jack I don't know what you're talking about because we've already discussed this....

JACK: I'm just saying.... I'm just saying that we were a little hasty in our decision. It doesn't make any sense for you to go and for me to go.

JENNIFER: I think it makes a lot of sense.

JACK: Not when you consider that I've got all those frequent flyer miles saved up. This could.... this could save a lot of money. The point is I could just zip over there. I could zip back and have this whole thing done before anyone even notices.

JENNIFER GRINS AT HIM KNOWING THAT HE IS TRYING TO PROTECT HER.

JACK: Why are you smiling? Do you like that idea?

JENNIFER: No. I know what you're doing and I think that you're being really sweet Jack.

JACK: No, this is not sweet. This is smart. This is.... this is.... this is.... this is waste not, want not. This is a penny saved, or perhaps a grand in this case. I mean it adds up.

JENNIFER: Jack this has nothing to do with economics. You're trying to spare me from going back to the place where I was raped. (Beat) I mean I appreciate your concern, I really do Jack but this is too important for me to back out now. I am going and that's that.

JACK: I suppose I should know when my decision been's over-ridden. You should also know that this is not going to be easy.

JENNIFER: I know that Jack but I'm willing to do whatever is necessary to make sure that we succeed. Including taking advantage of the fact that I was once Mrs. Lawrence Alamain.

JACK FROWNS.
---
SCENE TWO: DESPITE JACK CONCERN, AND PROTESTATIONS, JENNIFER HAS DECIDED TO DO WHATEVER SHE CAN TO FIND THE WITNESS.

JACK: Please excuse, but why would you want to play Lawrence's wife again? I mean it's.... it was doing that.... that got you into this mess in the first place.

JENNIFER: Look Jack it's not as crazy as it sounds alright. I mean I've been thinking about what you said, that maybe someone was close by that night. Close enough to hear me scream, alright. And then I remembered that the day that we got married Lawrence assigned a personal maid to me which means that she had to be there for me for anything I needed. So if I could get a hold of her maybe I could find out something. If anything, a connection into the villa.

JACK: Oh certainly, I'm sure all the guards and servants will be waiting with open arms.

JENNIFER: It's worth a try, don't you think Jack?

JENNIFER PICKS UP THE PHONE.

JENNIFER: If I could just remember her name. It was Lor.... Laura, no.... Lila, her name was Lila.

JENNIFER DIALS THE VILLA WHERE THE PHONE IS ANSWERED BY A MAID NAMED LILA [NOTE: THE ACTRESS PLAYING LILA THE MAID IS THE SAME ACTRESS WHO PLAYED SALLY WALES -- IT IS ALMOST SYMBOLIC THAT SHE STARTED OFF THEIR LOVE STORY, AND NOW SHOWS UP WITH THE FULFILLMENT OF THEIR STORY].

LILA: Alamain residence.

JENNIFER: Hi, um, can I please speak to Lila?

LILA: Who's calling please?

JENNIFER: My name is Jennifer Horton. I was formerly Mrs. Lawrence Alamain and Lila was my personal maid when I was living at the villa and I was trying to reach her.

LILA: This is Lila, how may I help you?

JENNIFER: Lila, um, I need to talk to you. It's very important.

LILA: What about?

JENNIFER: Well you see it's sort of a personal matter and I just had a few personal questions I wanted to ask you. Um, about the night that Lawrence and I were married.

LILA: I'm sorry. I'd really like to help you but I really can't.

LILA HANGS-UP.

JENNIFER: What do you mean you can't? Lila.... Lila....

JACK: No good huh?

JENNIFER: No that was really strange. I know that she wanted to talk to me Jack but something was holding her back. That's even more reason to go to Lawrence's place. I mean if we could talk to her in person maybe we could convince her to open up.

JACK: I believe the operative way is if. Of course we still haven't figured out a way to get past those guards.

JENNIFER: It's alright. We'll figure something out Jack. Nothing is going to stand in the way of us getting evidence that we need to use against Lawrence.
---
SCENE THREE: JACK BEGINS TO STUDY THE PLAN OF THE VILLA.

JACK: This doesn't make any sense. I'm sorry but there is no way we can just sneak into the compound.

JENNIFER: Alright, then how are we going to do it Jack?

JACK: It's something that has to be shrewd and very clever. I think we'll have to use disguises.

JENNIFER STARTS TO LAUGH BUT JACK IS SERIOUS.

JENNIFER: Oh no, oh no, Jack. If you think that you are going to recycle that drag costume that you wore in New York, you can count me out. Because Lawrence's men will recognize those falsies in a second. I'm not going to do it. I won't be able to keep from laughing.

JACK: I.... ah.... I beg your pardon. I suppose you have a much better idea.

JENNIFER: I'm think, I'm thinking.

JACK: Well you better think a lot better than that and a lot faster than that too because there's a lot of guards out there will big old.... with guns! So do you have any plans of how to get into this place, how to get past them?

JENNIFER: Wait a minute Jack, what if we don't have to get past them at all?

JACK: Oh, what is this, a riddle, a little trick?

JENNIFER: No, no. It's a stroke of genius. Come on, I'll show you. Let's go Jack.

JACK: Perhaps I.... why do I get a feeling I'm not going to like this?

JENNIFER: Because you probably won't.

SHE DRAGS HIM OUT THE DOOR.

JACK: OUCH!
---
SCENE FOUR: JACK AND JENNIFER GO TO THE SHOPS AND MELISSA BUMPS INTO JENNIFER OUTSIDE STUDYING A BOOK.

MELISSA: Jennifer?

JENNIFER: Oh, gosh. Melissa, I didn't even see you there.

MELISSA: No wonder. Your eyes were practically glued to that book you're reading.

JENNIFER: I mean it's really fascinating. Can you believe some of these pictures? I mean look, look here.

MELISSA LOOKS AMAZED AT THE BOOK.

JENNIFER: Look at that position.

MELISSA: I can't even imagine anybody actually doing this stuff.

JENNIFER: Really? Not even me and Jack?

MELISSA: Are you serious?

JENNIFER: Well he's inside right now getting all this equipment to help us along.

MELISSA: Things are really looking up for the two of you aren't they?

JENNIFER: Yes, yes they are, finally.

MELISSA: I'm glad because I have a feeling that once the trial gets started, things may not be going so well.

JENNIFER: What makes you say that?

MELISSA: I had a visit from Lawrence Alamain's lawyer today.

JENNIFER: What did he want with you Melissa?

MELISSA: Believe it or not, they want me to testify on Lawrence's behalf.

JENNIFER: Are you kidding me? Why would they want you to do that? You're not going to do it.

MELISSA: I have to. I don't have any choice. They're going to force me to do it. But I'm not going to say anything on Lawrence's behalf. I want you to know that. As far as I'm concerned he is guilty.

JENNIFER: Thanks.

MELISSA: Unfortunately though, there maybe someone else there who may end up being a looking a little more sympathetic to Lawrence.

JENNIFER: Who?

MELISSA: Brian. He's also been subpoenaed. And he has decided to be a by the book cop instead of a sensitive human being. He's going to tell about the one decent thing Lawrence has ever done in his life, helping me off the hook in Emilio's death. (Beat) I know it seems like a set back Jennifer. I just hope you won't let it discourage you from going after Lawrence.

JENNIFER: I won't. If anything Melissa, I am more determined that ever to see Lawrence Alamain brought down.
---
SCENE FIVE: JACK AND JENNIFER ARRIVE BACK AT THE LOFT AND ARE LOADED UP WITH EQUIPMENT. JACK AND JENNIFER ARE BOTH CARRYING A HELMET AND A PARACHUTE.


JENNIFER: Alright.

JACK: Thank you. I would like to go on record as saying officially that I am against this little foray.

JENNIFER: You would? Why?

JACK: Because of all the things that I've never wanted to do, the thing that tops the list is jumping out of an airplane.

JENNIFER: Jack, this is the only way to get into Lawrence's compound, okay. And besides, where's your sense of adventure. We got parachutes, we got helmets....

JACK: We've got butterflies the size of Batman in our stomachs.

JENNIFER: You're just scared, that's all Jack.

JACK: No, no, scared is not the word. I'm concerned.

JENNIFER: Well you know what, don't worry because I've got another idea.

SHE OPENS UP THE BOOK.

JACK: Oh good! Good, good, hopefully something better. Now maybe we can return these and get a full refund and we can get back there before the whole thing's closed.

JENNIFER: Jack, wait a minute, that's not what I mean.

JACK IS NOW HOLDING ALL THE STUFF.

JACK: Are you saying we have to go through with this?

JENNIFER: Yes.

HE DROPS EVERYTHING IN A BIG CRASH TO THE FLOOR.

JENNIFER: We're going to practice, practice, practice. I know that you're going to love this once you get the hang of it Jack.

JACK BENDS DOWN AND PICKS UP HIS HELMET. STENCILED ON THE FRONT IT SAYS: "SKYWIZARD."

JACK: Get the hang of this.
---
SCENE SIX: A BIT LATER THEY ARE BOTH FULLY GEARED UP WITH THEIR PARACHUTES ON OVER OVERALLS AS WELL AS GOGGLES AND HELMETS. THEY ARE STANDING ON THE LANDING IN THE LOFT. JENNIFER IS READING THE INSTRUCTION BOOK.

JENNIFER: Okay, now here's all we have to do. Stand at the door of the plane....

JACK: Huh, uh.

JENNIFER: Wait for the go ahead signal.... then jump! Okay. (Beat) Hahah, give me your hand Jack.

JACK HOLDS OUT A VERY SHAKY HAND.



HIS EXPRESSION ALSO SEEMS TO BELIE THAT HE FINDS THE WHOLE IDEA OF PRACTICING SKYDIVING IN THE LOFT TO BE REDICULOUS.

JENNIFER: No hold.... is that better?

JACK: Better as opposed to what?

JENNIFER: Alright, it says here as soon as we leave the plane we begin our count. At about sixty seconds and depending on the altitude, we pull our ripcords. Alright, I think we can try this. When I say go, you jump okay?

JACK: I would just like to go on the record as saying....

JENNIFER: Ready, set....

JACK: I'd like to go on the record as saying....

JENNIFER: GO!

JACK: That I don't want to do this.

JACK AND JENNIFER TOGETHER: AAAAARRRRRGGGGGHHHHHH!
---
SCENE SEVEN: THEY HAVE CRASHED TOGETHER ON A MATTRESS ON THE FLOOR BELOW THEM.

JENNIFER: Are you okay?

JACK: AH.... I miss my pillow.

JENNIFER: Come on, we're doing good. We're doing really good for beginners. Come on.

JACK: I think.... I think.... argh.... I think we stink to high heaven.

THEY STRUGGLE TO THEIR FEET.

JENNIFER: No we don't.

JACK: No pun intended.

JENNIFER: No, we don't stink. Come on now lets see what the book says after we.... land

JACK GRABS IT FROM HER.

JACK: Let me see what the book says. Parachuting and Skydiver's Handbook. (Beat) Ah ha, just as I thought. "The activities described in this book are intended for professionals only and should be not be attempted without formal instruction."

JENNIFER: Okay, I just.... I just thought we could practise a little before we took a few lessons and have a little fun in the meantime.

JACK: Fun? Fun, you think it's fun to jump off portions of your apartment onto the ground? Is that fun?

JENNIFER: Yeah, I think it's fun as long as I'm with you.

JENNIFER PULLS OFF HER HELMET AND JACK STRUGGLES OUT OF HIS.

JENNIFER: Look Jack, I know that we have serious job to do, but I know we'll be just fine as long as we do it together.

JACK PULLS BACK HIS GOGGLES.

JACK IS NOT TO SURE ABOUT IT.
[Transcribed by Carol Vaughan
added material by Sally A. Wilson]
---
---