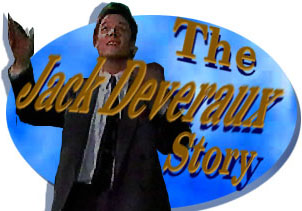 oldEpisode Two-hundred-eighty-seven: "Scared
but Doing It": Jennifer Tries to Get Lila
to Testify; Jack Returns to the Villa;
Lawrence Catches Him and Challenges
Jack to Another Duel, but Lawrence Cheats.
---
[Air date late May 1991]
SCENE ONE: JACK AND JENNIFER HAVE SPENT THE NIGHT CAMPING IN LAWRENCE'S COMPOUND. JENNIFER WAKES UP FIRST AND CANNOT HELP STARING AT JACK AS HE SLEEPS.



SHE BRUSHES HIS HAIR AWAY FROM HIS FACE. JACK SWATS AT HER HAND, THINKING IT IS A MOSQUITO.

JACK: Oh.... damn mosquitoes. What are you doing? What are you doing sitting up watching me?

JENNIFER: You looked like a little boy Jack.

JACK: What are you doing? Why are you watching me?

JENNIFER: No, I just couldn't sleep.

JACK: Couldn't sleep. Well I can't really blame you. It seems like the national resource of this place is gravel.

JENNIFER: No, no, I don't mind the camping part. That part's fun. But I.... I couldn't really sleep last night because I kept thinking that um.... I think that we should change our plan.

JACK: No! No, completely out of the question, alright. You are going to get in the back of that laundry truck, sneak out of this place and get to the airport and find that maid, Lila, Lilly, whatever her name is, alright? I'm going to go back into the Emerald City and I'm going to get the rest of the information and be out in a second.

JENNIFER: No!

JACK: What do you mean, no?

JENNIFER: We are not splitting up. I am not letting you out of my sight and that's final. Jack everytime we separate one of us gets in trouble. So, I want you where I can keep an eye on you and vice versa, okay.

JACK: Well alright then I guess you can just say goodbye to Lila the maid then because you're going to lose her, never going to see her again. Just say goodbye, never find her.

JENNIFER: No, no, because we're going to go to the airport together and stop Lila and then we're going to go to the villa and search together.

JACK: And how are we going to.... are we going to parachute back in there? Forget it. The only way we're going to get the job done is you go your way and I go mine.

JENNIFER: (Beat) Okay.... okay you win.

JACK: What do you mean I win? You mean no more kicking screaming, clawing or biting?

JENNIFER: No. I mean I know that whatever you've got planned you're doing it to help me. So how can I give you a hard time Jack?

JACK: Well it never stopped you in the past.

JENNIFER: No, but just be careful okay. (Beat) Please?

JACK: Well.... you be the same.

JENNIFER: Okay, I will if you will.

JACK: Then I will. Deal.

JENNIFER EXTENDS HER HAND SO THAT THEY CAN SHAKE ON THE DEAL.

JACK: Oh!

JACK REALIZES WHAT SHE WANTS AND SHAKES HER HAND.

JACK: Deal. JENNIFER: Deal.
---
SCENE TWO: JACK THEN GETS BACK INTO THE VILLA AND PEEPS AROUND THE DOOR INTO LAWRENCE'S BEDROOM. HE CREEPS INSIDE AND IMMEDIATELY LOOKS IN THE MIRROR.

JACK: Boy you need a shave don't you? (Beat) What the hell am I talking about? Okay let's take care of this thing.

HE CAREFULLY REMOVES THE MIRROR FROM THE WALL AND IMMEDIATELY NOTICES THAT THE WALL BEHIND IT HAS BEEN REPAIRED.

JACK: What the hell? What this is.... why would they replaster.... damn, what the hell is going on here?

HE DROPS THE MIRROR AND IT BREAKS.

JACK: OUCH!

AS HE IS LOOKING AT THE MESS, HE HEARS THE DOOR OPEN BEHIND HIM AND HE FREEZES.

LAWRENCE: Well you shouldn't have done that Mr. Deveraux.


JACK FLINCHES AT THE SOUND OF LAWRENCE'S VOICE.

LAWRENCE: Now you've given yourself seven years bad luck. (Beat) What brings you back to my home Mr. Deveraux?

JACK: How long have you known that I was here?

LAWRENCE: From the moment you and Jennifer both sailed earthward. There really was no need to go to that extreme you know.

JACK: Well you know what they say.... a thrill a day keeps the shrink away.

LAWRENCE: Well I've let you both come and go as you please, haven't I?

JACK: If that's the case.... why have you let us come?

LAWRENCE: I pride myself on my hospitality.

JACK: Word of criticism if I may. If you have to lock your customers.... friends in their rooms just to drop a roof on top of them, you've probably had to.... kiss the Gloria Vanderbilt Good Hostess Award away.

LAWRENCE: Now here I thought that little misunderstanding could be put behind us Jack.

JACK: I believe there's one or two misunderstandings that you're going to have quite a time putting behind you my friend.

LAWRENCE: As you would know. So you don't believe in letting bygones be bygones, do you?

JACK: I don't believe in much of anything anymore.

LAWRENCE: Except Jennifer. (Beat) Well as far as words are concerned you are my better.

JACK: Well I don't know what to say about that. I'm a journalist. I try to prove that the pen is mightier than the sword.

LAWRENCE REMOVES HIS JACKET.

LAWRENCE: And where swords are concerned....

HE PICKS UP A PAIR OF SABRES.

LAWRENCE: .... I thought we were quite equal as I remember.

HE TOSSES ONE SWORD TO JACK.

LAWRENCE: Shall we test our metal once again Jack?

JACK: Let me tell you something.... ah I bent my sword into a set of pen and pencils long ago.

LAWRENCE HOLDS THE SWORD UP READY TO FIGHT.

LAWRENCE: Indulge me.

JACK: I tell you what, I'll send you a whole box of chocolate covered cherries for Christmas. How about that?

LAWRENCE FLICKS THE SWORD AT JACK'S THROAT AND HOLDS IT THERE.

LAWRENCE: I've given up sweets Jack.

---
SCENE THREE: MEANWHILE AT THE AIRPORT, JENNIFER FINDS LILA AND CONVINCES HER TO COME BACK TO SALEM WITH HER TO GIVE EVIDENCE AGAINST LAWRENCE.
---
SCENE FOUR: JACK HAS HIS HANDS IN THE AIR AND IS TRYING TO AVOID FIGHTING LAWRENCE.

JACK: Ah I tell you what, how about a nice game of.... pachisi? You know.... or Pinochle. It's a nice game and nobody plays it anymore. You know it's a lost art really.

JACK PUTS HIS HAND UP TO TRY AND MOVE THE SWORD FROM HIS THROAT BUT LAWRENCE PULLS IT AND CUTS JACK'S HAND.

JACK: OUCH!

LAWRENCE: Well it seems as though I've drawn blood but you still have that very proficient right hand if I remember correctly.

JACK: Sure do.

JACK PICKS UP A CANDELABRA IN HIS RIGHT HAND.

JACK: Now just remember keep the light on for me, huh.

LAWRENCE: Lights out Jack!

LAWRENCE SWIPES THE SWORDS ACROSS THE CANDELABRA, CUTTING ALL THE CANDLES OFF.

JACK: AAARRGGHHH! Guess not. How do you like the dark. I tell you what, stay away from me.

JACK RUNS ACROSS THE ROOM THROWING A SMALL CUSHION AS HE GOES. HE TRIES TO KEEP FURNITURE BETWEEN HIMSELF AND LAWRENCE.

JACK: I'm not going to play this game alright. I'm not.

HE THROWS MORE CUSHIONS AT LAWRENCE.

JACK: I will not play your.... I will not.... I will not play your game Lawrence.

LAWRENCE: Come on Jack.

JACK: I won't.... I will not.... I will not play your game.

LAWRENCE: Try that.

LAWRENCE THROWS THE SWORD TO JACK WHO IMMEDIATELY DROPS IT.

HE POINTS THE OTHER SWORDS AT JACK'S HEART.

LAWRENCE: It doesn't seem that your heart's in this Jack.

JACK: I tell you the truth, hand to hand or blade to blade combat is not my idea of a way to pass time, no.

LAWRENCE: Well then how are two friends like us going to while away the hours, huh?

LAWRENCE WALKS RIGHT UP FACE TO FACE WITH JACK, HOLDING THE SWORD AGAINST HIS FACE.

LAWRENCE: Well we could talk about that woman we have in common, couldn't we? I mean you and I share a very unique vantage point when it comes to Jennifer. We could information of the most intimate kind. For example....

JACK: NO, DON'T DO THIS!

JACK PUSHES LAWRENCE AWAY AND GRABS THE SWORD HE DROPPED. HE BEGINS TO THRUST AT LAWRENCE WHO IMMEDIATELY FIGHTS BACK.

LAWRENCE: We seemed to have touched a nerve Mr. Deveraux.

JACK: Argh!

LAWRENCE: ARGH!

JACK: Is this your idea of fun?

THEY PARRY AROUND THE ROOM WITH JACK APPEARING TO HAVE THE ADVANTAGE ONCE AGAIN. JACK ATTACKS LAWRENCE AGAIN.

LAWRENCE: There's that old Deveraux energy.

JACK: ARGH! We should practice on our fight.

JACK DUCKS AND WEAVES AWAY FROM LAWRENCE THEN ATTACKS AGAIN AND THROWS A VASE OF ROSES OVER HIM. JACK GETS LAWRENCE BACKED ONTO THE BED.

JACK: Come on, come on, do us both a favor, admit you lost.

LAWRENCE: Alright Jack.... I lost.

LAWRENCE THEN PUNCHES JACK IN THE FACE AND KNOCKS HIM TO THE GROUND. HE GRABS A SWORD AND POINTS IT AT JACK'S THROAT.

LAWRENCE: When are you going to learn Jasper? I never lose!
---
SCENE FIVE: JENNIFER COMES RUNNING IN AND SCREAMS.

JENNIFER: Don't you hurt him.

JACK: What are you doing here? Go home, please.

JENNIFER: Put it down. PUT THAT SWORD DOWN. Haven't you hurt enough people already Lawrence?

LAWRENCE: No, Jennifer, Jack, you truly misunderstand my meaning.

HE BACKS AWAY FROM JACK.

LAWRENCE: I was simply lamenting that the duel had ended and I won.

JENNIFER: Jack are you okay. Let me see.

JENNIFER HELPS JACK AND NOTICES HIS CUT HAND.

JENNIFER: He hurt you Jack.

JACK: Oh, it's just a flesh wound.

JENNIFER: What is he doing here?

JACK: That is a good question. He pops up in the craziest of places, doesn't he?

JENNIFER: Why were you two dueling like that?

JACK: That's a very good question too, isn't it Lawrence?

JENNIFER: Let me help you. Come on, come on Jack.

SHE HELPS JACK TO HIS FEET.

JACK: I think I was winning up to the final reel and then you pulled a fast one.

JACK RUBS HIS CHIN.

LAWRENCE: Winning is all that matters Mr. Deveraux. The how isn't relevant.

JACK: I suppose I'll have to remember that, isn't that right Miss Horton?

THEY BOTH TURN TO HER AND SHE IS STARING AT THE BED WHERE LAWRENCE RAPED HER.

LAWRENCE: Well I'm a very poor host. You seem very cold.

LAWRENCE HOLDS UP A BLANKET FOR JENNIFER BUT SHE JUST STARES AT HIM WITH HATE. LAWRENCE THROWS THE BLANKET TO JACK.

LAWRENCE: Here you take care of her Mr. D. In all this excitement I've neglected to welcome you back. This was, after all, your home for a regrettably short period of time. (Beat) Well feel free to stay as long as wish. As a matter of fact, I'm turning this room over to you. My very own bedroom which I shared so briefly with my lovely ex-wife.

JACK IS ALMOST PHYSICALLY SICK HEARING THIS.

LAWRENCE: I think you'll find the bed extremely comfortable. (Beat)

LAWRENCE WALKS OVER BEHIND JACK.


LAWRENCE: I'm sure she'll testify to that.

AS LAWRENCE WALKS OUT JACK BEGINS TO SHOUT AT HIM.

JACK: You're leaving yourself....

JENNIFER: Don't Jack. This is not.... no!

JACK: This is a.... look we've got two swords here. I can take him.

JENNIFER: Jack, no! We will get Lawrence alright. But not this way.

JACK: He said winning is the only way. That's what he said.

JENNIFER: No, no, don't sink to his level, alright. We're not going to do things his way, we're going to do them our way.
---
SCENE SIX: LATER JACK AND JENNIFER ARE ON THE BALCONY OUTSIDE THE BEDROOM AND JACK IS WINDING A HANDKERCHIEF AROUND HIS CUT HAND.

JENNIFER: And so all this time Lila has been feeling really terrible that she didn't come to help me that night.

JACK: Well I believe she's making up for it by coming back to Salem to testify against Lawrence.

JENNIFER: Yeah, that's what I told her. She's really scared but she's going to do it Jack.



JACK: Some day if I ever get a coat of arms it's going to say: "Scared but doing it." With little bunny rabbits running rampant.

JENNIFER: Well you know you're going to need a coat of arms if you keep getting in all these sword fights. I mean I really thought that he was going to kill you when I walked in Jack.

JACK: I was thinking about the same thing. I guess it's good thing that you never learned how to follow a plan.

JENNIFER: I don't know how to follow a plan? You were supposed to meet me at the airport Jack.

JACK: I was unavoidably detained at sword point. Please forgive.

JENNIFER: Well I got tired of waiting not to mention worried so I put Lila in a hotel and came back here. It's a good thing I did.

JACK: Well what do you say we hit the high road Miss Horton? Take our living proof back to Salem. Proof that Lawrence is indeed lying.

JENNIFER: I'm out of here Jack.

JENNIFER WALKS SLOWLY THROUGH THE BEDROOM TAKING A LAST LOOK AT THE BED WHERE LAWRENCE RAPED HER. JACK FOLLOWS BUT BEFORE HE LEAVES HE STOPS TO LOOK AT THE REPLASTERED WALL AND THE BED.

JACK: Winning is all that counts, huh? I supposed you're going to start to find out how it feels to lose, my friend.
[Transcribed by Carol Vaughan
added material by Sally A. Wilson]
---