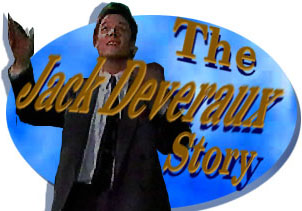 oldEpisode Two-hundred-eighty-eight:
Glynnis Turner Tells Jennifer That
Jack's Marriage to Eve Will Work
Against Her in the Trial. Jack Tries to
Get a Divorce; Eve Will not Agree.
---
[Air date late May 1991]
SCENE ONE: JACK, JENNIFER AND LILA ARRIVE BACK AT THE LOFT.

JENNIFER: Alright, we're here. We're finally home.

JACK: Oh, you better give Glynnis a call sometime soon.

JENNIFER: Iím going to call her right away. The sooner she knows about our star witness the better. You know Lila we're really grateful to you for coming back with us and testifying. I mean we're really going to be able to nail Lawrence now.

LILA: Yeah well I wouldn't be so sure of that if I were you.

JACK AND JENNIFER LOOK WORRIED.

JENNIFER: Lila, what are you trying to say?

LILA: I have worked for the Alamains for many years and Mr. Lawrence, he is not the sort of man who is easily caught.

JENNIFER: Look we can beat him. Alright I know we can. All we have to do is just stick together and we can do it.

JACK: Yeah.

LILA: Oh I don't know. Maybe you are right. Maybe I am just tired.

JENNIFER: That's it.

JACK: Yeah.

JENNIFER: You probably just need to lie down. Um you can go in my room mate's room. She's not here right now and there's an extra bed so can just go up there and rest okay.

LILA: Okay.

JENNIFER RUSHES LILA UP TO THE ROOM.

JENNIFER: Go and relax, okay.

JACK: Yeah, yeah, have a good one.
---
SCENE TWO: JENNIFER AND JACK ARE STILL IN THE LOFT, SHE TRIES TO REASSURE HERSELF THATTHINGS WILL WORK OUT IN THE END.

JENNIFER: You know she's going to be just fine after she gets a little bit of sleep.

JACK: Well she may be the only one.

JENNIFER: What's that supposed to mean?

JACK: I'm just saying little Lila the maid might be right.

JENNIFER: Jack don't do this to me right now. Don't let Lila's fears get to you.

JACK: I'm just saying that little Lila has a point and fear can be infectious sometimes and....

JENNIFER: I know that. I'm scared too but we can't give up now Jack. We have come too far for that.

JACK: I didn't say anything about giving up. I'm just saying we can't really rely on her.

ugh. I mean you're going to go up against Lawrence and he's going to come back at you with everything he's got plus a couple of little surprises on the side. So you have better have a couple of sur.... surprises of your own.

JENNIFER: What kind of surprises?

JACK: I don't know.... something.... I don't know. You know.

JENNIFER: No I don't! What kind of surprises Jack?

JACK: Ah.... you just have to remember the last thing Lawrence said. Winning is everything. How you win is irrelevant.

THERE IS KNOCK AT THE DOOR.

JACK: I'll get that. Let me get that. Just.... coming, coming.

JACK OPENS THE DOOR AND IT S GLYNNIS TURNER, THE PROSECUTING ATTORNEY.

JACK: Well.... hi.... well come right in counselor. You know that Miss Horton has good news for you.

GLYNNIS: Yeah well I'm afraid I've got some news for you too. But it's bad, real bad.

JENNIFER: What are you talking about Glynnis?

GLYNNIS: We have discussed the witnesses the defense plans to call.

JENNIFER: Right, what about them?

GLYNNIS: Well this morning I get a call from Alamain's lawyer. It seems there going to add another name to the list. (Beat) Jack Deveraux!

JACK LOOKS UP IN SURPRISE.

JACK: This is a joke right. This is one of the bleepers and bloopers things with Dick Clark coming out the door right?

GLYNNIS: Nothing would please me more. Look I don't want you in the courtroom let alone on the stand. There's nothing I can do about it. You'll probably receive the subpoena later this afternoon.

JENNIFER: Look what is Jack have to do with what Lawrence did to me?

GLYNNIS: Nothing. That's just the point. This is a rape trial and defense is allowed to present evidence that might tend to impugn your character.

JACK: Well.... impugn my .... well what is that supposed to mean?

GLYNNIS: You and Jennifer were intimate while she was engaged to Lawrence. They are going to want the jury to know that.

JENNIFER: They want to use Jack. Basically they want to make him testify to make me look like some kind of tramp or something. Is that what you're saying?

JACK: No, I don't have to do it.

JENNIFER: No you heard Glynnis Jack, you don't have a choice.

JACK: No, no, you don't have to. There are ways around it. You can lose the subpoena. If you don't....

GLYNNIS: If you don't testify willingly then you'll be a hostile witness and then they'll use that to impeach your character as well as Jennifer's. They'll bring up your marriage to Eve, particularly the fact that it's a marriage based on convenience.... and money.

JACK: Excuse me! I don't really care what you or your lawyer friends think of me or my marital status.

GLYNNIS: Yeah well I think you should think about because the worse you look, the worse Jennifer looks for associating with you.

JENNIFER: Alright, well we're not going to let it get that far. I mean there has be something that we can do.

GLYNNIS TURNS TO JACK.

GLYNNIS: You can get a divorce before we go to trial.

JACK RAISES HIS EYES AND LOOKS ACROSS TO JENNIFER.

JENNIFER: Are you serious?

GLYNNIS: Look I can't make any promises but it's the only thing I can think of to help your case right now. Look I hate to lay this on you and dash but I have to get back to the office.

JACK: Certainly. Thanks for dropping the bomb. See you out. Always a pleasure.... excitement.

GLYNNIS: Look if I think of anything I'll call you.

JACK: Don't be offended if I tell you.... ah I'm not really looking forward it.

HE SHUTS THE DOOR.

JENNIFER: You know Glynnis is right Jack. If you and Eve are still married by the time this trial comes up, the two of us are going to look pretty sleazy.

JACK: Well I've been sleazier. I mean I got my newspaper, I'll just get my divorce.

JENNIFER: Well I don't mean to push you. But it is important for the case.

JACK: Of course.... do it for the case. (Beat) Then again I'll be a free man.

JENNIFER: Well that may not be such a bad thing.

JACK: That's what Harper used to say during the prison visits.

JENNIFER: Well you know you have options when you're free.

JACK: Yeah, you do what you want to do.

JENNIFER: I know exactly what you mean. I mean there's been a few things that I've been waiting for but I don't really mind. I'll just wait a little longer.... that is if you can.

JACK: I suppose I.... do think.... that can be managed.

JENNIFER: You do?

JACK: Sure I do. (Beat) I think I'll go check on Bundt Cake about the divorce. You wait right here, okay. I'll be back.

JENNIFER: I'll be here.

JACK: Yep.

AS JACK IS LEAVING HE NOTICES JENNIFER PICK UP THE JADE PLANT AND LOOK AT IT.
---
SCENE THREE: A BIT LATER JACK WALKS INTO WINGS WHERE EVE IS SITTING AT A TABLE WITH MOLLY, THE GIRL THAT HELPED EVE FIND THE TRACK OUT OF THE WILDERNESS AFTER THE TRAIN WRECK.

JACK: Well there she is. The lovely young thing who promised to love, honor and cleave unto me. (To Molly) Sorry young lady, I didn't mean to put you off your feed.

MOLLY: That's okay.

JACK: Wait a minute, you're um.... Hillary, Holly, Milly, Hill.... Molly.... you're Molly.

EVE: Molly.

MOLLY: That's right.

JACK: Yes, well it's a pleasure to meet you, a real hero. (To Eve) A real one.

EVE GIVES A CYNICAL LAUGH. SINCE MOLLY ARRIVED IN TOWN, EVERYBODY HAS FOUND OUT THAT SHE WAS NOT THE HEROINE THAT SAVED THE TRAIN SURVIVORS BUT IT WAS MOLLY INSTEAD. JACK HAS HAD HIS REPORTERS CHASING EVE FOR THE REAL STORY. AS A RESULT FRANKIE HAS BROKEN UP WITH EVE.

EVE: Would you excuse us please Molly, I need to talk to my husband.

MOLLY: Your husband?

JACK: Huh, uh.

EVE: Yes my husband.

MOLLY: Alright, it was nice meeting you.

JACK: Oh, no, no, the pleasure was all mine, really.

JACK SLIDES INTO THE SEAT OPPOSITE EVE.

JACK: What a nice young girl.

EVE: Shut up Jack, just shut up.

JACK: I just got here and we're already having a fight.

EVE: You know I am this close to stabbing you with this steak knife. I'm warning you, don't push me, okay.

JACK: Something on your mind darling?

EVE: How dare you stick those reporters on me like that.

JACK: I don't stick my reporters anywhere. They just go where the news is and the news happened to be where you are. Now I'm really standing behind my reporter. I think he showed a lot of gumption going up to the boss's wife. In fact I was thinking of giving him a.... a.... well part of a byline.

EVE: You're serious aren't you?

JACK: About the byline, yes.

EVE: Do you have any idea how much I hate you? You are most despicable, disgusting, loathsome, miserable piece of garbage I have ever met.

JACK: Yes, so things being as they are, I'm sure you're all ready to give me a divorce.

EVE: What?

JACK: Don't act so surprised. Come on now, you told me about the divorce. You wanted it way back on the train.

EVE: Well I changed my mind.

JACK: You what?

EVE: I CHANGED MY MIND. I know what you want Jack, you want a happy ending for you and Jennifer, like with Tanner and with Molly. Everybody gets what they want, everybody except me. Well you can forget it because Nick's money is all I have and I'm not letting you have a nickel of it.

JACK: Wait a minute, I can.... I mean I can sue you for a divorce. I mean I've got the grounds.

EVE LAUGHS IN HIS FACE.

EVE: Right.... name one.

JACK: Oh come now, I mean in.... in.... in the eyes of the law we're not even married Evie. I mean we never really.... never really did it.

JACK GIVES A SLIMEY LAUGH.

EVE: Says who, Honey Bunny, Boobie Woobie?

JACK: Are you telling me that you're going to get in front of a judge and jury and tell them that we.... that we did....

EVE: I'm saying GO AHEAD, FILE A THING. I will go to court and tell them all about our honeymoon. I don't know exactly how I'm going to depict our you-know-what-happened-in-the-bed but whatever comes to mind that's what I'm going to say Jack. And I don't think that poor little Jennifer's going to like that very much now. Do you?

JACK: You know something Bundt Cake, believe it or not, I think of you as being despicable, lowly, loathsome...even cut throat. But there is one.... one little word I'd like to add to the heap.... selfish. I'd like to add that to the list of adjectives. If I may?

EVE STANDS UP AND LEANS OVER THE TABLE.

EVE: If you are trying to offend me Jack, you're going to have to do a lot better job. Look I'm selfish, alright. People hate me and I don't care. I hate them back. AND THAT GOES DOUBLE FOR YOU, HUBBY DEAR!

SHE PICKS UP HER BAG AND WALKS AROUND TO HIS CHAIR AND LEANS DOWN AND BLOWS HARD IN HIS EAR.

JACK: You little dog, you.
---
SCENE FOUR:JACK IS WALKING ALONG THE PIER, THINKING ABOUT WHAT TO DO NEXT. THERE HE FINDS FRANKIE THINKING ABOUT EVE.

JACK: Francoise, Francoise, just the man I was looking for.

FRANKIE: Yeah what's going on Jack?

JACK: Well in fifty words or less, it's this. Due to our close proximity, Miss Horton.... well it would help Miss Horton's case against Lawrence if I got a divorce. However I'm having trouble getting a divorce from little Bundt Cake because she just got dumped by someone.... you. She feels now she has the right to dump on everyone.

FRANKIE: What do you want me to do about it?

JACK: I want you to kill her.

FRANKIE LAUGHS.

JACK: Well if you won't kill her, at least make her see reason.

FRANKIE: Why don't you just divorce her?

JACK: I would love to divorce her but she's making it ugly. She's making it bad for Miss Horton.

FRANKIE: What do want from me Jack?

JACK: One question Francoise. Do you want to see Miss Horton win this case?

FRANKIE: Yes of course I do.

JACK: Good, perfect! Then you're going to help me get that divorce, good.

JACK STARTS TO LEAVE.

FRANKIE: Wait a minute Jack, what are you....

JACK: I'll answer everything in good time.... all in good time my man.... all in good time.

JACK SKIPS OFF.
---
SCENE FIVE: A SHORT TIME LATER HE RETURNS TO THE LOFT CARRYING A SMALL SHOPPING BAG.

JENNIFER: Jack.

JACK: Yes, nothing like a little bit of fresh air to make you feel great. It's a nice night out, not too hot, not too cold. It's perfect.... perfect.

JENNIFER KNOWS THAT SOMETHING IS WRONG.

JENNIFER: What happened with Eve?

JACK: Oh you know, basic formalities. A little red tape here and there, etc., etc.

JENNIFER: She's going to fight you isn't she Jack?

JACK: Well she's not exactly in a co-operative frame of mind. But I think she'll come round in time, not to worry.

JENNIFER: Not to worry? You can't get a divorce, Lila's afraid to testify, and you tell me not to worry Jack.

JACK: Well.... that's right. Things aren't as bad as they seem. I mean it's going to be alright, in the end, I really believe that.

JENNIFER SMILES TO HERSELF.

JENNIFER: I don't believe this.

JACK: Why?

JENNIFER: You sound like me.

JACK: Oh well let's hope that'll pass. In the meantime I brought you something, a little surprise. Close your eyes.

JENNIFER: Close....

SHE SCREWS HER EYES UP SHUT.

JACK: Just close your eyes, that's right. Don't cheat. (Beat) Alright keep 'em closed, keep 'em closed. Don't cheat. Alright, give me your hand, wrap it around. There you go, you got a hold of that? Alright, open your eyes.

SHE LOOKS DOWN AT HER HAND AND SHE IS HOLDING A BOTTLE OF WATER WITH A BLUE BOW ON IT.

JENNIFER: That's nice Jack. That's.... water!

JACK: Yes it's water. But not just any kind of water. It's special water for.... ah.... it's some of the most special water in Salem probably.

JENNIFER: Oh. Um, what's it for?

JACK: What do you mean, what's it for? You know what.... it's for.... it's for the plant, that's what it's for.

JENNIFER: That water is for the plant?

JACK: Yes, it's for the plant. Look, let me show you.

HE OPENS THE BOTTLE AND SHE HOLDS UP THE PLANT.

JACK: We all know there is nothing better for our plant than rain water but obviously we can't just sit around and wait around for a downpour.

HE BEGINS TO POUR THE WATER INTO THE PLANT AND IT RUNS STRAIGHT THROUGH THE POT, OVER HER HAND AND ONTO THE FLOOR. JACK KEEPS POURING.

JACK: So the important thing to remember is, getting bottled rainwater. Which is what I just did. Now if you remember to water it thusly it may live long enough to make it through college. Who knows, maybe....

HE NOTICES THE WATER POURING OVER THE FLOOR.

JACK: Ready for the rainforest. Maybe even make it through ivy league, right, no pun intended.

JENNIFER IS GRINNING.

JACK: What's the matter, what?

JENNIFER: You know Jack, you could speak in metaphors all day, couldn't you?

JACK: I don't know what you mean.

JENNIFER: Yes you do.

JACK: No, I don't.

JENNIFER: Yes you do. Stop drowning it. This isn't just about the plant Jack. You're try to take care of me too.

JACK GRINS THIS TIME.

JENNIFER: For the future, our future.

JACK: Ah.... yeah, that just reminded me of something. You know, hold that plant. I've got something right over here.

HE RUSHES OVER AND TAKES ANOTHER GIFT OUT OF THE SHOPPING BAG.

JACK: I got you another little gift here, or for the plant. These are special nutrients or one large one. Straight from the cow field. Straight from me to you. So um just remember to feed it, alright. You'll do that won't you?

JENNIFER: Yes.

JACK: Good.

JENNIFER: I'll remember to do that Jack. I'll remember for as long as I live.

JACK EYES ARE FULL OF LOVE.
[Transcribed by Carol Vaughan
added material by Sally A. Wilson]
---