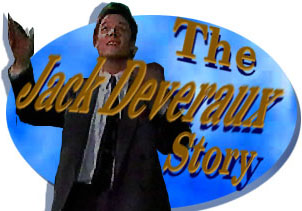 oldEpisode Two-hundred-ninety-six:"
Jennifer's Rape Trial Part II: Jack Takes
the Stand as a Hostile Witness for Lawrence;
His Rape of Kayla Is Brought in as Testimony.
---
[Air date mid-June 1991]
SCENE TWO: TWO DAYS LATER AND JENNIFER IS SINGING TO THE JADE PLANT AS SHE WATERS IT. JACK KNOCKS AT THE DOOR.

JENNIFER: COME IN IT'S OPEN! Dah dah dah da dah....

SHE IS A TERRIBLE SINGER. JACK ENTERS.

JACK: Excuse me, excuse me, what are you doing?

JENNIFER: What does it look like I'm doing? I'm watering our plant.

JACK: No, no, I'm not talking about the watering, I'm talking about the aria. I mean the plant has enough strikes against it.

JENNIFER: Jack everybody knows that singing to a plant is really good for it.

JACK: Yes singing to it is good.

JENNIFER: So I'm going to do everything I can to help it along. I'm even thinking of getting one of those lights that helps it grow. You put it in the plant and....

JACK: Well look, you don't have to do this, alright.

JENNIFER: Jack, I have to do it because I haven't watered it since last night.

JACK: I'm not talking about watering. I'm talking about what you're doing right now just trying to avoid the whole thing. You are scared of going to court with me today, aren't you?

JENNIFER: No, I'm not. No I'm not scared.

IT IS OBVIOUS THAT SHE IS.

JACK: See, you are most certainly are sc....

JENNIFER: No I'm not especially after what you said to me the other day Jack.

JACK: What did I say? I've said a lot of things.

JENNIFER: You said the L word, you said the L word. You said that you loved me Jack. (Beat) So it doesn't matter what happens today.

JACK: I don't know how you can say that when I.... I could screw things up today and make your case go.... go worse than you ever imagined.

JENNIFER: Jack I knew that this was going to be difficult going into to this and we might not win. But that's alright because I know now that it's not going to make much of a difference, not really.

JACK: It doesn't matter what happens? I don't understand this. So what is the point of all this?

JACK IS MYSTIFIED BY HER CHANGE IN ATTITUDE.

JENNIFER: The point is that he had to face up to what he did and by going through with this whole trial he's had to do that Jack. And so have I.

JACK: Oh I.... this is just an exercise in therapy then. Well let me tell you something, you could have saved everybody a lot of time and money and just gone to Whitney Baker.

JENNIFER: No Jack, I had to do this. I had to see this through. I had to see that I wasn't a victim anymore, that I could do something, that I could fight back.

JACK: I can understand that. I mean that's exactly what Kayla had to do.

JENNIFER: Jack....

JACK: No, I mean that makes a lot of sense. And let me tell you something, if you keep going like this I think it will work. I mean even if.... even if Lawrence is acquitted and he never goes to jail, he's.... he's.... well he's going to have to live with it the rest of his life.

JENNIFER: Let's not think about that.

JACK: It's hard not to think about something Lawrence's lawyer is thinking about even as we speak. He's ready to.... he's ready to take what I did and turn it against you.

JENNIFER: But he can't hurt me. That's what I'm trying to say, whatever happens in that courtroom can't hurt me now. Because I now that everything is going to be okay.

JACK: I don't know how you can be sure of that.

JENNIFER: You know Jack, I wasn't sure at first. I mean after Lawrence raped me the first thing I thought of was you. (Beat) And I thought that we would never be able to be together again. And I didn't think that I would be able to even be near you or close to you again.

JACK: Well I suppose I didn't help very much with that.

JENNIFER: Yes you did Jack. You were there when I needed you the most. And after you told me that you loved me you it made me feel like everything was possible for us. That everything that we had ever wanted we could have. And once this trial is over, nothing is going to stop us.

---
SCENE TWO: THEY ARRIVE AT THE COURTHOUSE AND TAKE THEIR SEATS. FRANKIE HAS A WORD WITH JENNIFER AND THEN SITS DOWN. JACK IS JUST BEHIND HER. THE CASE RESUMES AND GLYNNIS CALLS FRANKIE WHO TESTIFIES THAT LAWRENCE LOCKED HIM UP.
---
SCENE THREE: THEN BO GIVES EVIDENCE THAT LAWRENCE TRIED TO KILL THEM ALL AT THE VILLA. THEN JULIE TELLS ABOUT ALICE BEING LOCKED UP FOLLOWED BY SHANE WHO SAYS THAT THE ISA WAS INVESTIGATING LAWRENCE EVEN BEFORE THE INCIDENT AT THE VILLA.
---
SCENE FOUR: KAYLA'S EVIDENCE IS NEXT AND SHE SHOWS HER HATRED FOR LAWRENCE AND BLAMES HIM FOR STEVE'S DEATH. ALICE THEN TELLS THE COURT THAT SHE WAS LOCKED IN A BEDROOM AND KEPT A PRISONER. BO GETS VERY UPSET AT WHAT MARCHAND DOES TO ALICE AND ATTACKS LAWRENCE. HE IS PULLED AWAY AND KAYLA TAKES HIM OUTSIDE TO SETTLE DOWN. THE PROSECUTION THEN RESTS ITS CASE.
---
SCENE FIVE : MARCHAND BEGINS TO CALL WITNESSES. JACK GIVES JENNIFER A FEW REASSURING WORDS BEFORE HE BEGINS. MARCHAND CALLS BRIAN SCOFIELD TO THE STAND FOLLOWED BY MELISSA WHO BOTH TESTIFY THAT LAWRENCE HELPED THEM FIND THE TAPE ON EMILIO'S DEATH.
---
SCENE SIX: MARCHAND THE DEFENSE ATTORNEY HAS HIS WITNESSES ON THE STAND.

JUDGE: Who's your next witness Mr. Marchand?

MARCHAND: Jack Deveraux.

JACK LOOKS UP IN SURPRISE. HE GETS UP AND WALKS TO THE WITNESS BOX.

CLERK: Raise your right hand.

JACK STANDS ERECT AS HE TAKES THE OATH.

CLERK: Do you swear to tell the truth, the whole truth and nothing but truth, so help you god?

JACK: I do.

MARCHAND: State your name please.

JACK: Jack Deveraux.

MARCHAND: And your relationship to the plaintiff.

JACK: Miss Horton is....

MARCHAND: Your girlfriend.

JACK: Miss Horton is a.... very close personal friend and a business associate.

MARCHAND: Even though you are married to someone else.

JACK: My marriage to Eve Donovan Deveraux is.... is in name only. We don't even....

MARCHAND: Sleep together.

JACK: Yes.... no we don't.

MARCHAND: Just like you didn't sleep with your first wife, Kayla Brady.

JACK: We....

GLYNNIS: Objection.

MARCHAND: Your honor that fact has already been established in testimony. It's pertinent to my line of questioning if you'll just bear me out.

JUDGE: Overruled, continue.

MARCHAND: Thank you. As we've all learned here Mr. Deveraux, you were at one time accused yourself of marital rape by your then wife Kayla?

JACK: Yes.

MARCHAND: Is that not correct?

JACK: Yes that is correct.

MARCHAND: But you didn't plead guilty, why?

JACK: My attorney advised against it.

MARCHAND: Because you weren't guilty, were you? Or at least you didn't feel that you were guilty because you felt that you were entitled to have sex with Kayla who was your wife.

JACK: No I didn't....

MARCHAND: Is that not so?

JACK: I...what I said....

MARCHAND: And is it also true that you only agreed to lesser charges because you were being railroaded?

JACK: Ah....

MARCHAND: And when indeed you were not guilty?

JACK: I sa....

MARCHAND: You said it because it was true, wasn't it? Because what you said under oath, no matter what anyone else said, you felt you did nothing wrong.

JACK: Wh....

MARCHAND: You did not rape Kayla Brady just the same that Lawrence Alamain did not rape Jennifer Horton.



JACK HAS HAD ENOUGH.

JACK: ALRIGHT, YOU WANT YOU POUND OF FLESH? ALRIGHT YOU'VE GOT IT. I DID RAPE KAYLA BRADY! The same way that you....


HIS VOICE FALTERING, HE POINTS DIRECTLY AT LAWRENCE.

JACK (CONT.): .... that you raped.... that you raped Miss.... Miss Horton. You did.

JACK STARES STRAIGHT INTO LAWRENCE'S EYES.

JUDGE: Please continue Mr. Marchand.

MARCHAND: So Mr. Deveraux you are now changing your story to say that you did indeed rape your ex-wife when under sworn testimony you said that you did not. Now which are we supposed to believe?

GLYNNIS: Objection your honor. Mr. Deveraux is not on trial here.

JUDGE: Sustained.

MARCHAND: I have no more questions.

JUDGE: Miss Turner?

GLYNNIS: I have no more questions your honor.

JUDGE: You may step down.

JACK STAND AND THE WHOLE COURTROOM WATCHES AS HE WALKS BACK TO HIS SEAT AND SITS DOWN AND LOWERS HIS HEAD.

[Transcribed by Carol Vaughan
added material by Sally A. Wilson]
---
---