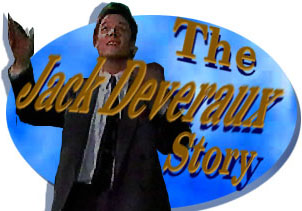 oldEpisode Two-hundred-ninety-seven:"
Jennifer's Rape Trial Part III: Lawrence
Takes the Stand. Later, Jack and Shane
Stakeout Lawrence's, Kimberly Is to Get
Him out of the Way, but Something Happens.
---
[Air date mid-June 1991]
SCENE ONE: JACK HAS JUST TAKEN HIS SEAT AFTER GIVEN TESTIMONY AT LAWRENCE'S RAPE TRIAL.


MARCHAND HAS JUST CALLED LAWRENCE TO THE STAND. HE TAKES THE OATH AND THEN EXPLAINS HOW JENNIFER TRIED TO DECEIVE HIM FROM WAY BACK IN HIGH SCHOOL. HE SAID THAT HE CAME TO FALL IN LOVE WITH JENNIFER AND THEN HE GOES ON TO GIVE HIS VERSION OF WHAT HAPPENED THAT NIGHT.


HE SAID THAT SHE CAME TO HIS BEDROOM, POURED HIM CHAMPAGNE AND THEN SHE GRABBED HIS HAND AND RESPONDED TO HIS ADVANCES. JENNIFER GETS UPSET AND STARTS TO SCREAM AT LAWRENCE THAT HE IS A LIAR.

JACK TRIES TO GET HER TO SIT DOWN.

JACK: Sit.... sit down, please Miss Horton.

LAWRENCE GOES ON TO SAY THEY MADE LOVE AND IT WAS BEAUTIFUL.
---
SCENE TWO: THEN GLYNNIS BEGINS HER QUESTIONS. SHE ASKS HIM FOR DETAILS OF THE NIGHT INCLUDING WHAT MUSIC WAS PLAYING, HOW THEY UNDRESSED, ETC. LAWRENCE SEEMS TO GET CONFUSED ABOUT ALL THIS AND HE SAYS HE'S FORGOTTEN SOME THINGS. HE SAYS THAT HE DOES SUFFER MEMORY LOSS BUT THAT THEY ARE DRUG INDUCED.
---
SCENE THREE: MARCHAND THEN PRESENTS THE LETTER THAT JENNIFER AND JACK STOLE AS EVIDENCE THAT LAWRENCE HAS BEEN ADDICTED TO PRESCRIPTION DRUGS FOR HIS WHOLE LIFE. THE JUDGE CALLS A RECESS UNTIL THE NEXT DAY.

JENNIFER STAYS TO FIND OUT WHAT SHANE THINKS WILL HAPPEN.

JENNIFER: Shane do you think this letter will ruin our chances altogether?

SHANE: Jennifer, listen I think we have to be very hopeful, seriously. I mean look at it this way, we haven't even played our trump card yet.

JACK: Just tell me that everything is set to go for tonight?

SHANE: Yeah, yeah everything's set. I think you and I should meet later to go over the plan. This time Jack, please let's try and work together. We can't afford to let anything go wrong.

JACK: Well I.... I don't think anything could go wrong.

KIMBERLY INTERRUPTS.

KIMBERLY: Don't worry, nothing is going to go wrong.

JACK: Wait a minute, what is this?

JACK IS MYSTIFIED AS TO WHY KIMBERLY IS IN ON THEIR PLAN.

JACK: Wait....

JENNIFER: What are you talking about?

SHANE: It's okay, it's alright. Kimberly has been in on this from the beginning.

LAWRENCE IS NOW LOOKING AROUND FOR KIM AND SEES HER WITH JACK AND JENNIFER BUT HIDES SO SHE DOES NOT KNOW.
---
SCENE FOUR: JACK AND JENNIFER ARE BCK AT THE LOFT.

JENNIFER: I can't believe I let Lawrence get to me. I knew that he was lie. I mean I should have been prepared for that. I should have held it together but what did I do? I fell apart in the middle of the court room.

JACK: Well.... I don't understand. I mean I think things are going to get better. I mean Shane has given me his word that Kimberly is going to keep her word that she's going to keep Lawrence out his house so that we can slip in there and get that incriminating tape and get out. Then all will remain will be the sentencing.

JENNIFER: Everything hinges on this tape doesn't it? I mean you and Shane have an important job to do.

JACK: Well you know what they say, she also serves who.... sits home and.... drinks tea or something like that.

JENNIFER: Right. But I'm not going to be sitting. I have something more important that I have to do tonight.

JACK: I see.

JENNIFER PICKS UP A BAG OF SOIL AND A BIG POT.

JACK: Doing a little truck farming are we?

JENNIFER: No nothing quite so ambitious but a lot more delicate. You see our little plant here is too big for the pot so what I'm going to do is transfer it to a bigger pot.

JACK: Well I guess I best get a move on. I've got a date with the old IS of A.

JENNIFER: You know Jack, just be careful because you're not as experienced as Shane is when it comes to this sort of thing.

JACK: Thank you. I believe I heard the same thing from Captain Donovan. That's why I've been relegated to the role of trusty side kick.

JENNIFER: Well maybe you should try to keep it that way.

JACK: Please, not to worry. If I have any feelings of heroics they'll pass very quickly.

JENNIFER: I just want you to promise me that you'll be careful Jack.

JACK: Oh really?

JENNIFER: Yeah.

JACK: Well I'd like for you to promise the same thing. I'd like to be able to come back here and find everything in one pie....

HE IS ABOUT TO TOUCH THE SOIL.

JENNIFER: Don't touch that.

SHE LEANS OVER AND KISSES HIS CHEEK.

JENNIFER: Good luck.

JACK: Good luck to both of us.

JACK LEAVES TO GO MEET SHANE.
---
SCENE FIVE: JACK AND SHANE ARRIVE AT THE MANSION IN SHANE'S CAR. THEY ARE BOTH DRESSED IN BLACK AND READY TO ENTER THE HOUSE. JACK IS WATCHING WITH BINOCULARS.

JACK: Well it looks to me like nobody's home.

SHANE: Yeah that's thanks to Kimberly. She made dinner plans with Lawrence. They're going to go out for the evening. That gives us more time to search the house.

JACK: Well I don't need to consult the ISA Handbook to know that now it's time to roll. Let's get out of here.

SHANE: Alright let's go. (Beat) Wait Jack! Jack down!

JACK: What.... wait...whoa!

HEADLIGHTS COME UP THE DRIVEWAY AND THEY DUCK DOWN OUT OF SIGHT IN THE CAR.


SHANE: What the hell's going on?

JACK: Looks like trouble.

THEY BOTH PEER UP AT THE HOUSE.

JACK: Ah, wait a minute, that's.... that's Lawrence...and Kimberly's with him. What is she.... what is she doing?

SHANE: It's alright, it's alright, it's alright. Stay calm. Maybe he forgot something. Maybe it's some last minute business he has to take care. I don't know. It's going to be okay. Kim knows what she's doing.
---
SCENE SIX: A LONG TIME LATER, JENNIFER GETS A CALL AT THE LOFT.

JENNIFER: Hello.

IT IS A TRIED JACK.

JACK: Hello. How's it going?

JENNIFER: Hi, hi, what happened? Did you find the tape?

JACK: No, no we did not. Not yet.

JACK IS STILL IN THE CAR WITH SHANE.

JENNIFER: Well what do you mean not yet? You've been gone practically all night.

JACK: Well I wish I could say the same for Kimberly and Lawrence but unfortunately they cut their dinner plans short and came back here which obviously put a big crimp in our breaking and entering plans.

JENNIFER: Wait a minute, Kimberly was supposed to keep Lawrence busy.

JACK: Yes she was, wasn't she? However Shane here is saying not to worry, it's all part of the plan.

JENNIFER: I don't know. I don't like this Jack.

JACK: Well the old Planmeister here is not worried so I suppose we shouldn't be worried either. Shane keeps saying we can rely on Kimberly and she'll pull through so I guess we will.

JENNIFER: If you say so.

JACK: I do. (Beat) We'll call you if anything happens.

JACK HANGS UP.

JACK: Alright Captain, you tell me. Was I lying? Or will Kimberly actually pull through?

SHANE: Yeah don't worry about it Jack. She's going to pull this off. She has to.

SHANE LOOKS CONCERNED.
---
SCENE SEVEN: MEANWHILE IN THE MANSION, KIMBERLY HAS SLEPT WITH LAWRENCE TO PROVE HER LOYALTY TO HIM.
[Transcribed by Carol Vaughan
added material by Sally A. Wilson]
---
---