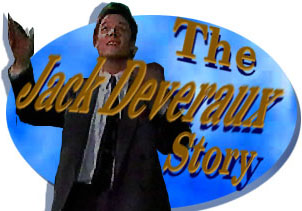 oldEpisode Two-hundred-ninety-eight: Jennifer's
Rape Trial Part IV: Julie Stalls Lawrence So
That Jack and Shane Can Search Lawrence's
for the Tape. At the Trial, the Letter States
That Lawrence Is Addicted to Painkillers.
---
[Air date mid-June 1991]
SCENE ONE: IT IS THE NEXT MORNING AND JACK HAS BEEN OUT ALL NIGHT WITH SHANE. HE ARRIVES AT THE LOFT LOOKING TIRED AND EXHAUSTED.

JENNIFER: Jack?

JACK: Yes.

JENNIFER: What happened? Get in here. I've been going crazy waiting for you to get back. What?

JACK SIGHS AND STARTS TO POUR HIMSELF SOME COFFEE.

JENNIFER: What, you didn't find the tape?

JACK: No we didn't find the tape. We didn't even get into the house. We spent the whole night sitting in Shane's car playing Tiddlywinks and reading the ISA Handbook.

JENNIFER: Well what happened? I mean Kimberly was supposed to keep Lawrence away so that you and Shane could search the house for the tape.

JACK: That was the idea but apparently Kimberly didn't want to follow that.

JENNIFER: Well that was the plan. What is she doing?

JACK: She is messing up Shane's plan, that's what she's doing. All I know is by this time we could have had the tape and had this whole thing over with.

JENNIFER: Okay it's just a set back. We can't give up now, not when we're so close.

JACK: I didn't say anything about giving up, alright. We've got a couple of hours until this trial begins. I got a change of clothes in the car. Come with me, come on.

JENNIFER: Alright, alright, hold on.
---
SCENE TWO: MEANWHILE KAYLA IS AT SHANE'S AND THEY ARE DISCUSSING THE CASE. SHANE WANTS GLYNNIS TO DELAY THE TRIAL SO THAT HE AND JACK HAVE TIME TO GO BACK TO THE MANSION THIS MORNING. JACK AND JENNIFER ARRIVE.

JENNIFER: Shane.

JACK: Let me tell you something Shane, I think we wouldn't need much of anything if Kimberly hadn't decided to freelance on us.

SHANE: Look, if Kimberly went back to that house it's because she had good reason.

JACK: Really? I'd like to believe that. I really sincerely would, but I can't!

JENNIFER: Jack, come on now, Kimberly is on our side. She's just....

SHANE: She's putting her neck on the line for us Jack. One false move, she could be Lawrence's next victim.

JACK: Or his next conquest.

SHANE: That's out of line.

JACK: Is it? Is it really. I mean we've all seen Kimberly. She's gotten very very chummy with Lawrence. Is that all part of the sting too?

KAYLA: Come on, come on. If we're going to get that video tape, we've got to move fast.

JENNIFER: Right.

JACK: Then move right along to Plan B then.

SHANE: Right, fine. I'll call Glynnis.

JACK: Alright.

SHANE: I just hope this doesn't put Kim in anymore danger.
---
SCENE THREE: THE STING CONTINUES WITH JULIE WHO HAS BEEN DOING BUSINESS WITH LAWRENCE. SHE CALLS HIM AND SAYS THAT SHE HAS IMPORTANT PAPERS FOR HIM TO SIGN SO SHE WILL PICK HIM UP IN HER LIMO FOR COURT AND HE CAN SIGN THEM ON THE WAY. HE IS RELUCTANT BUT SHE INSISTS.
---
SCENE FOUR: JACK AND JENNIFER ARE AT WINGS WHEN SHE CALLS HIM.

JULIE: There! That should keep Lawrence out of his house so you can search for that tape.

JENNIFER: Thank you, thank you so much. And I know how hard this has been on you Julie.

JULIE: Yeah, it has. You know I think it hurt grandma and grandpa the most. They thought I turned my back on you and was willingly going into business with Lawrence. I'm so glad I'll soon be able to tell them it was all for a good cause.

JACK: Yes, well we best this cause on the road. I mean we don't have much time.

JENNIFER: You're right Jack.

JULIE: Oh darling, you hang in there.

JENNIFER: I am, I am Julie. Thank you again Julie.

FRANKIE WALKS ENTERS.

JACK: Francoise.

JULIE: Frankie, looking for Eve? She's in the back.

JACK: She is.

FRANKIE: How's it going?

JENNIFER: Alright, hopefully.

FRANKIE: Jen, I'm sorry I wasn't much help to you in the trial.

JENNIFER: No, Frankie, you are getting Eve to give Jack a divorce and that means more to me than anything.

FRANKIE: Right, right.

EVE COMES OUT AND IS EXCITED TO SEE FRANKIE. SHE SUGGESTS THAT FRANKIE COMES BACK TO THE PENTHOUSE.

EVE: We could stay in at the penthouse because Jack is going out, right Jack? Maybe even for the whole night, right?

JACK LOOKS A BIT SURPRISED. THOUGH HE FEIGNS BEING UPSET, IT IS OBVIOIUS HE DOES NOT MIND HAVING TO SPEND TIME ALONE WITH JENNIFER.

JACK: Oh absolutely Bundy Cake, have a good time. You kids go to town.

EVE: Great, I'll be off in an hour, then I'll be yours. (To Jack) Bye Honey.

JACK: Goodbye.

SHE WALKS OUT WITH FRANKIE.

JENNIFER: Thank you Jack.

JACK: Thanks for what. I just gave up my place for the night.

JENNIFER: Oh come on, it's not all that bad.

JACK: Really, why?

JENNIFER: Because we might have something very important to celebrate tonight.

JACK: That's if and if only Kimberly doesn't screw things up. Come on.

JACK HEADS OFF TO THE MANSION.
---
SCENE FIVE: JACK AND SHANE ARE SEARCHING LAWRENCE'S BEDROOM; MEANWHILE, JULIE IS KEEPING LAWRENCE BUSY.

JACK: Wait a while, why are you going in here?

SHANE: Why not?

JACK: What else.

SHANE: Right you take that side of the room. I'll look on this side. And be quick about it.

JACK: Oh are you intimating that I'm not quick?

SHANE: I'm not intimating anything. I'm just stating a fact. That trial is going to restart in an hour. Unless Glynnis can stall them somehow, your friend Larry is going to get off scott free.

JACK: I tell you something, at this time he should be folding.... folding shirts in the prison laundry, except for your friend Kimberly. Let's just drop....

SHANE: Let's just leave Kimberly right out of this can we?

JACK: Alright, alright.

SHANE LOOKS ACROSS TO THE BED AND IT IS OBVIOUS THAT TWO PEOPLE HAVE BEEN SLEEPING THERE.

JACK: Find anything over there?

SHANE: No.... no I haven't.

JACK: Well look who's being slow now.

JACK HAS NOTICED A MIRROR ON THE WALL WHICH REFLECTS STRAIGHT FROM THE BED. SHANE WALKS INTO VIEW.

JACK: Get down, Shane, get down, get down.

JACK REMOVES THE MIRROR AND THERE IS A CAMERA LENS IN THE WALL.

JACK: Huh uh, just like I thought. Lawrence is up to the same tricks he was playing at the villa.

SHANE: It's alright. I jammed the alarm system and they've taken care of the video surveillance as well.

JACK: That's good, that's very good. I tell you something, this proves that there is definitely videos here, alright. But let's go look in the other rooms.

SHANE: Alright, I'm right behind you.

SHANE FOLLOWS JACK DOWNSTAIRS.
---
SCENE SIX: AT THE COURTHOUSE, JULIE ARRIVES WITH LAWRENCE . ALICE AND TOM ARE STILL CONFUSED ABOUT HER MOTIVES. KIMBERLY IS ALSO VERY NICE TO LAWRENCE AS WELL, AND HER FAMILY IS UPSET. THE TRIAL RESUMES AND THE JUDGE ANNOUNCES THAT THE LETTER IS ALLOWED AS EVIDENCE. MARCHAND THEN CALLS WITNESSES WHO PROVE THAT LAWRENCE WAS INDEED ADDICTED TO PAINKILLERS. HE ALSO SAYS THAT IT COULD CAUSE MEMORY LOSS.
---
SCENE SEVEN: BACK AT THE MANSION, SHANE AND JACK ARE STILL SEARCHING FOR THE TAPE. THEY FIND A LOCKED CABINET AND SHANE TRIES TO OPEN IT.

JACK: Use a credit card maybe?

SHANE: Voilá.

JACK: Oh.

SHANE: Behold the mother load.

THE CABINET IS FULL OF VIDEO TAPES ALL LABELED WITH DATES.

JACK: I say, look at this. This man must have stock in a video company. Look at all these here.

SHANE: Let's find the one we want and get out of here, shall we?

JACK: Wait a minute, forget about these. These have all been recorded recently.

SHANE: Ah let's keep looking.

JACK: No, there's.... they're all recorded from the last couple of weeks, forget it.

SHANE: Jack, they could be coded.

JACK: Coded? There's nothing to look at. I tell you what he did Shane, he burned the one that we're looking for.

SHANE: Well there's plenty of other place in this house he could have put it. Maybe he's put it somewhere else.

JACK: That's a good idea. Someplace a little less obvious, alright. Let's look in the basement. How about that?

SHANE: Fine, I'm with you.

JACK: Good, let's go.

THEY HEAD OFF TO THE BASEMENT.
---
SCENE EIGHT: A LITTLE LATER THEY RETURN, BUT WITH NO TAPE.

SHANE: Where the hell is that damn tape?

JACK: I tell you where it is. He burned it up, it's in flames. Either that or he taped over it like old Lassie reruns or something.

SHANE: Look Jack this is no time to kid around.

JACK: I'm not kidding around. You know the joke is on us from Kimberly. Because she's the one who tipped off Lawrence.

SHANE: She wouldn't do that.

JACK: Do you know that? Can you tell me that? Do you know that? (Beat) No you can't. You know why? You don't know what's going on. I don't know what's going on. Nobody knows what's going on in this house. It's just....

SHANE: Look all we know is the tape is nowhere to be found so we better get out of here before someone finds us. So why don't you go back upstairs to the bedrooms, tidy up, don't forget to put that mirror back up on the wall and I'll just make a last check down here.

JACK: That's fine. Sounds like a plan to me.

JACK GOES UPSTAIRS AND SHANE GOES BACK TO THE CABINET AND TAKES THE TAPE FOR THE NIGHT BEFORE WHEN HE SUSPECTS THAT KIMBERLY SLEPT WITH LAWRENCE.
---
SCENE NINE: BACK AT THE COURTROOM, GLYNNIS IS TRYING TO STALL BY ASKING A MYRIAD OF CONFUSING QUESTIONS. THE JUDGE REALIZES THAT SHE IS STALLING FOR TIME. JUST AS THINGS ARE GETTING STICKY, JACK WALKS IN THE DOOR OF THE COURTROOM. JENNIFER AND GLYNNIS LOOK UP AT HIM BUT HE SHAKES HIS HEAD. THE JUDGE CONVENES A RECESS. ONCE THE COURTROOM IS CLEARED HE COMES OVER TO JENNIFER.

JENNIFER: What happened?

JACK: Nothing happened. Nothing happened at all. We couldn't find the damn tape anywhere.

KAYLA: Where is Shane?

JACK: Shane is.... Shane just went home. I don't know. I guess he's trying to find something else up his sleeve.

KAYLA LEAVES TO CALL SHANE.
---
SCENE TEN: MEANWHILE SHANE PUTS THE TAPE IN TO WATCH AND FINDS OUT THAT KIMBERLY DID INDEED SLEEP WITH LAWRENCE. NOW HE THINKS THAT MAYBE JACK IS RIGHT AND SHE IS ON LAWRENCE'S SIDE.
---
SCENE ELEVEN: BACK AT THE COURT HOUSE.

KAYLA: He's not home.

JENNIFER: Yeah well the last thing we can do is give up hope.

KIMBERLY WALKS BY WITH LAWRENCE AND GIVES A FRIENDLY LOOK TO JACK, JENNIFER AND KAYLA. THEY JUST STARE BACK.

JACK: Yes, if there's any left.

THE PRESS START TO ASK LAWRENCE QUESTIONS AND CAROLINE BRADY GETS UPSET THAT KIMBERLY SIDES WITH HIM. KAYLA THEN DECIDES THAT IT ISTIME CAROLINE KNEW EXACTLY WHAT IS HAPPENING.

KAYLA: This is ridiculous. She should know.

JACK: Um....

JACK AND JENNIFER ARE NOT SURE ABOUT THAT BUT KAYLA IS DETERMINED. CAROLINE SAYS SHE WILL CALL A FAMILY MEETING SO THAT KAYLA CAN TELL EVERYONE THE REAL STORY.
[Transcribed by Carol Vaughan
added material by Sally A. Wilson]
---