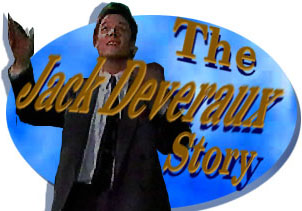 oldEpisode Three-hundred: Jennifer's Rape
Trial Part VI: Trial Is Nearing an End,
Jack, Jennifer, Shane, and Kayla Continue
to Search for Evidence Against Lawrence.
---
[Air date late June 1991]
SCENE ONE: JACK AND JENNIFER GO TO SHANE'S BEFORE COURT TO FIND OUT THE DETAILS OF THE DAY.

SHANE: So Glynnis is going to try to stall the trial by recalling more witnesses.

JACK: I don't know why we're putting Glynnis through all this. We can't seem to get our hands on that tape, thanks to Kimberly.

JENNIFER: Yes but thanks to Kimberly, we might be able to get something else on Lawrence, Jack.

JACK: Do you really think that?

JENNIFER: Yes I do.

JACK: Why?

JENNIFER: Because Kimberly told me.

JACK: Well Kimberly told all of us a lot of things. I think judging from her past track record we can't put much stock in what Kimberly says or does.

JENNIFER: But Jack you have to understand, she's had to do those things.

JACK: What do you mean, she's had to do those things?

JENNIFER: She didn't have any choice. It's all part of her act. Tell him Shane.

SHANE: Yes Jack, it's all part of Kim's act.

SHANE TAKES A CALL ABOUT KIMBERLY.

JACK: Let me guess, our Mata Hari hung us out to dry again.

SHANE: Kimberly knows what she's doing Jack.

JACK: That's good. At least one of us does.

JENNIFER: Look we have to keep believing that she does. We can't just give up.

SHANE: Exactly. Jennifer's right. Now if we don't want to be late, we better get to that court.

JACK: Huh, uh.

THE PHONE RINGS AND JACK GOES TO ANSWER IT.

SHANE: I'll get it Jack. Yes hello.

KAYLA: Shane, hello, it's me Kayla.

SHANE: Kayla, hi. I wasn't expecting a call from you.

JACK: Right family, wrong sister.

KAYLA: We need to talk.

KAYLA SAYS THAT IT IS ABOUT AN EARRING THAT SHANE'S BUTLER GAVE HER THAT BELONGS TO KIMBERLY. SHANE IS EMBARRASSED AND PUTS HER OFF.

JENNIFER: Is everything alright with Kayla?

SHANE: Ah, yeah. Yes it will be.
---
SCENE TWO: JACK, JENNIFER, SHANE, AND KAYLA ARE AT THE COURT; WHILE THEY ARE WAITING OUTSIDE SHANE OVERHEARS LAWRENCE SAY THAT HE DOES NOTKNOW WHERE KIMBERLY IS.

SHANE: That's very interesting. Apparently Lawrence doesn't know where Kimberly is either.

JENNIFER: What are you talking about? I thought that she was supposed to be with him all the time.

JACK: Well this is great. Now maybe she's turned on all of us.

JENNIFER: Alright, well I'm sure she has a very good reason for not being here, right.

JACK: (Sarcastically) Well she usually does, doesn't she?

SHANE: Well I'll go see what I can find out.

SHANE LEAVES.

JACK: This man is in trouble. He needs my help.

JENNIFER: No Jack, would you mind sticking around please?

JACK: What for?

JENNIFER: Because I would like to be with you right now, alone. Away from all this so I can not think about this for a while.

JACK: Well alright, um, any place in particular?

JENNIFER: I don't know. We can go shopping.... we could just walk....

JACK: Shopping?

JENNIFER: Well we could go eat. Do you want to go eat? We can go to the Sand Dollar and have lunch.

JACK: Yes we can always eat.

JENNIFER: Come on, let's just get out of here.

JACK: Alright, this way.
---
SCENE THREE: MEANWHILE, KIMBERLY HAS BEEN PREPARING HER OWN PLAN TO GET LAWRENCE. SHE HAS ORGANIZED FOR BO TO GET HER THE EQUIPMENT TO RECORD WHAT LAWRENCE SAYS. SHE IS AT THE SANDDOLLAR HAVING LUNCH WHEN BO COMES IN. HE GIVES HER ALL THE STUFF TO SET UP LAWRENCE. SHE TELLS BO THAT SHE HAS BEEN ON A SHOPPING SPREE TO BUY THE THINGS NEEDED TO GET THE BUG ON LAWRENCE AND THAT IT WILL DELIVERED THERE ANY MINUTE. KIMBERLY SENSES THAT BO IS NOT WELL BUT HE SAYS HE IS OKAY AND LEAVES.
---
SCENE FOUR: KIMBERLY IS STILL AT THE SANDDOLLAR WHEN JACK AND JENNIFER ENTER.

JENNIFER: Oh, there's Kimberly right there.

JACK: Well at least now we all now where she is.

JENNIFER: Well I think there's a very good reason why she wasn't at the trial Jack.

JACK: Yes, let's go find out what it is.

JENNIFER: No, let's not. I don't want to put her on the spot like that and you're not going to do that either.

JACK: Moi?

JENNIFER: Yes, you. Let's just go over and let's just talk to her normally. I mean I don't want to start anything in here.

JACK: No, wouldn't dream of it.

THEY WALK OVER TO HER TABLE.

JENNIFER: Hi Kimberly.

KIMBERLY: Jennifer, Jack.

JACK: Hello.

KIMBERLY: Well how's the trial going?

JENNIFER: The trial's going just fine.

JACK: Too bad you couldn't be there.

JENNIFER: The judge decided to call a really long recess.

JACK: Yes, didn't Lawrence tell you about it?

JENNIFER: So Jack decided we'd come here to get something to eat.

KIMBERLY: Well good. Well even though it's a long recess, the grill is really slow today so if you want to grab a bite, do it now. Don't let me keep you.

JENNIFER: Okay, we'll risk it.

JENNIFER IS TRYING TO GET JACK AWAY BEFORE HE MAKES ANYMORE COMMENTS.

JACK: I tell you what, let's save ourselves a lot of time and trouble. We'll just join you.

KIMBERLY: Oh, no, no, no. I wouldn't horn in on your time. You do have a lot to discuss. I mean the trial and everything.

JENNIFER: Yeah we do.

JACK: Actually there is nothing I'd rather do than spend a little bit of time with you. Isn't that right Miss Horton?

JENNIFER: Jack.

JACK SLIPS INTO A SEAT OPPOSITE KIMBERLY AND DRAGS JENNIFER INTO THE NEXT ONE.

JACK: Yes, that is unless you're.... busy? Are you expecting someone else?

KIMBERLY IS ANGRY THAT THEY DO NOT TRUST HER.

KIMBERLY: I was on my way out. I was going to get my things and go out the door.

JENNIFER: Good, we don't want to keep you.

JACK: I tell you what, we would just love to have you spend just a few more minutes with us.

KIMBERLY: A few more. Oh well, why not?

AT THAT MOMENT A MAN COMES IN AND HAND KIMBERLY A SMALL BOX.

JACK: Were you shopping? Well that's a great reason not to come to court.

JENNIFER GLARES AT JACK. THE MAN INSISTS ON SHOWING KIMBERLY THE ITEMS BEFORE LEAVING. HE OPENS THE BOX AND IT'S A PAIR OF CUFF LINKS ENGRAVED WITH THE LETTERS "LA". JACK AND JENNIFER ARE SHOCKED.

JACK: LA. Well I'm sure we can assume that doesn't stand for your old stomping grounds, Los AnGeles.

KIMBERLY: Ever so bitty. (To the man) Thank you, they're just beautiful. Aren't they?

JACK: Yes, well we can't keep LA waiting, can we?

KIMBERLY: You guys are priceless. Talk to you soon.

KIMBERLY PICKS UP HER STUFF AND LEAVES. SHE IS VERY ANGRY AND HURT BY THEIR BEHAVIOR. JACK GETS UP TO WATCH WHERE SHE GOES.

JENNIFER: I don't understand this Jack. I don't know what's going on. I'm really confused because we don't know what's going on with this.

JACK: Forget it, don't even worry about it. We don't even need her, alright. I.... I just remembered something that I need to do. You'll have to excuse me.

JENNIFER: No, no, let's just stay and have lunch Jack.

JACK: I don't have time for lunch.

JENNIFER: Jack?

JACK: Just.... get me something to go, as long as it's not tuna and noodle casserole.

JACK LEAVES AND HE IS OBVIOUSLY GOING TO FOLLOW KIMBERLY.
---
SCENE FIVE: SHANE IS DOING THE SAME THING AND THEY BOTH END UP AT LAWRENCE'S DOOR. SHANE HAS JUST RUNG THE BELL.

JACK: In pursuit of Kimberly?

SHANE: Jack, what the hell are you doing here?

JACK: Great minds think alike.

SHANE: Just let me handle this okay.

JACK: Just like you've done thus far.

SHANE: Jack, I....

THE DOOR OPENS.

MAID: Yes.

SHANE: Hi. I've come to see Kimberly Brady.

MAID: I'm sorry she's not here.

SHANE: Oh, do you know where she is?

MAID: No, but I believe she must be leaving for a little while because she took her overnight bag with her.
---
SCENE SIX: MEANWHILE KIMBERLY HAS GIVEN LAWRENCE THE CUFFLINKS WITH THE BUG FITTED. HE HAS GONE TO SEE GREGORY, HIS ASSISTANT, WHO HAS BEEN JAILED FOR SPREADING A VIRUS IN SALEM FOR WHICH LAWRENCE IS ACTUALLY RESPONSIBLE. KIMBERLY IS AT THE MID-TOWN MOTEL IN A ROOM, LISTENING TO THE CONVERSATION ON THE EQUIPMENT BO GAVE HER. GREGORY SAYS THAT EVERYBODY KNOWS THAT LAWRENCE RAPED JENNIFER BUT THAT THE TAPE HAS BEEN DESTROYED. LAWRENCE SAYS THAT HE KNOWS THAT GREGORY IS BUGGING HIM SO WILL NOT ADMIT ANYTHING. KIMBERLY IS NOW SCARED BECAUSE SHE THINKS LAWRENCE IS ONTO HER.
---
SCENE SEVEN: BACK AT MANSION, A STORM HAS JUST BROKEN AND JACK AND SHANE RUN BACK TO THE CAR.

SHANE: Jack we don't know for a fact that Kimberly has ran off playing with anyone, let alone Lawrence.

JACK: Alright, let's hear your theory considering she just bought the guy a set of gold cuff links. Now here's an idea. Maybe she just wanted to set up a nice little romantic interlude to give them to him, so to speak.

SHANE: Look, this may have nothing to do with Alamain. She could have taken that overnight bag to have it repaired. I don't know. It could mean anything.

JACK: Why is it that everyone sends their brains to the cleaner everytime you mention the name Kimberly Brady. I mean if I'm the sanest one in this little sting, then this sting has got some serious problems.

SHANE PICKS UP THE CAR PHONE AND CALLS ROMAN.

ROMAN: Yeah, Brady here.

SHANE: Hi Roman, it's Shane.

ROMAN: Hi Shane, what's active?

SHANE: I need an APB pronto.

ROMAN: Always willing to do a favor for the boys in the agency. What's the subject's name?

SHANE: Kimberly.

ROMAN: Kimberly? Shane what the hell's going on?

SHANE: I don't know but I tell you I'd be a lot happier if I knew where Kimberly was right now.

JACK AND SHANE THEN SIT IN THE CAR WAITING FOR ROMAN TO GET BACK TO THEM.

SHANE: Dammit, I hate this waiting. Always have.

JACK: Did you give Roman the phone number? Maybe he just forgot it?

SHANE: Jack, don't you have to be somewhere? Shouldn't you be back at court? The afternoon session is going to start soon.

JACK: I know that, I know. But I just want to wait a couple more minutes because I would just love to see where Kimberly is hiding out.

SHANE: That makes two of us.
---
SCENE EIGHT: THE CAR PHONE RINGS AND JACK PICKS IT UP.

JACK: I'll get it, I'll get.... well I suppose it is for you, huh.

SHANE TAKES THE PHONE.

SHANE: Yeah Roman, what have you got?

ROMAN: Shane, one of my units spotted Kimberly's car.

SHANE: Where?

ROMAN: The parking lot of the Mid-town Motel.

SHANE: Mid-town Motel? What the hell's she doing there?

JACK: Well if you have to ask!

SHANE: Alright, thanks for the information.

ROMAN: Well listen, I don't want any thanks here. I want to know what's going on.

SHANE: Listen, this is my net. Let me handle this alright.

JACK: I'd like to see this more as a group effort.

JACK GRABS THE PHONE.

JACK: Hello Roman, this is Jack Deveraux.

ROMAN: What are you.... let me guess what you're doing there. What, are you playing amateur detective again? Are you sticking your nose where it doesn't belong? Interfering with true professionals? Is that it?

JACK: Ah.... yes perhaps. And I'd like to take up a few things with your sister Kimberly.

ROMAN: Take a number and stand in line pal.

JACK PASSES THE PHONE BACK TO SHANE.

SHANE: Roman, I'll keep you posted.

ROMAN OFFERS BACK-UP BUT SHANE HOPES HE WILL NOT NEED IT.

[Transcribed by Carol Vaughan
added material by Sally A. Wilson]

---