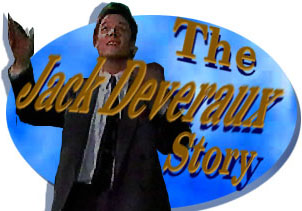 oldEpisode Three-hundred-two: Jennifer's
Rape Trial Part VIII: Consequences
Arise That Force Kimberly
not to Testify
Against Lawrence; However, Shane and
Jack Are Determined to Get Lawrence.
---
[Air date late June 1991]
SCENE ONE: TARRINGTON, HEAD OF THE ISA AND SHANE'S BOSS, HAS JUST TOLD KIMBERLY THAT HE FORBIDS HER TO TESTIFY AGAINST LAWRENCE BECAUSE IT WILL BLOW HER COVER. KIMBERLY SAYS THAT SHE DOES NOTCARE, SHE WILL DO IT ANYWAY.
---
SCENE TWO: INSIDE LAWRENCE IS SURE HE IS GOING TO GO FREE.

JENNIFER: Can you believe that?

JACK: Believe what?

JENNIFER: Lawrence. He doesn't have a care in the world. It's as if this hasn't even fazed him.

JACK: Well this.... this will certainly come as a shock to him then.

JENNIFER: You really think so?

JACK: Yes I certainly hope so. I know that Shane couldn't be stupid enough to call wolf now.

JENNIFER: No he isn't, is he?

JACK: No, no, no, no. I mean he must know that. I mean he would never pull a stunt like this at the last minute and jeopardize your case unless he knew the witness was absolutely going to convict Lawrence.

JENNIFER NODS.
---
SCENE THREE: A SHORT TIME LATER, SHANE COMES AND TELLS GLYNNIS THAT THE WITNESS IS KIMBERLY. THE JUDGE GETS UPSET AND CALLS A RECESS.

JACK: Ah, I think I'm going to do a little investigative reporting on my own.

JENNIFER: Jack, please don't. Just don't get into any trouble.

JACK: I won't get into any trouble, I won't. I won't.

JULIE: Jack, you're leaving now just when it's so important.

JACK: Yes, yes. But Julie I would like you to keep an eye on Miss Horton until I get back. If that's alright?

JULIE: Of course, that's what I'm here for

JACK: Thank you very much.

JACK LEAVES.

JULIE: Is he up to his old tricks?

JENNIFER: He's just trying to help.

OUTSIDE JACK IS ON THE PHONE.

REPORTER: Hey, you're Jack Deveraux aren't you?

JACK: Ah, yes I am but I'm actually rather busy at the moment.

REPORTER: What can you tell me about the prosecution's new testimony?

JACK: Listen I am really, am not at liberty to divulge that kind of information at this particular moment, especially to the competition.

REPORTER: Oh Deveraux, what's it's going to hurt. You know your girlfriend doesn't stand a chance of making this charge stick anyway.

JACK IS NOT MAD AND DECIDES TO LET THE GUY IN ON KIMBERLY.

JACK: Okay, listen you want a story? I got a story for you. Right this way. I've got a real scoop for you. You know something, there was this girl see.

REPORTER: Yeah.

JACK: There was this girl in this place all by herself with a security system and a video system....

SHANE: Alright what are you up to Jack?

JACK: I'm telling him a story. I'm giving him a real scoop. I'm giving him a story he can....

SHANE TELLS THE REPORTER TO LEAVE; JENNIFER HAS COME OUT SIDE AND GRABS JACK.

JENNIFER: Jack what's gotten into you?

SHANE: Whatever it is Jack, drop it, alright. Stay cool. Everything's going very smoothly right now and all we need is for somebody to blow it because they lose control.

JACK: Oh are you referring to your little last minute witness that's coming out of the woodwork. Mind telling us who that is?

SHANE: I don't see any point in keeping it a secret any longer. It's Kimberly.

JENNIFER: Kimberly! What?

JACK: You're kidding?

SHANE: No I'm very serious. I always told you Kimberly would come through for us and with evidence that's sure to put Lawrence Alamain away for a long time.

JACK: Sounds like a very happy little scenario. I'll just wait until I see it to believe it.

SHANE: Well why don't you just stand by and wait for it Jack because I'm about to make a believer of you.

JENNIFER LOOKS HAPPY BUT JACK IS NOT SO SURE.
---
SCENE FOUR: MEANWHILE, KAYLA HAS TAKEN KIMBERLY ASIDE TO TALK TO HER. KAYLA HAS FOUND OUT THAT BO HAS DRUNK THE POISON VIRUS THAT LAWRENCE HAD AND THE ONLY WAY TO FIND A CURE IS FOR KIMBERLY TO KEEP WORKING WITH HIM. KIM HAS NO CHOICE BUT TO REFUSE TO GIVE EVIDENCE AGAINST HIM IN ORDER TO SAVE HER BROTHER'S LIFE.
---
SCENE FIVE: THE COURT RESUMES AND SHANE TELLS GLYNNIS THAT KIMBERLY WILL NOT BE TESTIFYING. SHANE TELLS GLYNNIS TO BEGIN HER CLOSING ARGUMENT AND DO IT VERY VERY SLOWLY. HE OBVIOUSLY HAS ANOTHER PLAN IN MIND. HE GOES OVER TO JACK.

SHANE: Jack?

JACK: I'm a believer Shane.

SHANE: You're coming with me. You're coming with me right now.

JACK DOES NOT WANT TO LEAVE JENNIFER.

JACK: What do you mean, coming with you? Somebody has to....

JULIE: What is going on?

SHANE: Sorry I don't have time to explain. You'll just have to trust me.

JACK: Somebody has to stay here with Miss Horton through her darkest hours.

SHANE: Jack, I'm not asking you. I'm telling you. now! Come on.

JENNIFER: It's alright, go on. I'm fine.

JACK: Alright. Okay.

JACK LEAVES THE COURTROOM WITH SHANE.

JACK AND SHANE GO TO WHERE KIMBERLY IS WAITING.

SHANE: Kimberly, I'm glad I caught you. Look the three of us need to talk.

JACK: Wait a minute, she's supposed to be doing her talking back there on the witness stand. What the hell is going on?

SHANE: Not now Jack. KNOCK IT OFF!

SHANE THEN ASKS KIM IF SHE STILL WANTS ANOTHER WAY TO GET LAWRENCE AND SHE SAYS YES. HE SAYS HE THINK HE HAS FOUND ANOTHER WAY.
---
SCENE SIX: GLYNNIS BEGINS A LONG WINDED CLOSING STATEMENT.

WHILE. OUTSIDE JACK FINDS THE POWER BOX AND TURNS OFF ALL THE LIGHTS AND POWER TO THE COURT.

THE JUDGE CALLS A RECESS THINKING THE STORM IS TO BLAME. EVERYBODY FILES OUTSIDE.

SHANE: What happened?

JACK: What's going on?

JENNIFER: What happened. The electric.... everything went out so the judge decided to call a recess until it's fixed.

JACK: Well imagine that.

JENNIFER: Imagine that? What are you talking about? What have you two been?

JACK: Nowhere, nothing. Look, the point is whatever, just go with it.

JENNIFER: What are you talking about?

JENNIFER IS CONFUSED BUT JACK DOES NOT SAY ANYTHING ELSE.
---
SCENE SEVEN: MEANWHILE KIMBERLY WALKS IN ALL WET AND LAWRENCE SEES HER. SHE ASKS HIM TO TAKE HER HOME BECAUSE HER CAR BROKE DOWN. HE AGREES THINKING THAT SHE IS STILL ON HIS SIDE.
[Transcribed by Carol Vaughan
added material by Sally A. Wilson]
---
---