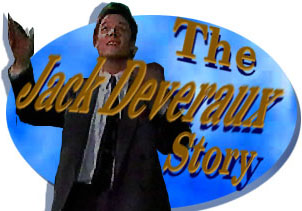 oldEpisode Three-hundred-seven: The Wedding
of Jack Harcourt Deveraux and Jennifer Rose
Horton Part I: Wild West Wedding: Jack
Is Still Locked up; Jennifer Worries He
Will not Show up for the Wedding.
---
[Air date June 30 1991]
SCENE ONE: THE DAY OF THE WEDDING AND JENNIFER IS AT THE LOFT. SHE HAS JUST CALLED ROMAN TO SEE IF HE'S HEARD ANYTHING ABOUT JACK. NOBODY HAS SEEN A SIGN OF HIM. JENNIFER IS BEGINNING TO PANIC BUT THERE IS A KNOCK AT THE DOOR. IT IS BILL HORTON, JENNIFER'S FATHER.
---
SCENE TWO: AT THE ARENA, IT IS NOT EIGHT O'CLOCK IN THE MORNING, JACK IS STILL TRYING TO GET OUT OF THE ROOM. HE GETS A SHEET OF NEWSPAPER AND PUSHES IT UNDER THE DOOR. THEN HE KNOCKS OUT THE KEY FROM INSIDE AND PULLS THE NEWSPAPER BACK IN. HE IS EXCITED AND AS HE IS PUTTING THE KEY IN THE LOCK, THE DOOR BURST OPEN AND TWO BIG COWBOYS ENTER.

COWBOY 1: Well, well, well, if it ain't Wild Bill Mahoney.

COWBOY 2: There is he is, the one and only.

COWBOY 1: Yeah and I've been working on some flashy moves that I want to put on your bad reputation, Wild Man.

COWBOY 2: Sure is lucky we dropped by when we did.

COWBOY 1: Sure is. I got a question. Where exactly is it that you thought you were going Mr. Wild Bill Mahoney?
---
SCENE THREE: AT THE LOFT, CARLY LENDS JENNIFER A PAIR OF DROP PEARL EARRINGS TO WEAR AND THEN BILL GIVES HER A STRING OF PEARLS THAT BELONGED TO HER MOTHER. ALL THE TIME JENNIFER IS WORRIED ABOUT WHERE JACK IS.
---
SCENE FOUR: MEANWHILE, JACK IS TRYING CHARADES AGAIN TO GET HIS POINT ACROSS.

COWBOY 1: Are you getting' any of this?

COWBOY 2: I don't even know what the hell he's doing.

COWBOY 1: Yeah well I've got a pretty good idea. You see I've heard all about you Ma honey. He's the runt of some New York hot shot. Run-in' all over the country machine' dummies out of us local guys.

COWBOY 2: Is that what's going on? Are you plain' with us?

COWBOY 1: Yeah he's too good to even talk to us.

COWBOY 2: Much too important.

THEY ARE PUSHING JACK BACK AND FORTH BETWEEN THEM.

COWBOY 1: Big shot.

COWBOY 2: We're going to have to take him down. No save the dumb show Billy boy. We want to see your stunts do the talking.

COWBOY 1: Because that's what we're all about Ma honey. See your neck's on the line and that's as real as it gets without the skin break-in'.

COWBOY 2: Unless somebody slips.

THEY START TO PULL HIS CHEEKS FROM EACH SIDE.

COWBOY 1: Never can tell about accidents.

COWBOY 2: Accidents can happen anytime.

JACK TAKES A PUNCH AT THE STOMACH OF THE BIGGEST COWBOY AND HURTS HIS HAND.

COWBOY 1: Don't tell me that's the best you got.

COWBOY 2: He's plain' with us.

COWBOY 1: Or maybe you're getting nervous now that you've seen the competition.

COWBOY 2: Well there's no getting out of it now my man and there's no way you're getting out of this room.... until the show.

THEY TAKE A FAKE PUNCH AT JACK AND HE FLINCHES. THEN THEY START LAUGHING AND WALK OUT, LOCKING THE DOOR AGAIN. JACK THROWS HIMSELF AT THE DOOR AND SQUASHES HIS NOSE. THEN HE SEES WILD BILL'S GEAR HANGING UP AND HE PUTS ON THE BLACK COWBOY HAT. IT IS TOO BIG AND SINKS DOWN TO HIS EARS.
---
SCENE FIVE: AT THE LOFT, MICKEY, MAGGIE, TOM, ALICE AND JULIE ARRIVE TO TAKE JENNIFER TO THE ARENA. SHE HAS A STRETCH LIMO WAITING, DOUBLE-PARKED. THEY LEAVE, EXCEPT ALICE AND JENNIFER. ALICE GIVES JENNIFER HER BLUE GARTER THAT SHE WORE TO HER WEDDING. JENNIFER THEN LEAVES WITH THEM ALL BUT IS STILL VERY WORRIED ABOUT WHERE JACK IS.
---
SCENE SIX: BACK AT THE ARENA, JACK HAS ALMOST FINISHED PUTTING ON THE BLACK COWBOY OUTFIT THINKING THIS IS THE BEST WAY TO GET OUT OF THE ROOM. CRENNA, THE ORGANIZER OF THE WILD WEST SHOW, OPENS THE DOOR.

CRENNA: Well I guess those boys were wrong. You're not looking to get out of the show at all.

JACK STARTS HIS ANTICS AGAIN.

CRENNA: I'm glad to see that Wild Bill. Wait a minute, you ain't been drinking again have you? No I guess you're just plain antsy. Well I still don't understand you show folk and listen, speakin' of that we're gettin down to curtain time and I won't you in your boots and I'm going to bring around the horse. Listen I want to see your routine before you.... the crowd starts filing in, okay.

JACK PRETENDS TO BE RIDING A HORSE TO KEEP THE GUY HAPPY. CRENNA WALKS OUT AND LEAVES THE DOOR OPEN. JACK IS ABOUT TO RUN OUT WHEN A GUY ABOUT THE SAME BUILD AND HEIGHT STANDS ACROSS THE DOORWAY.

WILD BILL: Alright, who the hell's been playin' around in my dressing room, huh?

JACK LOOKS SCARED.

WILD BILL: You? Yeah you? What in Derango do you think you're doing? And this is my dressing room. Wild Bill Mahoney. Hey that's my costume too. Who the heck do you think you are trying to take my job, huh?

HE PULLS THE HAT OFF JACK.

WILD BILL: Answer me. Alright pretty boy, you got three seconds to tell me what you're doing in those pants.

JACK STARTS SIGNALING.

WILD BILL: And if I don't like what I hear, the gloves are off. Do you hear me, the GLOVES ARE OFF!

JACK IS FRANTIC NOW.

WILD BILL: One...I'd start talking if I were you kid. I stopped the whole stampede once with one punch. Two.... alright buddy boy, let go of my...what's the matter with you? Now I lost it, where was I? One, two....

JACK THEN AUTOMATICALLY HOLDS UP THREE FINGERS AND REALIZES WHAT HE HAS DONE.

WILD BILL: That's right, that's it. Three.

HE PUNCHES JACK SQUARE ON THE JAW KNOCKING HIM UNCONSCIOUS.
---
SCENE SEVEN: IN THE ROOM OPPOSITE WHERE JACK IS, JENNIFER ARRIVES WITH BILL.

JENNIFER: Daddy, what time is it?

BILL: Two minutes later than the last time you asked. Hey is this going to be alright?

JENNIFER: Yeah, it's going to be fine. I just wish I knew where Jack was.

BILL: Jennifer.

JENNIFER: I know, I know, he's going to be here. That's what everybody's telling me.

BILL: Well we can't be wrong. Why don't you believe us?

JENNIFER: Yeah but the problem is the wild west show. They have to start and have the ceremony and get out of the arena by two o'clock.

BILL: We will, we will. Hey, it's going to happen.

JENNIFER: Horton's honor.

BILL: Horton's honor. Okay now.

JENNIFER: Yeah, for the next thirty seconds maybe.

BILL: Good, give me time to go check up on your grandparents.

BILL LEAVES AS CARLY AND MARCUS ENTERS.

BILL: Come in, come in. Hey, you guys it's guard duty. Be supportive and I'll be back.

BILL LEAVES.

CARLY: Are you sure you want the company?

JENNIFER: Yes please.

MARCUS: Good. You know I'm trying to find a safe place to put this.

JENNIFER: What is it?

MARCUS: It's Jack's tuxedo.

JENNIFER: JACK!

MARCUS: Easy, easy, I went and picked it up for him.

JENNIFER: Well that must mean that you saw him.

MARCUS: No, I haven't seen him. I'm sorry. I just thought that I'd get everything ready so that when Jack drops in at the last conceivable second, you know, everything will be fine.

JENNIFER: You really think he will Marcus?

MARCUS: Hey, you can bet on it.

CARLY: Hey Marcus where are you going?

MARCUS: To bet on it. I mean I know Jack's going to be here. He's not crazy. I thought I'd put a few bucks on what I know.

MARCUS LEAVES.

JENNIFER: Carly he's kidding right? They're not really betting out there whether Jack's going to be here or not?

CARLY LOOKS A BIT SURPRISED AT THE QUESTION BUT CONVENIENTLY AVOIDS ANSWERING IT.

CARLY: Ah.... you know we need to get you in this dress. We're on a tight schedule here and you don't want to hold up your own wedding. He'll be here.

JENNIFER: Well if we are going to go through with this ceremony we have to go through with it soon because we don't have much time left.
---
SCENE EIGHT: IN THE OTHER ROOM, JACK IS UNCONSCIOUS ON THE FLOOR. CRENNA COMES IN AND REALIZES THAT THE GUY HE IS TALKING TO IS THE REAL WILD BILL MAHONEY. JACK IS OUT COMPLETELY COLD.
---
SCENE NINE: ALL THE GUESTS ARE SEATED. JENNIFER IS DRESSED AND SHE AND CARLY COME OUT TO LOOK AT THE GUESTS. CRENNA COMES ALONG AND TELL THEM THAT THEY HAVE TO GET OUT OF HERE BECAUSE HIS WILD WEST SHOW IS ABOUT TO START. HE WALKS OVER AND STARTS PULLING OUT THE FLORAL DECORATIONS. JENNIFER ARGUES WITH HIM BUT HE INSISTS. THE GUESTS ARE CONFUSED AND JENNIFER GRABS THE FLOWERS BACK FROM HIM. ALICE GETS SO ANNOYED WITH THEM THAT SHE WALKS UP AND PUNCHES CRENNA ON THE NOSE. THE BLEACHERS ARE FULL AND THE CROWD SCREAMS. THEN JENNIFER PUNCHES ANOTHER GUY AND CARLY BREAKS A CHAIR OVER HIS HEAD. JENNIFER, CARLY AND ALICE GIVE EACH OTHER A HIGH FIVE AND THE CROWD CHEERS AGAIN. THEN ONE OF THE COWBOYS PICKS JENNIFER UP AND CARLY ATTACKS HIM FROM BEHIND. JENNIFER GRABS A POLE AND IT FLINGS UP IN THE AIR WITH HER STILL HOLDING ON. IT SWINGS AROUND AND HER DRESS SPLITS OPEN DOWN THE BACK.
---
SCENE TEN: SUDDENLY FROM OUT OF THE STABLES, COMES JACK, STILL DRESSED IN THE BLACK COWBOY OUTFIT AND RIDING A HORSE.

THE HORSE IS BUCKING AND JACK FALLS OFF INTO THE HAY AND LIES THERE.

JACK STARTS TO COME TO JUST AS JENNIFER GETS BACK TO THE GROUND. SHE RUNS OVER TO JACK AND TRIES TO GET HIM UP.
CRENNA COMES BACK AND ONCE AGAIN TELLS THEM ALL TO LEAVE. JENNIFER WALKS OVER AND SUCKER PUNCHES THE THREE COWBOYS IN A ROW. SHE TAKES A BOW AND THEN ONE OF THEM STEALS HER VEIL AND RUNS UP TO THE ROOF OF THE SALOON. JENNIFER FOLLOWS AND CHASES HIM AROUND THE BUILDING. JACK COMES TO BUT ANOTHER COWBOY KNOCKS HIM OUT AGAIN. JO IS FURIOUS AND PUSHES THE GUY INTO THE WELL.
---
SCENE ELEVEN: MEANWHILE CRENNA GRABS A WHIP AND CRACKS AT THE BUILDING WHERE JENNIFER IS. PART OF IT COLLAPSES AND SHE FALLS INTO THE HAY BELOW. ROMAN AND SHANE DECIDE TO GET INTO THE ACT AND THEY PUNCH AND WIN FIGHTS WITH TWO MORE COWBOYS. JENNIFER GOES BACK OVER TO JACK BUT THE REAL WILD BILL PICKS JENNIFER UP OVER HIS SHOULDER. HE TELLS JACK THAT HE STOLE HIS CLOTHES AND "WOMAN," REFERRING TO JENNIFER.


CARLY GETS JACK UP AND TELLS HIM TO GO AFTER HER.

A VERY WOBBLY JACK CLIMBS UP ON THE ROOF AND CHASES THEM.
HE PUNCHES WILD BILL AND IN HER EXCITEMENT, JENNIFER PUSHES JACK OFF THE ROOF.

JENNIFER: JACK, YOU DID IT. YOU GOT HIM.

JACK: MISS HOOOOORRRRTON! AAAAARRRRGGGGGHHHHH!

AT THAT POINT JACK COMES TO AND SITS STRAIGHT UP.

JACK: MISS HORTOOOOON! OH NO, YOU.... YOU PUSHED ME. OH, YOU PUSHED....

[Transcribed by Carol Vaughan
added material by Sally A. Wilson]

---

---