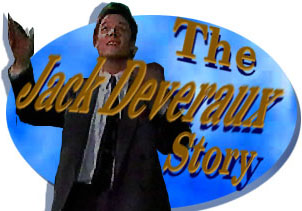 oldEpisode Three-hundred-eighteen: A
"Bum" Named Howard, Enter's Jennifer's
Life and Gives Her a Rose; This Causes
Jack to Fear the Prophecy Even More.
---
[Air date mid-July, 1991]
SCENE ONE: IT IS THE NEXT DAY AND JENNIFER IS GETTING READY FOR WORK BUT JACK IS NOT HAPPY ABOUT HER GOING OUT ALONE.

JACK: I was thinking we can improve the security. Maybe get a big dog?

JENNIFER: Jack, come on.

JACK: Or a large cat.

JENNIFER: Look if you don't stop talking to me and let me get out of here, I'm going to be late.

JACK: Well who's stopping.... who's stopping you?

AS HE SAYS IT, HE GRABS HER ARM.

JENNIFER: Jack, it's an afternoon broadcast. I'll be gone for an hour. I'll be home by dinner.

JACK: Alright, well don't mispronounce any words and.... and come home as soon as they turn off the cameras, right. And don't talk to any strangers, right, no....

JENNIFER: Wait a minute! This is what's going on, isn't it?

JACK: What's going on?

JENNIFER: You are still thinking about Desirée's predictions, aren't you?

JACK: De.... who?

JENNIFER: Jack you are going to make yourself crazy if you don't stop stop thinking this stranger that's supposed to come into my life.

JACK: Oh.... oh that Desirée. Oh come on Jennifer, you know that I think that whole thing is nonsense, really.

JENNIFER: Yeah, of course I do.

JACK: Yeah. But then again, it could.... it could be a pretty good idea if you beefed up the security around that studio because you know those nut cases, they really get attracted to people in multi-media.

JENNIFER: Jack don't worry about, I can handle myself.

JACK: But then again....

SHE GIVES HIM A BIG KISS ON THE CHEEK WHICH LEAVES LIPSTICK MARKS.

JACK: Wait a minute, why are you so anxious to get off to the studio this afternoon?

JENNIFER: Would you stop it? I have a very special report that I'm working on.

JACK: Oh really, really. Who, the sub commissioner of parks and twigs and branches.

JENNIFER: Why don't you tune it and find out? Now it's a piece on Carly's research alright. Goodbye.

SHE RUBS THE LIPSTICK OFF HIS CHEEK AND WALKS AWAY.

JACK: Well just....

JENNIFER: Goodbye Jack.

JACK: Just be careful!
---
SCENE TWO: LATER JACK IS STILL AT THE PENTHOUSE WATCHING THE INTRODUCTION FOR JENNIFER ON TV.

ANCHOR: Here is report by our own Jennifer Horton, but first the weather.

JACK: What?

THE DOORBELL RINGS.

JACK: JUST A MOMENT!

HE TURNS THE TV OFF.

JACK: Horton! What is this Horton business? I thought it was Deveraux. It seemed to be good enough for you on the wedding day, why not now?

HE WALKS OVER TO ANSWER THE DOOR.

JACK: Vernon!

VERN: Listen Jack, I've got all the stuff we got to work on, brought it all. Here we go.

JACK: Whoa, whoa, take it easy. What did you do, run all the way?

VERN: Well I figured if you were in a mood to talk about the paper I wouldn't look a gift horse in the mouth. No offense, no offense.

JACK: I'm sure. Please continue, now tell me. All the work we did on the paper, did it help?

VERN: What do you mean, we?

JACK: Just.... answer the question.

VERN: Ah here see for yourself. The advertisement's up and the circulation drive will start next week.

JACK PERUSES THE PAPERS.

JACK: It's up.... it's just not up enough, not yet.

VERN: Well I didn't realize you were cutting things so close.

JACK: Come on, with that big loan that I had to take out to get control of the paper again. (Beat) Vern it's going to be a long time before I can spring for a five course dinner again.

VERN: Huh, you never sprang for a five course dinner in your life.

JACK: Well not until I married Jennifer.... Jennifer Deveraux. I tell you Vern, I'm afraid of having to tighten the purse strings on that girl.

VERN: Are you kidding? How can you tighten them anymore than you are now?

JACK: The point is it's.... I put her through enough. And you know, enough is enough. That's what I mean.

VERN: I couldn't agree more.

JACK: Yes, I mean I don't know what's missing in her genetic make-up to make her trust me but she has trusted me and I feel I can't let her down now. I mean we're in this thing through to the end. You know we have to see it through. You know what I mean?

VERN: Yes, I understand but does she? Listen you owe it to trust her Jack. Tell Jennifer about the loan. Tell her, do the right thing.

JACK: Of course. Of course I'm going to do the right thing when I tell her. I mean.... of course. Thank you for the advice.

VERN: Hey, hey, you're welcome.

JACK: I'm going to tell her all about it.

VERN: Good.

JACK: As soon as I pay that damn loan off.

VERN: Oh boy!
---
SCENE THREE: AT THE STUDIO, JENNIFER IS ABOUT TO GO ON AIR WHEN AN OLD HOMELESS MAN COMES OVER TO SPEAK TO HER. DAN TRIES TO GET HIM OUT BUT JENNIFER LETS HIM STAY. HE INTRODUCES HIMSELF AS HOWARD AND TELLS HER HOW HE NEVER MISSES HER APPEARANCES. JENNIFER IS CHARMED BY HIS MODESTY AND COMPLIMENTS TO HER. BEFORE HE GOES, HE GIVES HER A WILTED ROSE AS A GIFT AND SAYS THAT HE KNOWS THAT HER HUSBAND OWNS THE SPECTATOR AND THAT IT IS A FINE PAPER. DAN ESCORTS HOWARD OUT OF THE STUDIO.
---
SCENE FOUR: SHE FINISHES HER SHOW AND LEAVES THE STAGE HOLDING THE ROSE JUST AS JACK ARRIVES.

JACK: Alright, where did you get it?

JENNIFER: Hi Jack.

JACK: Oh not so happy to see the innocent husband show up, right?

JENNIFER: What are you talking about?

JACK: Oh now don't play Miss Butter-Wouldn't-Melt-In-Her-Mouth with me? Come on try to explain it. Just try.

JENNIFER: What do you want me to explain? Explain what?

JACK: Explain this!

HE TAKES THE ROSE.

JENNIFER: It's called a rose.

JACK: Yes, yes it is a rose. And where did it grow? Did it grow up right through the desk when you cut to videotape. Tell me about Mr. Tall Dark Young and Handsome.

JENNIFER: You've got to be kidding me. You have nothing to worry about Jack. Howard....

JACK: Oh Howard? Howard, where's a Howard? Show me a Howard. Let me at him, let me at him. Come on, I'll take him on. Take him on anytime, anyplace.

JENNIFER: Jack, he's gone. Howard is gone.

JACK: Oh Howard the coward, huh. He can show up when the husband's not around but when Mr. Man shows up, he suddenly gets chicken and runs away. Well you don't need that kind of guy in your....

JENNIFER: Will you just calm down? Calm down, alright. Howard is a very sweet old man Jack.

JACK: How old? Thirty-two, thirty-three?

JENNIFER: Would you relax? Your competition couldn't even go half a round with you.

JACK: That old, huh? Grandpa old?

JENNIFER: Jack he knows who I am. He knew that we were married and he knows who you are.

JACK: He knew me?

JENNIFER: Yes. Jack Deveraux, prominent member of the community.

JACK: Oh...well, he must read The Spectator then.

JENNIFER: I think he sleeps on it. And don't worry Deveraux, if a strange man is going to come into my life and change the rest of it forever, it's sure not going to be somebody like Howard.

JACK IS NOT SO SURE.
---
SCENE FIVE: THEY GO HOME AND ARE HAVING DINNER. JENNIFER HAS PUT THE OLD ROSE NEXT TO THE COFFEE POT AND JACK CANNOT KEEP HIS EYES OFF IT.

JENNIFER: Jack, would you stop staring at that?

JACK: Oh I'm not staring. It's staring at me.

HE COVERS IT WITH A NAPKIN.

JENNIFER: Jack, now come on. Don't do that.

SHE REMOVES THE NAPKIN.

JACK: Oh are you upset? Come on, you're upset. Now admit it. Come on.

JENNIFER: I'm not upset. You're going to kill it.

JACK: Well we were certainly taken with that gentleman this afternoon. You must have a thing for older indigent men.

HE SITS BACK DOWN AT THE TABLE IN A HUFF.

JENNIFER: Jack look at me.

HE HALF TURNS AROUND.

JACK: I'm looking.

JENNIFER: No, look at me, Jack.

HE TURNS HIS CHIN TOWARDS HER.

JENNIFER: Alright, I am really sorry that I ever took you into that place, okay.

JACK: What place?

JENNIFER: Jack ever since we had our fortunes told the only thing that you can think about are these crazy predictions.

JACK: Well you didn't think they were so crazy not so long ago.

JENNIFER: Jack it was supposed to be fun. It was just supposed to be a silly game. Her predictions are not going to come true. There is no mystery man, there are no weird creatures and there are no stupid....

A BELL STARTS TO CHIME.

JENNIFER: .... bells.

JACK: Bells? Bells, just like she said. There would be bells ringing and now there are bells ringing.

JENNIFER: Calm down Jack.

JACK: "For who the bell tolls."

JENNIFER: "For whom the bell tolls," just you said. And that was the oven timer.

JACK: It was?

JENNIFER: Yes, it was. It was dessert. I put an apple pie in there for dessert. That's what it was.

JACK: I.... I knew that.

JENNIFER: Yeah, sure you did.

JACK: I did.

JENNIFER: Alright well I'm not going to argue with you but I want you to stop worrying. Nothing is going to happen to us Jack, not together or singly. Now I'm going to get the pie out of the oven and you can clear a place for us to have dessert.

JACK: Consider it done.

SHE GOES TO THE KITCHEN AND HE LOOKS AT THE ROSE AGAIN.

JACK: What, me worry? I'm not worried at all.... at all.
[Transcribed by Carol Vaughan
added material by Sally A. Wilson]
---
---