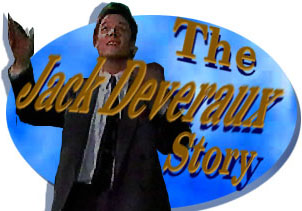 oldEpisode Three-hundred-twenty-eight: Hawk
Visits Jack and Jennifer, Telling Them He
is Leaving Town; This Pleases Jack, but
not Jennifer. As Jack Tries to Get Rid of
Him, Hawk "Falls," "Injuring" His Back.
---
[Air date mid-August, 1991]
SCENE ONE: JACK AND JENNIFER ARE JUST ABOUT TO LEAVE FOR ISABELLA'S PARTY, WHEN THEY FIND HAWK OUTSIDE THEIR DOOR, CARRYING HIS SUITCASE. HE IS OBVIOUSLY THERE TO FURTHER CAUSE A RIFT BETWEEN THEM AND TO FURTHER THE SCAM AGAINST THEM.

HAWK: Oh I'm glad I caught you at home. We got to talk.

THEY BOTH LOOK IN SHOCK AT HIM AND THEN EACH OTHER. JACK IS FURIOUS.

JACK: I thought we had an agreement.

JENNIFER: I didn't invite him here.

JACK: Then why is he here?

JENNIFER: I don't know.

HAWK: Well she doesn't. I actually came on my own.

JACK: Oh, well then perhaps I should rephrase the question. why are you here? Or more to the point, why is your suitcase here?

HAWK: Oh well don't worry, I'm not going to be moving in with you. Actually I'm leaving town.

JENNIFER: Leaving? You just got here.

JACK CANNOT BELIEVE SHE SAID THAT.

JACK: I think that he's made a decision here. I don't think that we should be standing in the way of it. When are you leaving?

HAWK: Well just as soon as I can.

JACK: How far are you going?

HAWK: Well how's Montana sound?

JACK: Well not as far as Australia but we'll take what we can get.

JENNIFER: Wait a minute, Hawk. Why are you leaving?

HAWK: Well actually I've caused you two enough problems.

JENNIFER: It's not you who's caused any problems for us Hawk.

HAWK: Well, still you know I'm not really cut out for this place and I really just belong back home in Montana.

JACK'S FACE SHOWS THAT HE AGREES.

JENNIFER: Are you sure?

JACK: I think it's a very well thought out decision and I don't think we should stand in the way of a man and his decision. Take care Howie, we'll see you later.

HAWK: Oh that's Hawk.

JACK: Oh well whatever the hell your name is, bon voyage, nice to know you.

HAWK: Well I just want to say here before I have to go, I want to thank you both for looking after Gramps. I mean he was a crazy old son of a gun.

JENNIFER LAUGHS AND JACK PUTS ON A FAKE LAUGH.

HAWK: And I just can't really remember much of a kind word passing between Gramps and I but it's kind of strange. I'm really going to miss him.

JENNIFER: I'm going to miss him too. I really liked Howard.

HAWK: Well it sounds like he liked you too.

JACK: Well now that it's established how much we all liked and loved each other, perhaps we can make sure you make your plane or your cow or whatever it is that you're riding back to Montana. I'll take your suitcase.

HAWK: No, I got it.

JACK: No, no, I've got it.

HAWK: No, I got it.

JACK: No really I have it.

HAWK: I got it. It's mine.

THEY STRUGGLE WITH THE SUITCASE EACH PULLING IT IN DIFFERENT DIRECTIONS. SUDDENLY HAWK LETS GO AND SLIPS BACKWARDS OVER A CHAIR AND ONTO THE FLOOR ON HIS BACK. JACK IS SHOCKED.
---
SCENE TWO: AT THE PENTHOUSE, HAWK HAS JUST FALLEN AND HAS APPEARED TO HURT HIMSELF. JACK AND JENNIFER IS IN SHOCK. IS HE *REALLY* HURT OR IS IT JUST PART OF THE SCAM?

JENNIFER: Oh my gosh, Hawk, Hawk, are you alright?

HAWK: OUCH.... OUCH!

HE REMAINS PERFECTLY STILL.

HAWK: I can't move!

JENNIFER: What? Jack, he can't move.

JACK IS STANDING PERFECTLY STILL STARING AT HAWK ON THE FLOOR. JACK LOOKS QUITE ILL.

JENNIFER: JACK, DON'T JUST STAND THERE. CALL AN AMBULANCE.
---
SCENE THREE: A SHORT WHILE LATER, STHEY ARE WAITING FOR THE AMBULANCE AND HAWK IS STILL FLAT ON THE FLOOR. JENNIFER IS TRYING TO HELP HIM WHILE JACK IS RUMMAGING THROUGH ALL THE DRAWERS IN THE DESK.

JENNIFER: Hawk can I get you anything? Can I get you anything to feel better?

HAWK: I'll be okay. You don't look okay at all.

THE PARAMEDICS ARRIVE.

JENNIFER: Okay, over here. Um he fell on his back.

HAWK EXPLAINS TO THEM THAT HE IS REALLY IN PAIN. THEY SAY HIS BACK COULD BE BROKEN AND HE HAS TO GO TO HOSPITAL. HAWK PROTESTS BUT JENNIFER INSISTS.

PARAMEDIC: Are you going to be riding over with your husband?

JACK: HE'S NOT THE HUSBAND! I AM!

JENNIFER: We'll be right behind you alright. We'll be following you over. (Beat) Jack what are you doing? What are you doing?

JACK: I'm just looking for something alright.

JENNIFER: Well we don't have time for that right now.

JACK: We have to make time. It will take just a minute, alright. I've got to find it. It's very important. If you don't mind I have to find it.

JENNIFER: JACK, WHAT IS THE MATTER WITH YOU?

JACK SIGHS AND LOOKS VERY VERY WORRIED.
---
SCENE FOUR: THEY HAVE FOLLOWED HAWK TO UNIVERSITY HOSPITAL AND JACK IS PACING UP AND DOWN.

JENNIFER: Marcus, how's Hawk?

JACK: He'll be alright, right?

MARCUS: You know this isn't exactly my specialty. Why you would bring a plastic surgeon in on a back injury is beyond me.

JACK: Because you can tell us the truth, that nothing is wrong.

MARCUS: Well no, no, no. I would not say that.

JACK: Well, what would you say?

MARCUS: Well the man is definitely in a lot of pain.

JACK: Well a paper cut'd give you a lot of pain. We want to know if it's serious.

MARCUS: Well that's why I brought an orthopedic specialist. Now he's taking x-rays even as we speak. And as soon as we find out, we'll let you know.

JENNIFER: Alright, thanks Marcus. Well I got to call Isabella. We are definitely not going to make it to the party now and you have Hawk to thank for it.

JACK: We most certainly do. I mean he ruined our whole evening.

JENNIFER: What are you talking about? You didn't want to go to the party in the first place Jack.

JACK: No, I wanted to see Victory at Sea. And I don't know why the hell I'm here.

JENNIFER: You're here for Hawk alright and don't move from here. I'll be right back.

JACK: Okay.

SHE LEAVES JUST AS CHAUNCEY POWELL GETS OUT OF THE ELEVATOR.

CHAUNCEY: Oh Mr. Deveraux, there you are.

JACK: Oh no! I should have known this was coming. Alright, how much?

CHAUNCEY: What?

JACK: You are baby Howie's attorney and he is ready to sue me in spite of the fact that it was his fault and that it was an accident and I have a witness to prove that. Jennifer was there, she saw the whole thing. He is never going to win this case.

CHAUNCEY: Mr. Deveraux, I'm not here about any law suit.

JACK: You're not?

CHAUNCEY: No, the hospital called me as next of kin.

JACK: So you're saying there's a chance that.... that baby Howie won't sue?

CHAUNCEY: I suppose.

JACK: Oh good.

CHAUNCEY: But then again.... you know these drifter types. There's no telling what he might do.

JACK LOOKS SICK AGAIN.

---
SCENE FIVE: JENNIFER RETURNS WHILE CHAUNCEY IS IN SEEING HAWK.

JENNIFER: Maybe we should get some coffee.

JACK: I think we should run out that door and keep running and never look back.

JENNIFER: Jack.

MARCUS: Jack.

JACK: There's an echo in here.

JENNIFER: What's happening, is Hawk going to be okay?

MARCUS: Well Dr. Smithers has finished examining him but we still haven't got the results of the x-rays yet.

JACK: Well do you really know this Smithers guy? How can we trust him, how do we know he tells the truth?

JENNIFER: Marcus.

MARCUS: Jack he comes highly recommended.

JACK SIGHS IN FRUSTRATION.

JENNIFER: Look we'll be waiting right here if you hear anything.

MARCUS: Thank you. As soon as I know I will let you know.

JENNIFER: Alright.

MARCUS LEAVES AND JACK FOLDS HIS ARMS AND WORRIES.

JACK: At this rate we're never going to find out.

JENNIFER: Jack, it's hospital procedure. There's a lot of steps that they have to go through.

JACK: We're not talking about steps. This is an x-ray. You look at it, you see if it's broken. If it's not, it's alright.

JENNIFER: What about the time it takes to develop the x-ray and the time it takes for technicians to read them. There's a lot involved. There's paperwork, there's phone calls, there's liability forms, there's insurance claims, there's....

JACK: I.... I have to go.

JENNIFER: What?

JACK: I have to go check on the paper and make sure I put the paper to bed.

JENNIFER: Right now?

JACK: Yeah. I mean, you know, it's just being cautious. I have to, you know, insure it's.... ah.... everything's alright. I have to go.

JACK IS VERY NERVOUS AND STRESSED.

JENNIFER: Jack don't go.

JACK: Why not?

JENNIFER: Because I don't want you to go.

JACK: What difference would it make?

JENNIFER: Look I'm just upset okay. We fought for hours about going to this party. Then this person comes into our house and he falls and now he ends up in the hospital. It just hasn't been one of our better nights, okay.

JACK: (Sigh) Look it's going to be alright, okay.

HE GENTLY PUTS HIS ARMS AROUND HER.

JENNIFER: You think so?

JACK: Sure, I mean, look at it this way. How could it get any worse?
[Transcribed by Carol Vaughan
added material by Sally A. Wilson]
---