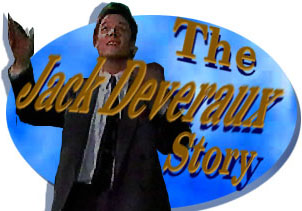 oldEpisode Three-hundred-thirty:
Having Gotten Rid of Jennifer,
Jack Is Playing Nurse to Baby
Howie, Hoping to Get Rid of Him.
---
[Air date late August, 1991]
SCENE ONE: JACK GOES BACK TO THE SPECTATOR AND HE IS IN GOOD SPIRITS, WHISTLING AS HE ROLLS UP HIS SLEEVES.

VERN: Excuse me Jack.

JACK: You're excused Vern.

VERN COMES IN AND STARES AT JACK WHISTLING.

JACK: What are you doing here? You've already been absolved.

VERN: Oh I was just passing by and I thought I'd come in and point out the fact that you are whistling loud Jack. They can hear you a mile away.

JACK: And quite poorly too, you might add, right?

VERN: You can say that again, pretty poorly. Listen, correct if I'm wrong but isn't this the day that they're letting Hawk out of the hospital?

JACK WHISTLES AND NODS.

VERN: And isn't this the day that.... that he's supposed to go to your place?

JACK WHISTLES AND NODS AGAIN.

VERN: And you are supposed to take care of him alone?

JACK: Correct!

VERN: Then what the hell are you so happy about?

JACK: This!

VERN: What?

JACK: The final draft of the release form that he is about to sign. I had a team of lawyers working on it around the clock.

VERN: Well if paid by the page you got your money's worth, didn't you?

JACK: No, no, no, bigger is not necessarily better Vern. I want you to check out the teeny weeny tiny little loop hole.

VERN: Where, which page?

JACK: Where, which page is a good question. Keep looking.

VERN: Oh you're proving a point, huh.

JACK: It could be any number of these pages.

JACK RIFLES THROUGH THE DOCUMENT FOR VERN.

JACK: Right there! Paragraph 25, subdivision M!

VERN: Talk about your small print.

JACK: Huh, huh. When Hawk has to sign this right here on the dotted line, I am going to be absolved of any legal responsibility as far as that accident is concerned.

VERN: Well Hawk's got his own lawyer. Don't forget that Jack. I mean old Chauncey is going to find this in a minute, this loop hole.

JACK: Not if Howie signs it without Chauncey ever seeing it.
---
SCENE TWO: IN THE HOSPITAL, CHAUNCEY HAS GONE TO SEE HAWK. HE TELLS HAWK THAT IT IS IMPORTANT THAT HE SEES THE RELEASE FIRST BEFORE HAWK SIGNS IT. HAWK SAYS IT IS ALL UNDER CONTROL AND THAT HE HAS MADE SURE THAT *NOTHING* GOES WRONG WITH HIS LITTLE PLAN.
---
SCENE THREE: AT THE SPECTATOR, JACK IS TRYING TO TALK TO HIS SECRETARY ON THE INTERCOM.

JACK: Ah hello Miss Crabtree, could you come....

VERN: Jack.

JACK: Miss Crabtree, could you come in....

VERN WALKS INTO HIS OFFICE.

JACK: What? Look I'm in the middle.... hello, Whatever-the-Hell-Your-Name-Is....

VERN: Jack, what the hell are you doing?

JACK: I'm trying to get wWhatever-the-Hell-Your-Name-Is in here to take this and lock it away until Howie signs it alright. (Beat) Hello, Miss-About-to-Be-Unemployed!

VERN: Jack, there's nobody out there.

JACK: Oh you tried to have a conversation with her too.

VERN: It's because they're all in the conference room. They're waiting.

JACK: For what?

VERN: Well it's Tuesday morning. It's time for the weekly....

JACK: Oh, staff meeting! Oh, of course.

VERN: And we are late.

JACK: We are....

VERN: Let's go.

JACK: Ah, sure.

JACK PUTS THE RELEASE FORMS IN HIS TOP DRAWER.

JACK: Let me just lock this away. I'll just lock this away just like Howie's going to be locked away and out of my life.

JACK LOCKS THE DRAWER AND TAKES THE KEY.

JACK: Alright, I'll take care of everything. Right this way.

JACK AND VERN LEAVE JACK'S OFFICE. JACK CAN BE HEARD TALKING TO HIS EMPLOYEES FROM OUTSIDE THE CONFERENCE ROOM.

JACK (CONT.): Sorry to keep everybody waiting. You know how ver is. He's kind of a.... Kind of a slow guy. Come on, get in her Vern. Tell them you're sorry.

JACK AND VERN GO INTO THE CONFERENCE ROOM AND SHUT THE DOOR.
---
SCENE FOUR: SUDDENLY FROM ANOTHER ROOM, COMES A GUY WHO QUICKLY GOES INTO JACK'S OFFICE AND FINDS THE LOCKED DRAWER. HE TAKES OUT A FILE AND HAS IT UNLOCKED IN SECONDS. THEN HE TAKES THE RELEASE DOCUMENT OUT TO THE PHOTOCOPIER AND MAKES A COPY.
---
SCENE FIVE: LATER DOWN AT THE HOSPITAL, DESIRŘE HAS COME TO SEE HAWK. CHAUNCEY SPOTS HER AND TELLS HER TO GO AWAY BEFORE JACK OR JENNIFER SEES HER. HOWEVER SHE HAS THE COPY OF THE RELEASE DOCUMENT WHICH SHE GIVES TO CHAUNCEY. HE TELLS HAWK THAT HE WILL ONLY TAKE A SHORT WHILE TO FIND WHAT JACK HAS WRITTEN INTO THE DOCUMENT.
---
SCENE SIX: SOME TIME LATER, JACK ARRIVES AT THE HOSPITAL AND IS ALL SMILES.

JACK: Happy day, happy day.

HAWK: Jack, how are you?

JACK: I know you're happy to see me, aren't you?

HAWK: Well my friend if I could, I'd be dancing right now.

JACK: Let's get to work on that right now, shall we?

JACK PRODUCES THE RELEASE DOCUMENT.

JACK: You just put whatever passes for you signature, right along the dotted line, right here, just like we agreed. It's the release form and the dreaming shall begin. I tell you, the view from your room, on a clear day you could.... you could almost see the Picos.

HAWK: There sure are a lot of pages here Jack.

JACK: Well that's why lawyers do it that way. I mean they get paid by the page.

HAWK: Well you know I think my attorney would feel much better if he had a chance to look this over himself before I go scribbling all over it. Now you don't mind do you Jack?

JACK: Ah, mind? Me mind? I don't mind at all. It's just the hospital you see. They need this bed. It's a shortage thing you understand so they need to get you out of it. Now I wouldn't mind at all if Chauncey was right here but he's all the way across....

CHAUNCEY: Good morning Hawk. Oh Mr. Deveraux, you brought the release I trust

JACK'S FACE DROPS.

CHAUNCEY: Oh yes here, all in good order I hope. Perfectly standard, just a quick perusal.

JACK SILENTLY HOPES THAT CHAUNCEY MISSES THE SMALL PRINT.

CHAUNCEY: Yes, it all seems fine, "iís" dotted, "tís" crossed.

JACK: Ah yes, just as I said. So....

CHAUNCEY: Oh yes, just this one minor little change. That should do it.

JACK: A change? I'm sorry, it looks perfect to me.

CHAUNCEY: Oh, paragraph 25, subsection M.

JACK: Sub.... I don't even think there is one of those.

CHAUNCEY: Oh yes, it's just the way it's phrased my dear boy. My eye went right to it. Terrible wording. But there, it's stricken now.

CHAUNCEY TAKES A PEN AND CROSSES OUT THE WHOLE SECTION.

JACK: Stricken.

CHAUNCEY: Yes and now if you could just initial the change Mr. Deveraux, right there. My old law professor would turn in his grave if he thought that I permitted either of you gentlemen to sign this otherwise text book document while it was inclusive of such a....

JACK: Now hold it right there, hold it right there.

HAWK CHOOSES THIS EXACT TIME TO CRY OUT IN PAIN.

HAWK: AAAAAWE!

CHAUNCEY: Another spasm?

HAWK: And they're getting worse and worse all the time.

CHAUNCEY: Perhaps we had better call a doctor before....

JACK: No, no, no, no doctors. I will.... I will initial. There is it right there. It is out.

CHAUNCEY: Thank you Mr. Deveraux.

HAWK: OUCH!

CHAUNCEY: Hawk, do you think you could sign this?

HAWK: Don't move, don't move. (Beat) Ah, it feels like it's going away there now.

JACK SIGHS AS HE LISTENS TO HAWK'S OBVIOUSLY FALSE CRIES OF PAIN. HAWK SIGNS THE RELEASE DOCUMENT.

CHAUNCEY: There you are.

HAWK: Oh boy, you know it's funny how the mind and the body work together on these kinds of things, isn't it?

JACK: It's hysterical, yes.

JACK KNOWS THAT HAWK IS A CON MAN BUT AT THE MOMENT HE IS CAUGHT IN A TRAP AND HAS TO GO ALONG WITH HIM.

CHAUNCEY: I do so love the law.

CHAUNCEY HANDS JACK THE SIGNED RELEASE DOCUMENT.
---
SCENE SEVEN: A BIT LATER HAWK IS BEING PUSHED OUT OF HIS ROOM BY A NURSE WHO IS FALLING FOR HIS CHARMS.

JACK: I hope we're not interrupting anything here.

HAWK: Well there's the man right there. Jack I'm all checked out and ready to put my life in your hands.

JACK: And I'm ready to take it.

MARCUS: Now Jack, make sure he gets plenty of rest. No pressure, no agitation. Since Dr. Smithers will be out of town, I'll be checking on you periodically, okay.

JACK: Marcus I plan to take tremendous care of little Howie. As long as he behaves.

NURSE: Oh don't you worry. There isn't nurse on this floor who isn't going to miss our Hawk. He won't be a minute's trouble, guaranteed.

JACK: Huh, you've got quite a reputation for yourself, haven't you?

HAWK: Well I like living up to other people's expectations Jack.
---
SCENE EIGHT: JACK AND MARCUS TAKE HAWK BACK TO THE PENTHOUSE WHERE HE IS DETERMINED TO MAKE LIFE AS DIFFICULT AS POSSIBLE. THEY ARE HELPING HIM OUT OF HIS ROOM AND HE KEEPS MOANING AND GROANING. HAWK IS WEARING JACK'S ROBE.

HAWK: OUCH!

MARCUS: Take it easy, just a little bit farther.

HAWK: This is, this is crazy. You can't keep hauling me around like this.

JACK: Are we going to stay in our room then?

HAWK: You bet, as soon as you put that TV in there.

JACK AND MARCUS HELP HAWK INTO JACK AND JENNIFER'S BEDROOM.

JACK: How about a little output, up to, up to.

MARCUS: Jack.

JACK: As long as you don't strain anything else, alright.

HAWK: It doesn't have to be a big one Jack. Anything between a 19 and a 25 incher will do.

JACK: Oh sure.

MARCUS: Yeah you don't want to miss your re-runs of Wanted Dead or Alive, huh.

THEY GET HAWK SEATED ON THE END OF THE BED.

HAWK: Hey, you watch that show Marcus?

MARCUS: Oh yeah.

HAWK: Well you remember the one where Steve was chasing that posse and everything.

JACK SIGHS AND BEGINS TO LEAVE THE BEDROOM.

HAWK: Oh Jack?

JACK: WHAT, WHAT? (Beat) Look Marcus, thanks for making the house call. I know you're really busy man.

MARCUS: Wait a minute, Jack, look at him.

HAWK MOANS AGAIN.

JACK: Ah yes, that's right. Thank you very much. I'll see you later. So long

MARCUS: Ah Jack, Jack.

JACK: WHAT?

MARCUS: Hawk has got to get back in bed.

JACK: You heard the man. Get in bed.

HAWK: I could use your help Jack.

JACK: My.... you got my help getting in bed in the first place. What, once is not enough?

MARCUS: JACK!

JACK IS FURIOUS.

JACK: Marcus, I've had it, alright. I draw the line at tucking him in.

MARCUS: No, no, wait a minute. This was your idea for Hawk to stay here. Unless you want this to go on any further I recommend that you do your part.

JACK: (An allusion to Dr. McCoy and Star Trek) DAMN IT MAN! I'm a newspaper man not a nursemaid.

JACK CLIMBS ON THE BED AND GRABS HAWK'S LEFT ARM.

MARCUS: Be careful with him, alright.

JACK: ALRIGHT, ALRIGHT.

MARCUS: One, two, three.

JACK: AAAARRRRGHHHH!

JACK GIVES ONE BIG HEAVE AND PULLS HAWK BACK ONTO THE BED BUT JACK ENDS UP LYING NEXT TO HIM WITH HIS ARM AROUND HIM.

HAWK: Thanks Jack. You can let go of me now.

JACK WHIPS HIS ARM OUT FROM UNDER HAWK AND IMMEDIATELY LEAPS OFF THE BED.

JACK: THAT'S IT, THAT'S IT! I have had it. I am not fetching and carrying for any spoiled brat.

HAWK: Well it's a deliberating injury. I'm with you Jack. I mean you're an important man. You shouldn't be doing menial work like this.

JACK: THAT'S ABSOLUTELY RIGHT. And I won't. I have fluffed my last pillow. I have.

HAWK: Yes sir, absolutely. That's ridiculous. I mean a brainy guy like you and everything, emptying bedpans.

JACK LOOKS AT HAWK IN SHOCK.

JACK: What?

HAWK: Well I don't really anticipate my situation deteriorating Jack, but you know who can tell. Listen can you fetch me that phone book over there, that Yellow Pages.

JACK: Oh sure. Calling a cab, are we?

HAWK: Oooooh, huh, huh, just after I find one of those places there that cater to people like me. Phew, they're expensive as the dickens too.

JACK IS THINKING ABOUT THIS.

HAWK: But it's only going to be for a month or two. Well three maybe. Four at the most. Just as long as I can get up on my feet and out of here.

JACK GRABS THE PHONE BOOK AWAY FROM HAWK.

JACK: That's it. Lie back, relax.

HAWK: Listen, hang the expense. You won't mind, will you?

JACK: Ah sure, won't mind a bit.

HAWK: I mean, cause you know, a fellow like you, an important man and everything shouldn't be fetching and carrying for me all day long.

JACK WALKS OVER TO MARCUS.

JACK: Alright, okay, tell me. What does the man need for breakfast? Let's start at the top.

MARCUS: Well his diet should be simple, but nourishing.

JACK SIGHS.
---
SCENE NINE: A SHORT TIME LATER JACK IS STILL IN THE BEDROOM WITH HAWK AND IS HOLDING HIS OWN BACK WHICH IS STARTING TO ACHE BECAUSE OF LIFTING HAWK ALL THE TIME. MARCUS COMES IN WITH CHAUNCEY AND JACK IMMEDIATELY JUMPS INTO ACTION AND PRETENDS TO BE CARING FOR HAWK.

MARCUS: Hawk, you have company.

CHAUNCEY: Hello all.

JACK: Hi.

CHAUNCEY: I just came by to see how Hawk is faring.

JACK: Oh Hawk. Hawk.... Hawk is faring just great. Aren't you Hawk?

JACK APPEARS TO BE MASSAGING HAWK'S SHOULDERS.

HAWK: Aaaargh.

JACK: Aren't you? Come on, tell him. After all he is your lawyer and remember the clock is ticking. The longer you wait the more you it costs.

CHAUNCEY: Well Hawk?

HAWK: Well I feel like I'm a little peckish.

JACK: Peckish.... ah, what's peckish?

HAWK: Well I could stand to eat something.

JACK: Oh well perhaps I could go find some unfamiliar mushrooms. HAHAHAHAH. No, I'll just.... I'll just go and rustle up some grub.

HAWK: Well don't trouble yourself Jack.

JACK: Oh it's no trouble at all. Really it's not. I.... it's my pleasure. What would make you feel unpeckish?

HAWK: Raspberries.

JACK: Raspberries.

JACK IS ABOUT TO LEAVE.

HAWK: Wild ones.

JACK: What other kind are there than wild ones?

HAWK: Ah, and some cream please.

JACK: What's wild raspberries without cream?

HAWK: Nothin! (Beat) Thanks Jack.

JACK LEAVES.
---
SCENE TEN: A SHORT TIME LATER COMES BACK WITH A TRAY.

JACK: Okay, here it is. Wild raspberries and cream, just like you ordered.

HAWK: You're a good man Jack.

JACK TUCKS A NAPKIN UNDER HAWK'S CHIN.

JACK: Oh really it's nothing. As a matter of fact, we had a whole case of them in the freezer. (Beat) Kidding, just kidding. Actually I did have to go to three gourmet stores just to find them.

JACK POURS A LITTLE CREAM ON THE RASPBERRIES.

CHAUNCEY: You seem to be doing a very good job taking care of him.

JACK: Oh, well it's nothing, really. I am so devoted to taking care of Hawk.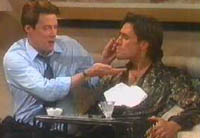 HE TAKES A SPOONFUL OF RASPBERRIES AND FEEDS THEM TO HAWK.

HAWK: Sugar?

JACK: What?

HAWK: Could you give me just a pinch of that sugar Jack?

JACK: One lump or two?

HAWK: Oh one's fine thank you. These berries seem to be just a tad on the tart side.

JACK IS FINDING IT ALMOST IMPOSSIBLE TO RESTRAIN HIMSELF.

HAWK: You know it's a funny thing about life. Who would ever think that I'd be lying here flat on my back in a stranger's home and just being treated so kindly?

CHAUNCEY: But you're not among strangers. You and Jack are bound to each other by a common regard for the late Howard Alston Hawkins.

HAWK: Well ain't that the truth? I mean Jack here couldn't be taking better care of me if I was his own brother.

JACK: Ah, if you'll excuse me gentlemen. I really need to.... go.

HAWK: Sure Jack. (Beat) Ah Jack if you're going out again?

JACK: Yeah.

HAWK: I think the new issue of Ropiní and Rangliní is on the stands today.

JACK: I'll see if I can get a hold of it.

HAWK: Thank you Jack.

JACK QUIETLY GOES OUT AND SHUTS THE DOOR. SUDDENLY THERE IS A VERY LOUD SCREAM FROM OUTSIDE.

JACK: AAAAAAAAAARRRRRRRRRRGGGGGGGGGGHHHHHHHHHH!

THE BEDROOM DOOR OPENS AGAIN AND JACK POKES HIS HEAD IN.

JACK: Excuse me. I seem to have stubbed my toe.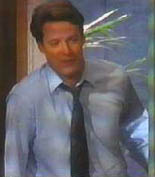 HAWK: Oh not to worry.

JACK SHUTS THE DOOR AGAIN.

HAWK: You know I think my little scheme here is clicking along better than my grandaddy's best time piece. And you know what, if we keep on doing what we're doing Chauncey Boy, we're all going to be set for the rest of our days.
[Transcribed by Carol Vaughan
added material by Sally A. Wilson]
---
---